Chicken breast, renowned for its versatility and rich protein content, is a staple in countless kitchens around the world. Its neutral flavor profile acts as a blank canvas, allowing it to be transformed into a myriad of delightful dishes.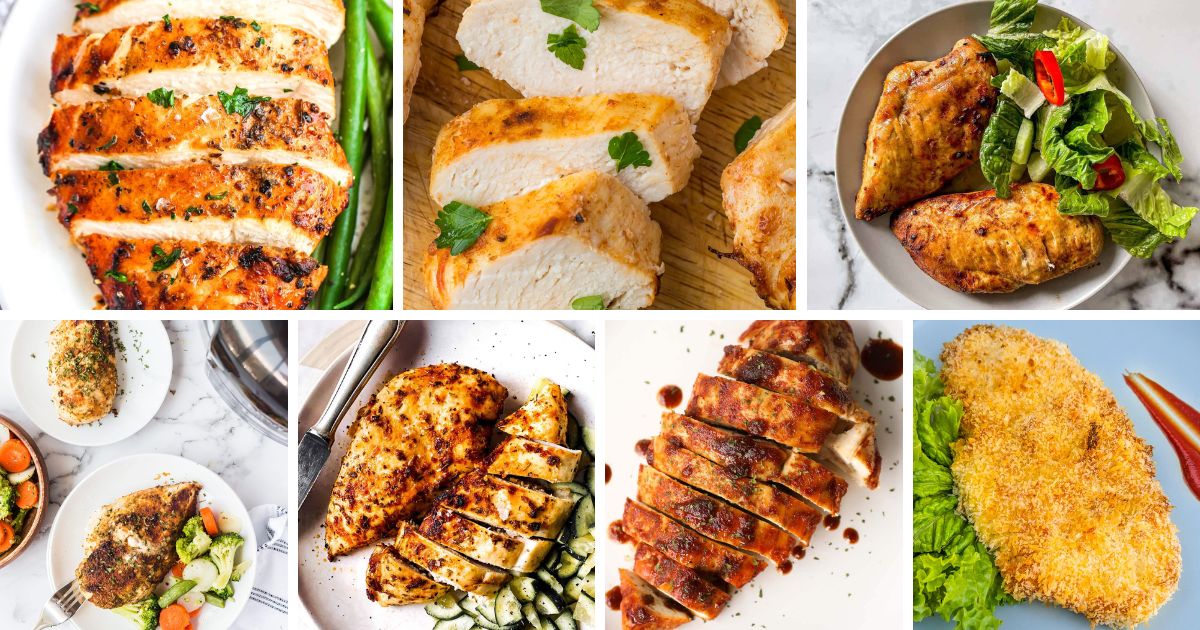 When frozen, this poultry cut retains its quality, ensuring a ready-to-use ingredient is always within reach, especially for those impromptu meal plans or surprise guests.
With the innovation of the air fryer, the culinary game has changed significantly. This remarkable kitchen gadget not only guarantees crispy outcomes but does so in a fraction of the usual cooking time.
Combined with frozen chicken breast, it promises convenience without compromising on taste! From simple seasonings to exquisite marinades, discover how the air fryer elevates the humble chicken breast to gourmet status with these 36 handpicked frozen chicken breast recipes.
Contents
This recipe brings out the sweet and smoky notes of chicken with a blend of brown sugar, paprika, and Italian herbs. The olive oil ensures a moist and flavorful bite.
This dish elevates simple frozen chicken breasts with a blend of tantalizing seasonings. It's perfect for those evenings when you're craving a quick yet flavorful meal.
The allure of BBQ is irresistible in this dish. Rubbed with spices and slathered in a sugar-free sauce, this chicken is perfect for a summer cookout vibe.
If simplicity is what you're after, this straightforward frozen chicken dish is a winner. Just pop it in, and let the air fryer work its magic.
This recipe uses the iconic 21 salute seasoning for a blast of flavor. With a touch of olive oil, the chicken remains succulent inside.
These frozen chicken parmesan cutlets are a delightful treat. Crispy on the outside and cheesy within, they're perfect with pasta or a salad.
Featuring a zesty sauce, these frozen chicken breasts promise tenderness without the thaw. Coconut aminos and chili powder add an unexpected flavor twist.
This recipe transforms frozen breaded chicken into a crunchy and satisfying treat. Paired with a side salad or dipping sauce, it's a guaranteed crowd-pleaser.
With a seasoned parmesan breadcrumb crust, every bite of this chicken is a delightful crunch. The olive oil spray ensures a golden finish.
Savory seasonings like onion, garlic, and paprika bring out the best in this chicken dish. A drizzle of olive oil gives it a perfect sear.
This dish offers perfectly cooked chicken breasts slathered with a tangy BBQ sauce. Great for a quick summer meal, pair it with a fresh coleslaw for a picnic feel.
These tender chicken breasts come with crispy potatoes, seasoned beautifully with garlic and buffalo sauce. It's a hearty dish for when you're craving comfort with a spicy twist.
This recipe gives you a crispy outer layer of panko while retaining the chicken's juicy inside. If you're in the mood for some European flair, serve it with potato salad and lemon wedges.
Golden and crispy, these chicken strips are a nostalgic trip back to childhood. Pair them with your favorite dipping sauce and a side of veggies for a balanced meal.
This dish brings out the flavors of chicken through an aromatic mix of herbs and spices. Enjoy it on a chilly evening with mashed potatoes and roasted vegetables.
Stuffed with a creamy filling of cheeses, garlic, and spinach, these chicken breasts are a treat. They're perfect for dinner parties, served alongside a crisp green salad.
Seasoned with Italian herbs and garlic, these chicken breasts are juicy and packed with flavor. They make a perfect midweek dinner when paired with roasted vegetables.
The zesty flavor of lime paired with fresh cilantro transforms these chicken breasts. Serve them with a side of rice and beans for a true Latin-inspired meal.
Cheesy broccoli-filled chicken breasts are both comforting and flavorful. They're especially ideal for family dinners, and you can pair them with a light salad or steamed vegetables.
Chicken parmesan in the air fryer is both crispy and cheesy. We can't resist this recipe! Perfect for Italian night at home, you can serve it over spaghetti with extra marinara sauce.
Experience the sweetness of maple combined with a unique BBQ rub in this recipe. It's a fantastic choice when you're craving something sweet, salty, and savory all at once.
Who can resist chicken wrapped in crispy bacon? Seasoned with smoked paprika and garlic, this dish is ideal for a Sunday brunch with scrambled eggs.
This chicken is coated in a crunchy layer and drizzled with a honey mustard blend. We recommend this recipe for those days when you're craving something tangy and crispy.
The smoky flavors of chipotle and adobo sauce elevate these chicken breasts. They're an ideal centerpiece for a Mexican-inspired dinner with tortillas and guacamole.
Marinated in balsamic vinegar, coconut aminos, and zesty lemon juice, this chicken is a flavorful delight. The aromatic oregano and onion powder seal the deal.
Garlic and parmesan encrust this chicken, making it irresistibly crispy. It's great for when you're in the mood for something rich, and you can pair it with a Caesar salad.
This recipe turns frozen chicken into a seasoned delight with garlic and paprika. We love it for busy nights, and it goes well with quick-cooking grains like couscous.
This breaded chicken is the answer to quick and tasty meals. Served with guacamole or a creamy dipping sauce, it's sure to be a hit.
Infused with flavors of garlic, onion, and paprika, this frozen chicken comes alive. Enjoy it with roasted vegetables for a wholesome meal.
Seasoned with a classic chicken rub, these breasts are simple yet flavorful. They go wonderfully with steamed green beans and roasted potatoes.
This dish makes convenience taste gourmet, turning a frozen stuffed breast into a delectable treat. A glass of white wine can complete this meal.
A quick and tasty option for weeknights, this frozen chicken is infused with Italian flavors. It pairs perfectly with a tomato-based pasta.
Straightforward yet delicious, this chicken is seasoned with a dry rub. Great for a hassle-free dinner, enjoy it with your favorite side dish.
If you're craving Chinese takeout, this orange chicken is a quick fix. Don't forget to pour over the tangy orange sauce and serve with steamed rice.
This is a basic frozen chicken recipe that's versatile and simple. It's a blank canvas ready for any sauce or side you desire.
Marinated in homemade teriyaki sauce, this chicken is sweet and savory. Ideal for an Asian-inspired dinner, it goes well with stir-fried vegetables.
📋 Recipe
Frequently Asked Questions