There's no vegetable more versatile or comforting than butternut squash. With its rich, sweet, and slightly nutty flavor, it pairs perfectly with a variety of spices and other ingredients. You can bake, mash, fry, or roast butternut squash, or turn it into soup.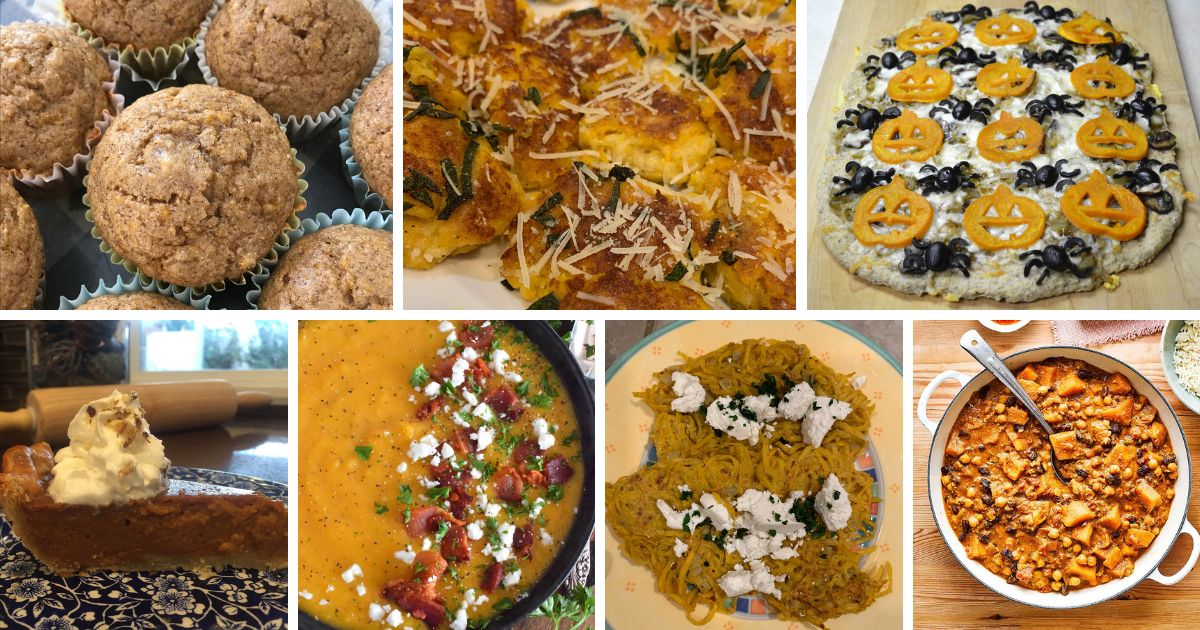 Additionally, butternut squash is not just limited to savory dishes; it's also a wonderful addition to breads, muffins, and even pies, offering a sweet, hearty flavor that is truly distinct.
This collection of 36 frozen butternut squash recipes includes traditional and innovative dishes that highlight the squash's versatility. Each recipe embraces the unique characteristics of butternut squash and showcases how it can be the star of any meal.
From hearty main dishes like casseroles and risottos, to light salads and sandwiches, to decadent desserts and pastries, these recipes ensure you'll never run out of ways to use frozen butternut squash.
Contents
This preparation unites the inherent sweetness of butternut squash and the profound flavor developed through roasting. It's a great accompaniment for grilled meats or a hearty vegetarian main.
If simplicity is what you're after, this recipe offers a straightforward approach to enjoying butternut squash. It's perfect as a versatile base for your creative culinary experiments.
Packed with bold flavors, this curry balances the sweetness of butternut squash and pineapple with the heat of Thai spices. It's an international adventure on a plate.
Mac and cheese gets a colorful, nutritious upgrade in this recipe. The creamy butternut squash adds a twist to the traditional dish, making it a sure hit with kids and adults alike.
This recipe turns butternut squash into pillowy gnocchi, making for a satisfying and sophisticated meal. You can toss it with sage butter for a restaurant-worthy experience at home.
With the enticing scent of sesame and the crunchiness of chia seeds, this variant of roasted butternut squash stands out. This striking side dish could easily be the highlight of a meal.
The process of roasting accentuates the optimal qualities of butternut squash, enhancing its intrinsic sweetness and transforming its texture. This dish is perfect as a side, or you could blend it into a warming soup.
This Indian-inspired curry brings butternut squash together with an orchestra of spices. A bowl of this comforting dish will keep you warm on a cold evening.
By introducing cinnamon to this recipe, the sweetness of butternut squash is accentuated, yielding a comforting side dish. It's ideal when you desire something slightly unusual.
This concoction introduces an enjoyable variation to mashed potatoes by employing butternut squash. It's a fantastic way to infuse vibrancy and nutrition into your meal.
This salad introduces a creative way to incorporate butternut squash into a fresh, vibrant dish. The hummus adds a creamy touch, perfectly balancing the roasted squash's sweetness.
A sweet, decadent treat, this bread pudding uses butternut squash for an unexpected twist. It's perfect for a holiday dessert or a rich breakfast treat on a special occasion.
The smooth texture and sugary taste of butternut squash make it a prime candidate for a comforting soup. Complement it with a crusty loaf of bread for a thoroughly gratifying meal.
This velvety risotto introduces a seasonal modification to a classic, with the mellow butternut squash beautifully enhancing the roasted garlic. It's an indulgent dish perfect for holiday dinners.
In this recipe, butternut squash plays the starring role in a delicious filling for homemade ravioli. Serve it with a simple sage butter sauce for a truly impressive meal.
This North African-inspired dish, with its spicy, sweet, and full-bodied flavors, provides a delightful culinary adventure. The comforting stew makes for a hearty meal on a cool night.
In this earthy concoction, the kale perfectly balances the sweet butternut squash in a creamy risotto. This dish combines nutrition and indulgence in perfect harmony.
This vegetarian lasagne boasts a robust flavor profile with caramelized garlic, earthy mushrooms, and sweet squash. It's a hearty, satisfying dish that could easily become a favorite.
This casserole is a warm, soothing preparation that highlights the sweetness of butternut squash. Ideal for family dinners or potlucks, it's bound to impress.
In this creation, butternut squash is immersed in a luscious curry, made rich with coconut milk and cashews. This curry offers a perfect balance of flavors and a satisfying depth.
This Italian classic gets a creative update with a filling made from creamy butternut squash. The squash adds a sweetness that wonderfully balances the tang of the tomato sauce.
This hearty pie combines squash with winter herbs and crispy butter beans. A captivating main course for vegetarians, sure to win over even the most ardent meat enthusiasts.
These muffins serve as a pleasing method to integrate the allure of butternut squash into your morning meal or sweet course. Infused with traditional autumn spices, they're a delicacy worth repeating.
Butternut squash, sage, and hazelnuts unite harmoniously in this lavish quiche. It's the perfect choice for a laid-back weekend brunch or a simplistic dinner paired with a fresh salad.
In this recipe, the tenderness of gnocchi unites with the creamy consistency of mascarpone and the sugary profile of butternut squash. Despite its refined appearance, its home preparation is astonishingly straightforward.
For a unique treat, these butternut squash cakes emphasize the sweetness of the squash. I enjoy eating these cakes with a hot cup of coffee on a crisp autumn day.
You can elevate your quesadilla game with the inclusion of butternut squash. Its subtle sweetness pairs wonderfully with the rich, melty cheese, making it an innovative lunch or dinner option.
This recipe reinvents the classic pumpkin pie by incorporating butternut squash, offering a new level of richness and complexity to your favorite dessert.
Packed with nutrition, this salad marries the heartiness of lentils with the sweet, soft butternut squash. It's a perfect choice for a light yet satisfying meal.
The traditional pizza receives a fresh take with the addition of butternut squash. The sugary nature of the squash, when combined with the fragrant scent of rosemary, results in an invigoratingly unique taste profile.
This sandwich proposes a unique method of enjoying butternut squash. In combination with roasted beetroot and scorched scallions, this dish creates a flavor-filled lunch you'd be keen to savor again.
This red curry, although spicy, has a creamy demeanor due to the inclusion of butternut squash, adding a hint of sweetness and an incredible smooth texture. It's the ideal comfort food when you seek something warm and soothing.
This salad, both flavorful and healthy, creates a captivating taste experience by combining tahini, maple syrup, kale, and roasted butternut squash. We recommend it for a nutritious lunch or a light dinner.
This hash recipe merges sweet mango and butternut squash with savory bacon for an unexpected breakfast delight. It offers a festive beginning to your day.
This pasta recipe showcases the adaptability of butternut squash in a sauce that is creamy and comforting. It's an inviting meal perfect for a chilly evening.
This one-pot marvel unites butternut squash, chicken, and couscous into a robust meal. It's an uncomplicated, satisfying dinner option with the added benefit of easy clean-up.