Can you almost taste the satisfying crunch of a perfectly air-fried vegetable? That delightful crispiness that turns even the simplest veggie into a tasty treat?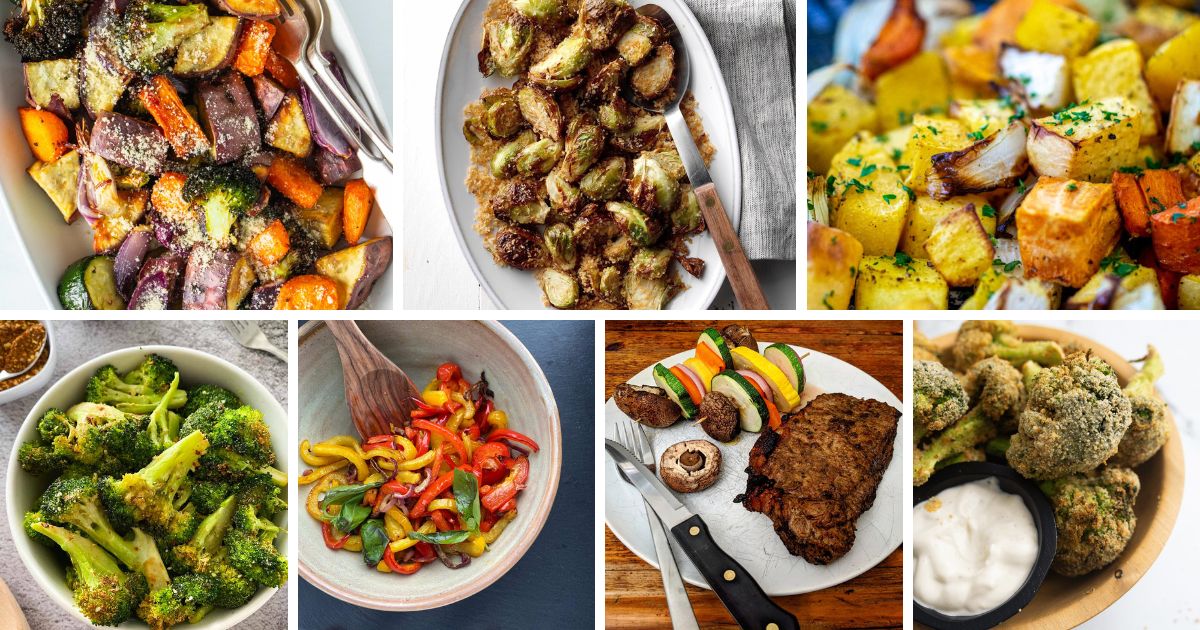 These recipes are more than just instructions; they're a journey into the world of simple and healthy gourmet cooking.
From crispy sweet potato fries sprinkled with a pinch of sea salt and paprika to soft roasted bell peppers bursting with the freshness of herbs and spices, every recipe offers a unique flavor experience.
And the best part? All these dishes are prepared in your air fryer, offering a healthier twist to your meals without compromising on taste or texture.
With this collection, you'll transform ordinary vegetables into extraordinary meals, making every mealtime an exciting food adventure.
Contents
With a dash of oil, seasonings, and parmesan, a medley of vegetables transforms into a savory dish. This technique allows for variations to suit different veggies, promising a flavorful outcome every time.
In this recipe, an assortment of vegetables basks in a flavorful marinade before being air-fried to perfection. The result is a savory side dish that effortlessly marries health and taste.
This collection of air-fried vegetables is an undeniable contender. With everything from crispy green beans to tender asparagus, these recipes transform humble veggies into standout stars in under 15 minutes.
This recipe offers a quick, healthy side dish of assorted vegetables air-fried to perfection. The flavors of balsamic vinegar, garlic, and parmesan cheese make it irresistible.
With vibrant flavors of Mediterranean vegetables, this air-fryer recipe is a refreshing, healthy choice. It's an easy and rapid way to enjoy a crispy, savory snack.
If the quest for crispy frozen vegetables has been elusive, this recipe is the solution. It presents an effortless method to transform frozen veggies into a perfectly roasted side dish.
Bid farewell to soggy, uninspired vegetables with this air fryer frozen vegetable recipe. In this recipe, a simple blend of seasonings and a quick air fryer stint yield a surprisingly crispy, grill-like result.
In this recipe, an array of vegetables gets a zesty kick that will elevate your weeknight meals. The result is a medley of perfectly roasted vegetables, full of flavor and health benefits.
This recipe transforms vegetables into crispy, golden delights. With hints of sesame and ginger, it's perfect for dipping or enjoying as a standalone treat.
These Air Fryer Vegetable Kabobs are a versatile, delicious way to utilize leftover veggies. They are affordable and flavorful feasts perfect for gatherings and adaptable to various diets.
With a medley of zucchini, squash, white button mushrooms, bell pepper, and onion, these kabobs are a testament to the power of simplicity. If skewered and cooked to perfection, they're an undeniable crowd-pleaser.
This delightful mix of root vegetables, cooked to perfection in an air fryer, makes for a quick and nutritious side. It's not only tasty but also ideal for meal prepping.
This stir-fry, packed with nutritious vegetables and tofu, serves as a quick and simple dinner choice that's both vegan and gluten-free. You can customize it with your favorite veggies for added variety and taste.
With a crispy outside and flavorful inside, these air-fried spring rolls are a healthier take on a favorite appetizer. The addition of soy sauce and sesame seeds adds an enticing Asian twist.
This recipe combines an array of vegetables in spring rolls for a healthier appetizer. The unique blend of cilantro, lime juice, and soy sauce ensures irresistible flavor.
In pursuit of a speedy, nutritious accompaniment? This recipe delivers a tasty medley of vegetables that transform traditional roasting into a modern culinary delight.
This recipe features a medley of Mediterranean vegetables seasoned with garlic and oregano, providing a vibrant, quick side dish. It includes a wonderful mix of eggplant, zucchini, and other summer veggies.
You can enjoy a dish of fresh, seasoned broccoli florets that are cooked to perfection. This dish is versatile, providing options for using frozen broccoli and various toppings to cater to all preferences.
This breaded broccoli, air-fried to perfection, provides a delightful crunch in just 15 minutes. It's an enticing, family-friendly dish that reinvents the humble vegetable.
In no time, you can transform your broccoli into a garlicky, parmesan-coated, crispy delight. This dish is ideal as a quick snack or side, adding a flavorful twist to your meals.
This air-fryer broccoli recipe, overflowing with garlicky goodness, offers a healthy, crispy side dish in under 15 minutes. It's perfect for a quick meal addition and is sure to satisfy your taste buds.
This cauliflower snack offers a crispy, flavorful twist on a classic veggie and is the perfect blend of health and indulgence. When it's prepared in an air fryer, it quickly becomes a crowd-pleaser.
These buffalo cauliflower bites are crunchy, spicy, and surprisingly meaty, bringing a guilt-free twist to party snacks. When they are served with a ranch-hot sauce combo, these bites become an irresistible treat.
This flavorful duo of broccoli and cauliflower, seasoned with a simple blend of spices, offers an easy and fast side dish. It is perfect for those warm days when you'd rather not switch on the oven.
This cauliflower dish, lavishly seasoned and drizzled with olive oil, offers a unique crunch. As a fiber-rich, low-calorie delight, it provides a guilt-free indulgence that's sure to hit the spot.
These succulent zucchini slices gain a satisfying crispness in the air fryer. They are delicately seasoned with lemon zest, salt, and pepper to make a nutritious side dish.
When subtly flavored with paprika, garlic, and onion powder, these zucchini spears topped with shredded parmesan earn a golden hue and delectable crunch. They are a swift yet satisfying alternative to traditional side dishes.
If you're craving a crispy, healthy snack, these zucchini chips with a parmesan-panko crust are the answer. They provide a satisfying crunch and a unique taste sensation.
These zucchini slices, coated in ranch seasoning and vegetable oil, offer a delightful twist on traditional chips. They are air-fried until crispy, providing a unique and deliciously crunchy snack experience.
These zucchini chips are a guilt-free delight, mimicking the tangy flavor of salt & vinegar potato chips. They're a versatile, low-carb snack that's both crunchy and satisfying.
If you're looking for a tasty, low-carb way to use up garden zucchini, this recipe is the answer. Crispy and customizable, they make a delicious snack or side dish that's also freezer-friendly.
This air-fried zucchini recipe is a versatile delight, lightly seasoned and crisped to perfection. It stands as a flavorful low-carb option, ready to complement any main dish.
These Air Fryer Pakoras bring a healthier twist to traditional Indian fritters. They're crunchy and guilt-free, containing 80% less fat and 70% fewer calories.
This recipe transforms simple baby carrots into a delightful side dish using an air fryer, olive oil, and honey glaze. The result is tender, perfectly seasoned carrots with a hint of sweetness.
This dish combines sliced carrots and diced red potatoes, air-fried with aromatic spices for a perfect balance of tenderness and crispness. Its ingredient adaptability makes it a versatile side for any protein.
When these carrots and red potatoes meet the heat, they transform into a smoky, sweet delight. Pair this versatile side with any protein for a meal that satisfies you.
This recipe, with its blend of potatoes, mixed veggies, and spices, is a deliciously light yet flavorful snack. Enjoy it guilt-free with cilantro mint chutney and ketchup, or freeze for later.
When the craving for fries hits, this guilt-free version offers a nutritious twist. Using zucchini, sweet potato, butternut squash, and carrots, these veggie fries deliver crispiness without the guilt.
With a blend of fragrant garlic and rosemary, these air-fried Brussels sprouts offer a flavorful, low-calorie side dish. The added crunch of panko breadcrumbs gives them an irresistible texture.
If you're seeking a healthier twist on the classic samosa, this recipe delivers with its oven-baked or air-fried options. The crisp texture and delectable filling make these samosas a guilt-free indulgence.
A smoky-sweet melody of portobello mushrooms, peppers, and onions makes these vegetable fajitas a delightful meatless dinner. The included sweet chili fajita sauce adds a tantalizing twist to this easy-to-adjust recipe.
This recipe transforms leftover rice into a quick, flavorful meal using an air fryer and a vibrant mix of vegetables. It's a perfect companion for your favorite Asian dishes.
This recipe stars air-fried sweet peppers and onions, offering a perfect crispness. When finished with lime and cilantro, it becomes a refreshing side dish that's perfect for complementing grilled meats or Mexican cuisine.
This recipe transforms a medley of fall vegetables with balsamic vinegar and Italian seasoning. The result is a side dish of tender, crispy, and flavor-infused veggies.
This simple recipe yields tender, crispy asparagus using just two ingredients. Perfectly paired with various main dishes, it's a quick yet elegant addition to any meal.
This omelet, brimming with fresh vegetables and cheese, offers a nutritious kickstart to your day. It's a customizable, low-carb delight that's perfect for a quick breakfast.
This casserole, packed with healthy broccoli and oozy cheese, is a crowd-pleaser. Its simplicity makes it a perfect choice for last-minute meal planning.
These air-fryer baby potatoes, seasoned with a hint of paprika and poultry seasoning, deliver a crispy exterior and creamy interior. They're quick to prepare side dishes for any meal.
This Buddha Bowl brings together marinated tofu, crisp-tender vegetables, and wholesome grains. It's a flavorful dish that offers a delightful crunch and a sauce that's irresistibly tasty.
These vegan veggie balls are made with a nutritious mix of vegetables and breadcrumbs. They're perfect for serving as pasta sides or for enticing kids into eating veggies.
These mushrooms, seasoned with rosemary and soy sauce, offer a flavorful side dish that's quick to prepare. They are perfectly cooked and make a delightful addition to toast, Buddha bowls, or any meal.
With a hint of garlic and lemon, these mushrooms make a delightful side dish or appetizer. The air fryer gives them a unique texture that's sure to impress.
Taro Fries are a healthy alternative to traditional potato fries. This recipe offers a choice of three methods to cook them, each yielding a delightful snack with a unique, nutty flavor.
This dish pairs crispy air-fried tofu with colorful stir-fry vegetables for an Asian-inspired treat. Despite its rich flavor, it's a light choice at only four Weight Watchers Blue points.
This Butternut Squash recipe can be easily customized with different spices. The dish, which pairs well with greens or as a salad, is rich in Vitamin A and other nutrients.
These keto onion rings, encrusted with a blend of coconut and almond flour, pork rinds, and spices, offer a guilt-free crunch. They provide a satisfying alternative for health-conscious snackers.
These chives and onion-infused air-fried carrot chips are an innovative, low-carb snack. They're suitable for keto and Whole30 diets, with a delicious taste approved by both kids and adults.
📋 Recipe
Frequently Asked Questions