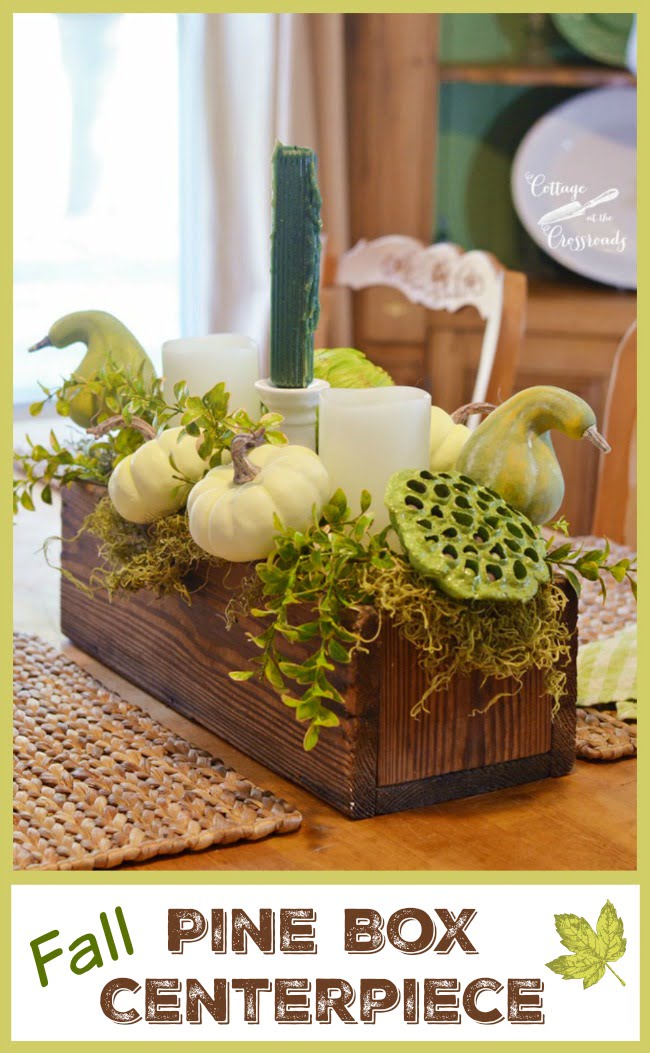 I made this fall centerpiece a few weeks ago when the weather was still warm. I decided not to add traditional fall colors in the dining room the way I usually do each fall. Our summer just blew past so quickly and of course, our leaves are still green on the trees so I decided to go with a lighter touch.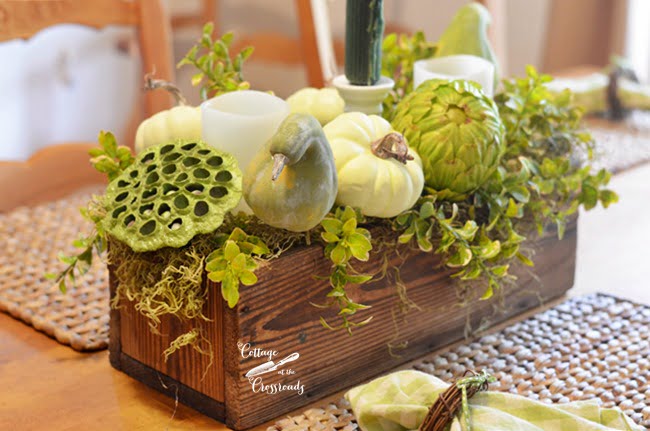 I used this pine box that I picked up at a friend's garage sale to create my centerpiece. It has such beautiful graining that I would never think about painting it. Its narrow width is perfect for our table.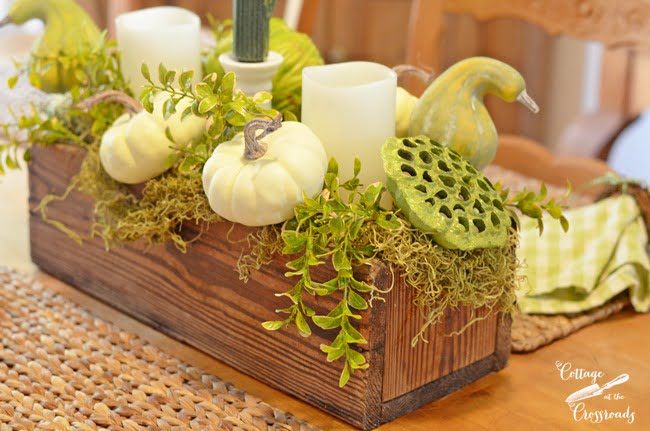 To get started, I placed two foam rectangles in the bottom of the box and then looked around for some candles that would sit down in the box. I settled on a mix of one real candle and 2 electric ones.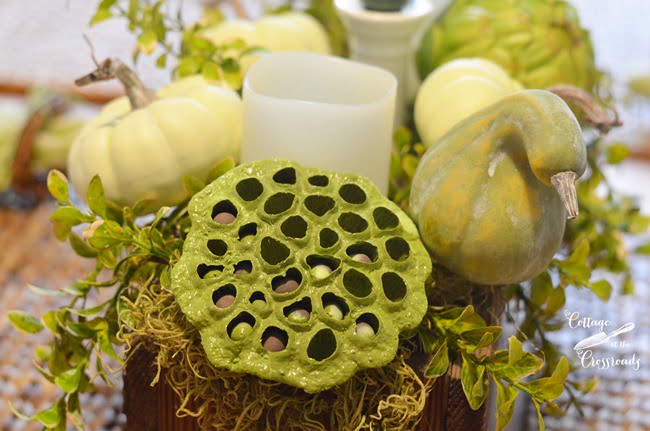 I used a mix of old and new materials to fill the box. You may have seen this green spray painted seed pod before as I've used them in decorating various things for several years.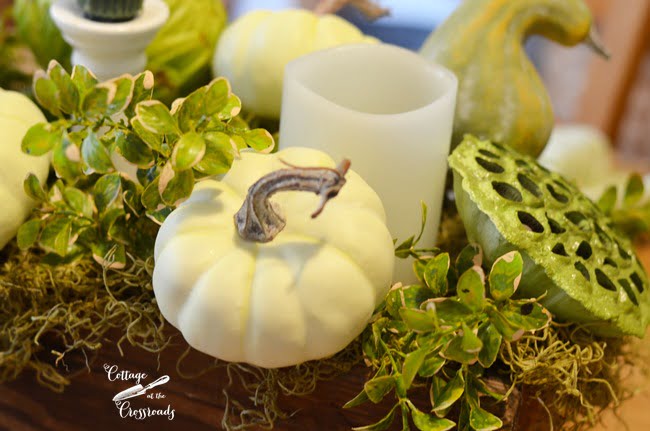 A few faux white baby boo pumpkins and some green gourds, which came with picks attached, made easy fillers.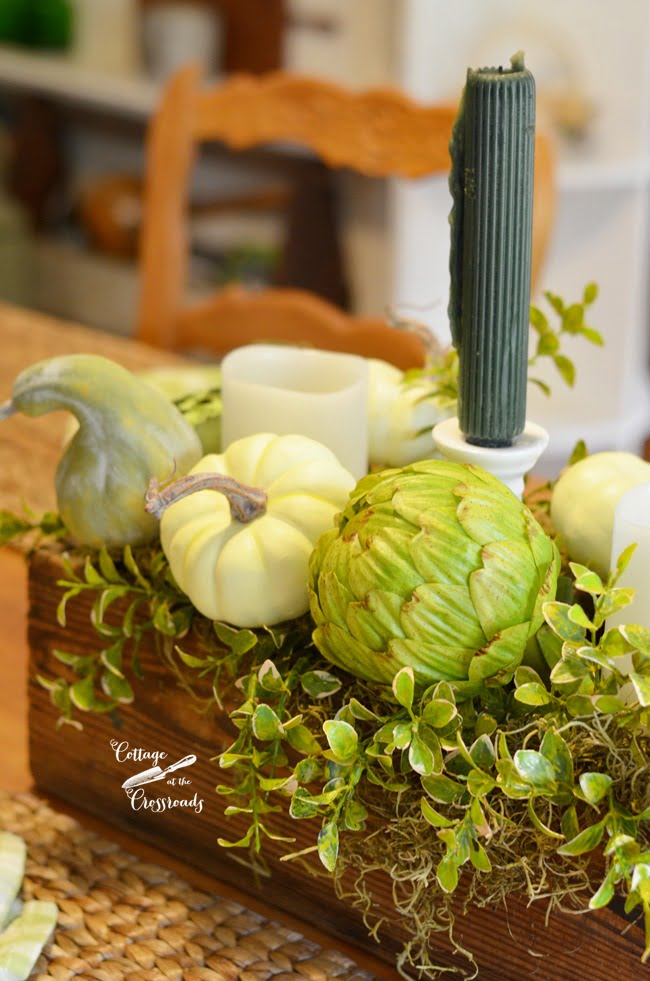 I popped in an artichoke and some amazingly real looking greenery that my friend Brenda passed along to me.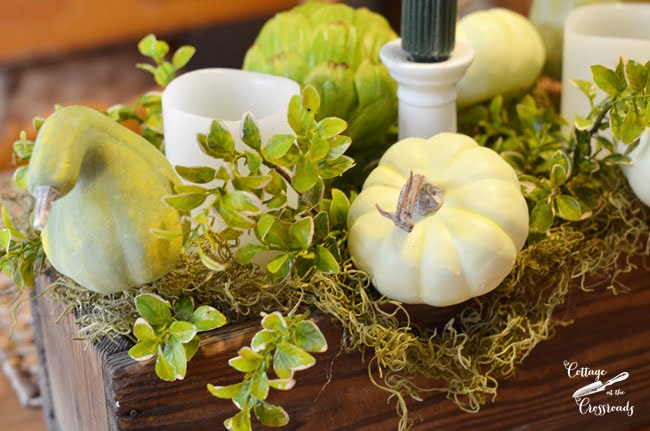 The only thing left to do was to add some green tinted Spanish moss to soften the edges.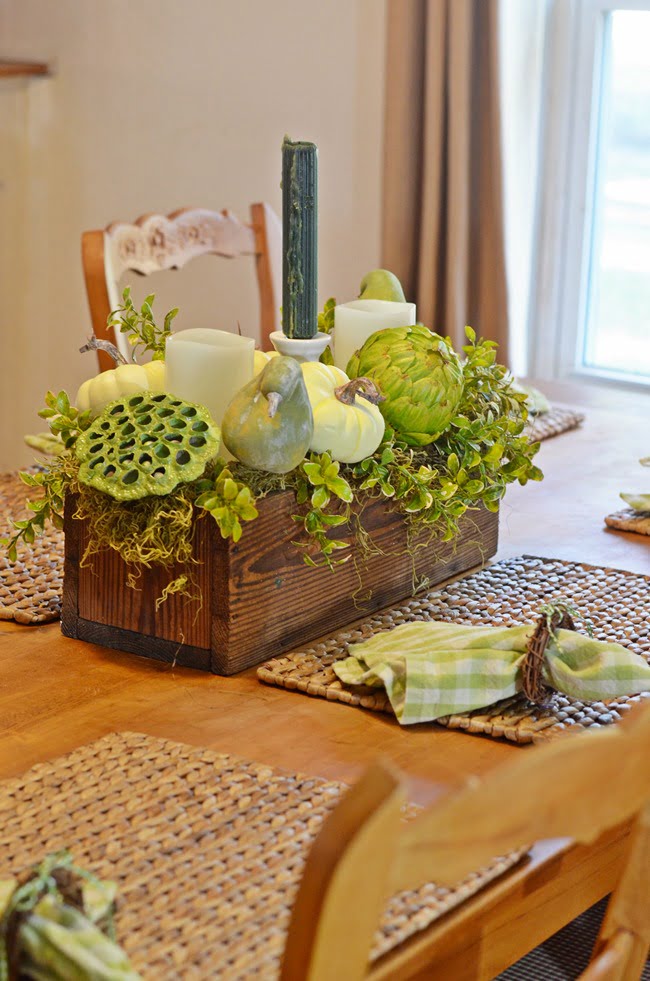 To complement the colors used in the fall centerpiece, I pulled out some green and white napkins.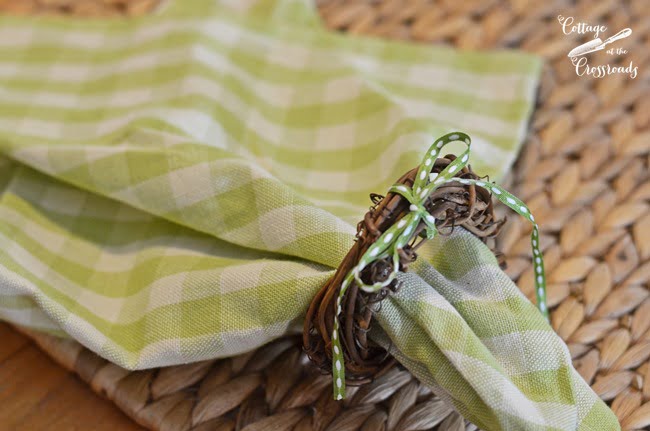 And remember these grapevine napkin rings with the green ribbon? They went perfectly with the napkins.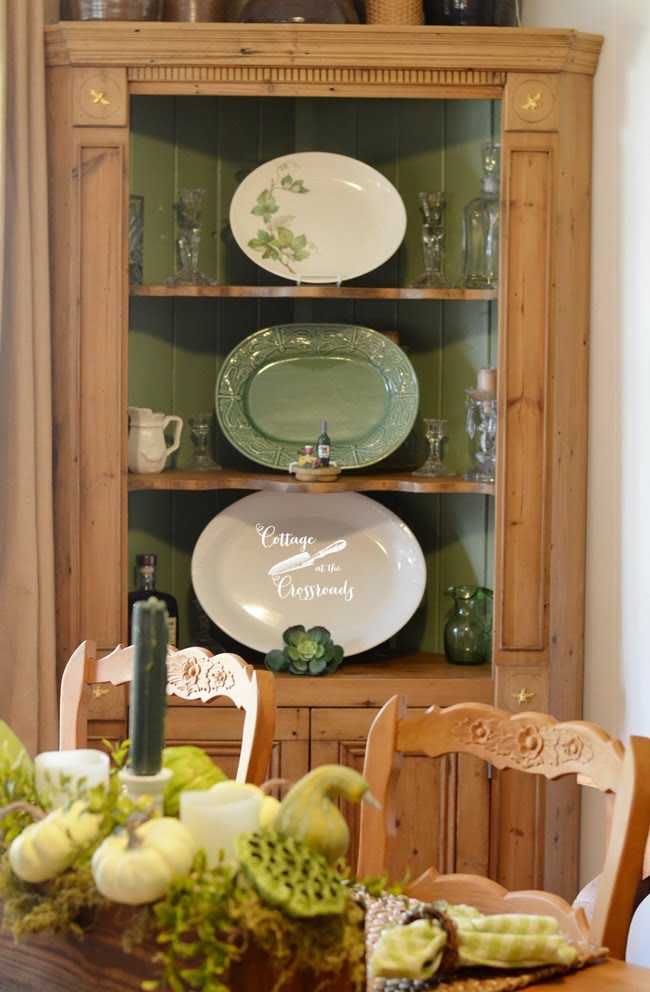 The green scheme continues in the corner cabinet.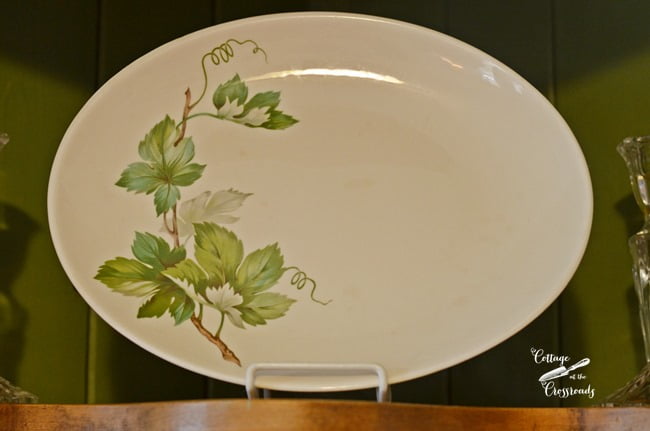 I don't think I've ever shown you this platter that I found at the auction a few years ago. Can you tell that I love the color green???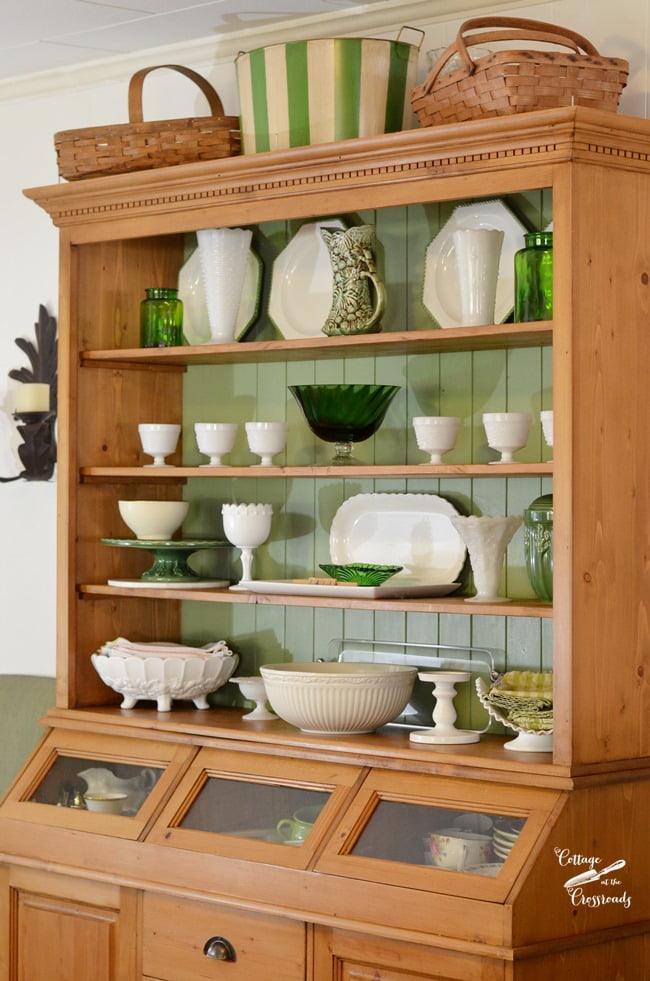 A variety of milk glass and more green items sit in the cupboard in the room.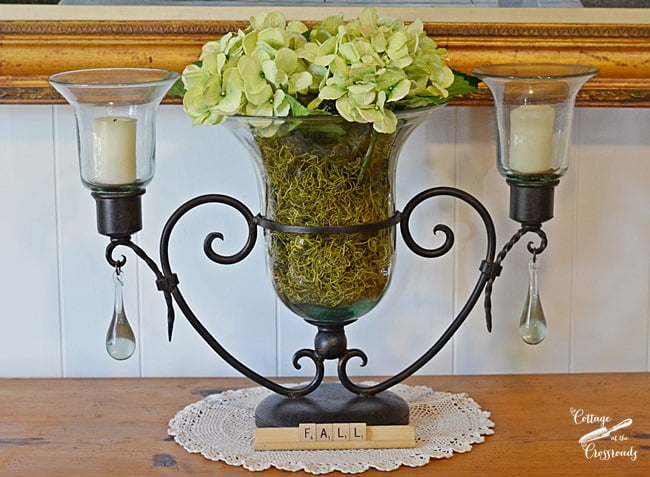 I had to resort to faux hydrangea branches to fill this container since we had very few blooms on our bush this year.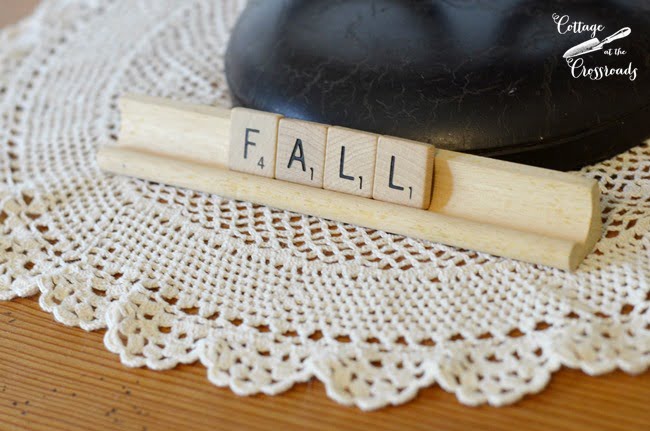 I hope you enjoyed seeing my fall pine box centerpiece and the other things in our dining room. And most of all, I'm hoping that you're enjoying this glorious season as much as I am!