In this post, you'll find ideas for a fall bathroom update, a bath towel review, and a giveaway.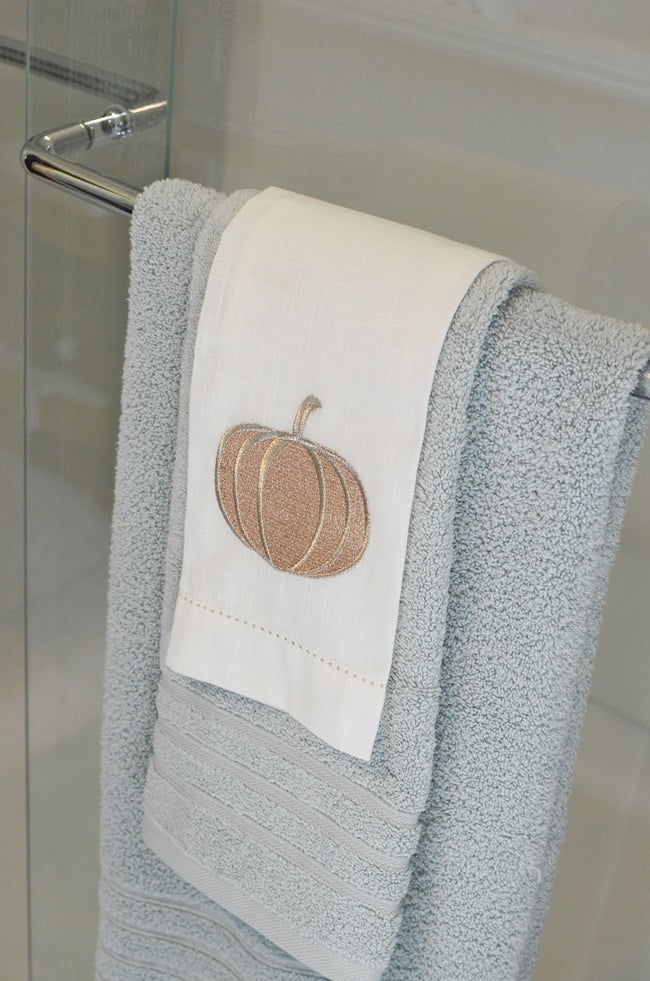 It's official. Fall has arrived, and I've had fun decorating our little cottage for the new season. I wanted to share this fall bathroom update that we've been working on recently, and these gorgeous new towels are part of that update.
This post may contain Amazon or other affiliate links. As an Amazon associate, I earn from qualifying purchases. If you purchase anything through any affiliate link, I may earn a small commission at no extra charge to you. All opinions are my own.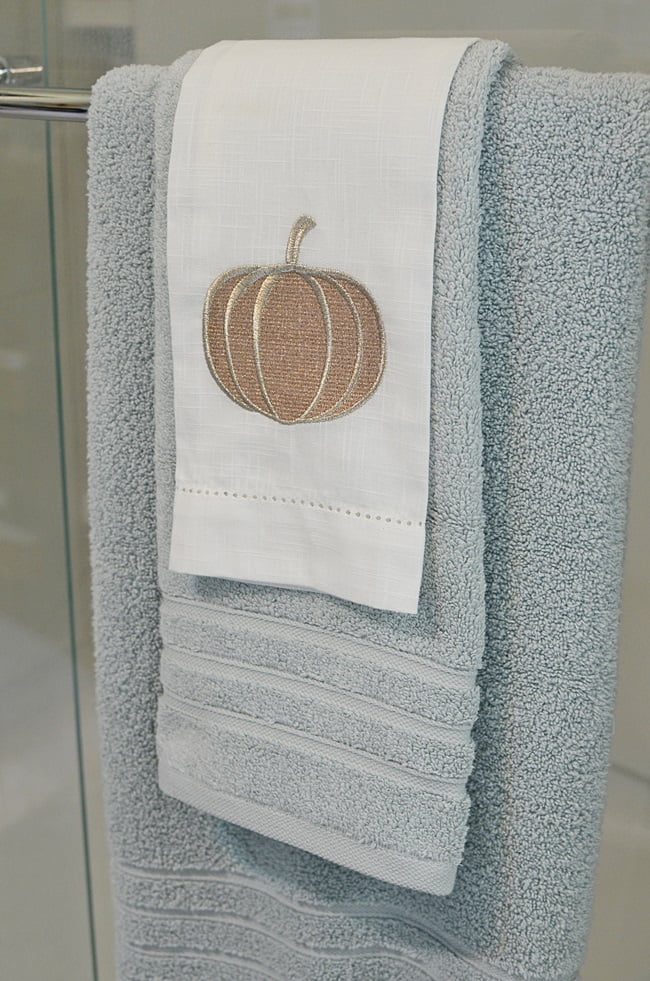 When I was approached by a representative of the Hotel Collection Ultimate Micro Cotton Bath Towel Collection asking if I'd like to receive some towels to review, I jumped at the chance. You see, we were in the middle of renovating our bathroom, not by choice but by necessity. I will save all those details for another post, but today, I wanted to share with you how much we love these towels and give you a chance to win some, too.
Disclosure: We received Micro Cotton Towels in exchange for this post but all opinions are truthful and our own.
Although we had to make some major changes in our bathroom, we chose to keep the same wall color that I have loved since we had it painted when we moved to the Crossroads. In the above photo, you can see one of the two seascapes that are hanging in the bathroom, and below it is one of the hand towels in the color seaspray. It is a perfect match to our wall color!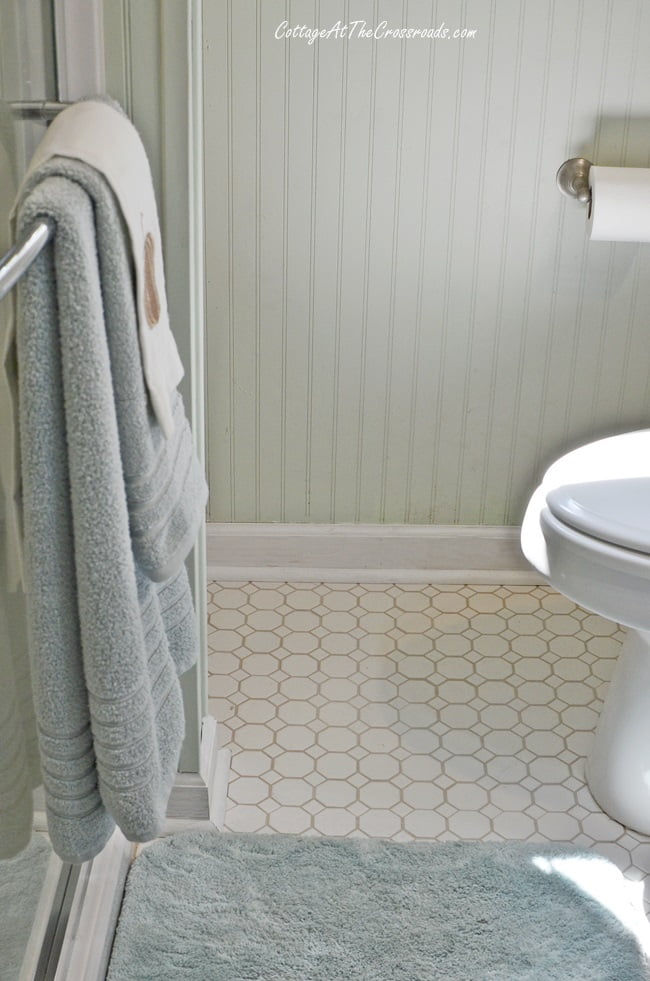 I know you can't tell by looking at a photo, but these towels are so fluffy and plush! When I took them out of the package, I was immediately struck by how soft they were. But we all know that the true test of a towel is what it looks and feels like after it's laundered! After their initial wash, the towels dried quickly in the dryer and were super absorbent when we actually used them. The bath towel is really generous in size. I tried to get Leo to let me take a photo of the bath towel wrapped around him, but that was a NO!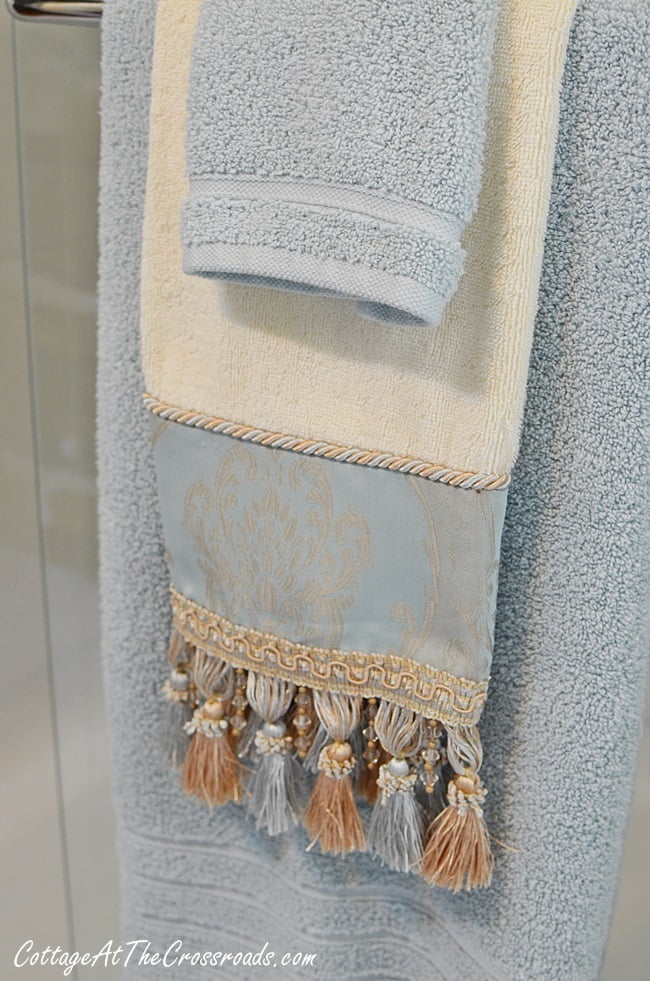 I wanted to show you how pretty these towels are with this decorative towel that I already had.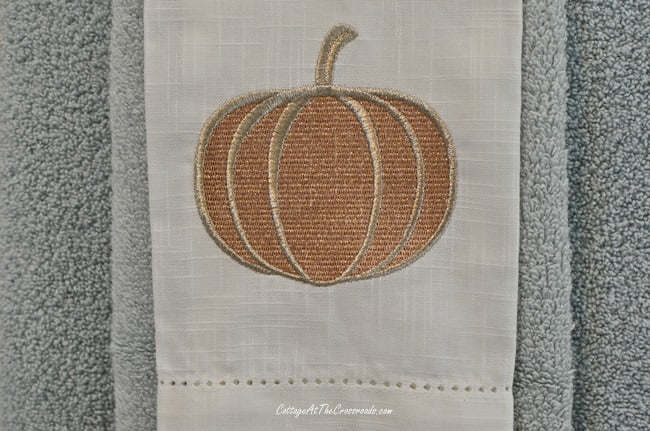 But since it's fall, I hung this embroidered linen tea towel on them that my sister-in-law gave me for my birthday. Freshening up a bathroom with new towels in a pretty color along with hanging a cute, decorative towel is a quick way to complete a fall bathroom update.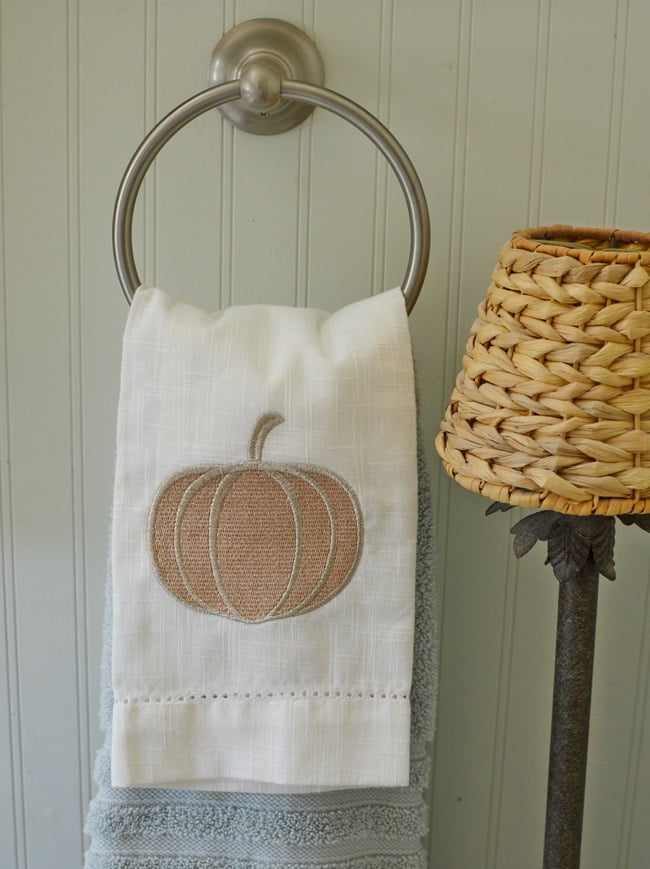 Since I had two of these pumpkin embroidered tea towels, I hung the other one with the hand towel.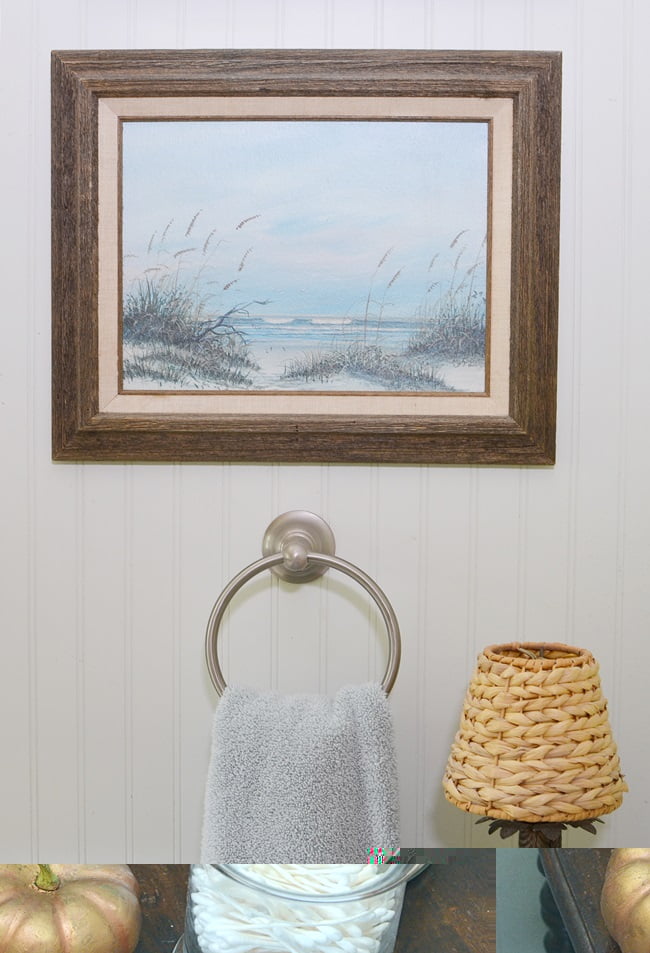 Simply adding a little faux pumpkin in a similar color underneath where the hand towel hangs brings a little more fall into the bathroom.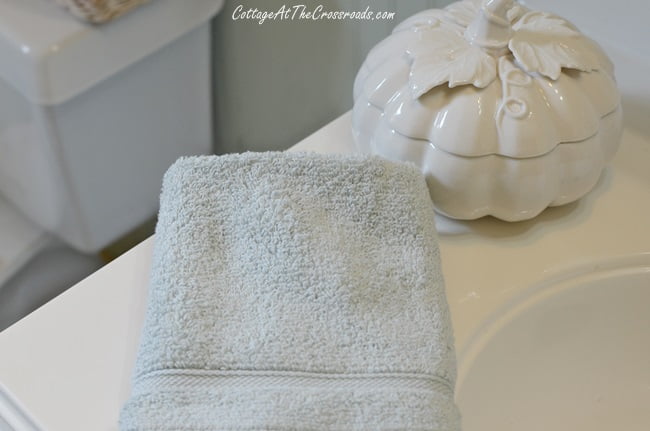 I was looking for another fall element to bring into the bathroom, and I brought in this white, ceramic pumpkin. (Another gift from my other sister-in-law!) Such a simple and easy way to bring some fall flair into the bathroom.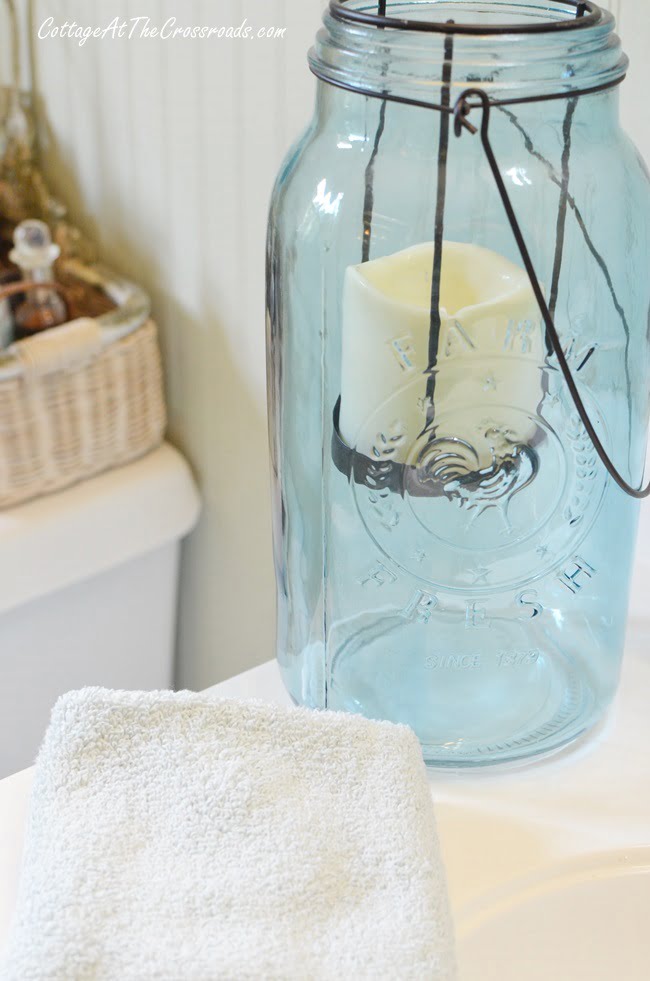 I ended up putting the pumpkin on a shelf and brought this Mason jar candle holder into the bathroom. Nothing like a candle (even if it's electric) to bring a little fall warmth into the necessary room! So easy to cozy up the bathroom with some fresh towels and a little fall decor.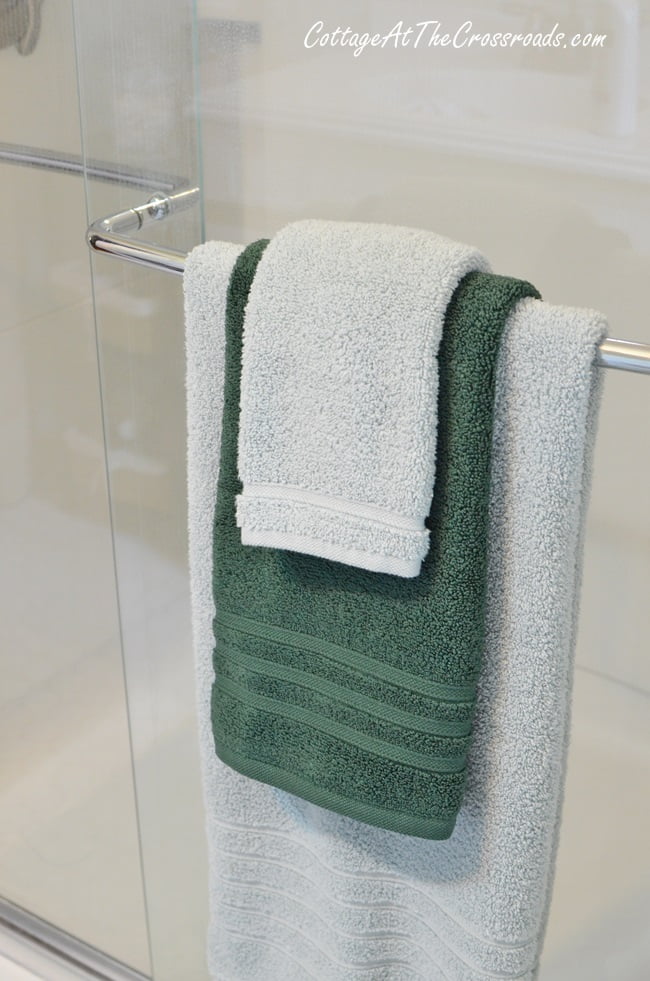 In addition to the seaspray towels that I selected, I received a set of these dark green towels in the color pine. I really didn't think that they would go in our bathroom, but look how pretty they are hanging with the seaspray ones! The dark color instantly warms up the room and provides great contrast.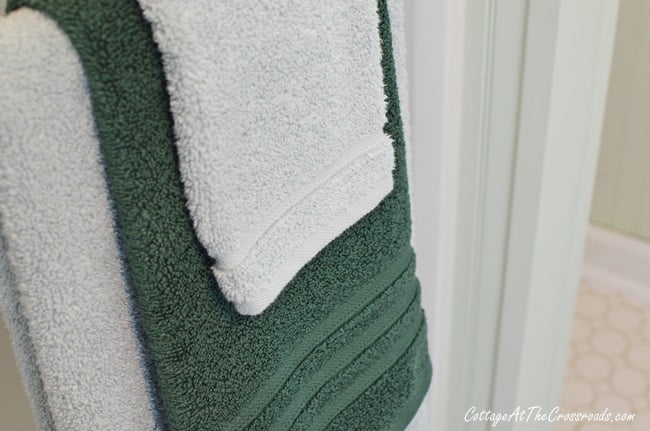 The Hotel Collection Ultimate Micro Cotton Bath Towel Collection is available exclusively at Macy's.com. They come in 21 colors that are sure to complement any decor.
I did take the time to read many of the reviews on the Macy's website and most everyone raved about the superior softness, the durability, and the fast drying time. And they have been given a great rating by Good Housekeeping as well.
Pamper yourself with your own fall bathroom update with some new, plush towels and a bit of fall decor. We all deserve some bliss and nirvana!
Giveaway!
I really appreciated the opportunity to review these ultra-soft and extra-absorbent towels as well as the opportunity to host a giveaway for a set of these luxurious towels for two of our readers. (Retail value of each set-$78) All you have to do to enter is leave a comment on this post. The giveaway will be open from Friday, Sept. 22 through Sunday, Oct. 1. Winners will be contacted by email and the prizes will be shipped directly to the winners. Giveaway open to USA residents only.
*This giveaway has ended and the winners have been contacted by email.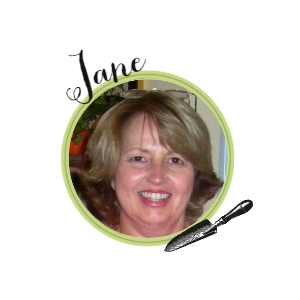 Good luck, everyone!