Squash, a vegetable celebrated for its versatility and rich nutrient profile, finds a new avatar in the world of air frying.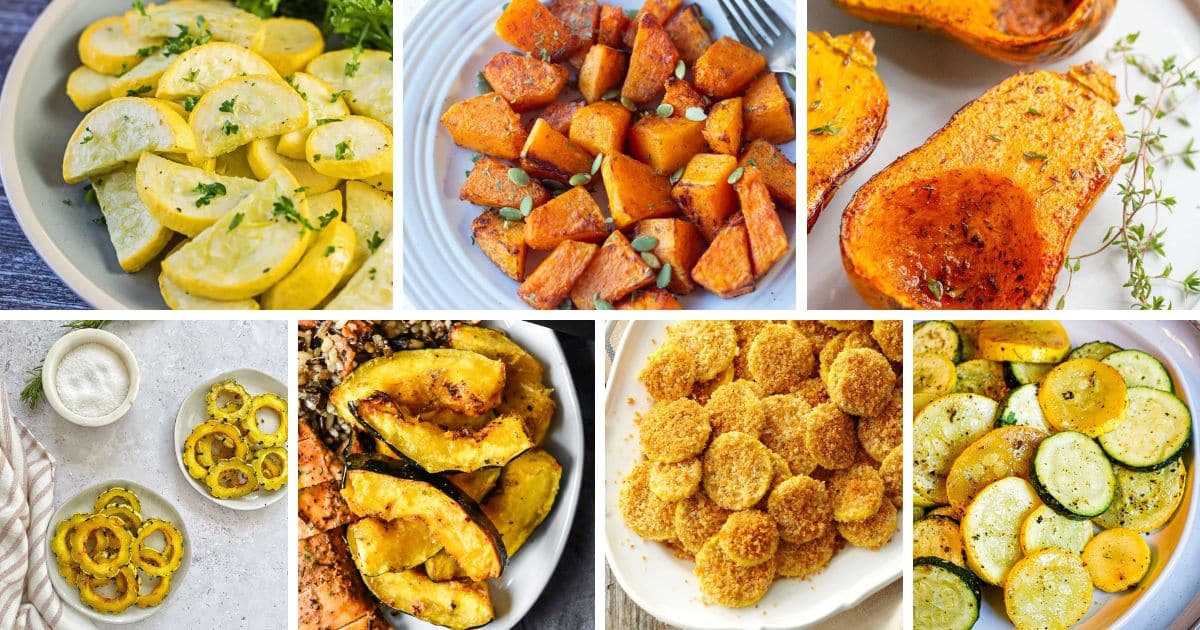 As health-conscious individuals increasingly turn towards innovative cooking methods that retain flavor without compromising on nutrition, the air fryer emerges as an invaluable tool.
These 25 easy air fryer squash recipes embrace the full spectrum of squash varieties, from the hearty butternut and acorn to the vibrant zucchini and yellow summer squash, ensuring there's something for every palate.
In this curated collection, each recipe is meticulously crafted to bring out the inherent flavors of the squash, enhanced with complimentary seasonings and ingredients.
Whether you're in search of a quick snack, a sumptuous side, or even a main dish, these innovative squash recipes promise delectable outcomes with minimal effort. Embrace the golden, crispy textures and rich aromas that your air fryer can achieve with these delightful squash creations!
Contents
This dish offers a keto-friendly twist on spaghetti squashes, bursting with natural flavor and vitamins. Ideal for those watching their carbohydrates, it pairs perfectly with a protein-packed main course.
You can experience the simple joys of yellow summer squash air-fried to perfection, which makes a fantastic side dish. When looking for a gluten-free alternative to spaghetti, this recipe truly shines.
This recipe boasts a combination of zucchini and yellow squash, tossed in Italian seasoning. The result? A side dish with tender insides and a slightly crispy outside.
Do you love the subtle sweetness of pumpkin? This dish, flavored with cinnamon and garlic powder, is perfect for those chilly autumn days when you need some warmth.
This dish offers a healthier twist to the traditional Indian snack by using an air fryer. Crunchy on the outside with flavorful fillings inside, it's perfect for teatime or gatherings with friends.
This is a simple air fryer butternut squash recipe that turns this veggie into a soft, flavorful delight. Drizzle with olive oil, toss with fresh parsley, and savor every bite.
This dish brings out the robust flavor of zucchini and yellow squash. Tossed with olive oil and garlic powder, it's a gluten-free option that elevates any summer meal.
This dish captures the essence of fresh vegetables, crisped to perfection in an air fryer. It's a delightful side that pairs seamlessly with a wide range of main courses.
A fusion of savory parmesan cheese, garlic powder, and butternut squash creates this vegan treat. Paired with a dip, it's a snack that you'll proudly share on Instagram or Facebook.
This dish showcases the unique flavor of delicata squash, complemented by rosemary and garlic. It's a paleo-friendly option packed with potassium and fiber.
This dish combines thin slices of yellow summer squash with panko and parmesan cheese for a delightful crunch. This squash is perfect for a light snack or paired with a main dish in June or August.
This air fryer butternut squash recipe offers a blend of thyme, basil, and oregano that elevates its natural sweetness. It's a wholesome dish rich in fiber, potassium, vitamin A, and C.
Golden and crispy, this southern treat brings together yellow squash, breadcrumbs, and cornmeal with a hint of garlic. Garnish with fresh herbs or parsley for a pop of color and share it on Facebook!
These fritters, packed with zucchini and spiced with chili flakes and Italian seasoning, are a treat for the taste buds. They're ideal for those lazy evenings when you crave a savory snack.
Fresh zucchini and yellow squash, combined with garlic powder and red pepper flakes, come alive in this dish. Drizzled with parmesan cheese, it's a calcium-rich side dish everyone will love.
Highlighting the subtle flavors of summer squash or zucchini, this recipe is seasoned with Italian herbs. It's a low-sodium option that pairs wonderfully with grilled chicken or steak.
Bite into these cheesy delights filled with zucchini, sharp cheddar, and sweet corn. Snap a picture and let your Instagram followers know about this gluten-free gem!
Acorn squash gets a new twist in this dish with dried oregano, garlic powder, and a dash of onion powder. We recommend serving this vitamin A-rich dish alongside roasted meats for a filling meal.
Fresh from the air fryer basket, this butternut squash is a symphony of garlic, onion powder, and fresh herbs. This squash is ideal for those lazy June afternoons or a mid-August family get-together.
This dish showcases the natural sweetness of honeynut squash, elevated with a hint of smoked paprika and thyme. Rich in vitamin C, it's perfect for boosting your immune system in the colder months.
Sweet honey and warm cinnamon coat the butternut squash, making each bite of this dish a sweet delight. We highly recommend this recipe when you're in the mood for a touch of sweetness with your veggie intake.
Garlic and Italian seasoning marry beautifully with cubed butternut squash in this dish. Brimming with vitamin A, it's a health-conscious option that doesn't skimp on flavor.
This recipe offers tender slices of acorn squash, accentuated by the richness of brown butter. The mingling of sage, pecans, and parmesan creates a mouth-watering experience.
Craving a quick and flavorsome side? These zucchini and yellow squash slices, seasoned with garlic and Italian herbs, fit the bill. They're perfect for those impromptu dinner plans.
This dish features the mellow taste of yellow squash, enhanced with a touch of olive oil and garlic salt. It's an easy and delicious addition to any summer meal.
📋 Recipe
Frequently Asked Questions