Pork tenderloin is one of the few ingredients that can really grab our attention when it comes to great food. Its soft texture and ability to go with many different flavors make it a real kitchen champion.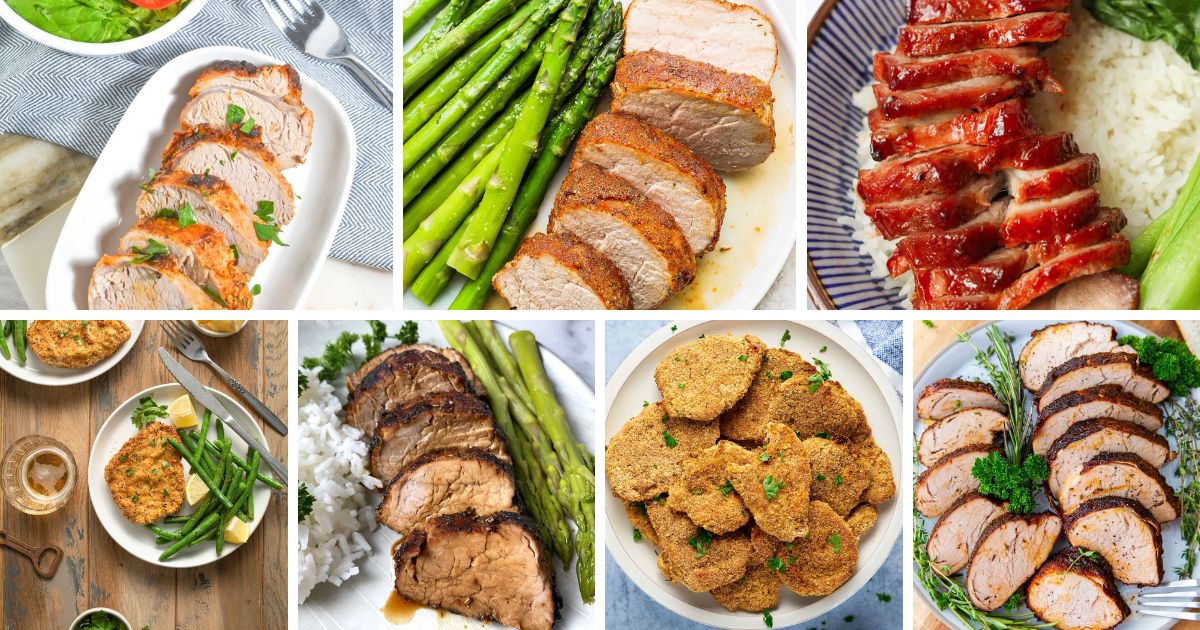 Even though pork tenderloin might seem like something you can only get at a fancy restaurant, the air fryer is the hidden hero that makes this possible in your kitchen. Imagine juicy pork seared to a delicious crisp while staying soft on the inside. You can accomplish this in only a fraction of time.
So, we've compiled a collection of 33 easy air fryer pork tenderloin recipes that will change how you eat this tasty meat! This collection is a treasure trove of ideas for experienced cooks and eager beginners. You can use these recipes to make a quick weeknight meal or a fun way to try your creative cooking skills.
Contents
This best damn air fryer pork tenderloin boasts a herb-crusted exterior that locks in the juiciness. Perfectly seasoned in garlic powder, it's an effortless dish ready in under 30 minutes.
This dish presents a savory masterpiece, effortlessly achieving the juiciest pork in a crispy, glazed crust. Ideal for almost any occasion, its herb-infused essence featuring onion powder adds a unique touch.
This recipe simplifies easy gourmet cuisine. The tender meat, cooked to perfection, boasts an effortlessly crispy exterior. You can pair it with a fresh apple slaw for a balanced and satisfying meal.
You can savor the tenderness in this herb-crusted masterpiece – the best juicy air fryer pork tenderloin. Infused with aromatic herbs, it's an ideal centerpiece for a Sunday family lunch.
This dish elevates pork loin to new heights of flavor, together with the air fryer's magic touch. You can serve it alongside tangy apple slaw for the best meal, perfect for special occasions.
Discover the art of air-frying pork medallions to perfection with this recipe. The cooking process seals in juices while creating a delightful crispness. This is ideal for a hassle-free weeknight dinner.
The aroma of char siu pork comes from a fusion of flavors that combines the tenderness of pork and the rich essence of Chinese BBQ. This dish is a delightful choice for an Asian-inspired lunch.
The juicy tenderness of this air-fried pork with its crispy exterior is golden perfection. The pork roast pairs flawlessly with your favorite side dishes and a rich pan gravy for Sunday gatherings.
Crispy on the outside and tender on the inside – this air fryer pork chops is such a delight! It's a delectable choice for a satisfying lunch, accompanied by a zesty mustard dipping sauce.
The juicy pork tenderloin meets the creamy embrace of cheese stuffing. This dish is perfect for your leftover pork tenderloin. You can serve it with sautéed spinach for a gourmet experience.
Prepare for a feast of flavors and aromas with this roast pork, air-fried to crispy perfection. Pair it with rosemary roasted potatoes and a velvety red wine for a remarkable dining experience.
If you need a speedy yet delish meal, look no further than this air fryer pork loin recipe boasting a caramelized exterior and moist interior. Serve it with a fresh arugula salad for a delightful contrast.
This dish is a match made in heaven! The air-frying magic ensures a crisp bacon crust while keeping the pork tender. You can pair it with roasted sweet potatoes for a harmonious balance.
The pork tenderloin takes center stage in this delicious recipe. The air fryer's precision ensures a succulent inside and a glazed exterior. This is ideal for a celebratory meal with green bean almondine.
The marriage of maple and mustard enhances the tenderloin's natural goodness in this pork tenderloin recipe. You can serve it with quinoa salad for a wholesome and inviting dish.
This dish transforms simple pork medallions into a culinary masterpiece. Each medallion is wrapped in crispy bacon – their flavors complementing and enhancing one another.
This dish presents pork tenderloin glazed in rich balsamic goodness, achieving a harmonious balance between sweetness and tanginess. Serve it alongside roasted vegetables for a healthy delight.
This recipe introduces schnitzel with a golden, crunchy coat, transforming pork into crispy perfection. Pair it with a zesty arugula salad for a quick, satisfying lunch or dinner treat.
This dish is a delicious and healthy way to enjoy pork tenderloin. The pork is marinated in a flavorful Asian sauce and then cooked in the air fryer until it is juicy and tender. Yummy!
The balance in this tenderloin dish absorbs the sweet and savory dance of teriyaki flavors. This is ideal for a weeknight indulgence; serve it over fluffy jasmine rice for a wholesome meal.
Whether air-fried or oven-baked, this pork kebabs recipe promises delicious bites with a delightful char. You can serve these yummy skews at outdoor gatherings for an instant hit.
You can have the taste of China in this air-fried char siu BBQ pork. Its caramelized glaze and tender interior make for an irresistible dish. Don't forget to serve over steamed jasmine rice.
Have the ultimate low-carb indulgence with this air-fried pork tenderloin. It has great texture and savory flavors that make it a keto-friendly delight. Serve it alongside cauliflower mash for a guilt-free feast.
In this recipe, the pork tenderloin crowned with a luscious gravy takes center stage. Be sure to enjoy it with creamy mashed potatoes or your favorite greens.
Get ready for a flavor-packed journey as this pork tenderloin gets smothered in smoky BBQ goodness. Perfect for gatherings, serve it with coleslaw and cornbread.
Go on a culinary adventure with these Asian-inspired skewers. You can air-fry it or grill it for flavorful bites. Don't forget to pair with a refreshing cucumber salad for a satisfying contrast.
You can try the delicate crunch of Japanese cuisine with this air-fried tonkatsu recipe. You can serve this protein delight with finely shredded cabbage and a drizzle of tangy sauce.
Indulgence meets elegance in this dish. The juicy pork tenderloin wrapped in crispy bacon is a true treat for special occasions. Pair it with vegetables and velvety sauce, and you're good to go.
Taste the fusion of flavors as tender pork char siu undergoes an air-fry transformation. Its caramelized exterior and juicy interior make for a delightful experience. Serve it with steamed bok choy.
This ninja foodi pork tenderloin emerges golden and juicy from the air fryer. It is perfect to pair with garlic mashed potatoes, buttery green beans, or any of your favorite sides.
Change your outdoor grilling with this Asian-infused pork tenderloin. The charred, aromatic exterior complements the juicy interior perfectly. You can serve it with sesame-seasoned noodles.
Spice up your casual dining with these delectable pork bites reminiscent of a steakhouse experience. It is best served with a loaded baked potato and a creamy horseradish sauce.
This tenderloin recipe is the epitome of air-fried perfection. Its golden exterior encases juicy tenderness, making it a standout dish. Pair it with garlic butter asparagus for a gourmet touch.
📋 Recipe
Frequently Asked Questions