Innovation knows no bounds in the culinary world, and the trend of air fryer pasta chips is a perfect testimony to this spirit of gastronomic exploration.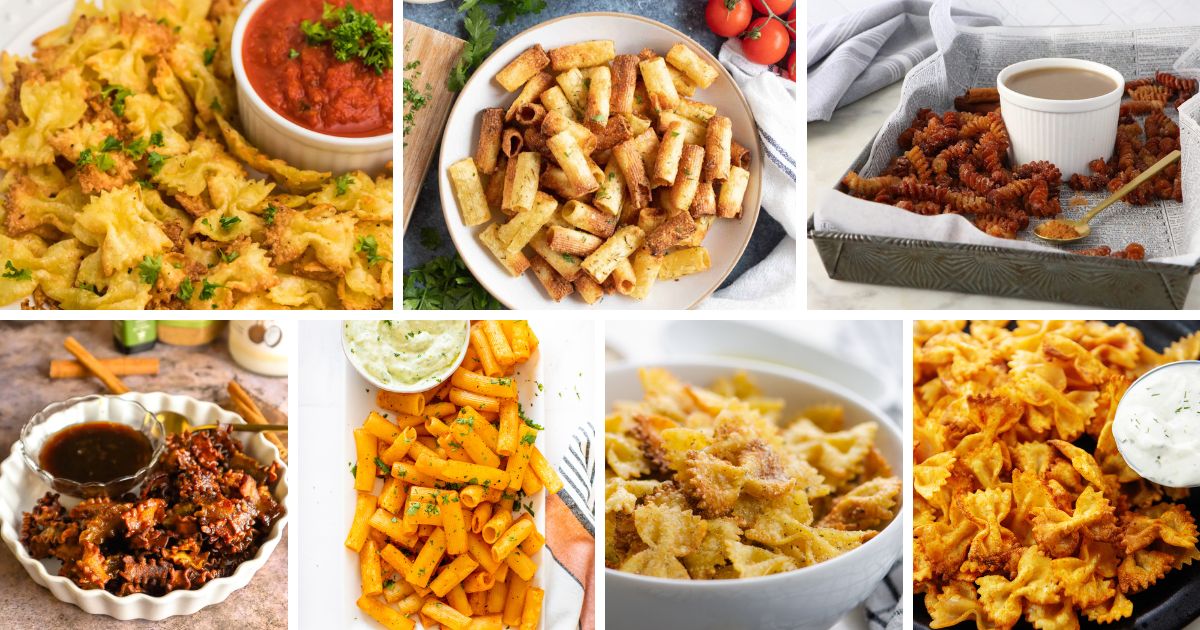 These crunchy delights represent a revolutionary way to enjoy pasta, bringing a novel texture and flavor to the table. Utilizing an air fryer not only grants the pasta chips their characteristic crispiness but does so in a healthier fashion, curtailing the amount of oil used in the preparation.
Whether you have a penchant for spicy, sweet, or savory, there's a variant of this snack to satiate your cravings. From the zesty zing of Buffalo Ranch to the sweet allure of cinnamon paired with caramel sauce, these recipes offer a broad spectrum of flavors to explore.
We'll share 33 inventive yet easy air fryer pasta recipes, so prepare yourself for a culinary experience that marries tradition with modernity.
Contents
This recipe combines farfalle pasta and delightful Italian seasoning for a snack full of flavor. You'll find them perfect for movie night or as a unique appetizer at gatherings.
Enjoy this delicious twist where cooked pasta meets your favorite crisps. Try this with rigatoni or penne pasta and savor the crunch; you can pair it with a refreshing drink.
Discover the aromatic blend of garlic and herbs in this tempting dish. It's a fantastic choice for an afternoon snack or to complement a protein-rich meal.
This recipe became a TikTok viral sensation, and for good reason! With a whipped feta dip that's simply irresistible, it's perfect to bake in batches for a casual gathering or a fun family snack time.
This recipe offers a versatile approach to enjoying pasta chips in different flavors. They are great for parties, allowing guests to choose their preferred taste sensation.
Treat yourself to these crispy pasta chips that offer both fiber and flavor. They are a wonderful alternative to traditional potato chips, adding a touch of elegance to your snack time.
This uncomplicated recipe, featuring just three ingredients, results in a batch of crispy, garlic-seasoned farfalle pasta chips. They're an ideal choice for a quick snack, offering a delightful crunch with every bite.
Experience the zest of Italian seasoning in this unique snack. You can pair it with marinara sauce for a true Italian culinary adventure, ideal for weekend brunch or dinners.
These vegan pasta chips, flavored with nutritional yeast and Italian seasoning, offer a satisfying crunch. They pair beautifully with a fresh salad or as a stand-alone snack, proving that vegan options can be both delicious and fulfilling.
Venture into a world of exotic flavors with these masala pasta chips. Great for those seeking a spicy kick to their snacks, and can be enjoyed with a tangy dip.
These cheesy air fryer pasta chips are sure to be a hit. You can serve them during movie night or as a delightful starter at your next dinner party.
Bow-tie pasta meets Tone's® Italian seasoning and marinara sauce in this recipe. They're an ideal snack for a relaxed evening, providing comfort and flavor in each bite.
Experience the rich taste of Parmesan combined with seasoned bowtie pasta, creating a harmonious blend of flavor and crunch. You can pair it with marinara sauce; it's an indulgent treat ready to satisfy any craving.
Spice up your snack time with these Cajun-flavored air fryer pasta chips. They're a fantastic spicy treat, great to enjoy with a cold beverage on a warm day.
Gluten-free pasta is the star of this vegan recipe, offering a healthy yet flavorful snack option. These chips are a great source of fiber, making them a wholesome choice for mindful snacking.
Explore the tangy sensation of these salt and vinegar pasta chips. They make a great snack for gatherings, providing a zesty flavor profile that's sure to please.
Garlic and parmesan team up in this recipe, presenting a delightful batch of bowtie pasta chips. You can enjoy them during a movie night or as a flavorful addition to your snack lineup.
Savor the rich flavors of this pasta chips recipe with a creamy pesto dip. It's a remarkable choice for a cozy evening snack or a casual gathering with friends.
This recipe is a spicy snack lover's dream. Pair these with a cool ranch dip for a perfect harmony of flavors.
Satisfy your cravings with this flavorful dish. These pasta chips, boasting a hint of cilantro and cheese, are a hit at any gathering.
Farfalle meets a sweet fusion of cinnamon and coconut sugar with this recipe. You can complete the treat with a delectable caramel sauce for an extraordinary dessert experience.
Bowtie pasta gets a gourmet touch with Parmesan and garlic. You can serve them with marinara sauce for an Italian-inspired snack.
This recipe is a haven for vegan and gluten-free enthusiasts. It combines subtle spices with the nutritional goodness of yeast and paprika.
Spice lovers will appreciate this recipe, blending chickpea pasta with red chili powder. You can try them for a fiery and healthy snack option.
Embark on a low-carb journey with this recipe. The blend of garlic and parsley flakes adds a tantalizing touch to your snack time.
This recipe brings a flavorful twist to regular pasta chips. The mixture of Parmesan and Italian seasoning promises a delightful crunch with every bite.
Discover a medley of flavors with this recipe. The tangy feta dip perfectly complements the garlic and Italian-seasoned pasta chips.
Quick and tasty, this recipe is a time-saver. The combination of parmesan and garlic powder offers a delicious snack ready in just 20 minutes.
Embrace dessert in a unique form with these spiral pasta churros. You can pair it with a rich coconut caramel; it's a dessert lover's haven.
For those seeking a vegan delight, this recipe is perfect. The blend of nutritional yeast and Italian seasoning provides a tasty and nutritious snack.
Spice up your snack time with these buffalo pasta chips. You can serve them with vegan ranch for an exciting flavor contrast.
A heartwarming snack option, this recipe brings a rich dipping sauce to your table. The blend of stewed tomatoes and Italian seasoning makes it an irresistible choice.
Introduce an Asian flair to your snacks with this recipe. The hints of soy sauce and sesame oil provide a unique, flavorful experience.
📋 Recipe
Frequently Asked Questions