The culinary world has been set alight by the innovation of air fryers, a sensation quickly trending across social media platforms like Pinterest, Instagram, and Facebook.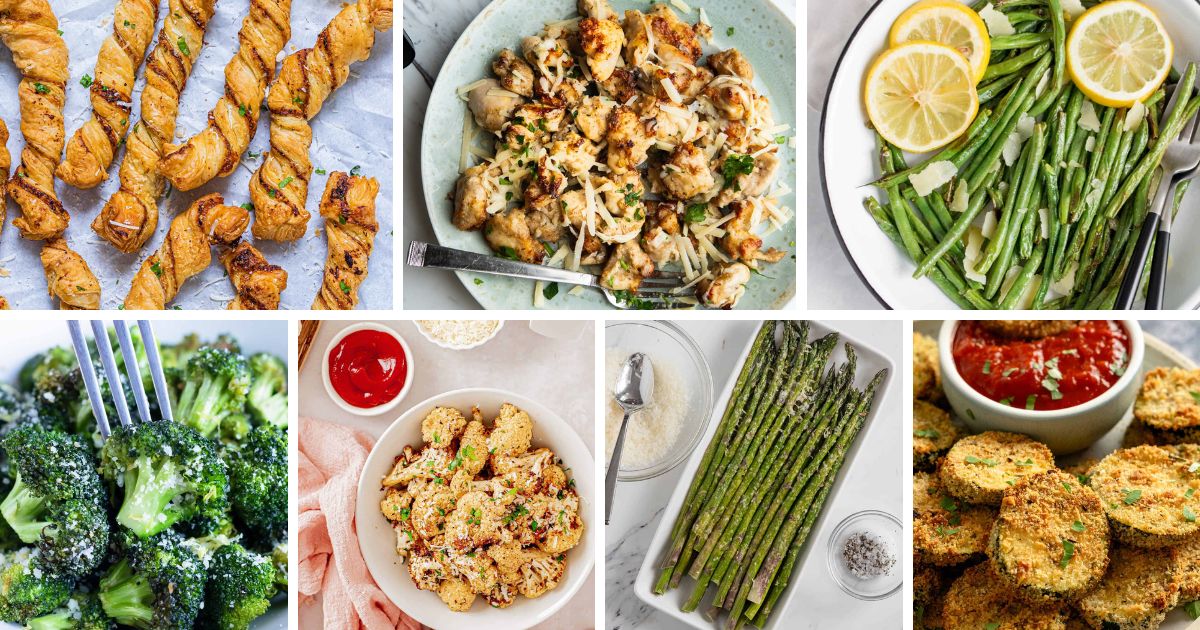 These versatile kitchen gadgets are a game-changer, offering a healthier and more efficient alternative to traditional oven and microwave methods. More than just a trendy gadget, they ensure that food retains its deep flavors, inviting textures, and essential nutrients, especially when compared to traditional frying.
With health and wellness becoming more central in our daily lives, there's a collective yearning for recipes that align with these values without compromising taste. Enter Parmesan. Rich in calcium, potassium, and vitamin C, Parmesan cheese brings a unique savoriness that's hard to resist, especially when it's air-fried to perfection.
Our collection below celebrates this remarkable cheese, offering 31 easy air fryer Parmesan recipes. Let these Parmesan-inspired creations become your next culinary obsession.
Contents
This dish boasts tender chicken, marinara, and gooey mozzarella. Drizzled with fresh Parmesan and oregano, it's perfect for those seeking a classic Italian flavor without the oven hassle.
These zucchini chips, crisped in the air fryer and sprinkled with Parmesan, offer a low carb treat. They're a delightful alternative to potato chips, providing both fiber and flavor.
This recipe, a hit on Pinterest, marries garlic, basil, and Parmesan. Toss them in your favorite dipping sauce or enjoy them straight from the air fryer.
These wings, perfect when drizzled with a garlic-Parmesan mix, are a game-day favorite. Complement with veggies and a ranch dipping sauce for a well-rounded snack.
Potatoes, rich in potassium and fiber, get a Parmesan and garlic sprinkle in this recipe. Fresh from the air fryer, they're the ultimate side dish.
These crisps are a simple celebration of Parmesan in its purest form. Perfect as a crunchy snack or an elegant garnish for salads and soups.
Brussel sprouts shine in this dish, complemented by rich Parmesan and aromatic garlic. A great side option for holiday feasts or regular dinners alike.
Fresh green beans meet a burst of garlic and Parmesan in this dish. It's an enticing side that pairs well with grilled meats or roasts.
With a crust of panko bread crumbs and Parmesan, this chicken recipe is irresistibly crunchy. The touch of garlic powder elevates its flavors, making it a must-try main course.
Freshly grated Parmesan transforms into savory crisps in this easy recipe. With optional seasonings, you can customize these treats to your own taste palette.
This dish boasts crispy fries generously dusted with garlic and Parmesan for an unforgettable flavor combination. It's the perfect side for burgers or a standalone snack for movie nights.
Indulge in layers of tender eggplant, marinara, and melted mozzarella in this dish. Garnished with fresh basil, it's an Italian classic reimagined for the air fryer.
Savor the simple flavors of zucchini enhanced with garlic and Parmesan with this recipe. THis breading-less delight is perfect when you're seeking a healthy and wholesome side dish.
If you're in the mood for a nutritious treat, these asparagus spears come out tender and slightly crisp in the air fryer. They make an elegant side dish for steak or grilled chicken.
This dish offers a savory blend of cauliflower, Italian seasonings, and Parmesan. It's a wonderfully tasty way to introduce more vegetables to your plate.
Sweet corn pairs wonderfully with garlicky butter and grated Parmesan in this recipe. This savory corn is ideal for summer barbecues or cozy family get-togethers.
These twists are a fusion of aromatic garlic and rich Parmesan, making each bite irresistibly flavorful. They're a fantastic companion for a hearty soup or a chilled glass of white wine.
These succulent mushrooms are enhanced with Parmesan, creating a mouthwatering umami experience. These mushrooms are particularly lovely for a fancy appetizer or as a topping on your favorite steak.
Children and adults alike will adore these chicken fingers. The blend of panko, Italian seasoning, and Parmesan ensures a burst of flavor in every bite.
This recipe brings out the juiciness of shrimp, complemented with a garlicky Parmesan crust. It's ideal for a quick gourmet meal or paired with a fresh salad on warm days.
This dish transforms ordinary broccoli into a garlicky, Parmesan-laden delight. It's a tasty way to get your greens, especially paired with roasted chicken or fish.
Do you like a touch of sweetness in your veggies? This air fryer squash is tender, naturally sweet, and lightly caramelized. It complements both spicy and savory main dishes beautifully.
This broccoli dish, enhanced by garlic and Parmesan, is both healthy and flavorful. It's a versatile side that complements a wide range of main courses.
These tomatoes, topped with melted Parmesan, are a celebration of simple ingredients done right. Enjoy them as a fresh appetizer or a vibrant addition to pasta dishes.
These chicken bites, seasoned with garlic, onion, and Parmesan, are bound to be a crowd favorite. Perfect for potlucks, picnics, or just a family dinner.
If you're in the mood for a hearty side, these fingerling potatoes come out golden and perfectly seasoned from the air fryer. They pair wonderfully with roast meats or hearty stews.
This skewered chicken gets a tantalizing makeover with garlic, Parmesan, and hot sauce in this recipe. Enjoy them at BBQs, parties, or a delightful summer dinner outdoors.
These mushrooms, stuffed with a blend of Parmesan, mozzarella, and breadcrumbs, are a savory treat. Garlic and parsley add depth, making them perfect for appetizer platters.
These chicken thighs bask in the flavors of garlic, Parmesan, and paprika in this dish. A must-try for those who appreciate the richness of dark poultry meat.
This dish takes classic French fries to a luxurious level with the infusion of truffle oil and a sprinkle of Parmesan. They're the ultimate indulgence for special gatherings or a gourmet snack night.
This dish combines the crispness of green beans with the zest of lemon and a hint of garlic. The shaved Parmesan adds a creamy touch, making it a refreshing side for any meal.
📋 Recipe
Frequently Asked Questions