Ready to explore delicious air fryer okra recipes?
This wholesome vegetable, often linked with Southern cooking, is experiencing renewed interest thanks to the magic of air frying. Within the cozy confines of an air fryer basket, okra, rich in fiber, folate, and antioxidants, transforms from a simple veggie with a potentially slimy texture to an irresistible, crispy delight.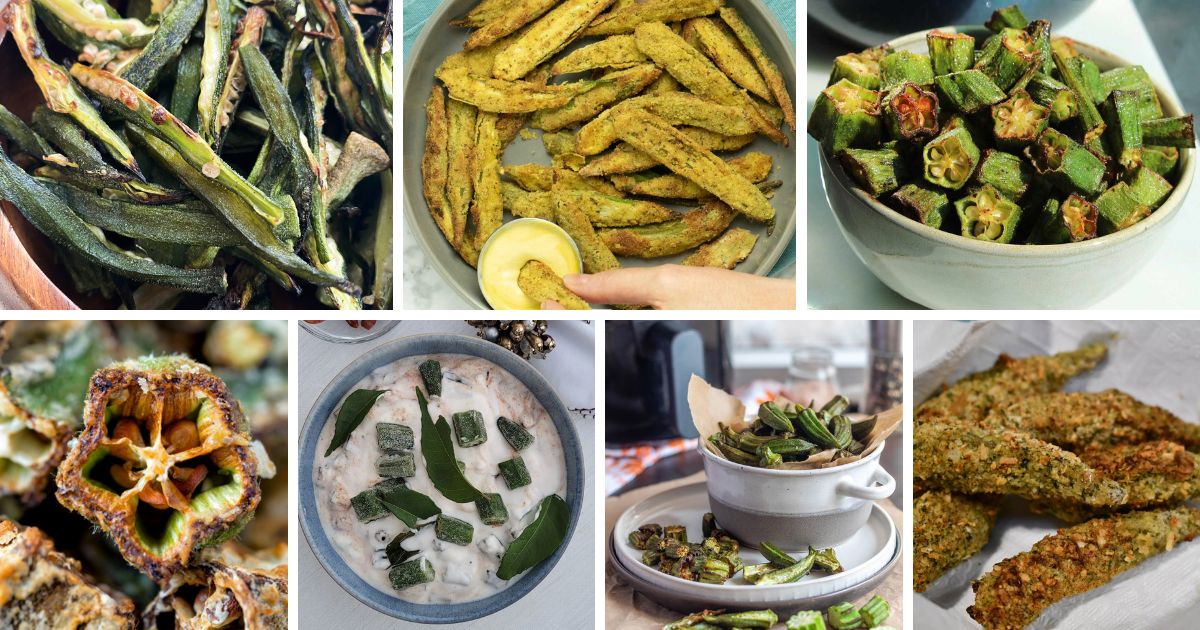 Whether you're revisiting your favorite okra dish or just starting your okra journey inspired by an Instagram post, we've got a flavor to cater to every taste bud. From recipes reminiscent of classic Southern kitchens, to those carrying the aromatic allure of cumin or the zest of lime, our collection covers it all.
With easy-to-follow instructions and a total cook time that won't keep you waiting long, you're all set for a culinary treat. Get ready to toss okra pods in delightful marinades, spread them in a single layer for even cooking, and savor every bite!
Contents
This recipe melds okra with the deep notes of garlic, parsley, and parmesan. It's a perfect pairing for your top-choice grilled chicken dish.
This recipe showcases the okra's crispiness, accentuated by paprika and coriander. It's fantastic for those who cherish a hint of smoky essence in their meals, and it's even paleo-friendly.
Relish the simplicity of roasted okra elevated by a touch of olive oil and black pepper. It's a minimalist treat for any meal of the day.
These okra pieces, infused with avocado oil and a blend of spices, promise a burst of flavor. Pair it with a zesty dip for a perfect evening munch.
Transform fresh okra into a delightful alternative to traditional fries. The seasoned salt adds a perfect touch, making them a must-try for snack enthusiasts.
Do you love a kick of heat in your food? This okra variant, seasoned with smoked paprika and chili powder, hits the spot, especially when combined with a cool dip.
This dish offers fresh okra with a zesty chili-lime twist. Whether it's a barbecue or a summer party, these bites are a crowd-pleaser.
This recipe brings together the classic Southern combo of okra and barbecue sauce. The resulting crunchy rounds are a delightful addition to any Southern-themed meal.
If you're in the mood for something spicy and crispy, this frozen okra with a hint of red pepper flakes will satisfy your cravings. Serve alongside grilled mains for a complete meal.
For those who appreciate the pure, unaltered taste of okra, this one's for you. Its simplicity shines, making it versatile for any dish or occasion.
Dive into the authentic Southern taste with this classic okra preparation. Its crispy coating complements any homestyle meal.
This Southern-inspired dish boasts a blend of cornmeal and spices. Paired with a creamy dip, it's a staple for any Southern meal.
Relish the depth of flavors in this okra dish, enhanced by garlic-herb seasoning. It's the ideal accompaniment to a hearty meat main course.
This traditional Indian dish marries okra with an array of aromatic spices. Serve with a side of yogurt or tangy chutney for a culinary adventure.
This dish is a fusion of Indian spices with crispy fried okra. Pair it with flatbread or a serving of rice for a sumptuous meal.
You'll love this distinct fusion of yogurt and okra, accentuated with a touch of zest. It serves as a cool side, particularly on sun-warmed days.
These crispy okra slivers are accentuated by a medley of Indian spices. This recipe is best enjoyed with a mint chutney or as a crunchy side dish.
For the health-conscious eaters out there, this keto-friendly okra dish, made with almond flour, is a treat. The Cajun seasoning adds a touch of Southern flair.
Ditch the carbs without compromising on taste with this delicious okra recipe. The almond flour coating ensures it's both crispy and keto-friendly.
This dish, seasoned with garam masala and turmeric, brings a South Asian twist to your table. It's perfect as a standalone snack or with a main course.
Celebrate the pure flavor of okra complemented by olive oil in this uncomplicated dish. It's a perfect side for those who appreciate minimalist recipes.
This recipe captures the essence of Southern-fried okra with a healthier twist. The blend of spices makes it a sure-shot favorite.
For those on a gluten-free diet, this okra dish is a dream. Smoked paprika and coriander lend it a unique flavor, making it a delightful snack.
Experience okra like never before, turned into flavorful chips with a hint of chili. They're the ideal crunchy snack for movie nights.
This traditional Southern dish uses buttermilk to give the okra a tangy flavor, while the self-rising white cornmeal mix creates a light, crispy crust. A hint of black pepper and salt rounds off the flavor profile.
Tender okra slices are dipped in a simple egg and water mixture, then coated with flour and breadcrumbs for an extra crispy finish. Olive or coconut oil gives it that golden hue when air fried.
Whether you're starting with frozen or fresh okra, this recipe offers you a choice. Opt for sweet & spicy panko breadcrumbs for a unique twist, or go classic with plain panko.
This vegan-friendly option uses plant-based milk combined with apple cider and Cajun seasoning to marinate the okra. The spelt flour and cornmeal crust adds a wholesome touch, making this a tasty and nutritious choice.
Infused with a blend of Italian seasoning, garlic and onion powder, this okra dish gets its moisture from a combination of oat milk and apple cider vinegar. It promises to be both crispy and flavorful.
For those who appreciate the uncomplicated, here's your ideal formula. Fresh okra gets a gentle drizzle of olive oil, hints of garlic essence, salt, and pepper, resulting in a delectably simple delight.
This inventive recipe uses pickled okra as its base, coated with a flavorful seasoning mix and egg whites. It promises a tangy, spicy, and crispy outcome.
Experience the flavors of Cracker Barrel in your kitchen. This recipe, using cornstarch and a special seasoning, is paired with a spicy mayo-sriracha dip for an extra kick.
Thinly sliced okra is transformed into crispy fries with a hint of red chili powder. Enjoy this with a simple garlic dipping sauce or your favorite condiment.
For those wary of the infamous okra slime, this recipe offers a solution. Fresh okra slices are coated in flour or cornmeal, then breadcrumbs, ensuring a crispy texture.
Offering a global taste adventure, this recipe lets you choose between Italian, Indian, or Cajun seasonings. Regardless of your choice, you're guaranteed a flavorsome treat.
📋 Recipe
Frequently Asked Questions