When we're discussing the reasons we adore air fryers, versatility is always at the very top of our list. It is undoubtedly capable of heating finger meals. But, aside from reheating frozen chicken nuggets and leftovers from your last game, this handy kitchen tool has much to offer.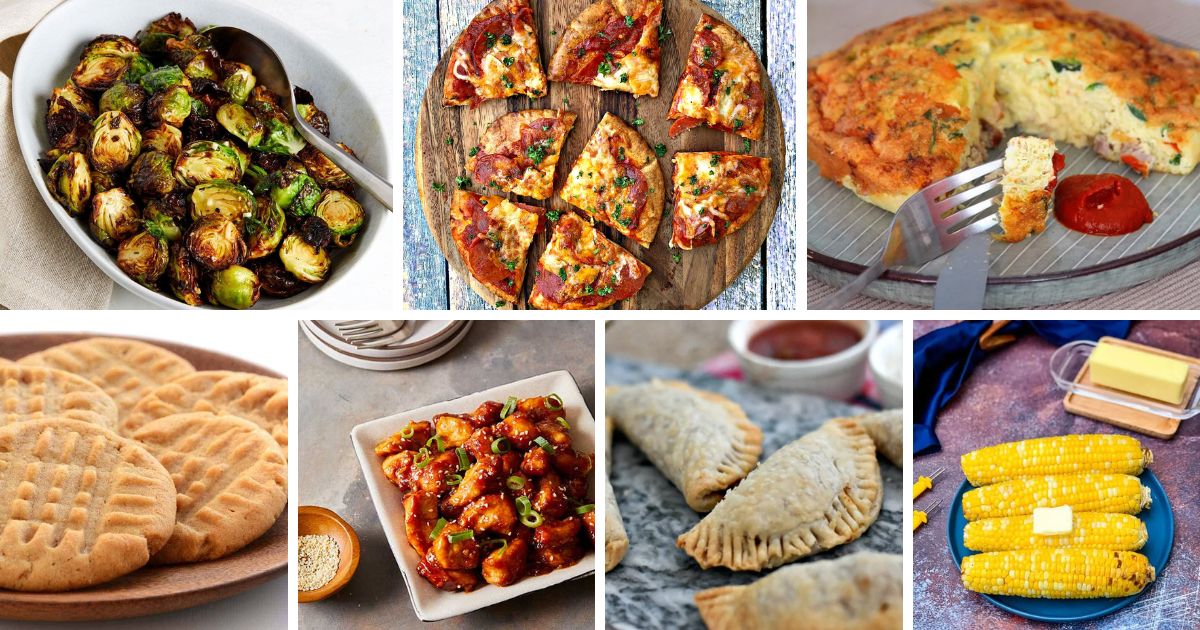 It's perfect for quick bites, protein-packed main dishes, and even chocolate-chip treats for dessert. And, while not everything fried in an air fryer is necessarily healthy, this fantastic countertop gadget can prepare many of your favorite dishes with less fat and oil.
If you've just joined the air fryer gang and are looking for fresh meal ideas, we've got you wrapped. We've gathered more than 50 easy air-fryer recipes to demonstrate how adaptable the equipment can be. They are suited to all skill levels but are certainly doable for beginners.
Contents
Meatloaf (or meatballs) is the kind of comfort food that never fails to make us happy. And, when it's prepared in an air fryer, we don't feel as bad when we go back for seconds.
In under 15 minutes, you can get perfectly crispy asparagus ready on your table without all the unhealthy oil and fat that harm your body.
With an air fryer and a few simple ingredients, you can cut down the time to make this roasted asparagus recipe to under 10 minutes.
This is a great alternative to deep-fried pickles. Serve it with ranch dressing on the side, and you will find it hard to find a healthier snack option.
As long as you have basic cutting skills and a bottle of olive oil in your kitchen, you should be able to make this healthier version of restaurant french fries.
You will feel good about yourself after making this recipe because, while it is very easy to make, it will leave you with a nutrition-packed meal.
Are you looking for something a little sweet to round up your dinner? This one is a good oven recipe option, and it is as easy to make as a mug muffin.
Crispy and full of flavor, this diced potato recipe will keep you coming back for more. It is best to use the gold ones, but any potato will work fine.
Making this fudgy and cakey treat from scratch should not be hard, even if you're a novice in the kitchen. If you have a smaller air fryer, you can cut the recipe in half.
You might be surprised with how quick and easy it is to make a wonderful omelet with an air fryer. You can just set the device and go on with your other activities.
This Middle Eastern street food is traditionally made with chickpeas and fresh parsley. The most important thing here is to soak the beans overnight.
Ready in under half an hour, this air fryer broccoli recipe is so simple to make. You can take out the Parmesan to make it vegan.
If you want a pizza dinner with your family but want to feel less guilty about it, you should try this recipe. Choose any topping of your liking!
This healthy pizza recipe only calls for five ingredients and provides a much healthier alternative than store-bought dough.
Empanadas are legendary South American snacks, and this air-fryer recipe will give you a taste of what the senors and senoritas have down there.
Tossed in a sweet and buttery sauce, this carrot dish is tender and delicious and might become a new staple on your weekly menu list.
We can never go wrong with air-fried chicken breasts and steaks, but sometimes we also need something to accompany those healthy protein sources, such as these biscuits.
These chicken legs are crispy on the outside and incredibly moist on the inside, and they are perfect as afternoon summer snacks.
These buttermilk biscuits are as tasty as their baked counterparts, and they will be your reason to fall in love with your air fryer even more.
These chicken tenderloins beat your store-bought chicken nuggets anytime, and it only takes about 12 minutes until your meal is perfectly cooked.
This fish air fryer recipe only has 354 calories, making it a perfect meal option to shake off a few pounds.
This recipe will provide you with plump and perfect green beans without blanching them. Add a few more minutes if you want extra crispiness.
Every family member in your home will enjoy this easy air-fried biscuit recipe, and you can prepare it in no more than ten minutes.
These chicken tenders come out juicy and crispy every time, and each slice will only have 125 calories, which is much lower than its deep-fried counterparts.
General Tso's chicken has always been a staple in Chinese-American kitchens. This recipe will tell you how to make it with your home air fryer.
Italian sausages work best for this one, but you can do anything you can find. Just make sure you use the uncooked ones to keep things tasting fresh.
The scent of freshly baked cinnamon rolls brings back a lot of sweet memories. This recipe allows you to achieve the same thing without having to wait for the yeast to work.
Whether you prefer your totchos covered in fresh salsa or loaded with cheese, this air fryer recipe leaves plenty of room for experimentation and creativity.
Nothing beats sharing and enjoying a wonderful home-cooked meal with our loved ones. Thank heavens, you can do just that with this chip recipe!
Crunchy on the top and airy on the inside, this mini banana loaf recipe is perfect if you have forgotten overripe bananas in your fridge's fruit section.
These insanely easy homemade bagels are so amazing. Plus, they contain at least half the calories and are far less expensive than the packaged version.
Do you want fried shrimp but without the calories coming with them? This simple air fryer shrimp recipe is your new go-to for pursuing healthier habits.
Do you loathe cleaning up the kitchen? This delicious and juicy recipe tastes exactly like traditional Chicken Parmesan with none of the oil and chaos.
This nutritious air fryer baked oatmeal is ready in 20 minutes from start to finish and can be easily customized with whatever you like.
Do you want a quick and nutritious dinner that is both easy and gorgeous? This air fryer salmon salmon couldn't be easier to make with absolutely little effort.
This skillet cornbread recipe is simple and uncomplicated. The result is a lovely golden brown loaf that can be served as a side dish or as an inviting snack.
Suitable for low-carb and keto diets, these grease-free Zucchini Fries are the perfect starter for dinner. They are crunchy and golden on the outside yet juicy and soft on the inside.
If you're cooking for someone coming over, try this recipe for perfectly juicy chicken thighs! Simply marinate the chicken in lemon juice, season with spices, then cook in an air fryer.
If you're seeking a dessert with the right balance of sweet and tangy flavors, go no further than this one! It only takes 20 minutes to prepare and is quite uncomplicated.
These easy air fryer muffins are packed with fall flavors and ready in less than 20 minutes! Also, these delicious treats can be frozen for up to 3 months.
Air fryer sweet potato fries go well with so many different dishes, so use your culinary flair to put them to optimal use. To ensure crispy leftovers, reheat ahead of time.
Wings are one of those fried meals that can be tricky to reproduce in the air fryer. Even so, this recipe will show you how to make chicken wings with the same level of crunchiness.
This vegan air-fried tofu tastes just like it came out of the deep fryer. Just keep in mind that you'll need to press the water out of the tofu before heating it.
These have a somewhat different texture, but they are still fluffy and wonderful. You can eat them on the same day, but they can be stored in an airtight jar for up to 24 hours.
This recipe's garlic butter glaze will have everyone salivating! Also, the corn cooks quickly and can develop some wonderful char for a delicious grilled flavor.
Do you enjoy cookies? These mouthwatering treats require a mere five minutes of prep time and only a few basic ingredients.
Baked and not fried, these air-fried pizza rolls are ready in under 10 minutes, and you can freeze them for a quick snack in your meal prep schedule.
With no breading, flour, or eggs, you'll be amazed at how easily and swiftly this entire recipe comes together. You can add these air fryer chicken tenders to your salad or chicken wrap.
Feel the flavor explosion with this salmon recipe. Mix the turmeric, garlic powder, coriander, and chili flakes into the honey sauce until thoroughly combined.
Packed with protein and veggies, this frittata is the perfect way to start your day. You can always switch up the ingredients to suit your taste.
This recipe is perfect for an appetizer or a nutritious supper that the whole family will enjoy. To prevent burning, place the skewers in water when the chicken marinates.
This top-rated recipe will become a favorite of yours. Serve as an appetizer with ketchup or a cheesy side dish with shredded Parmesan.
This air fryer toast recipe is perfect for college students living in a dorm room or anyone who is too busy to make breakfast every morning.
With this bratwurst recipe, there is no need to heat the grill or scrape all the grease down after cooking. Just put them in the air fryer and wait!
Do you crave doughnuts but don't want to dunk them in the greasy oil? This jelly donut recipe is ideal for people who like making desserts on their own.
This air fryer Brussels sprouts dish takes only a few minutes to prepare and delivers deliciously crispy results after only 10 minutes of air frying.
📋 Recipe
Frequently Asked Questions