Air fryers have taken the culinary world by storm, and for a good reason. The allure of whipping up delicious meals with fewer calories has driven many to explore the versatility of this appliance.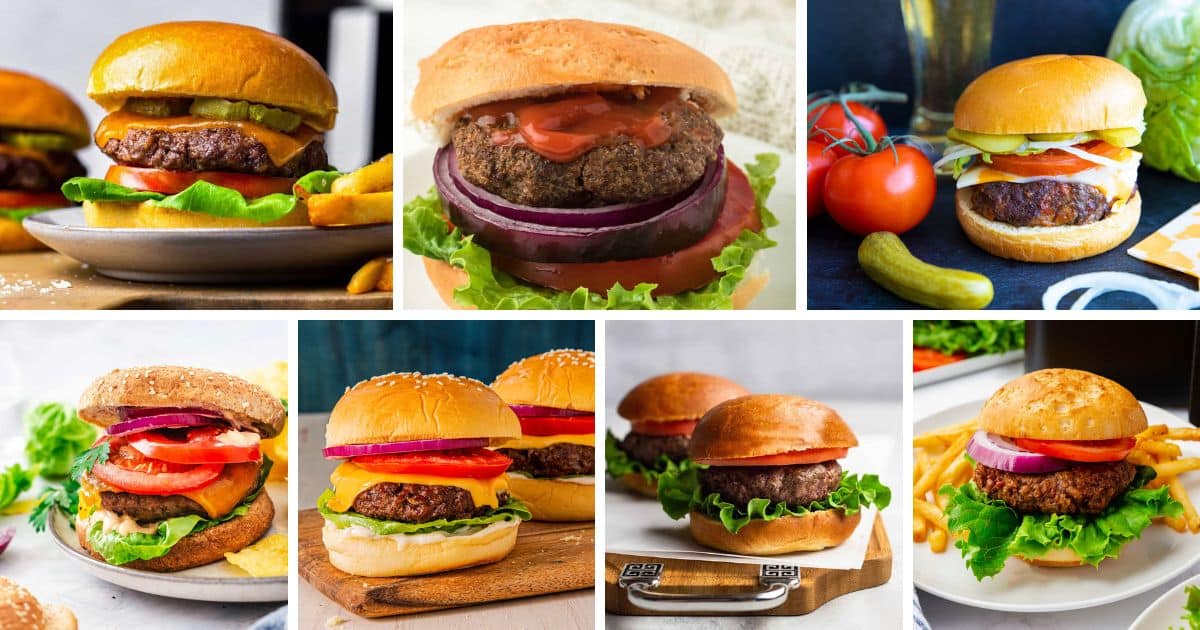 Among the many dishes that benefit from the air fryer's magic touch, the classic hamburger stands out. An air fryer burger recipe promises that golden, juicy perfection without the excess grease, making it a healthier alternative without compromising on taste.
The result? Hamburger patties that are as nutritious as they are mouth-wateringly good.
Let's delve into these 29 easy burger recipes specifically tailored for your air fryer. Each recipe has been meticulously crafted, ensuring that the ingredients harmonize to give you that unforgettable flavor burst in every bite.
Whether you're a seasoned cook or just beginning your culinary journey, these recipes guarantee a delightful, guilt-free burger experience every time.
Contents
This dish boasts a simple yet flavorful combination of seasonings, resulting in a tender and juicy burger. Barbecue sauce adds a tangy twist, making it perfect alongside weet potato fries.
If you're a fan of juicy meat complemented by gooey American cheese and fresh toppings, then this burger is your match. Pair it with a classic potato salad on the side.
This recipe combines the richness of butter and the savory taste of beef bouillon. It's a treat for those who love a burst of umami in every bite.
This dish combines the juicy flavors of 80/20 ground beef with the zesty kick of Worcestershire and garlic powder. Ideal for a weekend BBQ, they pair perfectly with crispy sweet potato fries.
Enjoy a touch of luxury with these steak patties, infused with Worcestershire sauce and mustard powder. Complementing the meat is a rich mushroom gravy, ideal for those nostalgic Sunday dinners.
If simplicity is what you seek, this hamburger recipe nails it. Using just lean ground beef seasoned to perfection, it's a meal you'll turn to again and again, especially with some tangy ketchup.
Frozen burger patties find new life when paired with this delectable burger sauce. Enjoy them on warm buns with your favorite toppings and a side of pasta salad for a complete meal.
Experience an Asian twist with this ground beef burger mixed with teriyaki sauce. It's a delightful fusion of flavors that pairs wonderfully with a crisp lettuce and tomato salad.
These cheeseburgers, seasoned with either steak seasoning or the classic trio of salt, pepper, and onion powder, are a testament to burger perfection. Served with crispy bacon, they're a BBQ delight.
For those seeking plant-based alternatives, these Beyond Burger patties are a must-try. Air fry to perfection and enjoy with some potato salad and your favorite sauces.
This burger offers a lighter touch using ground turkey with aromatic spices. Perfect for health enthusiasts, it goes brilliantly with a side of grilled vegetables and a dollop of mustard.
Don't underestimate these simple chicken patties. When cooked in the air fryer basket, they become a crispy wonder, especially when complemented by tangy BBQ sauce.
If you're in the mood for a bit of heat, this ground beef burger with a kick of spicy sauce is your pick. Pair it with sliced onions and tomatoes for a refreshing contrast.
Garlic lovers rejoice with this burger drenched in buttery garlic goodness. The combination of ground beef and garlic butter is simply divine, especially when accompanied by potato fries.
A minimalist's favorite: these chicken patties make for a quick and delicious meal. Serve them on hamburger buns with lettuce and a touch of mayo for a satisfying bite.
Seasoned to perfection, these burgers boast an array of flavors from Worcestershire to garlic powder. Enjoy them on hamburger buns with a selection of your favorite toppings and sauces.
Bacon bits and shredded cheddar seamlessly blend with ground beef, giving every bite a burst of flavor. Serve on buns with your favorite condiments for a bacon-infused treat.
The sweetness of apples beautifully complements the savory pork in these burgers. When paired with thyme and herbs, it's a flavor sensation perfect for any meal.
A meaty concoction of ground beef, cheese, and bacon bits ensures a delightful bite every time. Top it with fresh lettuce and tomatoes for a burst of freshness.
This recipe takes the classic burger up a notch with the infusion of Bourbon BBQ Sauce. Perfect for those who enjoy a hint of booze in their meals, it pairs wonderfully with onion rings.
Steak lovers will find this dish irresistible. Ground beef marinated in homemade Montreal Steak Seasoning delivers a burst of flavor, especially when complemented by Worcestershire sauce.
Offering a pure beef experience, this burger recipe omits breadcrumbs but not the flavor. Complement this burger with a cold pasta salad or some crisp lettuce for a hearty meal.
You can indulge in a low-carb delight with these keto-friendly burgers. Made with just ground beef and optional seasonings, they're both nutritious and delicious.
Smoked paprika and Worcestershire sauce lend depth to these juicy burgers. Throw in crispy bacon for added crunch, and serve it with your choice of condiments.
A symphony of seasonings like garlic powder and seasoned salt make this burger a favorite. It's ideal for a weekend feast, especially when accompanied with pickles and your favorite sauces.
This innovative dish blends the best of burgers and onion rings, making them a hit on Instagram and Facebook. Dip these crispy wonders in ketchup for a tantalizing taste.
Chopped bacon and a medley of seasonings enhance this burger's flavor profile. Perfect for a backyard barbecue or a quiet dinner, it pairs well with crispy sweet potato fries.
Indulge in this meaty delight infused with bacon and topped with pineapple. They're perfect for tropical-themed BBQ nights, complemented with sweet potato fries for a wholesome meal.
This dish offers a rich combination of bacon, caramelized onions, and creamy avocado. THey are ideal for gourmet burger nights, and you can serve them with a side of pasta salad for a filling meal.
📋 Recipe
Frequently Asked Questions