Discover the magic of cooking with our collection of easy air fryer recipes that make the most of fresh green tomatoes. These recipes are perfect for drawing out the tangy juices of green tomatoes while ensuring a crispy, golden exterior.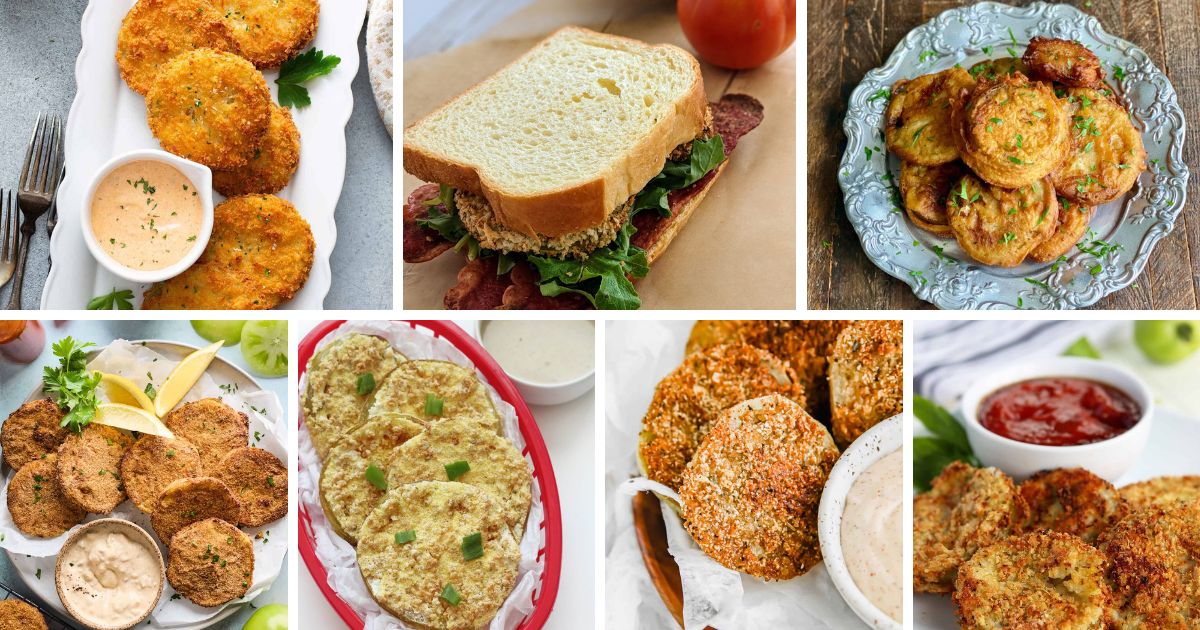 Most of the recipes can be accompanied with your favorite seasonings and mayonnaise whisked in a small bowl, ready to drizzle or dip. And for the green tomatoes themselves, the use of panko breadcrumbs guarantees a crunchy bite every time, transforming a simple tomato into a gourmet treat.
Worried about the total time? Fear not! The beauty of using an air fryer is the swift cooking process, often requiring just a midway flip for even browning. Plus, our recipes come accompanied by nutrition facts for those keeping an eye on their calorie diet.
Now, you can enjoy your favorite flavors without the guilt while still keeping track of your daily intake. Let's start munching!
Contents
This flavorful recipe blends the earthiness of green tomatoes with a hint of paprika, offering a delightful crunch with every bite. Ideal for a quick snack, it promises a burst of flavor and minimal calories.
There's an array of spices in this vegan delicacy, including paprika and thyme. You'll love pairing it with the tangy remoulade dipping sauce, turning each green tomato slice into a vegan feast.
Brighten your meals with this recipe, combining tangy BBQ dip and crispy green tomato slices. Ideal for parties, the delightful flavors and layers will have guests returning for more.
If you're a fan of simple, flavorsome bites, try these air fryer breaded green tomatoes. Perfect as a nutritious snack, it pairs wonderfully with a chilled lemon beverage.
These crispy green tomatoes offer a delightful crunch, elevated by a smoky hint of cayenne pepper and garlic powder. The accompanying remoulade, rich with mayonnaise and lemon, completes the flavor symphony.
Delight in this southern classic with a twist featuring a homemade Vidalia onion relish. You can serve them with a small bowl of dipping sauce and watch the flavors meld beautifully.
Savor the layers of crispiness and the rich notes of parmesan in these fried green tomatoes. It's perfect for a weekend brunch, leaving a harmonious blend of spices on your palate.
It's hard to resist the tantalizing blend of spices and textures in this southern classic. Ideal for a spicy kick midway through the day, it pairs splendidly with a cool, lemon-infused beverage.
Check out the nutrition facts of this keto-friendly dish, which doesn't compromise on flavor. With a relatively lower calorie content, it is a delightful addition to your daily diet without straying from your health goals.
Relish this recipe's crispy green tomato slices coated in crunchy panko breadcrumbs. A delightful midday snack, the rich layers of flavor are a true culinary delight.
These southern fried green tomatoes offer a delectable crunch with every bite. It only entails a few ingredients, which you probably already have in your cabinets! We believe it's the buttermilk that makes it stand out.
These green tomatoes are a haven of taste and nutrition for a gluten-sensitive diet. Each bite promises a burst of flavor and a delightful crunch when paired with a flavorful dipping sauce.
This dish offers a delightful alternative with a tangy and flavorful sauce that complements the crispy green tomato slices. You will enjoy a vibrant meal that's both nutritious and delicious.
Discover the perfect blend of crunch and flavor with these vegan, gluten-free fried green tomatoes. It is ideal for those keeping a keen eye on their daily values; it promises a guilt-free indulgence.
THis simple air fryer green tomato recipe incorporates various seasonings such as Creole seasoning and garlic powder. The result is a perfectly seasoned light snack or side dish, offering a burst of flavor without straying from your calorie diet.
This recipe combines the tangy zest of green tomatoes with a spicy dipping sauce. You'll find it's a delightful snack for a relaxed weekend afternoon, offering a balanced harmony of flavors with each bite.
Imagine biting into a layer of crunchy coating to meet this dish's juicy, tart freshness of green tomatoes. Perfect for a light lunch, you can enjoy it with the sweetness of Vidalia onion relish.
This dish combines green tomatoes with a rich yet low-carb coating that crisps beautifully in the air fryer. It pairs perfectly with a protein-packed main course and is ideal for those maintaining a low-carbohydrate diet.
Experience a southern treat with a spicy kick with this recipe. It's perfect for an outdoor summer feast, where the fiery Nashville hot sauce meets the crisp, air-fried green tomatoes, creating a culinary explosion in your mouth.
Air Fryer Fried Green Tomatoes With Ranch Salsa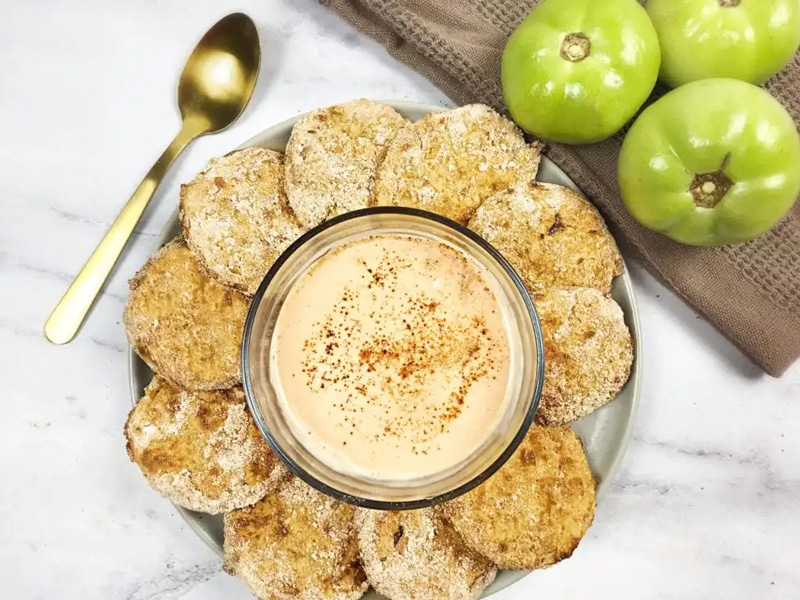 This recipe showcases the classic fried green tomatoes with tangy ranch salsa. They are perfect for a cozy dinner, offering an explosion of flavor with each bite and melding harmoniously with the zesty salsa.
Dive into a low-carb delight with these keto-friendly fried green tomatoes, accompanied by a zesty sauce. It's a great choice for a weekend brunch, providing a burst of flavor without straying from your keto diet plan.
These baked, fried green tomatoes are both healthier and crunchier, a win-win for any meal. It is great for a family lunch; they bring joy to the table with a delightful crunch that pairs brilliantly with a fresh salad.
With this recipe, experience the southern charm in the comfort of your home. Ideal for a leisurely weekend brunch, these tomatoes carry a slight heat, offset beautifully by the rich, crunchy exterior.
If you enjoy refined flavors, you'll appreciate this gourmet air fryer dish, where the tomatoes meet a sophisticated remoulade sauce. Perfect for an intimate dinner, it leaves a lasting impression on your palate.
If you're in the mood for a crispy and creamy combination, this dish is your go-to. Ideal for a light snack or a starter, the avocado ranch dipping sauce adds a cool, creamy contrast to the crispy tomatoes.
This recipe unites the classic sensation of buttermilk fried green tomatoes, bringing a comforting southern touch to your dining table. It's great for family gatherings; they offer a crispy yet tender bite that pairs wonderfully with a chilled beverage.
These beer-battered fried green tomatoes promise a crunchy exterior with a tender and juicy interior. It is perfect for a relaxed evening with friends; they offer an elevated culinary experience when paired with a cold beer.
This vegan delight combines the crunch of fried green tomatoes with the satisfaction of a BLT. A perfect option for a weekend lunch, it delivers myriad textures and flavors, promising a feast in every bite.
This recipe introduces a spicy twist to the traditional fried green tomato dish with a hint of Sriracha. This dish promises a burst of heat that is mellowed down by the creamy mayo, creating a harmonious dining experience.
📋 Recipe
Frequently Asked Questions