Air frying has rapidly become one of the most popular cooking methods, promising crispy textures without the excess oils of traditional frying.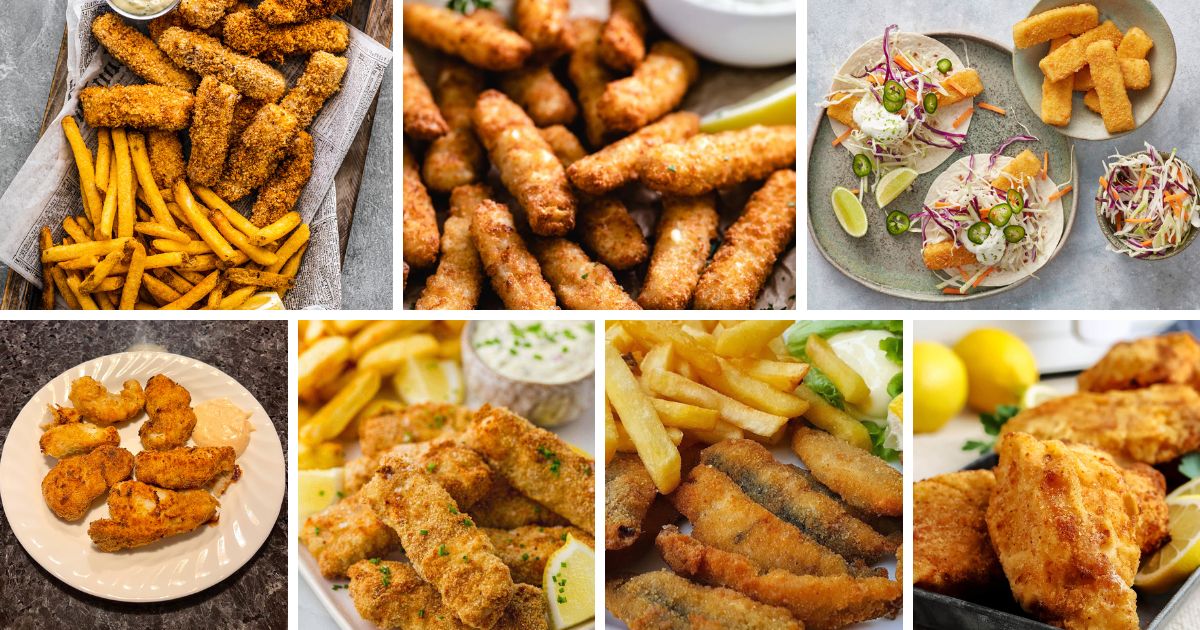 Among the countless dishes you can whip up in an air fryer, fish sticks stand out for their perfect balance of crunch and tender, flaky fish. Using an air fryer ensures that the star ingredient - the fish - retains its natural moisture, resulting in a dish that's both tasty and healthy.
In this collection of 23 easy air fryer fish sticks recipes, we'll share a range of recipes that cater to various palates and dietary preferences.
Whether you're a fan of classic cod, luxurious salmon, or even seeking out keto and gluten-free options, there's a recipe tailored just for you. Look into these recipes to uncover the sheer versatility and delight that your air fryer can bring to the humble fish stick.
Contents
This dish presents an inviting blend of crunch and succulent fish flavors. It serves as a delightful quick snack or a fulfilling treat for weekend lunches.
This recipe marries the robust flavors of garlic and onion powder, rounded off with a tangy lemon tartar sauce. They're great for gatherings, complementing well with sides like coleslaw or tater tots.
Loaded with a zesty lemon-pepper seasoning, these fish sticks guarantee a perfect cook every time. You can pair it with a splash of honey mustard or a tangy tartar sauce to enhance its flavors.
This simple yet classic dish utilizes just salt and pepper for seasoning, creating a staple for any meal. They pair exceptionally well with oven-fried chips and a dollop of ketchup.
For the spicy food enthusiasts, this dish offers halibut sticks with a gentle kick from the hot sauce, mellowed perfectly by the garlic powder. You can serve them with a soothing buffalo sauce or your preferred dipping sauce.
This recipe is your savior during busy nights, offering ready-to-cook fish sticks that are both simple and delicious. Remember to complement them with a hearty helping of tartar sauce.
Experience the savory nuances of old bay seasoning and garlic powder in this delightful recipe. You can pair it with a homemade tartar sauce featuring dill pickles and fresh dill for a complete dining experience.
If you're seeking a quick yet fulfilling meal, this dish is your go-to option. Enjoy it best with a drizzle of honey mustard or alongside a crunchy fresh salad.
This gluten-free and paleo-friendly recipe offers a nutritious twist to the traditional fish sticks, featuring cassava flour and plantain chips. The avocado oil spray ensures a golden crisp finish, enhancing the protein-rich inside.
This fuss-free recipe promises pure delight with frozen fish fingers paired perfectly with a homemade tartar sauce infused with lemon and dill. Elevate the taste with a side of refreshing coleslaw.
In this recipe, the cod is adorned with a perfect blend of spices, providing a wonderful kick to your palate. It goes well with a side salad, offering a meal that is both nutritious and flavor-packed.
This dish utilizes fresh white fish, married beautifully with panko breadcrumbs for a crispy outside and a tender inside. You can enjoy this low-calorie treat with your favorite dipping sauce.
Offering a rich and luxurious alternative, these salmon fish sticks are a great twist to the traditional fare. They're ideal for special gatherings or adding a gourmet touch to regular meals.
This keto-friendly recipe features tilapia loins coated with a crispy pork rind layer, making it a great option for those monitoring their carbohydrate intake. You can pair it with a crisp, fresh coleslaw for a wholesome meal.
This recipe introduces a delightful mix of crunchy fish sticks enveloped in soft tortillas. Top them with a fresh vegetable slaw and a splash of lime for a refreshing taco night experience.
In this recipe, white fish filets are treated to a flavor-packed crust thanks to a mayo-spice mixture. Adding a squirt of fresh lemon juice before serving brings a tangy zest that elevates the dish.
A convenient solution for busy weeknights, these frozen fish sticks are a quick and easy meal option. You can serve them with tater tots and ketchup for a child-friendly feast that's sure to please.
These succulent fish filets come enveloped in a seasoned breadcrumb coat, offering a delightful crunch with each bite. The accompanying lemon mayo sauce adds a refreshing zest, complementing the dish perfectly.
This gluten-free recipe ensures that everyone can enjoy the crispy joy of fish sticks without worries. It's excellent for family dinners or potlucks, promising both safety and taste.
This inventive dish brings together the crunchiness of fish sticks with the freshness of a veggie-loaded taco. A splash of fish taco sauce harmonizes the flavors, creating a wonderful gastronomic experience.
This recipe creates a sensation with only five primary ingredients, boasting a flavorful and crispy exterior courtesy of the old bay seasoning and panko breadcrumb coating. You'll find them a hit at any dining occasion.
This gluten-free delight offers a beautiful contrast of textures with its crispy exterior and tender fish inside. The combination of gluten-free panko and spices promises a flavor-packed crunch with every bite.
For those keen on low-carb options, this recipe offers a paleo-friendly approach to enjoying fish sticks. Dive into these crispy treats whenever you crave a guilt-free snack.
📋 Recipe
Frequently Asked Questions