Meatballs are a timeless classic, celebrated across cultures for their succulent bite-sized delightfulness.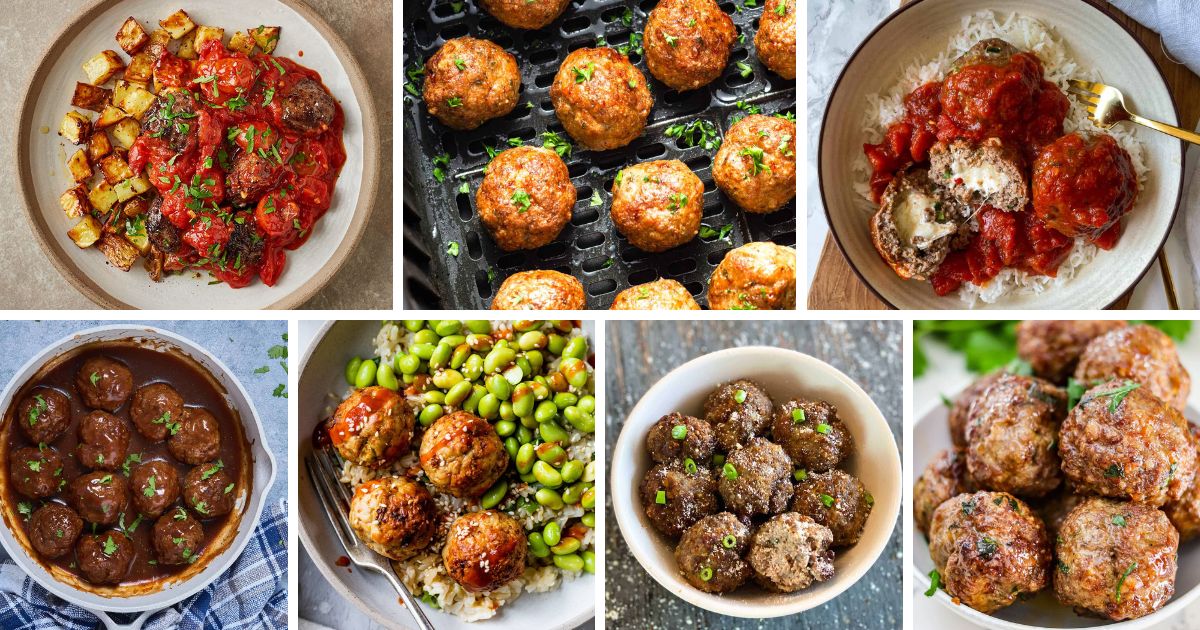 With the introduction of air fryers, this beloved dish has undergone a transformation, achieving a crisp exterior while retaining the juicy core that makes meatballs so irresistible. The sheer versatility of the meatball combined with the innovation of air frying results in a myriad of flavorful combinations, perfect for any palate.
In this collection, we present 31 different air fryer meatball recipes. Ranging from the familiar and comforting to the adventurous and global, these recipes promise to be a hit whether you're hosting a dinner party or seeking a quick family meal.
Satisfy your cravings and venture into a world where traditional protein meets modern cooking techniques, all with reduced calories, lower sodium, and a hearty dose of flavor.
Contents
These classic ground beef and pork meatballs, seasoned with Italian flavors and parmesan cheese, are perfect when paired with marinara sauce or on a spaghetti plate.
With a hint of garlic and onion, these meatballs are a quick delight. The combination of parmesan cheese and Italian breadcrumbs gives them a delicious taste and crispy exterior.
These meatballs boast a delightful mixture of beef, pork, and a generous amount of parmesan cheese. Garlic and Italian seasoning give them that signature flavor.
Marinara sauce takes these meatballs to the next level. Paired with the savory ingredients inside, they make for a perfect appetizer or main dish served over pasta.
With sweet Italian sausage, these meatballs bring a twist to your usual spaghetti night. Fresh basil and cherry tomatoes enhance the flavors.
These ground chicken meatballs are seasoned with garlic powder, onion powder, and paprika. They're light, yet full of flavor and perfect for any appetizer plate.
Beef meets Italian sausage in this mouthwatering dish. Enhanced with a medley of seasonings, these meatballs are a flavorful delight and a twist on classic recipes.
This dish has a tasty surprise inside - gooey cheese! With a touch of heat from jalapenos and chili powder, it's a blend of creamy and spicy flavors.
Looking for a hassle-free meal? Use frozen meatballs and cook them to perfection in the air fryer basket. They're a convenient and tasty choice for any night.
Transport your taste buds to Korea with these glazed meatballs. The gochujang-based sauce is both sweet and savory, making these meatballs an unforgettable appetizer.
This dish combines lean beef with herbs, breadcrumbs, and a rich BBQ sauce. They're perfect for those BBQ cravings without firing up the grill.
Ground turkey, Italian breadcrumbs, and parmesan come together in these turkey meatballs. They're a lighter alternative with lower calories and sodium.
Indulge in a keto-friendly treat with these meatballs made from ground beef and crushed pork rinds. The sugar-free BBQ and grape jam glaze is both tangy and sweet.
Ground pork and beef blend harmoniously with Italian spices and parmesan in this recipe. You can serve them with spaghetti for an authentic Italian meal.
Looking for a quick protein-packed snack? These meatballs combine beef and pork with Italian seasonings and parmesan cheese, ready in just 10 minutes!
These juicy meatballs, made with beef and pork, are seasoned with garlic, Romano cheese, and parsley. Pair them with your favorite pasta or enjoy them solo.
This recipe offers a gluten-free take on the classic meatball using rice crumbs and lean beef. With every bite, enjoy fewer calories and ample flavor.
Meatballs paired with crispy potatoes make for a comforting meal. The tangy tomato sauce adds depth to the dish, creating a delightful flavor balance.
If you're in the mood for an exotic twist, these bison meatballs are combined with golden raisins, mint, and almonds. Complement them with tzatziki and fresh veggies for a Mediterranean vibe.
These meatballs offer a perfect blend of beef and pork with garlic, parsley, and parmesan. The breadcrumbs and milk make them irresistibly tender and juicy.
Ground beef, fresh parsley, and savory seasonings are the stars of this dish. Nestle these meatballs in warm marinara sauce for a comforting meal.
This dish brings a touch of sweet and spicy with oats, honey, and Louisiana-style hot sauce. They're a tantalizing mix perfect for those craving a spicy protein punch.
Do you enjoy Middle Eastern flavors? Ground beef and lamb come together with spices like seven spice and cumin, making these kabobs a flavorful treat.
Ground chicken infused with oregano, lemon zest, and garlic paste create these Greek-inspired meatballs. We recommend serving them with a fresh Greek salad for a light meal.
This dish showcases the rich flavors of ground pork with smoked paprika, allspice, and sage. It's a delightful combination that highlights the savory notes of pork.
This dish boasts lean beef mince, aromatic spices, and a hint of onion and garlic. The addition of tapioca starch ensures they're gluten-free and hold together perfectly.
Bison meat, known for its lean protein, teams up with panko breadcrumbs and parmesan for these delectable meatballs. Fresh parsley and onion powder elevate their taste profile.
Take your lunch to the next level with these meatball subs. Garlic-salted hoagie rolls, marinara sauce, and fresh mozzarella make it a delightful treat.
This dish combines ground turkey, ginger, scallions, and sesame, creating a burst of Asian flavors. Paired with brown rice and edamame, it's a hearty meal perfect for weeknights.
This recipe marries ground pork with oyster sauce and scallions, creating a delightful Asian-inspired experience. Serve them with your favorite dipping sauce for a perfect quick appetizer or main course.
These frozen IKEA meatballs offer the comfort of Swedish flavors without the wait. They're perfect for a quick snack or appetizer, and they're even better with a sprinkle of parsley.
📋 Recipe
Frequently Asked Questions