Ground beef, a kitchen staple cherished for its affordability and versatility, often finds itself in the same old recipes. But I'm here to show you that this humble ingredient can transform into culinary delights that will leave your taste buds joyful.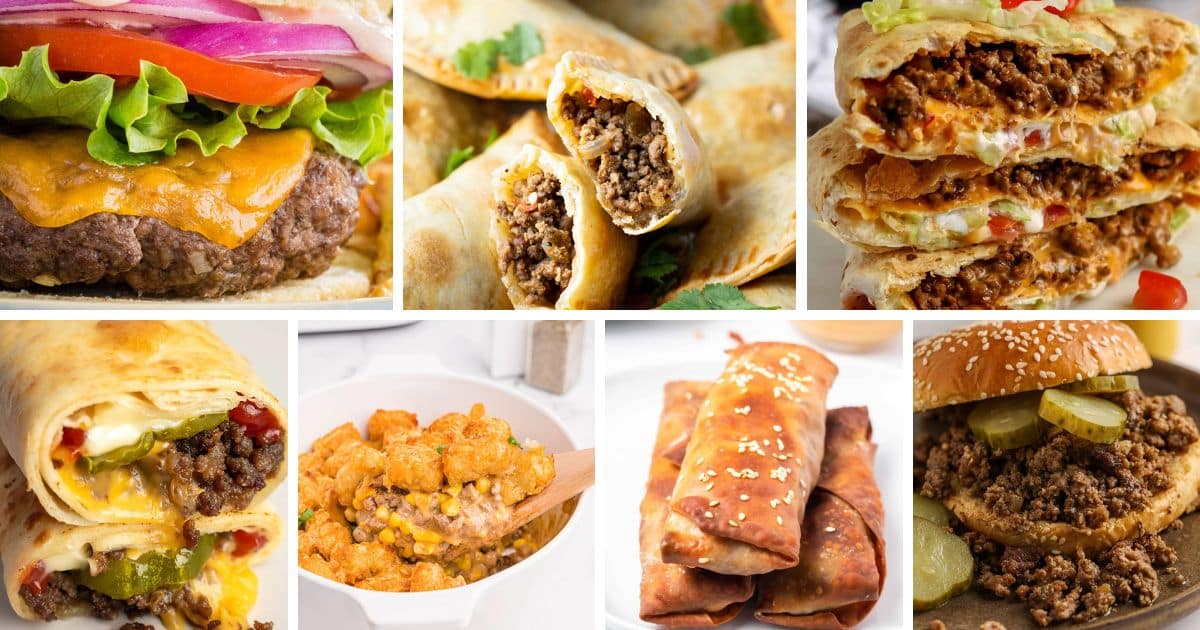 From sizzling stuffed peppers to irresistible cheeseburger rolls, these air fryer creations will redefine your perception of ground beef. With the magic of the air fryer, you'll experience an irresistible symphony of textures, all while maintaining that homely essence we adore.
It's time to say goodbye to bland food and start a tasty journey that shows off the magic of ground beef in every bite. In this collection, I've curated 27 delectable ground beef recipes that will revolutionize your cooking routine.
Whether you're a novice in the kitchen or a seasoned chef, these recipes offer simplicity without compromising on flavor.
Contents
This dish of air-fried cheeseburger wraps offers a unique twist on a classic favorite. You can serve these savory delights with a side of crispy sweet potato fries for a satisfying lunch.
These loaded mini meatloaf bites are a delightful blend of flavors and textures. Be sure to pair them with creamy mashed potatoes and steamed vegetables for a comforting dinner option.
The crisp tortilla shells and gooey cheese make this air-fried enchiladas an ideal dinner choice. This flavorful delight is best enjoyed with a dollop of sour cream and a sprinkle of fresh cilantro.
These air-fried frozen beef meatballs are a convenient and tasty treat. You can enjoy them as a quick snack or pair them with spaghetti and marinara sauce for a hearty Italian-inspired dinner.
This air-fried beef quesadilla boasts a golden, crispy exterior and a cheesy, melt-in-your-mouth interior. Don't forget to pair it with a zesty salsa for a delightful lunchtime indulgence.
These air-fried Kofta wraps, also known as Kofte, offer a burst of Middle Eastern flavors. It is best served with a refreshing tzatziki sauce and pita bread for a satisfying meal any time of day.
If you're looking for a quick option, try this air fryer taco meat recipe. Enjoy it as a filling for tacos, burritos, or nachos, making it a perfect choice for a casual family dinner or game-day snack.
This hamburger recipe is a time-saving way to enjoy juicy burgers. You can top them with your favorite condiments and serve them in brioche buns for a delicious meal in minutes.
This Salisbury steak dish combines hearty beef patties with a rich mushroom gravy. It's perfect for a comforting lunch or dinner with mashed potatoes and green beans.
If you crave a delicious, crunchy delight – make yourself this classic fried ground beef taquito. Don't forget to serve it with guacamole and salsa for an irresistible appetizer or snack.
This flavorful dish is healthier than traditional casseroles baked in the oven. Garnish it with shredded cheese and fresh chives for a satisfying dinner perfect for cozy evenings at home.
Have a fun and unique twist on classic egg rolls with these air-fried cheeseburger rolls. You can serve them with a side of crispy french fries for a delightful appetizer or party snack.
This crispy and indulgent treat lives up to its name - supreme! Be sure to pair it with a cool ranch dressing dip for a delightful lunch or easy dinner option.
These bacon cheeseburger bombs are a mouthwatering combination of flavors. Enjoy this 5-ingredient cheeseburger recipe as a game-day snack or a crowd-pleasing appetizer.
These air-fried stuffed peppers are a flavor explosion! The air fryer's magic crisps the peppers to perfection while the filling of ground beef, rice, and savory spices takes center stage.
You can elevate your game day or house party with these air fryer nachos. The ground beef topping sizzles and melds with cheese atop crisp tortilla chips. Remember to add your favorite toppings!
These empanadas, air-fried to golden perfection, are a delightful treat. The flaky pastry envelopes a savory ground beef filling that's impossible to resist. Serve them as appetizers or a satisfying meal.
A fusion of two favorites – these cheeseburger egg rolls are pure indulgence. The air fryer achieves the perfect crunch, while the beef and cheese filling inside delivers classic cheeseburger satisfaction.
The crispy, seasoned fries meet zesty ground beef in this air fryer delight. Topped with cheese, salsa, and your favorite taco fixings, these taco fries are a fun and flavorful meal or snack.
This air fryer patty melt oozes comfort and flavor. The juicy beef patties, caramelized onions, and gooey cheese are sandwiched between slices of toasted rye bread, creating a classic twist.
Be sure to savor the layers of slow-cooked goodness in this air-fried lasagna. The air fryer's heat perfectly crisps the top layer while keeping the inside rich and bubbling.
This air fryer cornbread casserole topped with flavorful sloppy joe mix is a family favorite. The air fryer ensures a crispy, golden top that complements the saucy beef filling perfectly.
These loose meat sandwiches are a crowd-pleaser! The air frying gives the ground beef a delectable crispness while keeping it tender inside. Pair it with your favorite sides for a satisfying meal.
Craving for pizza and burgers? This air-fried creation combines the best of both worlds. Ground beef patties are topped with pizza sauce and cheese for a tasty twist on classic burgers.
These air-fried meatball subs are a handheld delight. The juicy meatballs, smothered in marinara sauce and cheese, are air-fried to perfection, ensuring a crispy exterior and melty interior.
Spice up your pizza night with this Mexican pizza. The air fryer crisps up the tortilla crust, while layers of ground beef, beans, cheese, and salsa provide a south-of-the-border fiesta for your taste buds.
This keto-friendly taco casserole is a low-carb sensation. The air fryer ensures the beef is perfectly seasoned and topped with cheese, making it a guilt-free delight for taco lovers.
📋 Recipe
Frequently Asked Questions