Looking for a way to spice up your dinner routine while keeping an eye on calories? This list of 73 easy air fryer recipes is your solution.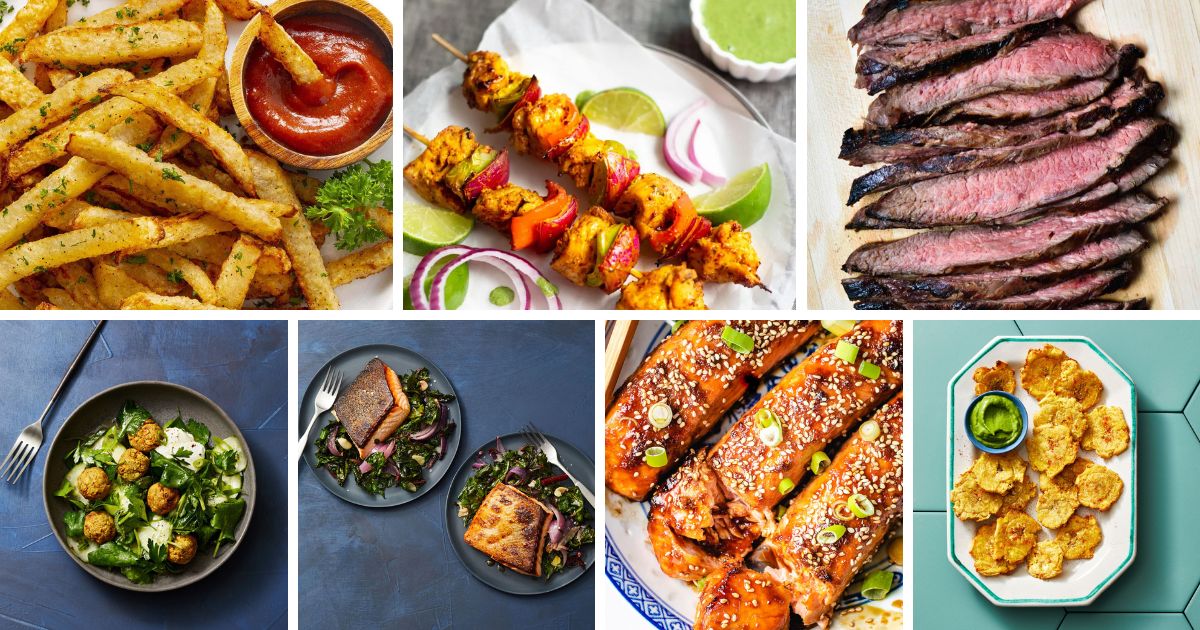 From crispy chicken to oven-baked fish and perfectly roasted vegetables, these dishes not only meet your cravings but also provide a healthier, low-calorie alternative to deep frying by using less oil and fat.
Ideal for weeknights, Thanksgiving, or weekend dinners, these quick and easy meals can elevate common proteins into something special without breaking your calorie count.
Dinner isn't just about satisfying hunger, it's about embarking on a unique gastronomic adventure right at home. With these recipes, you'll discover the magic of air frying, introduce a universe of new flavors and textures to your kitchen, and elevate your everyday dinner routine from ordinary to exceptional.
Contents
These air fryer pork chops, seasoned with garlic and rosemary, are a quick, flavorful weeknight meal. The recipe takes under 15 minutes and is suitable for gluten-free, low carb or keto diets.
This grilled chicken breast, marinated in a flavorful blend of oil, soy sauce, vinegar, and spices, delivers a tender and juicy result. Pair it with your favorite sides for a satisfying dinner.
This delectable dish combines pounded chicken breasts, wild rice, feta cheese, and Greek dressing for a savory stuffing. The air-fried result is tender, juicy, and low in SmartPoints.
You'll enjoy these air fryer stuffed peppers, packed with ground beef, rice, and cheese. Its 12-minute cooking time delivers a delightful and hearty dinner every time.
These recipes guide you to a flavorful, tender roasted chicken using minimal ingredients. With a check on the internal temperature of 165 degrees F, this dish promises perfection.
These crispy, juicy Chicken Katsu cutlets are air-fried to perfection. Served with a flavorful curry sauce and plain rice, this dish offers an exciting blend of textures and tastes.
We found this delightful recipe that transforms ordinary plantains into crispy tostones using an air fryer. The dish shines when served with its accompanying homemade, tangy cilantro dip.
You'll transform cubed steak into a crispy delight with a simple shake-and-sit method that creates a light batter in this recipe. The result is a tender, flavorful meal perfect for any weeknight.
We recommend indulging in this delicious combination of slow-roasted seasoned ham and Colby Jack cheese. The result is a mouthwatering sandwich, crisped to perfection for a quick and satisfying dinner.
These sliders are a weeknight winner, featuring a tasty blend of ham and cheese nestled in King's Hawaiian buns. With a topping of aioli sauce, this dish promises a flavorful 25-minute meal.
When you're in search of a quick, flavorful dinner, this dish offers succulent chicken and tender potatoes seasoned to perfection. It's an easy, budget-friendly option that caters to gluten-free and dairy-free diets.
This recipe artfully combines fresh salmon, corn, and broccoli in foil packets, seasoned with Cajun spices. If you're after a healthy, flavorful dinner with easy cleanup, this air fryer method is perfect.
With a savory blend of horseradish, parsley, and capers, this air-fried salmon recipe turns delightfully crispy. It's a simple yet impressive dinner option that boasts rich flavors and easy preparation.
You'll enjoy these air-fryer taquitos filled with a tasty mix of cauliflower and black beans. They offer a vegan, gluten-free twist on a classic snack, ensuring a guilt-free indulgence.
With filo pastry, spinach, and feta cheese, these air fryer rolls offer a delightful twist on traditional Spanakopita. They're golden, crispy, and infused with a tantalizing hint of mint.
When bacon-wrapped pork tenderloin meets bourbon honey mustard glaze, it becomes a family favorite. The dish is moist and flavorful, and it pairs perfectly with salads or mashed rutabaga.
If you enjoy Chilean Sea Bass, this air fryer recipe is a must-try. This dish, seasoned and topped with Herbs De Provence, offers a delightful balance of flavors in just 20 minutes.
The Best Air Fryer Italian Sausage
We recommend this air fryer Italian sausage for its simplicity and versatility. It's a delightful meal prep option, perfect for various dishes or served on a bun, offering a satisfying taste.
You'll adore these crispy, golden chicken tenders, perfect for any weeknight meal. They're seasoned, breaded, and cooked to perfection, pairing well with various side dishes from salads to fries.
With a blend of seasoned flour, eggs, milk, and bread crumbs, this dish transforms pork sirloin cutlets into a culinary delight. It's served with a homemade dill sauce, enhancing its savory profile.
This recipe combines simple ingredients like ground beef, onion, breadcrumbs, and various spices to create a flavorful meatloaf. If cooked in the air fryer and rested, it results in an appealingly browned, succulent dish.
We stumbled upon this tempting recipe that marries crispy bacon with melted cheese, all tucked between two slices of buttered bread. This dish offers a delightful crunch and gooey center, perfect for any meal.
This recipe infuses roast beef with flavors of rosemary, thyme, and salt, achieving a caramelized exterior in an air fryer. If rested before carving, it results in a tender, juicy entree perfect for any occasion.
This recipe ensures a melt-in-your-mouth filet mignon using an air fryer. It provides clear steps, seasoning advice, and precise cooking times for your desired level of doneness.
These quesadillas, crafted with American cheese slices and shredded cheese, promise a rich, cheesy delight. The included special sauce recipe delivers an exceptionally saucy and tasty treat
This healthier Chimichanga version offers a quick, customizable meal. If you're after satisfaction and excitement in your weeknight meals, this recipe delivers various fillings and condiments.
You'll savor these air fryer veggie fajitas featuring portobello mushrooms, sweet peppers, and onions in a smoky sweet chili sauce. It offers customization with your preferred toppings and cooks in just 15 minutes.
When you're craving a zesty and nutritious dinner, try this recipe. It involves creating a crunchy slaw, blending an avocado crema, and preparing crispy breadcrumb-coated fish for assembly into delicious tacos.
This recipe uses an air fryer to create succulent lobster tails, complemented by a garlic parmesan white wine sauce. If you crave a fast, luxurious dinner, it's an ideal choice.
With this recipe, crispy falafels are cooked to perfection and paired with a fresh salad of cucumber, baby kale, and herbs. You can add a dollop of yogurt to complete the healthy ensemble.
This recipe calls for marinating chicken breasts in Italian dressing and seasoning, then air frying at 370 degrees F for 14 minutes. If you desire a quick, flavorful dinner, it's ideal.
When marinating chicken thighs in buttermilk and hot sauce, this recipe creates a flavorful base. The chicken is then air-fried and brushed with a tailored sweet and spicy sauce.
We recommend this dish for its delightful blend of crispy tofu and sweet honey garlic sauce. It offers a quick and easy preparation method, perfect for busy weeknight meals or meal prep.
You'll love this succulent chicken breasts, wrapped in crispy bacon and smothered in BBQ sauce recipe. This dish delivers a balance of sweet, smoky flavors, making it a crowd-pleaser at any gathering.
These air-fried to-perfection drumsticks yield a crispy and flavorful meal in just 30 minutes. With minimal oil and simple pantry ingredients, they provide a quick and satisfying dinner.
This recipe transforms chicken into flavorful Tikka Kebabs with an aromatic marinade. If grilled or baked, they become a deliciously charred and succulent centerpiece to any meal.
We recommend this easy one-pot dinner, combining smoked sausage, peppers, onions, and potatoes in an air fryer. It offers a flavorful mix of spices and a satisfying meal ready in under 22 minutes.
When seeking a low-carb alternative to traditional fries, this recipe offers a unique solution. It involves boiling jicama until soft, seasoning it, and then air frying until golden.
You'll adore these mini pizzas, which are simple and quick to prepare. They're ready in just 4 minutes, making them an ideal choice for busy families and fussy eaters.
This air-fryer scallops recipe pairs succulent seafood with a refreshing lemon-herb sauce. If you're after a light yet flavorful dish, this preparation method ensures perfectly cooked scallops every time.
We discovered a flavorful dish that highlights the richness of scallops with a Cajun twist. It impresses with its quick preparation time and versatility, pairing well with pasta or roasted vegetables.
When chicken breasts are marinated in a tantalizing blend of soy sauce, honey, and spices, they become an irresistible treat. The air-fried result, garnished with sesame seeds, pairs splendidly with rice or noodles.
This method provides a healthier twist to traditional fish and chips, achieving a crispy finish in just 20 minutes. It becomes an irresistible meal if served with tartar sauce and lemon wedges.
We recommend these beef back ribs for a fast, flavorful BBQ experience. The recipe delivers tender ribs with a crispy bark, achieved by air frying and a finishing touch of BBQ sauce.
These chicken breasts, stuffed with a creamy mix of cheese and diced jalapenos, offer a spicy kick. They are wrapped with bacon and air-fried, serving a flavorful and exciting dinner.
You'll love these Greek-inspired turkey burgers, seasoned with garlic and herbs, and air-fried to perfection. The burgers boast a delightful blend of spinach, red onion, and feta atop toasted whole-wheat buns.
With a marinade of rice vinegar, soy sauce, and ginger, this chicken offers a delightful fusion of flavors. They are coated in cornstarch, air-fried, and then tossed in a spicy-sweet gochujang sauce.
When you're craving a flavorful Asian-inspired snack, this recipe hits the spot. It delivers tender, marinated pork skewers that are perfectly cooked, served alongside refreshing cucumber sticks for balance.
This dish impresses with sesame seed-coated tuna steaks and a tangy sauce. If you crave a flavorful, customizable dinner, try this recipe paired with spicy greens.
This recipe transforms white fish and whole-wheat panko breadcrumbs into delectable, low-fat fish cakes using an air fryer. If you desire a versatile dish, try these cakes with various sides or sauces.
You'll enjoy the golden-brown exterior of these chicken cutlets, achieved without excess oil thanks to an air fryer. It offers a healthier alternative, delivering crunchy, satisfying cutlets perfect with a side salad.
When you're craving a tender, flavorful steak without the grilling fuss, this recipe is a go-to. It pairs a simple marinade with fast cooking and is perfect for all seasons.
We discovered a straightforward method that marries steak cubes and mushrooms, enhanced by seasonings and Worcestershire sauce. It delivers a flavor-packed dish, perfected in the air fryer to your preferred doneness.
This dish combines salmon filets, Swiss chard, and onions, all crisped to perfection. If you're after a quick, flavorful weeknight meal, it's an ideal choice, with a chili oil finish for added kick.
When you're craving a vibrant, flavorful Mexican dish, this recipe is a must-try. It combines succulent shrimp and crisp veggies, all air-fried to perfection and served with fresh, zesty toppings.
With a crispy, seasoned coating and tender shrimp at its heart, this bite-sized delight is an irresistible treat. The tangy, smoky dipping sauce accompanies the shrimp and enhances every pop of flavor.
This recipe features russet potatoes air-fried to perfection, creating a crispy skin and fluffy interior. If you enjoy customizable dishes, top these with butter, sour cream, cheese, or bacon bits for a hearty meal.
We love this hearty dish for its crispy, air-fried potatoes loaded with savory toppings. It offers a delightful contrast between the crunchy exterior and fluffy interior, enhanced by rich, creamy garnishes.
You'll adore the blend of seasoned chicken, onions, and baby potatoes, cooked to perfection in an air fryer. This dish becomes irresistible when topped with melted cheese, crispy bacon, and fresh green onions.
We discovered a delectable salmon preparation marinated in a blend of maple syrup, soy sauce, garlic powder, and pepper. This dish impresses with its halfway glazing and immediate serving after completion.
These salmon filets, marinated in teriyaki sauce, get a quick air fry and garnish of sesame seeds and scallions. With added steps for sauce thickening, it completes a flavorful dish.
This recipe uses olive oil, garlic powder, Celtic sea salt, pepper, and lemon to enhance salmon filets. If followed correctly, it delivers perfectly air-fried salmon every time.
When the craving for meatballs hits, this recipe satisfies it with lean beef, pork, Parmesan cheese, breadcrumbs, and an egg. The air fryer ensures they're tender yet slightly crispy in just 10 minutes.
With this method, you can effortlessly prepare frozen meatballs with no thawing required. They cook thoroughly in 8-12 minutes and pair perfectly with BBQ glaze or marinara pasta.
You'll love the simplicity of this air-fried meatball and spaghetti dish. It delivers crispy meatballs in half the time, perfectly complementing homemade pasta with a fresh herb topping.
This simple recipe brings together chicken, broccoli, and rice in a creamy, flavorful dish cooked in an air fryer. If you're seeking comfort food, it's a satisfying, single-serve dinner with minimal cleanup.
We discovered a delectable preparation of air fryer chicken thighs, infused with Mediterranean flavors and crisped to perfection. This recipe yields a hearty dish, beautifully complemented by a fresh Mediterranean salad.
These bowls combine spice-coated, air-fried chicken with suggested accompaniments like tahini, chili, hummus, rice, chickpeas, or flatbread. With tips on seasoning and leftover storage, they offer a customizable, hearty meal.
This recipe uses olive oil, garlic salt, and lemon pepper to make crispy chicken wings in an air fryer. It becomes a mouthwatering meal if served with celery and avocado ranch,
When chicken wings are tossed in a blend of Parmesan, garlic, and parsley, they transform into crispy, mouth-watering finger food. They're ready to be enjoyed after a quick 24-minute cooking time.
With just bratwursts and your air fryer, you can create a flavorful dinner. These bratwursts offer a satisfying culinary experience when paired with homemade beer cheese sauce and nestled in buns.
You'll love the simplicity of this meal, combining chicken, Parmesan cheese, pasta sauce, and mozzarella to create a satisfying dish. It offers a crispy, flavorful experience that's ready in just 20 minutes.
These Mexican Pizzas combine layered tortillas, beans, seasoned meat, and cheese, resulting in a deliciously crispy texture. With added veggies and a sour cream topping, they offer an irresistible taste in just minutes.
📋 Recipe
Frequently Asked Questions