Pickles, a snack rich in fiber and flavor, have always held a special place in our hearts and fridges. Traditionally savored straight from the jar, pickle recipes have evolved, integrating ingredients like buttermilk, panko bread crumbs, and even mayonnaise.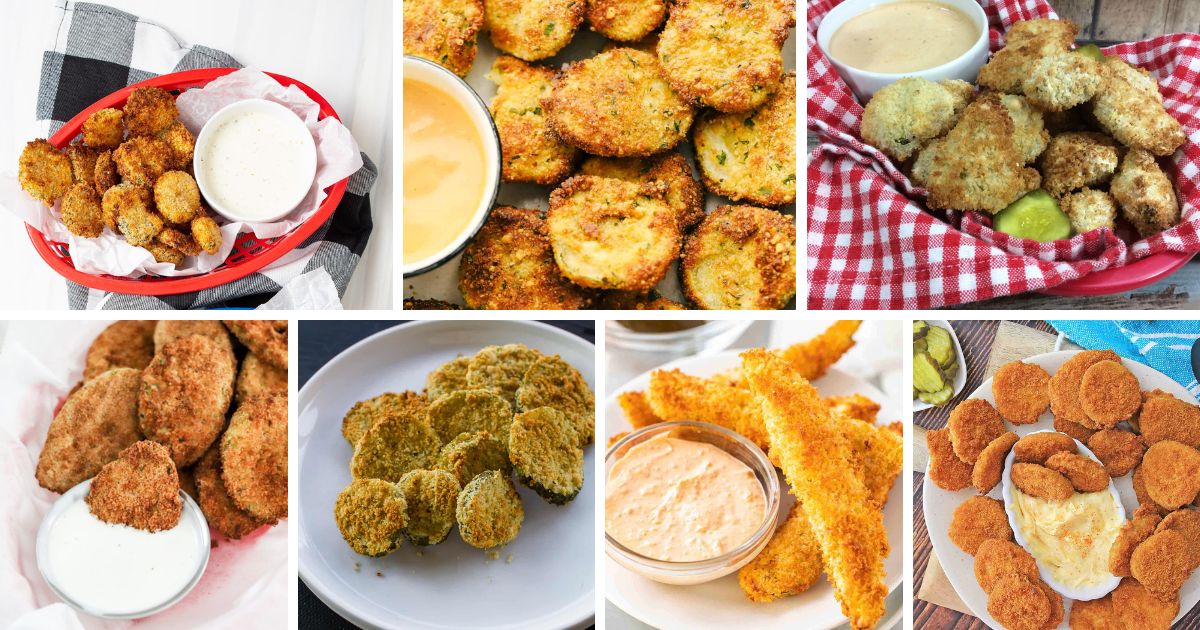 These culinary innovations not only add a unique spin but also affect the total nutrition - think protein, cholesterol, and sodium levels. As we stir in new ingredients and techniques, the prep time may vary, but the essence of the pickle remains intact.
In this article, we'll explore the tasty, modern world of air-fried pickles. Whether it's pickle chips or pickle slices, these batches promise an impeccable blend of crunch and tang.
From using ketchup and ranch dressing for dips to understanding the total time for perfect batches, we've got you covered with these 21 crispy air fryer pickles recipes.
Contents
This recipe offers a spicy twist to classic fried pickles with paprika and cayenne. It's perfect for those evenings when you want a fiery appetizer to kick things up a notch.
This dish brings the bold flavors of the South with a touch of cajun seasoning. You can enjoy this treat on a weekend game night or as a zesty starter for your next gathering.
These pickles are a delightful replica of the popular Texas Road House snack. Savor the mix of garlic powder, cajun spice, and cayenne pepper during a cozy movie night.
This recipe combines tangy dill pickles with aromatic Italian seasonings and parmesan. It's the perfect appetizer for a romantic Italian dinner night.
The hint of maple syrup brings an unexpected sweetness to these crunchy pickles. If you're in the mood for a unique flavor twist, this dish won't disappoint.
Garlic salt and smoked paprika give these pickles an enticing aroma. They're the ideal finger food for get-togethers or to satisfy mid-afternoon snack cravings.
Horseradish offers a sharp contrast to the tang of dill pickles in this recipe. We recommend serving these pickles with the provided dipping sauce at barbecues for a surefire hit.
This recipe brings the iconic taste of Hooters' pickles straight to your kitchen. Using an air fryer, they're lighter but still have that irresistible crunch. Perfect for game nights or casual snacking!
Enjoy a Mediterranean twist with this oregano-infused treat. The crispy texture makes it a delightful side for your favorite grilled meats.
This dish brings out the true essence of pickles by incorporating pickle juice. It's ideal for those days when you want a snack that's bursting with tangy goodness.
Go vegan with these fried pickles that boast a blend of aromatic herbs and spices. The cumin and oregano pairing complements any plant-based meal.
Experience the aromatic allure of cumin combined with classic pickle tang with this recipe. It's a great option when hosting friends or enjoying a laid-back evening at home.
This recipe marries beer batter with the iconic Old Bay seasoning. It's the perfect accompaniment for seafood dishes or as a standalone snack.
These crispy pickles paired with a tangy Miracle Whip dip provide a delightful contrast. They're fantastic for backyard picnics or family get-togethers.
We recommend this keto delight, which uses almond flour and pork rinds, to people watching their carb intake. It's a must-try for those following a keto lifestyle or simply seeking a lighter snack.
The steak seasoning offers a meaty allure to these crispy pickles. Pair with the Sriracha Ranch Dip for a fusion of flavors that's hard to resist.
Cheese meets pickles in this unique egg roll recipe. These egg rolls are very enjoyble at parties or as an innovative snack to surprise your guests.
You can indulge without guilt in this keto-friendly version that uses Parmesan and Carbquik. This dish is a smart choice for those watching their carb intake.
These crispy pickles, combined with a tangy homemade sauce, make for an irresistible snack. They're perfect for parties or as a flavorful snack on the go.
Relish the straightforward goodness of dill pickles in this simple recipe. We recommend enjoying it with a cool beverage on warm summer evenings.
These air fryer pickles offer a healthier version of more classic recipes for those mindful of their diet. The blend of spices and Panko crumbs offers crunch without compromising on taste.
📋 Recipe
Frequently Asked Questions