When it comes to indulging in flavorful seafood treats in a healthy manner, the air fryer stands unrivaled. And this kitchen marvel, often praised for slashing calories from our beloved dishes, has transformed the way we view Chinese takeout favorites.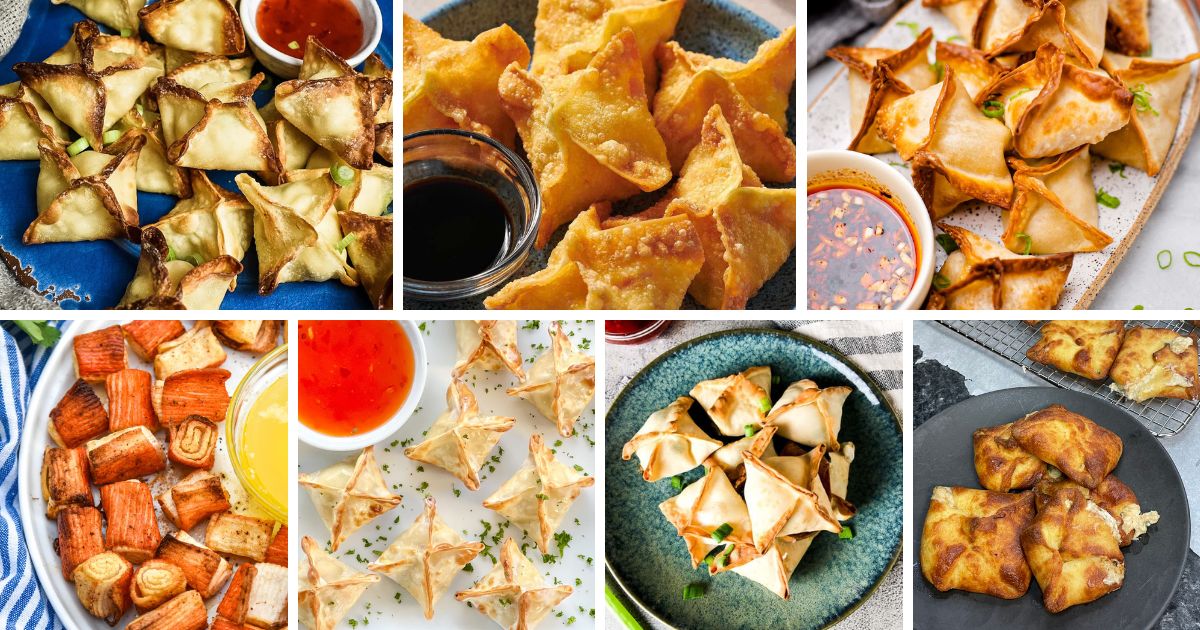 Among these reimagined treats, Crab Rangoon shines bright. Traditionally deep-fried, these pockets of creamy crab filling find a healthier home in the air fryer, ensuring that each bite is a golden-crisped adventure. Imagine pulling a batch from the fryer, their edges perfectly sealed, the aroma enticing.
From the classic mix of lump crab meat and cream cheese to vegan versions, this collection promises something for everyone. Whether you're scrolling through Pinterest or Instagram searching for your next culinary endeavor or you're a seasoned seafood enthusiast, these 29 Crab Rangoon recipes will inspire.
And with varying prep times, cook times, and total times, these dishes offer an opportunity to dive deep into the world of Crab Rangoon regardless of your culinary expertise.
Contents
A rich blend of crab meat and cream cheese is highlighted by green onions and garlic in this dish. With a shorter cook time in the air fryer, it's ideal for impromptu seafood cravings.
This recipe showcases a blend of imitation crab meat, cream cheese, and green onions. When paired with its sweet chili and soy dipping sauce, it's a meal reminiscent of your favorite Chinese takeout.
Experience the delicate taste of Dungeness crab combined with soft cream cheese. These rangoons, paired with a hint of parsley and sweet chili sauce, make for a perfect appetizer.
Imitation crab and green onions mix flawlessly with cream cheese in this recipe. Enjoy them with sweet duck sauce or chili sauce for a delightful contrast.
These fried wontons offer a perfect balance of crab meat, cream cheese, and fresh green onions. You can serve them with a simple salad or a tangy dipping sauce for a light lunch.
A healthier take on a classic, with fresh crab meat and a hint of scallion. Accompany them with a Thai sweet chili dipping sauce and garnish with cilantro for added freshness.
Delve into a savory mixture of crab, yogurt, and green onions, with an added kick from cayenne pepper. The soy and chili oil dipping sauce completes the experience.
Incorporating the basics like imitation crab meat and cream cheese, this dish is a go-to. It's perfect for those who don't want to purchase additional ingredients.
These rangoons, straight from the freezer, promise crispy perfection in minimal time. Enhance them with a homemade or store-bought dipping sauce for a complete experience.
A healthier alternative featuring low carb wonton wrappers filled with crab meat and green onions. This dish is a must-try for those watching their carb intake.
The allure of cream cheese combined with crab meat is unmatched in these wontons. You can enjoy them with a Thai sweet chili sauce after a brief air fryer bake.
These egg rolls pack imitation crab flakes and cream cheese at their core. With celery and green onions thrown into the mix, they're a protein-packed treat.
These rangoons, filled with fresh crab meat and tangy sauces, are a treat. The homemade duck sauce, featuring apricot jam and ginger, is an irresistible accompaniment.
When convenience is key, these frozen rangoons are the answer. Ensure even cooking by frying in batches and serving with your favorite dip.
A delightful vegan twist on the classic, using trumpet mushrooms as a crab substitute. The vegan sweet and sour sauce enhances its appeal for plant-based enthusiasts.
This creamy crab dip, infused with soy and ginger, is an instant crowd-pleaser. Paired with crispy wonton chips, it's a delightful combination of textures and flavors.
The delicate taste of crab meets the freshness of zucchini in this unique blend. These rangoons are an innovative take on a beloved snack.
Relish the fusion of crab, cream cheese, and mayo in these wontons. The sweet and tangy pineapple dipping sauce brings a tropical twist to each bite.
This dish is a testament to the traditional, combining cream cheese with either lump or imitation crab. Low in sodium yet rich in flavor, they're perfect with any sauce.
For those on a keto diet, this rangoon blends mozzarella, almond flour, and crab in a harmonious mix. The coconut aminos offer a hint of sweetness, complementing the savory filling.
Imitation crab flakes and softened cream cheese make the heart of these egg rolls. Celery and green onions add a refreshing crunch, making them an irresistible snack.
This dish combines lump crab meat and cream cheese within gluten-free wonton wrappers. Paired with the sweet Chinese red sauce, it makes a perfect appetizer for any occasion.
These crab bites, inspired by a viral Tiktok sensation, use imitation crab meat seasoned with Old Bay. They're an ideal snack to accompany a cold drink during summertime gatherings.
This recipe showcases the mouthwatering blend of crab and cream cheese in a keto-friendly wrap. With almond flour dough, it's a delightful treat for those watching their carb intake.
These egg rolls house a delicious fusion of cream cheese and crab meat with garlic undertones. They're excellent when dipped in sweet chili or duck sauce, adding a burst of flavor.
This recipe marries rich crab meat with creamy cheese and diverse spices. While traditionally pan-fried, they're equally tantalizing when air-fried, offering a lighter yet tasty alternative.
These rangoons introduce a harmonious mix of crab meat and cream cheese. A touch of garlic and Worcestershire sauce makes them a must-have for any appetizer spread.
Mimic your favorite takeout with this flavorful blend of imitation crab meat and creamy cheese. Even though it's geared towards deep frying, air frying provides a crisp and healthier version.
This vegan alternative to the classic crab rangoon uses tofu and vegan cheeses. With cassava flour wonton wrappers, it's a treat best savored with plum or sweet chili sauce.
📋 Recipe
Frequently Asked Questions