Looking to upgrade your culinary game with a wide array of flavors and textures? Our collection of 30 crispy air fryer chicken wing recipes is your best bet for scrumptious and Instagram-worthy meals.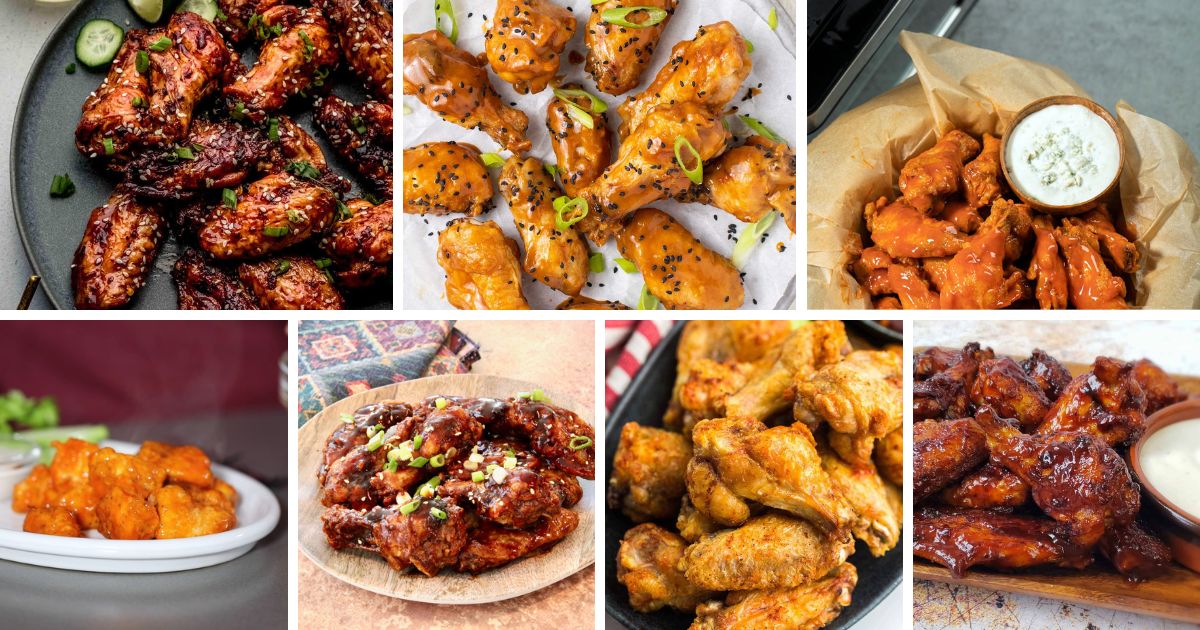 From zesty air fryer buffalo wings to aromatic tandoori creations, these recipes redefine appetizer perfection. We invite you to create tender, succulent chicken wings, each coated in an array of tantalizing seasonings and cooked to crispy perfection in the air fryer.
Whether you're hosting a game day gathering, craving a scrumptious snack, or simply seeking a delightful dinner, these air fryer wings are the answer. Through these recipes, you'll not only embrace tasty wings, but also embrace the convenience and health-conscious approach of air frying.
Each recipe is a unique blend of taste and technique, promising an unforgettable eating experience. With options ranging from classic to creative, these air fryer chicken wings are poised to improve your cooking repertoire.
Contents
These air fryer chicken wings emerge super crispy in under 20 minutes. You can serve it with celery and carrots for the best snack.
Looking for a crispy delight to make your day? Try this recipe and achieve golden perfection. Customize with your fave sauce and voila! The crispiest skin awaits.
Amidst a wide array of flavors, try this recipe with a sweet and spicy sauce that brings crispy, juicy wings to an exotic meal - an air-fried masterpiece that's authentically finger-licking good..
If you're an enthusiast of air fryer mastery, try this air fryer chicken recipe. ease and golden perfection - a culinary gem that enhances your meal game with buffalo sauce and ranch dressing.
Air fryer sriracha-honey wings: Super crispy and Pinterest-worthy, a symphony of spicy sweetness ready in 30 minutes. Tempted not to share this during dinner? Surely you will after being wowed.
This recipe is quick, easy, and irresistibly flavorful - McCormick's zestful seasoning meets a kick of cayenne in a rich, buttery honey sauce. Mix in a large bowl and savor an exquisite meal.
Ease meets flavor: craft delectable garlic parmesan wings effortlessly in the air fryer! Your family will enjoy this classic combo that boasts crispy tenderness of chicken wingettes for dinner.
Instant air fryers upgrade standard buffalo chicken wings that you're used to. Submerge them in the iconic blend of Frank's RedHot Original Hot Sauce and butter for a taste comparable to your favorite wing joint.
This crispy perfection serves the best wings without the mess of oil frying. Season with salt and vinegar to capture the essence of popular restaurant appetizers to have a tantalizing meal.
Introducing the flavorful air fryer Korean fried chicken, a harmonious blend of sweet and savory. Also known as dakgangjeong or soy garlic fried chicken, this finger-licking treat is made effortlessly at home!
Looking for guilt-free food? Try this crispy perfection with sugar-free BBQ sauce - a masterpiece that brings a healthier and easier twist to a classic appetizer. Also, there's no more need to flip!
This recipe is a lifesaver for busy days or impromptu gatherings. These wings go from freezer to crispy deliciousness in just 25 minutes. You can customize them with your preferred sauce for a delightful treat.
Cooking wings has never been this easy! Whether as a party appetizer or a hearty home-cooked meal, these wings shine with a mouthwatering crunch with a hint of heat in the sauce.
Ideal for game days or intimate gatherings, these wings boast juicy interiors and crispy, fried-like exteriors, all within 30 minutes. Slathered in honey barbecue sauce, they shine as classic appetizers on weeknight dinners.
Seasoned with a custom dry rub, these wings turn irresistibly crispy as they cook in the air fryer. Don't miss out on this effortless and delectable appetizer brushed with your preferred barbecue sauce.
These wings, adorned with robust seasoning, are transformed into a masterpiece with a zesty pineapple dipping sauce. Indulge in crispy, succulent perfection with every bite of this appetizer.
This crave-worthy recipe combines the crispy perfection of air-frying with the rich flavors of Parmesan - ideal for game day or any occasion with this healthier snack option.
Trying to cut back on calories? This recipe yields tasty crispy wings marinated in pickle juice creating a tangy and savory delight. Serve with celery sticks or cucumber slices for a low-calorie snack.
Packed with a zesty explosion of fresh lemon juice and orange juice, this recipe makes an amazing meal that kids will surely love.
This recipe is irresistibly easy and flavorful! Impress your taste buds with crispy wings tossed in a tangy, spicy peanut sauce. A mouthwatering twist on a classic favorite.
Seasoned with garlic powder, onion powder, and five-spice powder, these wings are air-fried to perfection. Serve with a fragrant sauce featuring garlic, shallot, lemongrass, fish sauce, honey, and black pepper for the best results.
Get your wings from your fridge and try this recipe with the convenience and deliciousness of homemade salt and vinegar wings right in your kitchen!
Ideal for gatherings or as a party appetizer, this recipe is enhanced by oregano, thyme, and lemon - a simple yet yummy recipe you can serve for all occasions.
Tandoori chicken wings is a fusion of Indian and American cuisines that marries the classic concept of chicken wings with the aromatic spices of Tandoori chicken. These wings are truly a mouthwatering delight.
Dive into the nostalgia of this classic dish made healthier, as you create tender wings with a satisfying crunch seasoned with the familiar flavors of Old Bay seasoning - now in a guilt-free rendition.
These wings achieve a perfect balance of crispiness and flavor, without the greasy aftermath. Unleash the magic of the air fryer – it cooks evenly, leaving you with irresistibly crispy and delish wings.
A tantalizing dry rub transforms these chicken wings into an irresistible treat without compromising nutrition. Perfect for holiday bites or casual dinners. It's delightful paired with tangy dipping sauce.
Get enough carbohydrates and protein without compromising taste with Omaha Steaks' premium chicken breasts. Serve them with air fryer french fries for the best snack!
In the mood for flavor perfection? Try this dry rub air fryer wings recipe. These Ninja Foodi wings boast a symphony of taste without the mess. Join their Facebook community for more inspiration.
Whether you're planning an appetizer spread for four or seeking a delectable main course for two, this mouthwatering combination of crispy texture, sticky sweetness, and tangy glaze is the ultimate crowd-pleaser.
📋 Recipe
Frequently Asked Questions