Are you looking for a healthy alternative to deep-fried chicken nuggets but still want to keep their crunchy, juicy texture? If you are, then an air fryer is the solution you're looking for!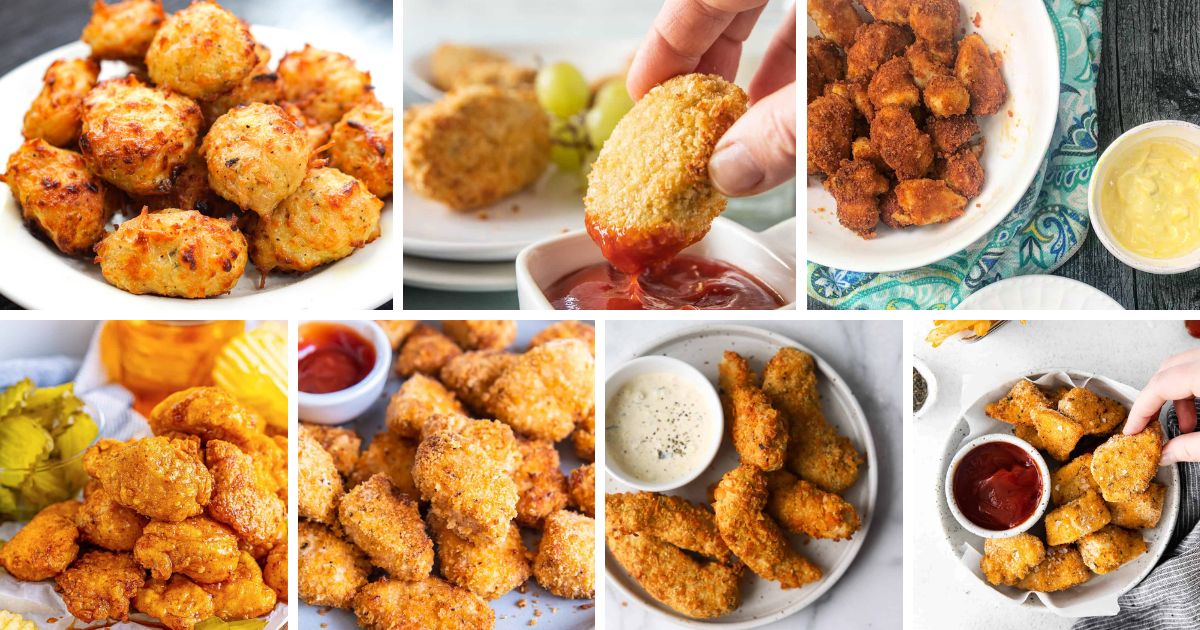 Air fryers are ideal kitchen tools for generating flavorful and crispy chicken nuggets since they can cook food with little to no oil, perfect for keeping a balanced nutrition.
However, simply putting the nuggets in your air fryer and eating them can get a bit boring for your taste. That's why we've compiled 23 distinct air fryer chicken nugget recipes in this blog that are sure to sate your appetite.
There is a recipe for every taste, from traditional breaded nuggets to spicy buffalo and even cheesy parmesan. Additionally, these dishes are quick and simple to prepare thanks to the ease of the air fryer.
So, dust off your air fryer and get ready to enjoy some mouth-watering chicken nuggets without the guilt!
Contents
You can make homemade crispy chicken nuggets in just 10 minutes with olive oil spray, parmesan cheese, salt, garlic powder, paprika, and pepper. Serve it with ranch dressing.
These crispy chicken nuggets are crispy outside and moist inside. A simple spice blend and sodium give them a great taste. You can serve these crispy chicken nuggets in under 30 minutes.
Air-fried frozen nuggets are so crispy. Because these frozen nuggets are already cooked, air frying them is a snap. Depending on size and thickness, these nuggets cook for 10-12 minutes.
This recipe was created to liven up chicken nuggets. These nuggets are coated in sweet potato flakes and spices and can be eaten with your favorite dipping sauce.
The cornflake coating makes these crispy air-fried chicken strips nuggets healthier and tastier than fast food. Every bite is a delicious blend of flavor and texture.
These air-fried nuggets are flavorful and healthier than deep-fried! We recommend serving it with a mixture of ranch, honey mustard, or chipotle mayo. Using spicy, dill, or other ranch mixes may vary the taste.
These golden, tasty, flavorful chicken nuggets from the air fryer are excellent. Your family will like these Chick-fil-A nugget copycats just as much as the original.
Air-fried keto canned chicken nuggets are a simple and tasty keto snack. These may be made using canned chicken and other pantry items. Everyone will adore this low-carb snack, appetizer, or meal.
If you want a crispy texture, try using a blend of ordinary and panko breadcrumbs in this recipe. To enhance flavor, mix the breadcrumbs with a teaspoon of garlic powder, pepper, a teaspoon salt, and onion powder.
These nuggets are made from ground chicken that have been shaped, coated in panko bread crumbs, then air-fried till golden. These chicken nuggets - made from scratch and cooked in an air fryer - will quickly become a family favorite.
These quick and easy chicken nuggets may be prepared with either turkey or ground chicken. It's a healthier and more handmade version of the ever-popular chicken nugget!
Ground chicken makes creating these delicious chicken nuggets easy in just 20 minutes. Make them today for your kids, and you'll never want to get them from a drive-thru again!
This air fryer recipe for keto chicken nuggets contains a healthy amount of protein! They also contain essential nutrients such as vitamin B6, phosphorus, protein rich egg and selenium.
You can make fried chicken nuggets in less than 10 minutes in your air fryer. With flour but no bread crumbs, these air fryer chicken nuggets still turn out crispy and delightful, especially with your favorite dipping sauce.
This healthy gluten-free air fry chicken nuggets entails homemade bite-size chicken gently coated in almond flour and flaxseed and baked until crispy.
The double butter coating keeps the chicken moist and juicy, while the air fryer gives it that nugget crunch. You may also add egg to the mix for a perfectly golden result.
This recipe uses chicken breasts to make crispy, flaky nuggets like Chick-fil-A. Panko, flour bread, and foamy egg whites stick to the nuggets. You can create a sauce recipe or dip these into ranch, ketchup, or BBQ sauce.
These chicken nuggets are delectable when accompanied by either air-fried sweet potato fries or baked potato wedges, all complemented with ketchup, BBQ, or any sauce of your choice.
Lemon pepper seasoning, lemon juice, and lemon zest make these lemon pepper chicken nuggets a lemon lover's dream! They taste fantastic with their butter sauce and are ideal for a fast lunch.
Air fryer Nashville hot chicken nuggets make the perfect appetizer or main meal. The result after the air fryer is a batch of soft, spicy, and delicious nuggets! Try this recipe if you want another fun air fryer dish.
This air fryer recipe for keto chicken nuggets are crispy yet super simple to make. Plus, these chicken nuggets are keto, gluten-free, paleo, and kid-friendly!
These homemade chicken nuggets are crispy and tasty, especially thanks to the inviting Cajun seasoning. While the seasoning makes these chicken nuggets slightly spicy, air-frying gives them a crunchy crust.
If you like the idea of spicy nuggets, you should also try this spicy air fryer chicken nuggets recipe which offers soft, juicy nuggets that are ready in no time. You may enjoy them on the move, as an appetizer, or as a light supper.
📋 Recipe
Frequently Asked Questions
Here are some frequently asked questions about crispy air fryer chicken nuggets recipes.