In this article, we're exploring everyone's favorite crispy delight - bacon! We'll discover the magic that happens when bacon meets the modern wonder of the air fryer basket.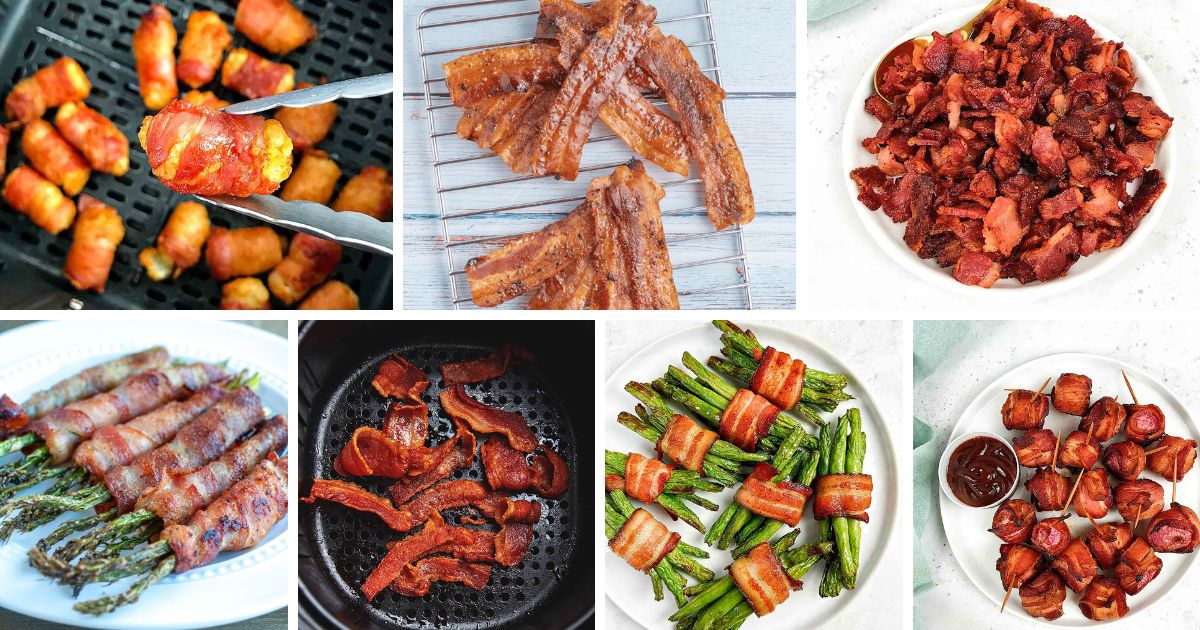 Bacon has long been a star of the kitchen, bringing its savory charm to breakfast plates and gourmet creations alike. But now, with the help of the air fryer, we're taking bacon to a whole new level of crispy goodness.
From classic crispy bacon to inventive bacon-wrapped treats, this collection is a treasure trove for bacon enthusiasts and curious cooks alike. You don't need to be a kitchen pro to follow along. These recipes are designed to be easy and fun, so you can enjoy the savory rewards without any stress.
So, if you're ready to indulge in the crispy, smoky, and utterly irresistible world of bacon, join us as we explore 29 crispy air fryer bacon recipes.
Contents
Have a great breakfast with this irresistible bacon classic, sizzling to a perfect crisp in the air fryer's magic. You can pair it with sandwiches, eggs, and toast for a wholesome delight.
With a smoky twist, this paprika-infused bacon boasts a delightful crunch and an enticing hint of warmth. Don't forget to pair it with scrambled eggs for a morning masterpiece.
This is the best way to experience bacon bliss minus the smoke. The air fryer's precision ensures a smoke-free sizzle and perfectly crispy bacon. Serve it alongside fluffy pancakes for an indulgent treat.
They say with thick cuts – thicker satisfaction. The air fryer transforms the thick-cut bacon slices into a crispy revelation. Mix it in a hearty BLT sandwich, loaded lettuce, and tomato salad.
Spice up your gatherings with these bacon-wrapped jalapenos that turn irresistibly crispy in the air fryer, revealing a mouthwatering blend of heat and smokiness. Serve it as a bold appetizer!
The asparagus turns into a delicacy in this air fryer bacon recipe. The result: a harmonious blend of textures and flavors, perfect for an elegant dinner.
Enjoy fluffy eggs, perfectly crispy bacon, and toasted bread, all effortlessly prepared in the air fryer's embrace in this breakfast casserole. This is a complete morning package that starts your day right.
This is a healthier delight, brought to life by the air fryer's magic. The turkey bacon batches emerge perfectly crispy, a lean and flavorful twist on the classic.
Transform your fave veggies into a masterpiece with this air-fried Brussels sprouts and bacon recipe. Each bite offers a delightful balance of tenderness and crunch.
The air-fried Brussels sprouts and bacon, kissed by balsamic glaze, create a symphony of flavors in this delectable recipe. This side dish is tangy, smoky, and utterly satisfying.
This dish is a mouthwatering marriage of creamy and crispy. The avocado wrapped in bacon turns into a delectable masterpiece. It is irresistible on its own or as a surprising party appetizer.
This dish is a flavor-packed delight that steals the show. The chicken, bacon, and ranch unite in a crispy popper, courtesy of the air fryer's prowess. This is a savory snack that never disappoints.
This comfort food symphony - roasted potatoes and regular bacon - combines for a hearty, tender, and crunchy dish. This is a versatile side or a satisfying main, perfect for any time of day.
This dish is a keto-friendly innovation at its finest. The radishes, mimicking the essence of potatoes, embrace the air-fried bacon's crunch and bring guilt-free pleasure to your low-carb journey.
In this recipe, the juicy pork tenderloin, swathed in crispy bacon, emerges from the air fryer to create a succulent dish. This is an impressive serve that graces any occasion.
The air-fried roasted potatoes, adorned with melty cheese and crispy bacon, create a comforting and irresistible dish. This side dish steals the spotlight with its rich flavors and satisfying textures.
This dish features crispy bacon lovingly wrapped around tender green beans creating a mouthwatering blend of contrasting textures and flavors. This is sure to be a highlight of your dining experience.
The seafood perfection is made simple in this dish. The succulent shrimp, encased in crispy leftover bacon, is an appetizer that surely disappears as quickly as it's served.
These air-fried bacon bits can elevate salads, baked potatoes, and more with their irresistible crunch and smoky flavor. This is a garnish that transforms dishes into delights.
The sweet and savory collide in this unique dish. The crispy bacon enveloping the beloved Oreo creates a surprising blend of textures and flavors. This is a dessert that's unforgettable!
Have a culinary adventure and try these scallops wrapped in bacon and kissed with sriracha mayo. This is an appetizer that will surely ignite your senses. You can opt to save the bacon grease for cornbread.
This air fry bacon recipe adds a savory twist to classic cinnamon rolls, creating a delectable balance of sweet and salty. This is a genuinely satisfying morning indulgence.
This dish is a quick and crave-worthy delight. The hot dogs, swathed in crispy bacon strips, become an irresistible treat in just 10 minutes. This is a snack that's perfect for any time.
Nothing beats simplicity in this crispy bacon recipe, elevated by the air fryer's touch. This is a delightful appetizer that's effortless to prepare yet impressively flavorful.
Have a summer's delight with a twist in this quick bacon recipe. The corn on the cob, embraced by bacon, becomes a savory sensation in the air fryer. This is a BBQ-worthy side that's sure to impress.
If you're looking for a symphony of flavors, try this air-fried bacon, kissed by brown sugar, creating a sweet and savory treat that tantalizes taste buds. This is a snack, a dessert, a masterpiece.
Who doesn't love a good snack? This crispy bacon dish featuring the golden tater tots creates a dynamic duo brought to life by the air fryer's magic. This is an addictive treat for any occasion.
A taste of crunch and nostalgia is what you will feel in this irresistible appetizer. The air fryer's touch highlights the delightful contrast of thick-cut bacon and chestnuts.
The chicken tenders, encased in bacon crispiness, emerge from the air fryer as a savory delight that brings a new level of flavor. This can be a satisfying main or a crowd-pleasing appetizer.
📋 Recipe
Frequently Asked Questions