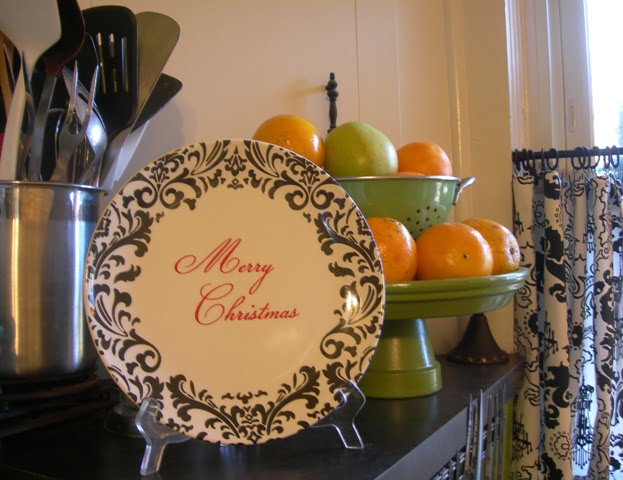 I've added a few touches of Christmas in the kitchen. Our kitchen is tiny, so there isn't much space for decorating. So I make use of any space this is available.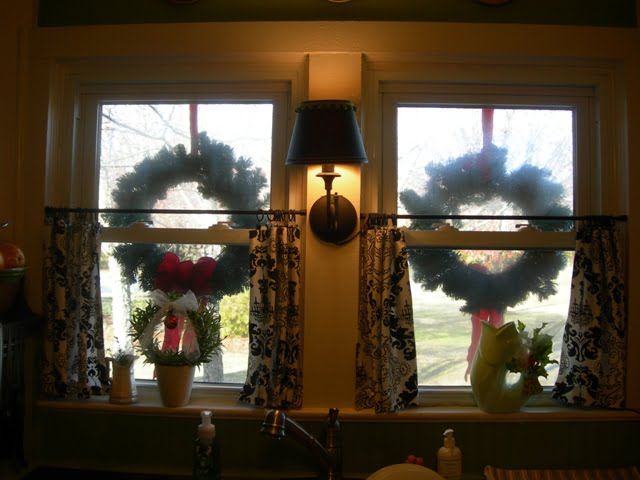 In the kitchen windows, you can see our outside wreaths. On the ledge, I have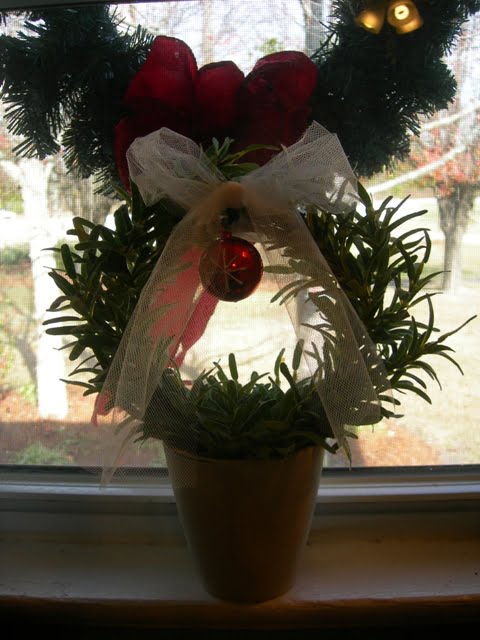 an artificial rosemary topiary blinged out for Christmas and a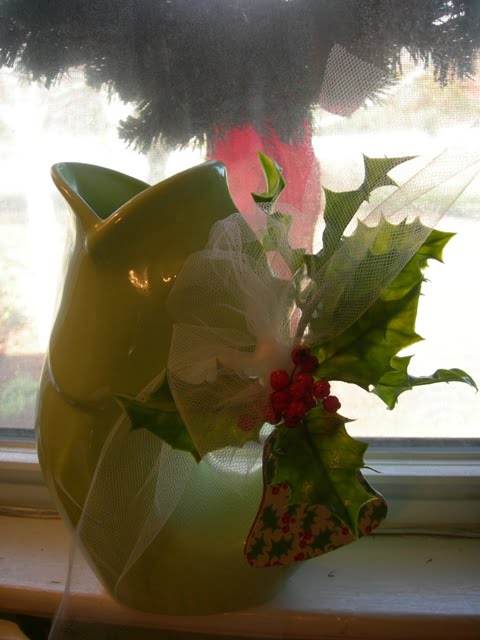 decorated gurgle pot. Do you know about gurgle pots? Well, they actually produce a gurgling sound when you pour a beverage from them. It is just the funniest thing. You can listen to the sound they make on the GurglePot website here. The way I got my gurgle pot was that the adults have a Chinese gift exchange on Christmas Eve at the Crossroads. My sister-in-law had found this one in a gift shop, and I won it during the gift exchange. I have loved it ever since, and if you need a unique gift for someone, this would be it.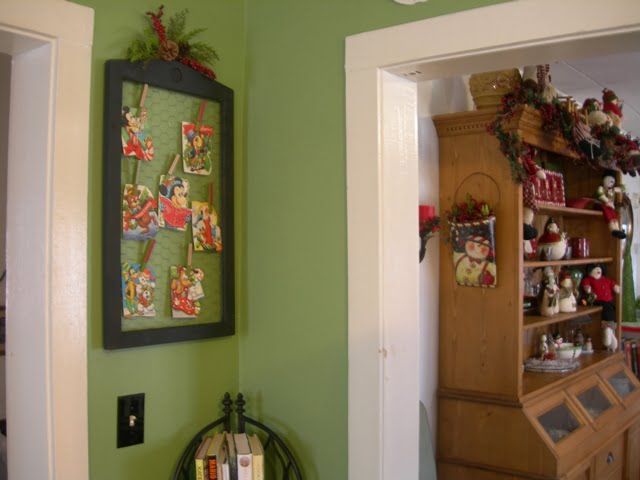 In one corner of the kitchen, you can see my newly made card holder displaying some vintage Mickey Mouse Christmas cards. I think the children will enjoy seeing them on Christmas Eve. You can also see the cupboard in the dining room filled with my snowman collection. I'll show you that another day.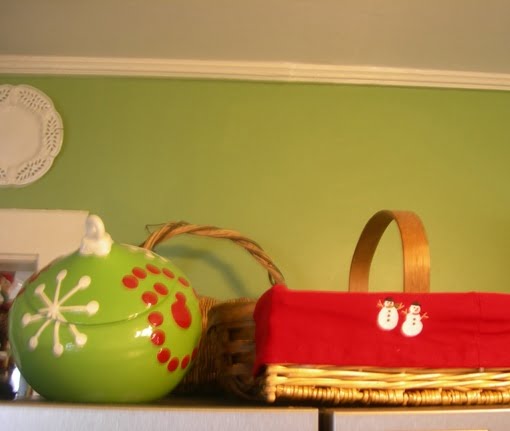 The top of the refrigerator has a Christmas cookie jar and a bread basket on top along with some other baskets.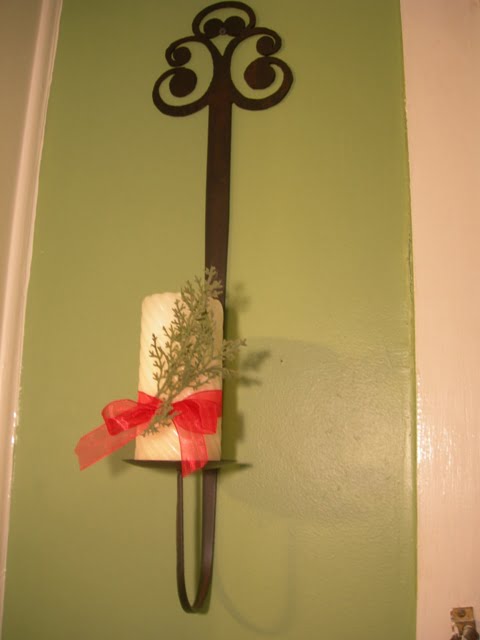 A candleholder by the back door has been dressed in Christmas colors. The green wall color does lend itself to decorating with traditional Christmas colors.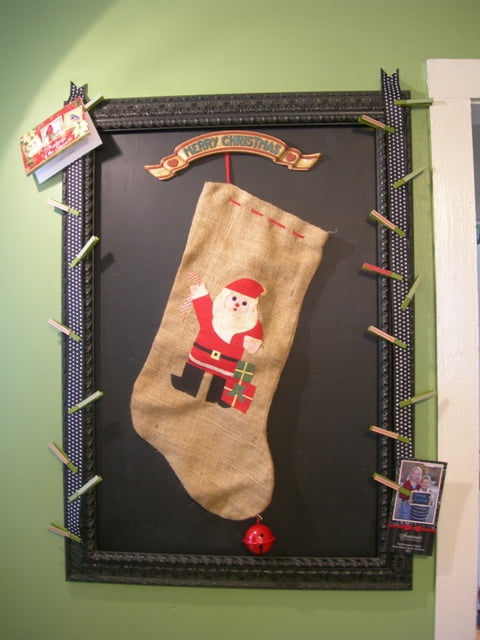 This is our large chalkboard in the kitchen that has an old, burlap stocking hanging on it. I found the stocking mixed in with some other items that I bought for $5 one day.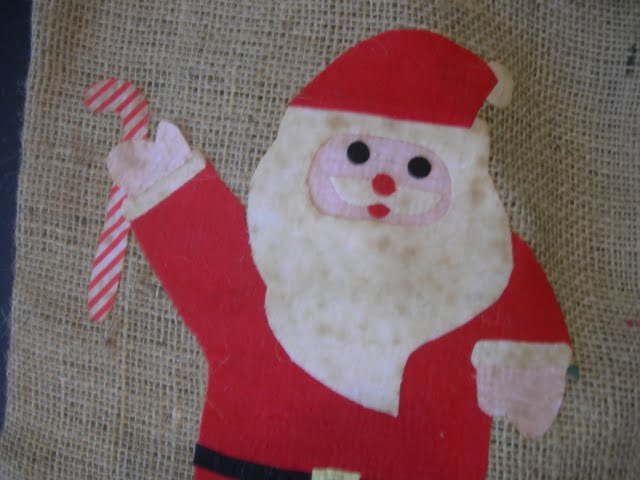 You can tell it's old because of the discoloration on Santa. Someone made this stocking way before burlap became cool.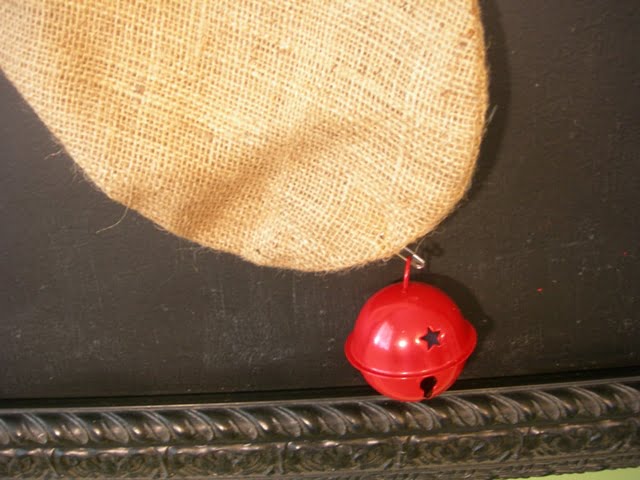 Look how the bell has been attached at the bottom! I didn't want to change it because I think it's charming.
I've added some ribbon to the sides of the chalkboard to serve as a Christmas card holder.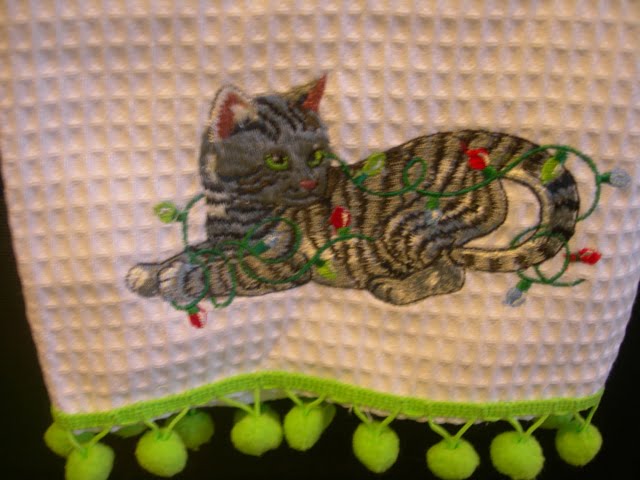 And this is a kitchen towel that I have hanging on my stove. The cat looks a little bit like our Rascal, don't you think?
Our kitchen in the cottage may be small, but it's looking warm and cozy with its decorations.