I've made up a big batch of homemade chai sugar.  You can sprinkle it into coffee or tea, of course, and you can substitute it in many of your fall baking recipes.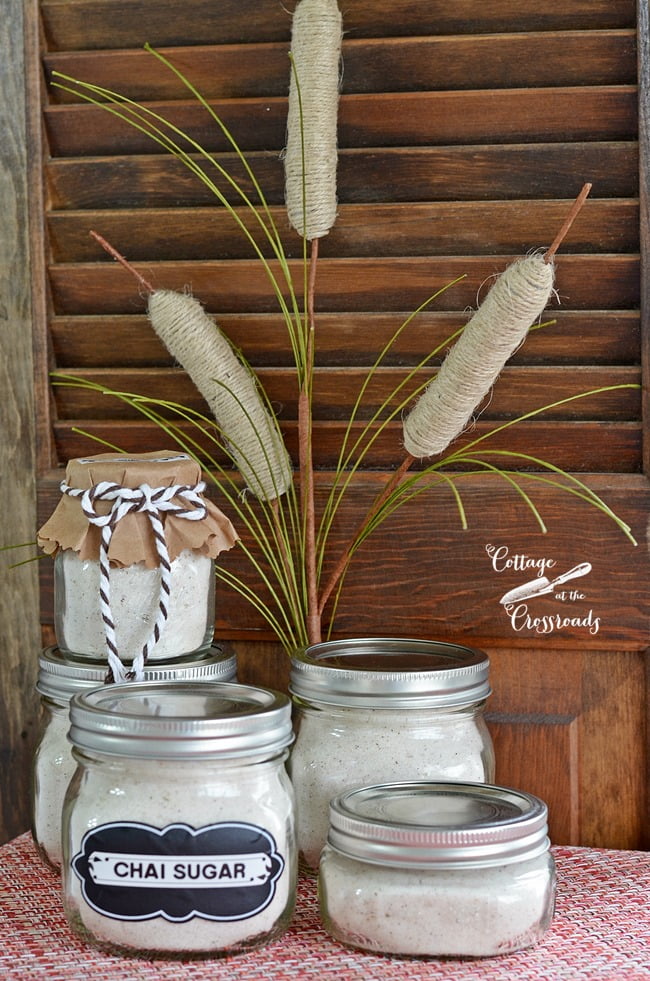 The return of students to school always signals fall to me and to get ready, I've made up a big batch of homemade chai sugar. You can sprinkle it into coffee or tea, of course, and you can substitute it in many of your fall baking recipes. It can spice up your morning oatmeal or french toast, and I'm thinking about how delicious it would be mixed in some icing for cupcakes!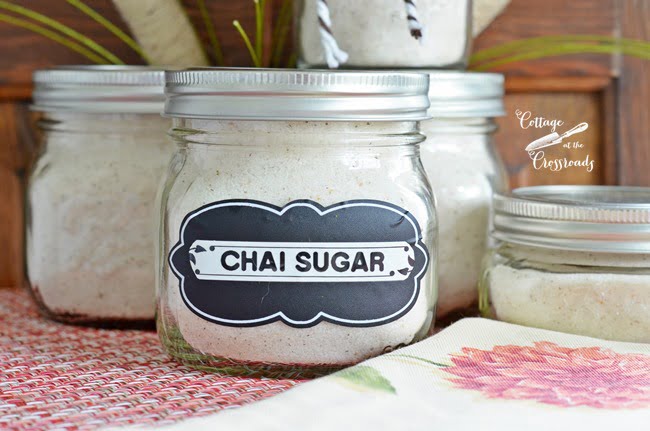 If you have friends that bake, these little jars of chai sugar would make a SWEET gift for them. And they would make a great hostess gift along with some tea or cookies made with it.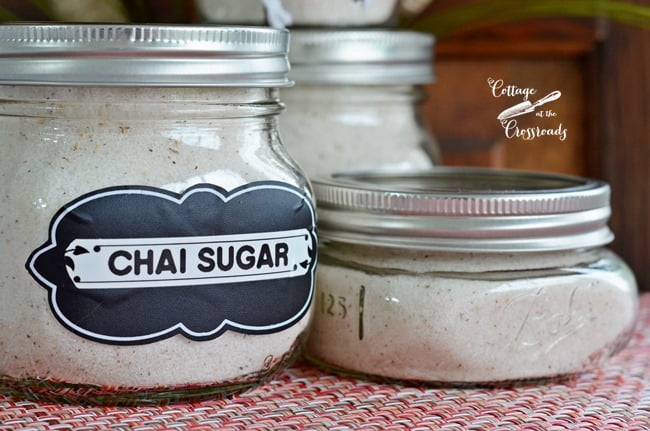 But be sure to treat yourself to a few jars, too!
Are you familiar with the flavor of chai? It is composed of warm, aromatic spices that were traditionally used to flavor tea in India. I first became acquainted with it about 20 years ago when one of Leo's sons made some bottled chai tea concentrate. I fell in love with the sweet yet warm spicy flavor. During the fall and winter, I usually get my "chai fix" at Starbucks when I order a Chai Tea Latte. But now I can get that same flavor at home with this chai sugar!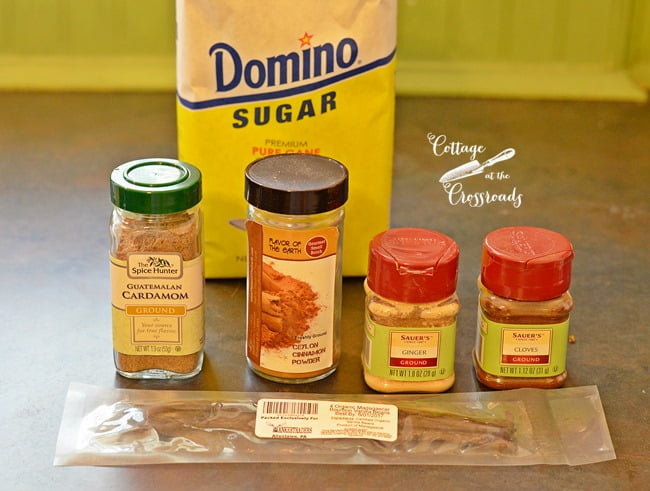 To make your own chai sugar, you will need granulated sugar, vanilla beans, ground cardamom, ground cinnamon, ground ginger, and ground cloves.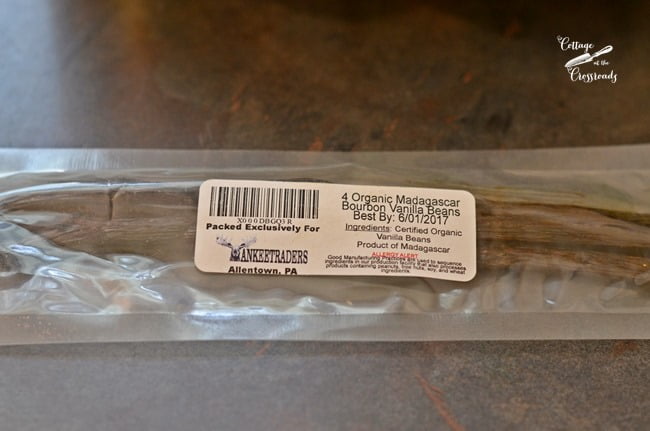 I ordered my vanilla beans HERE (affiliate link.) I discovered that cardamom can be hard to find, but I finally spotted it at Harris Teeter. So if you are ordering your vanilla beans from Amazon, you may want to go ahead and order the cardamom (affiliate link) as well. Putting the cardamom in your chai sugar is a MUST! It's a bit pricey, but it won't be chai without it!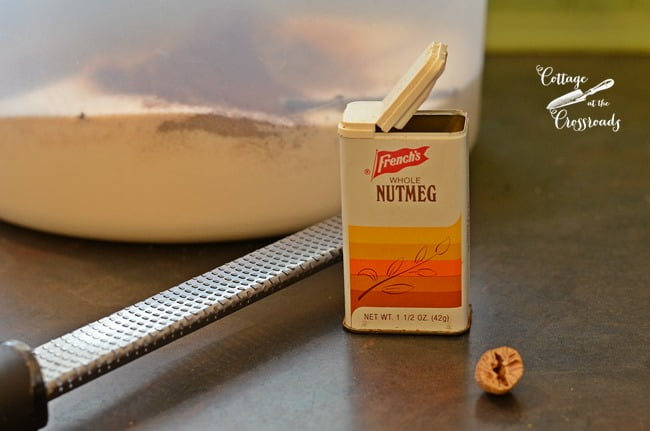 Since I love the flavor of nutmeg, I added that into the mix as well. But I know some people are not fond of nutmeg so you could leave that out if you wanted.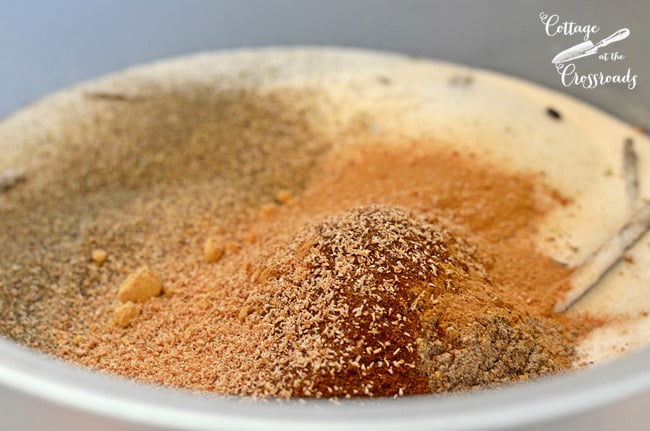 All of the ground spices get mixed with the granulated sugar and split and scraped vanilla beans and seeds. Put it in an airtight container for at least a week or longer.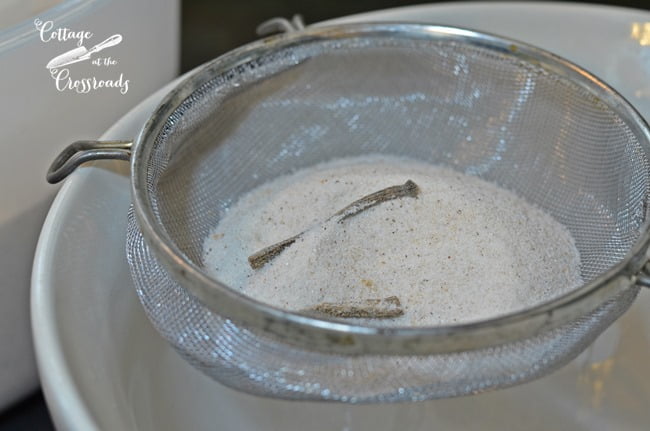 When you are ready to transfer it to glass jars, sift out the whole pieces of vanilla beans and seeds. Save for another use or throw them in your sugar canister.
I put mine in a variety of sizes of jars. I found a package of chalkboard labels at Big Lots for $1 recently.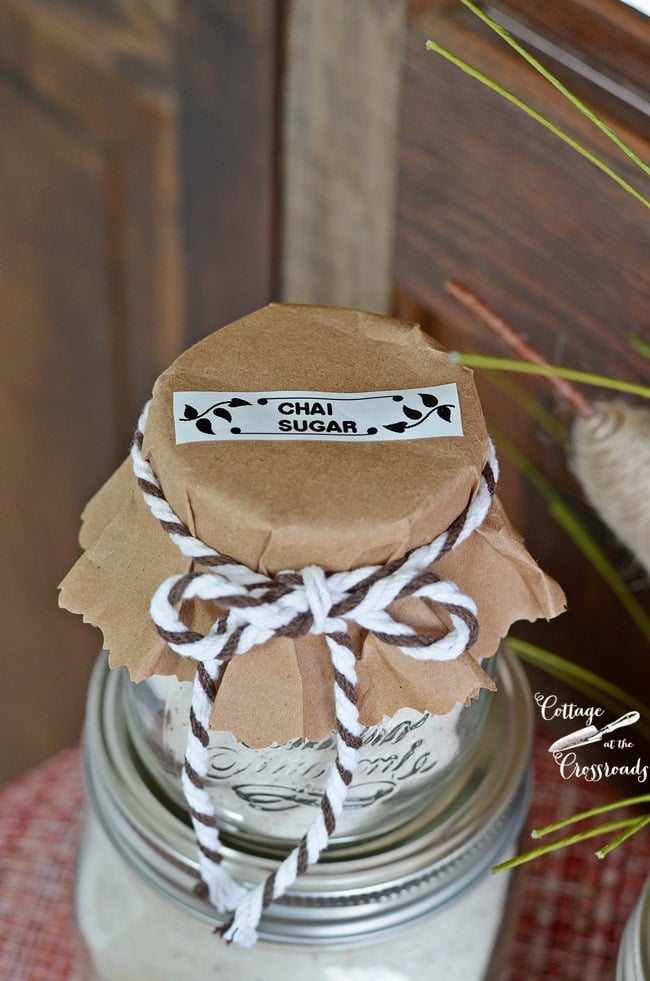 The little jars got a topping of craft paper and twine. I can just see this tucked down inside a gift basket with some cookies made with the sugar!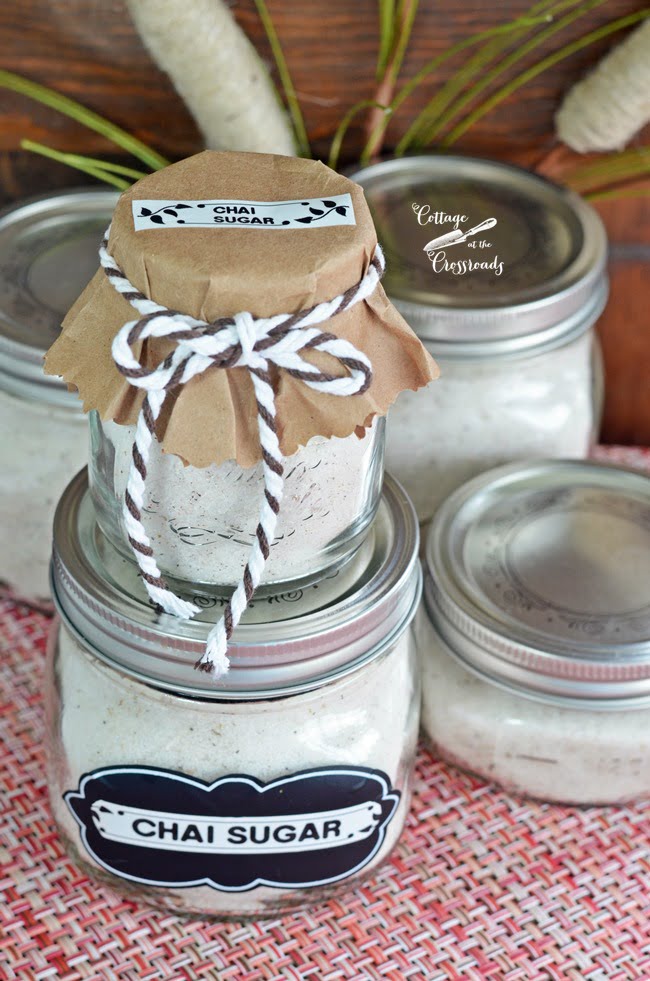 The recipe that I'm giving you makes a big batch of chai sugar. It will be enough for all your baking needs and warm beverages this fall and winter as well as stock you up for some gift-giving. I hope you enjoy its warm spiciness as much as I do.
Chai Sugar
A warm blend of spices and sugar to use in baking and beverages
12 cups granulated sugar
10 teaspoons ground cardamom
6 teaspoons ground cinnamon
2 teaspoons ground ginger
2 teaspoons ground cloves
2 teaspoons ground nutmeg
1 teaspoon ground black pepper
4 vanilla beans (split lengthwise, seeds scraped and reserved)
In a large bowl, combine sugar, spices, split vanilla beans and vanilla seeds.
Cover and let stand in a cool, dry place for at least 1 week.
Discard vanilla beans and transfer sugar mixture to glass jars.
Enjoy the chai sugar in warm beverages, French toast, oatmeal, smoothies, cupcake icing, and many baking recipes such as cookies, cakes, and scones.