When it comes to camping, nothing beats the feeling of being surrounded by nature, with the stars shining bright above you and a warm campfire crackling nearby. However, the thought of preparing meals in the great outdoors can be daunting, especially for those who are not seasoned campers.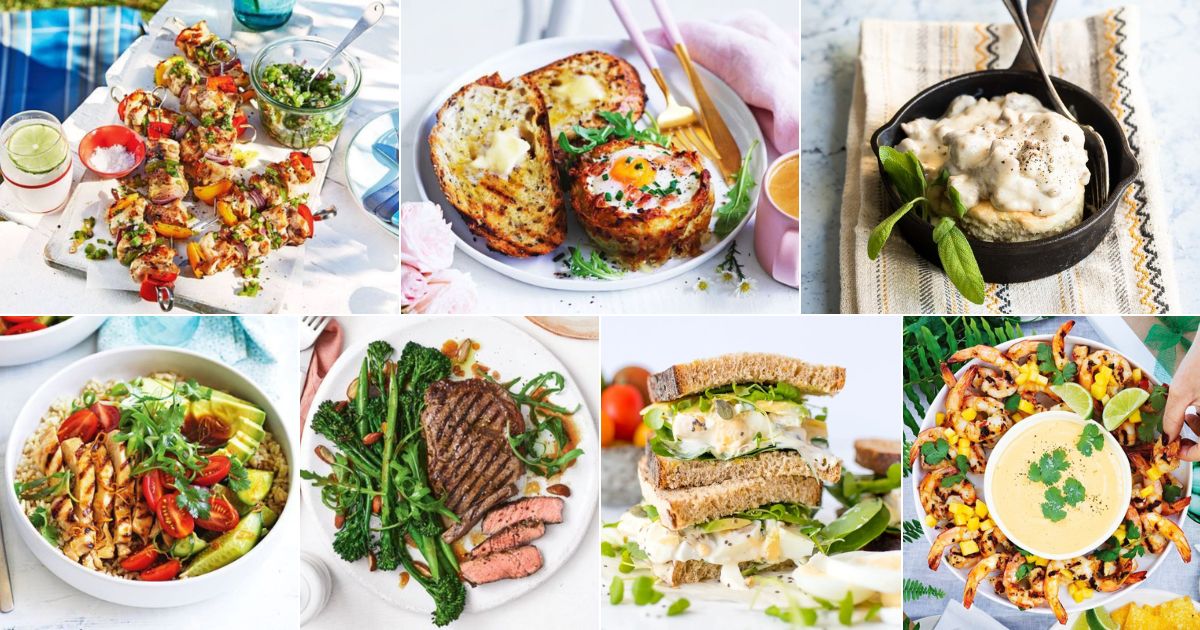 But don't worry! We've got you covered with 41 easy camping dinner ideas to make your trip stress-free and enjoyable. From simple one-pot meals to foil-packet dinners, these recipes will satisfy your hunger and fuel your outdoor adventures. So, grab your camping gear, and let's get cooking!
Contents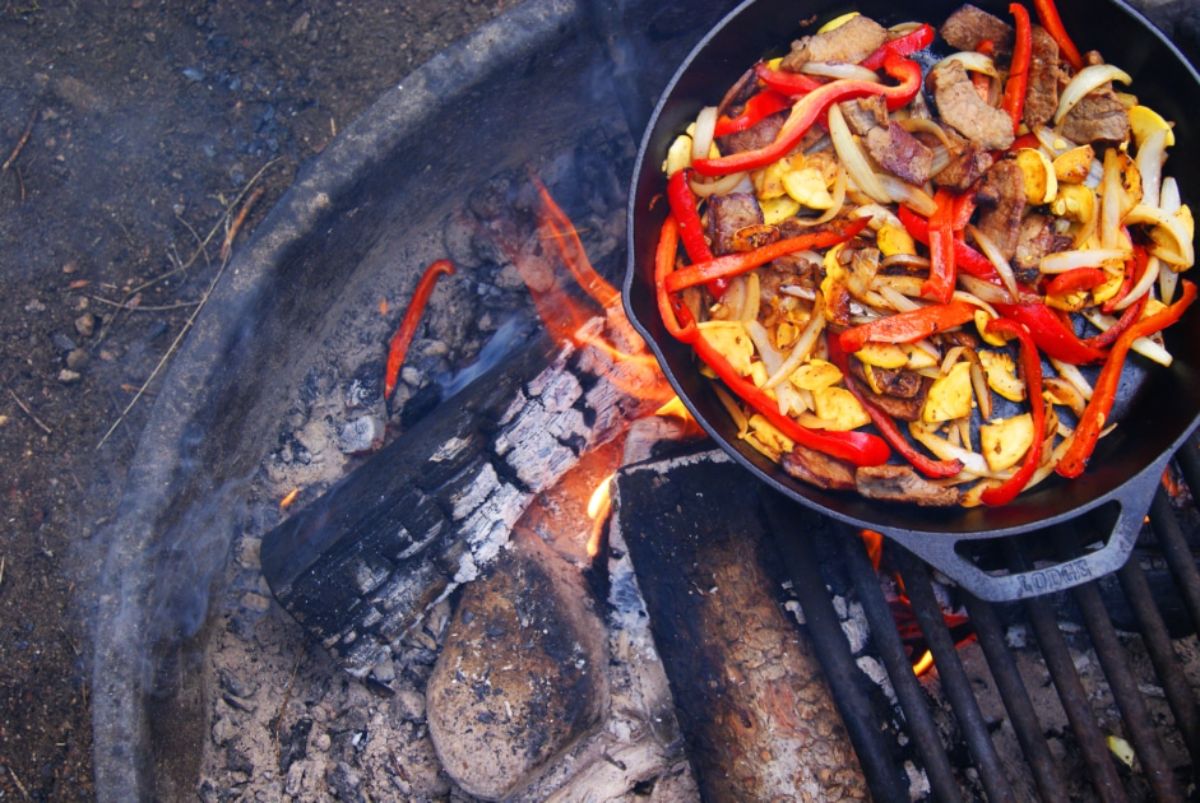 Say hello to the ultimate camping dish for all flavor enthusiasts: camp fajitas! This sizzling dish will tantalize your taste buds with its perfect savory, spicy, and tangy blend. Picture juicy strips of chicken or steak mixed with colorful bell peppers and onions; seasoned with smoky cumin, chili powder, and zesty lime juice; and wrapped in a warm tortilla.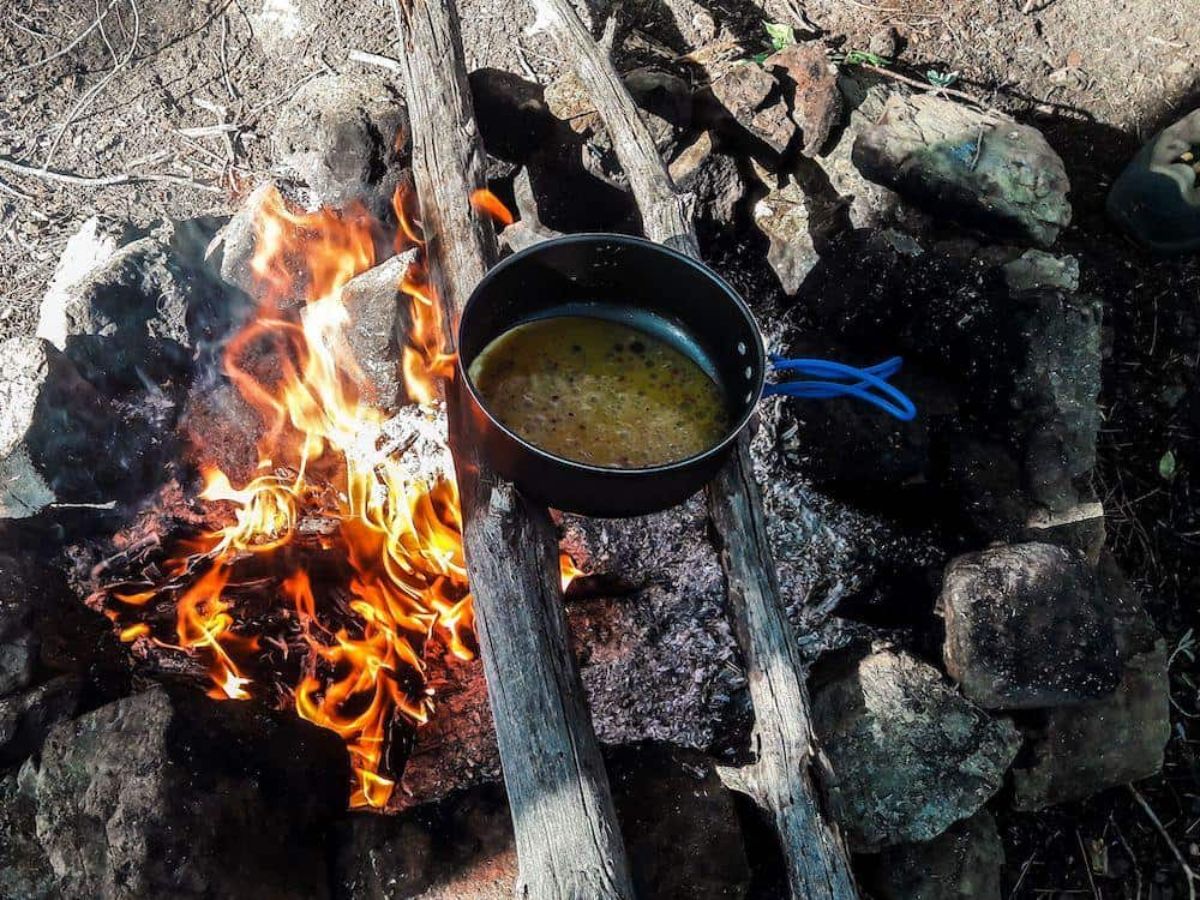 Hey there, campers! Close your eyes and imagine the aroma of a delicious camping breakfast, the perfect way to brighten up your day in the outdoors. This easy dish is a classic that will allow you to bond with fellow campers and give you energy for your adventures. Serve this crowd-pleaser with some hot coffee, fresh fruit, or toast, and you're good to go.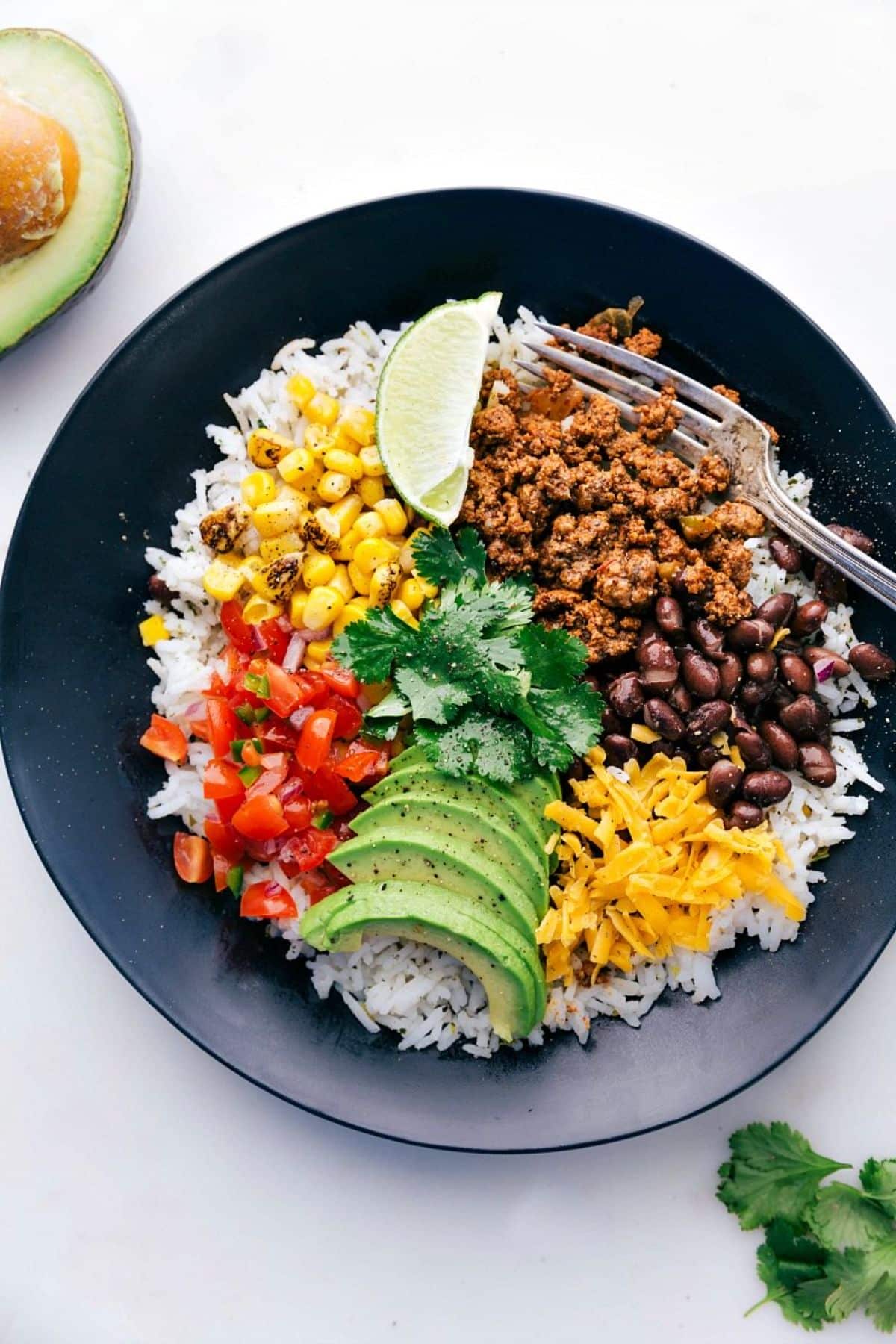 This taco bowl is the perfect pick-me-up for the great outdoors. It's delicious, easy to clean up, and a crowd favorite! The best part is that it can even be customized to your liking and dietary restrictions, making it perfect for everyone at the campsite. Serve it with some refreshing salsa or crunchy tortilla chips, and enjoy a stress-free and tasty camping dinner.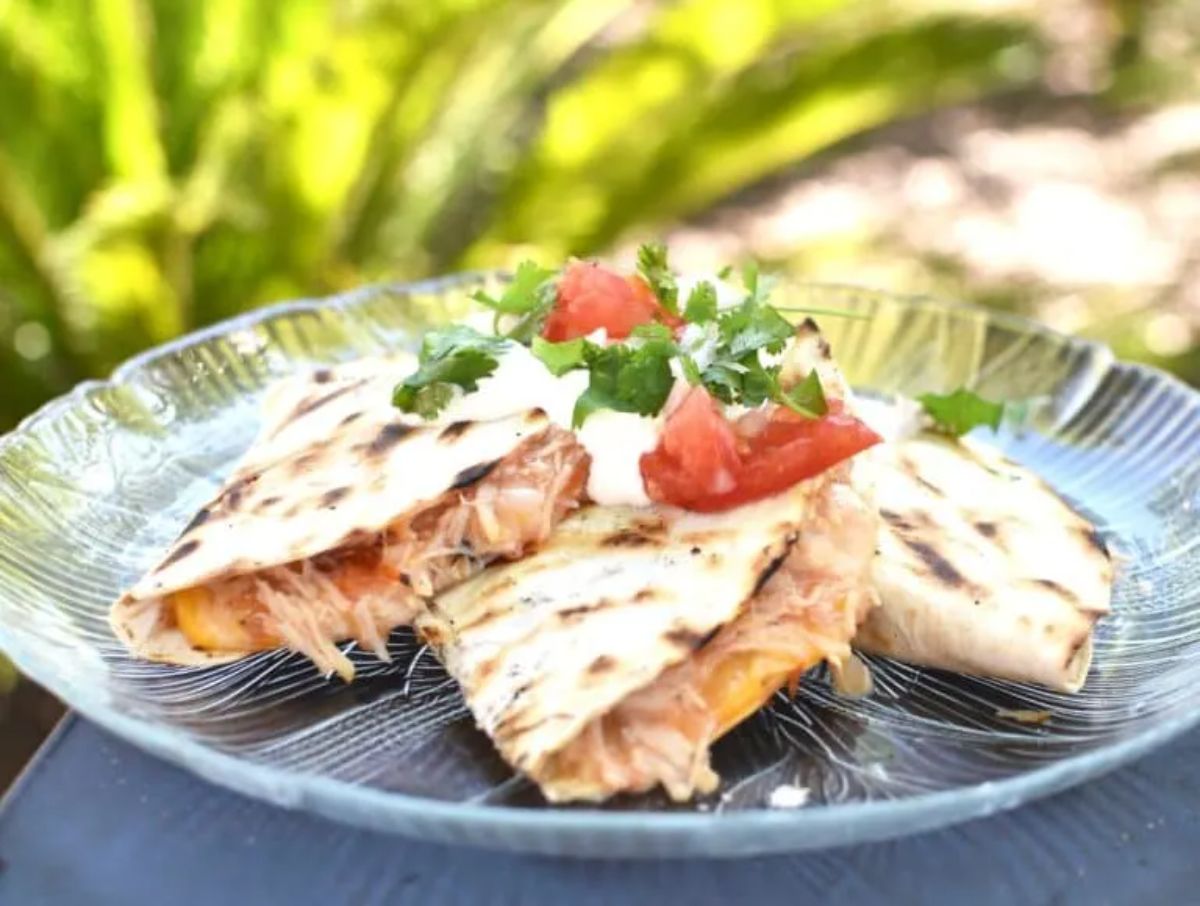 Chicken quesadillas are another versatile option for your camping dinner. They're easy to prepare and can be cooked over a campfire or on a portable stove, making them the perfect choice for any camping trip. Plus, you can customize the fillings to your liking or even make them vegetarian by using mushrooms or tofu instead. Serve the dish with fresh guacamole, salsa, or even a cold beer.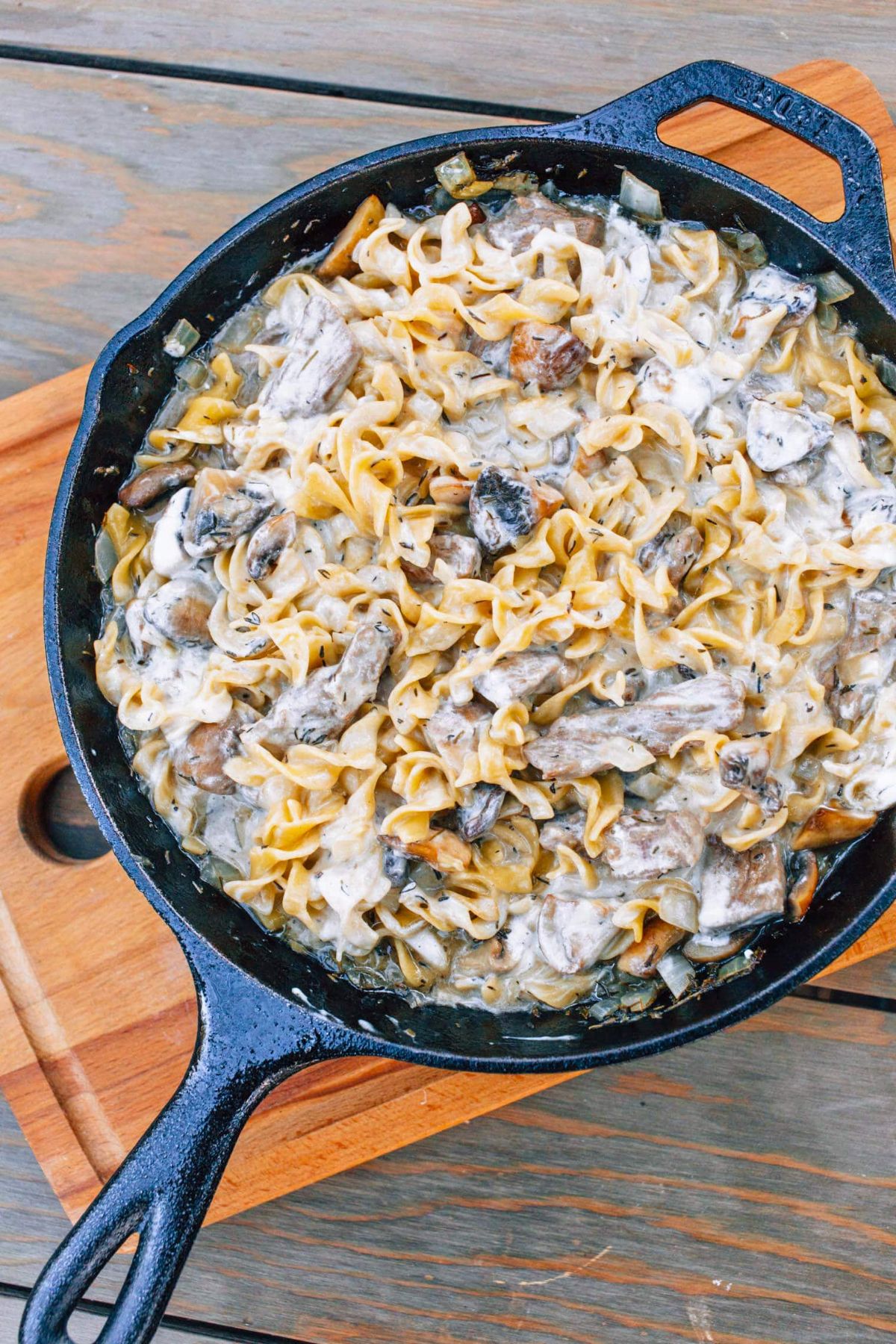 This dish combines savory beef, tender mushrooms, and creamy sauce in a single pot for easy clean-up. Imagine tender strips of meat cooked in a flavorful broth; mixed with sautéed mushrooms, onions, and garlic; and simmered in a rich and creamy sauce of sour cream and Dijon mustard. Yum.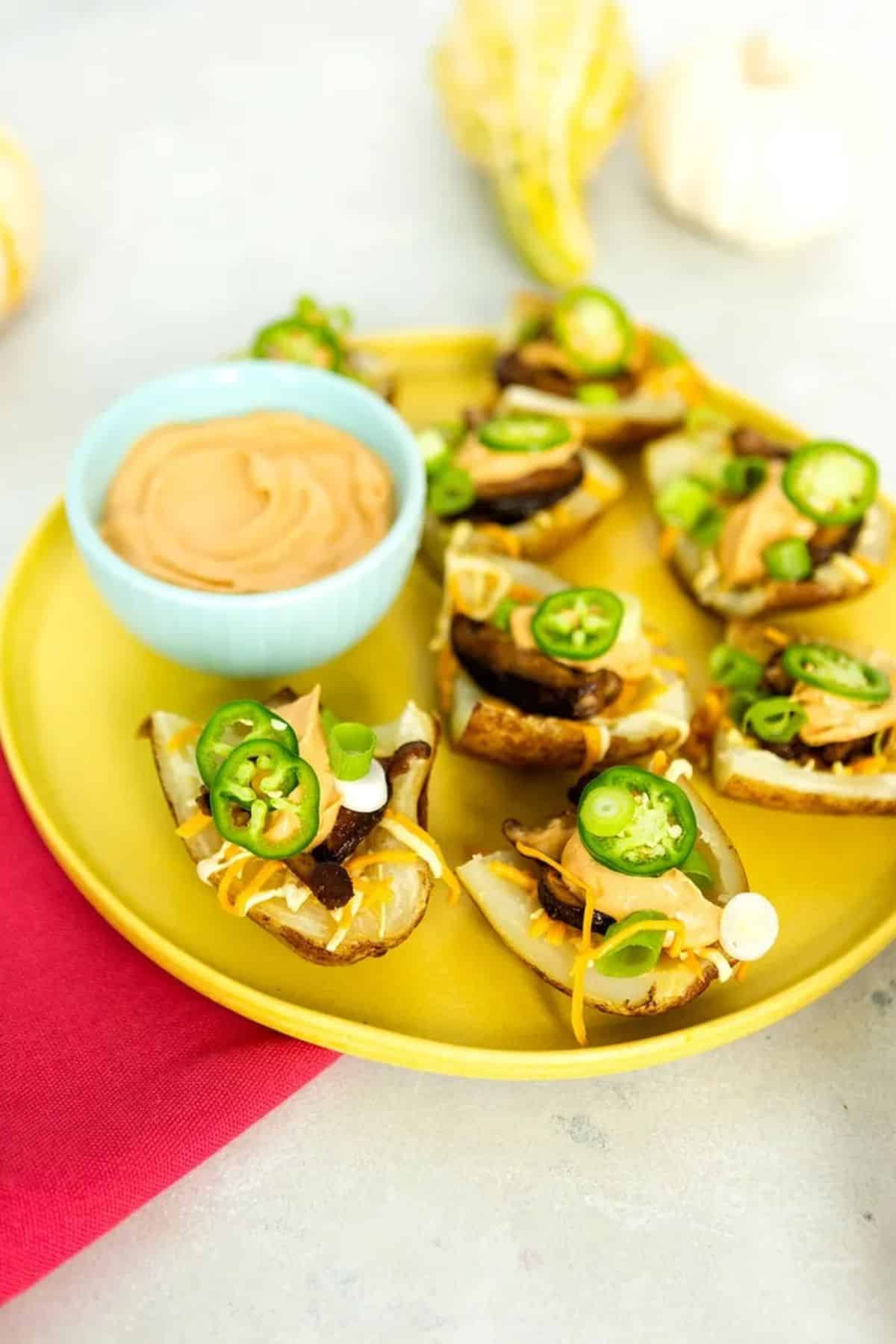 How's that for a unique dinner idea? The vegan bacon adds a smoky and salty flavor to the dish, while the melted cheese provides a gooey and creamy texture. You can cook these potato skins on a campfire or grill and easily customize them to suit your taste. Needless to say, they're the perfect side dish or appetizer.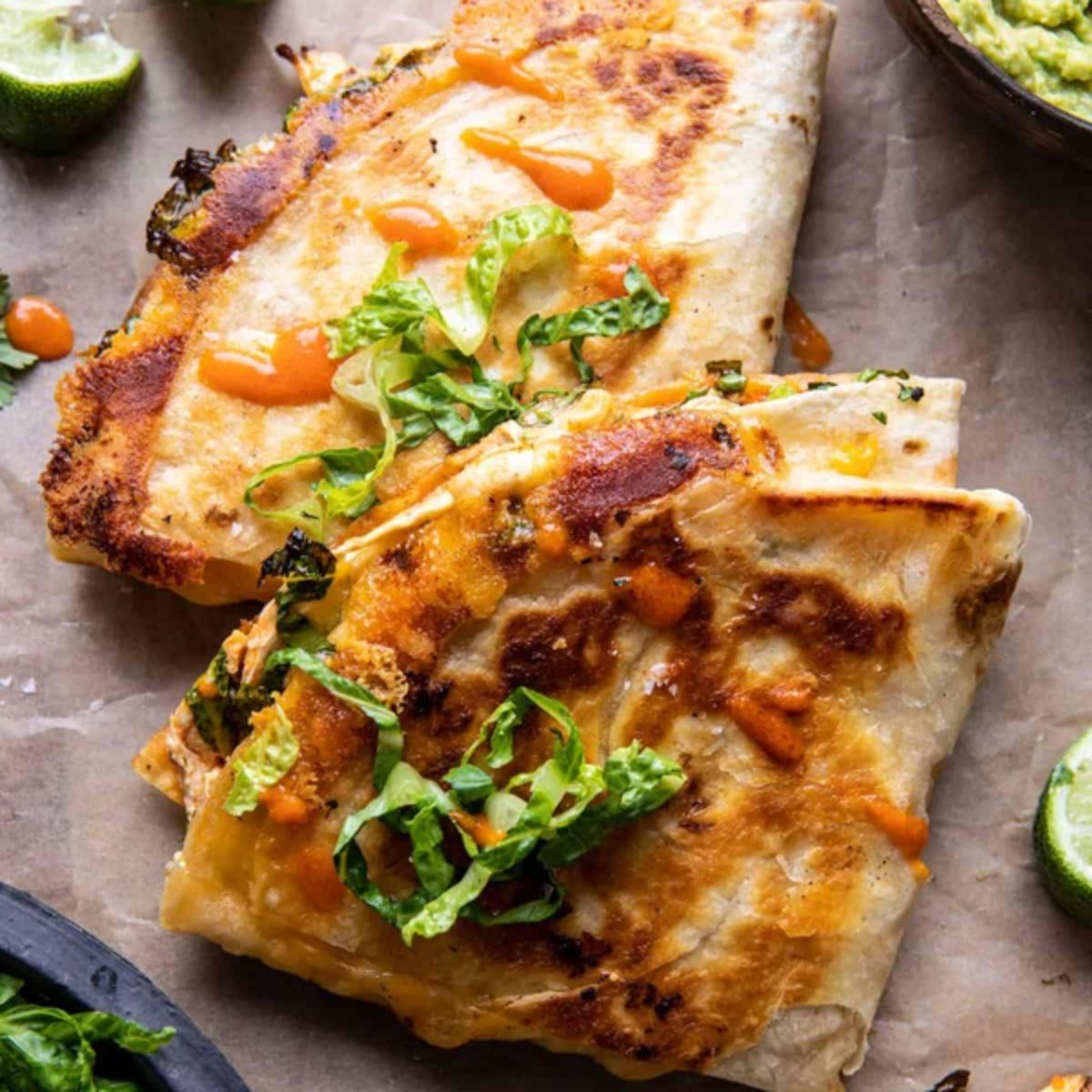 You can make these wraps with crispy chicken tenders in a spicy buffalo sauce and pair them with fresh lettuce, tomatoes, and ranch. The spicy chicken with the cool dressing will create a balance of flavors that'll make you come back for more. This easy camping dinner is quick to prepare and perfect for those busy days in the great outdoors, so what's not to love, really?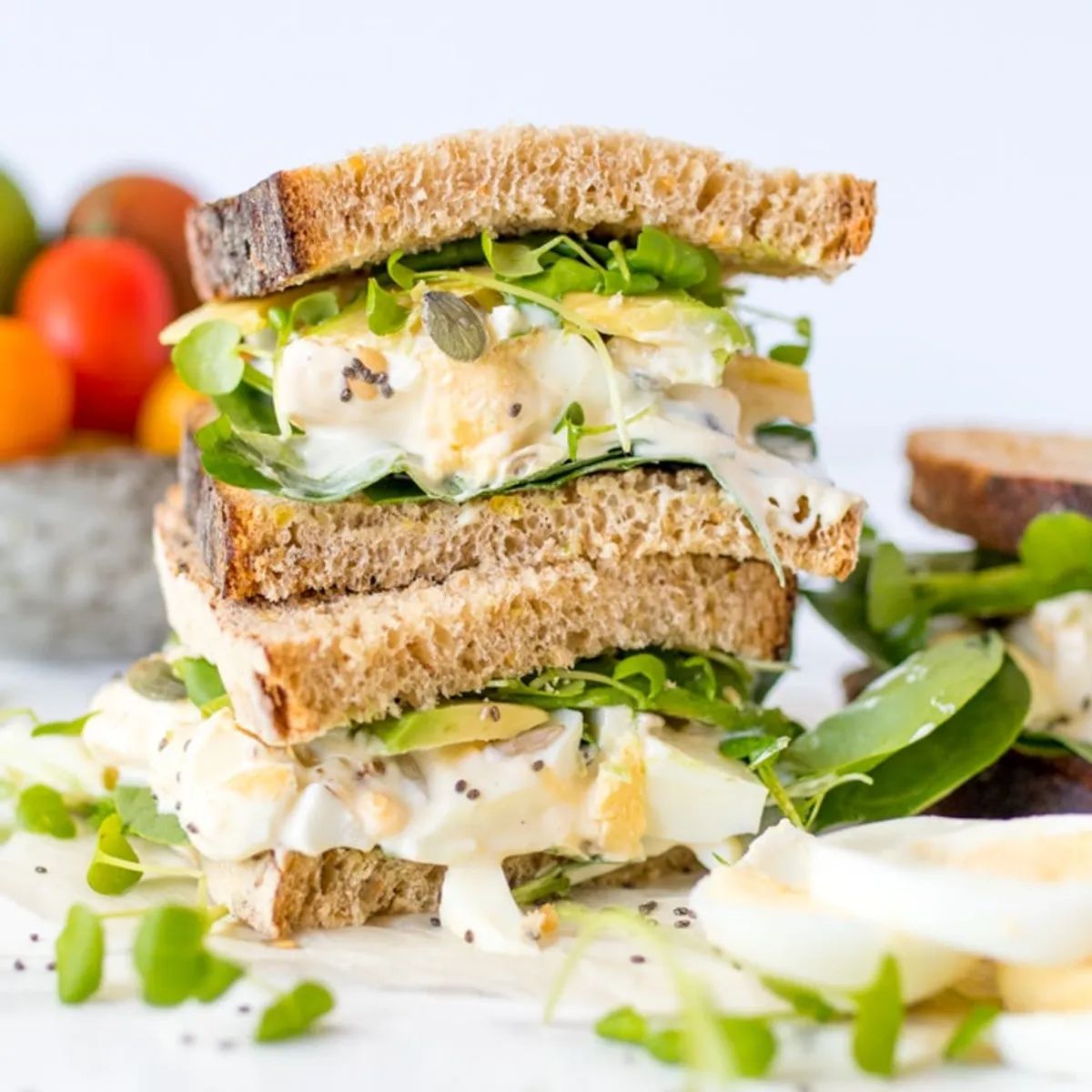 Adding superfoods like spinach and chia seeds will give you a boost of nutrition that will keep you feeling full and satisfied. Try serving this superfood egg sandwich with fresh fruit or a glass of cold-pressed juice for extra flavor.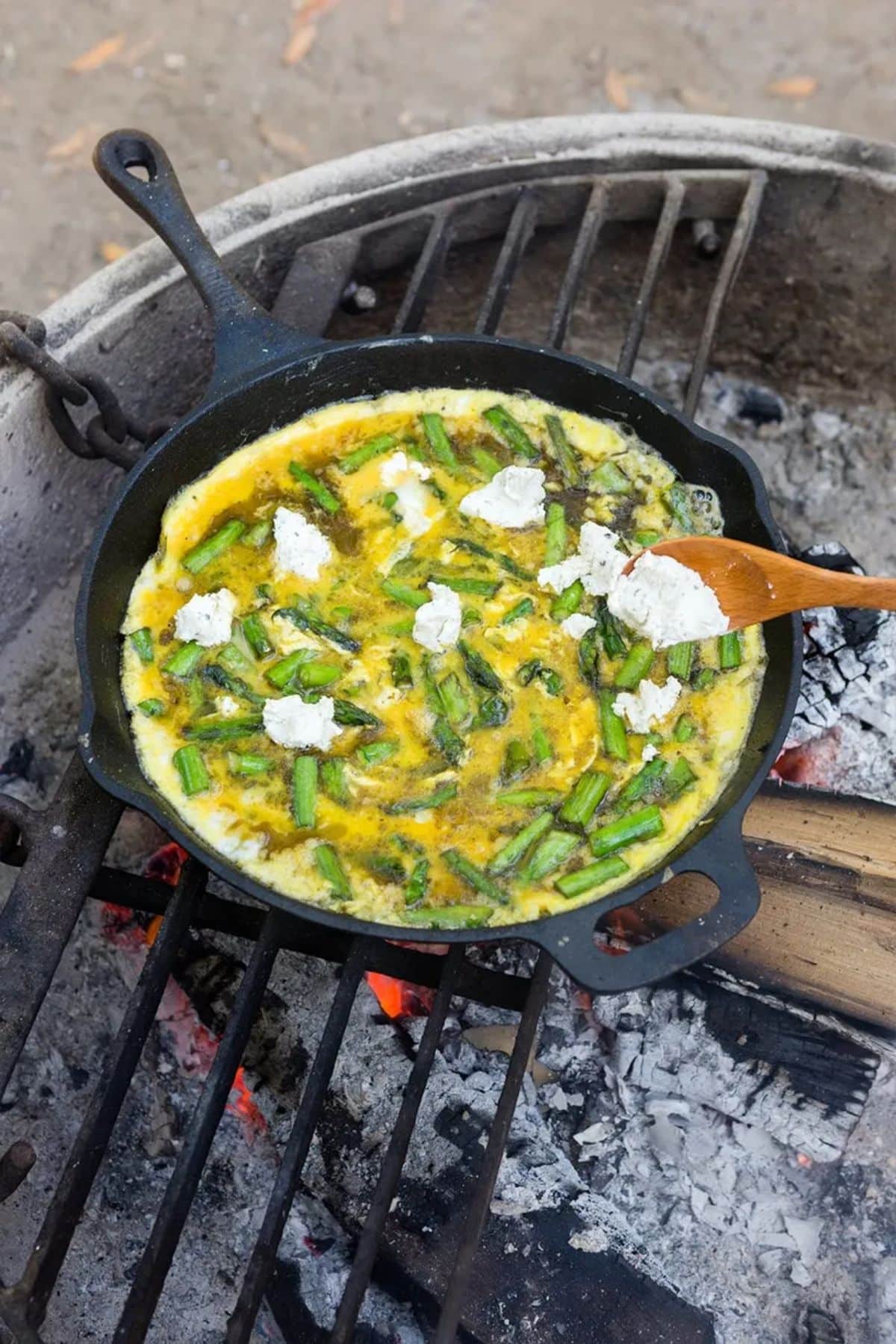 There's nothing better than starting or ending the day off on a high note, and with this asparagus and goat cheese frittata, you'll be doing just that. The earthy flavors of the asparagus pair perfectly with the tanginess of the goat cheese, while the creamy texture of the eggs brings everything together in a delicious harmony. This dish is also perfect for camping since it's easy to prepare.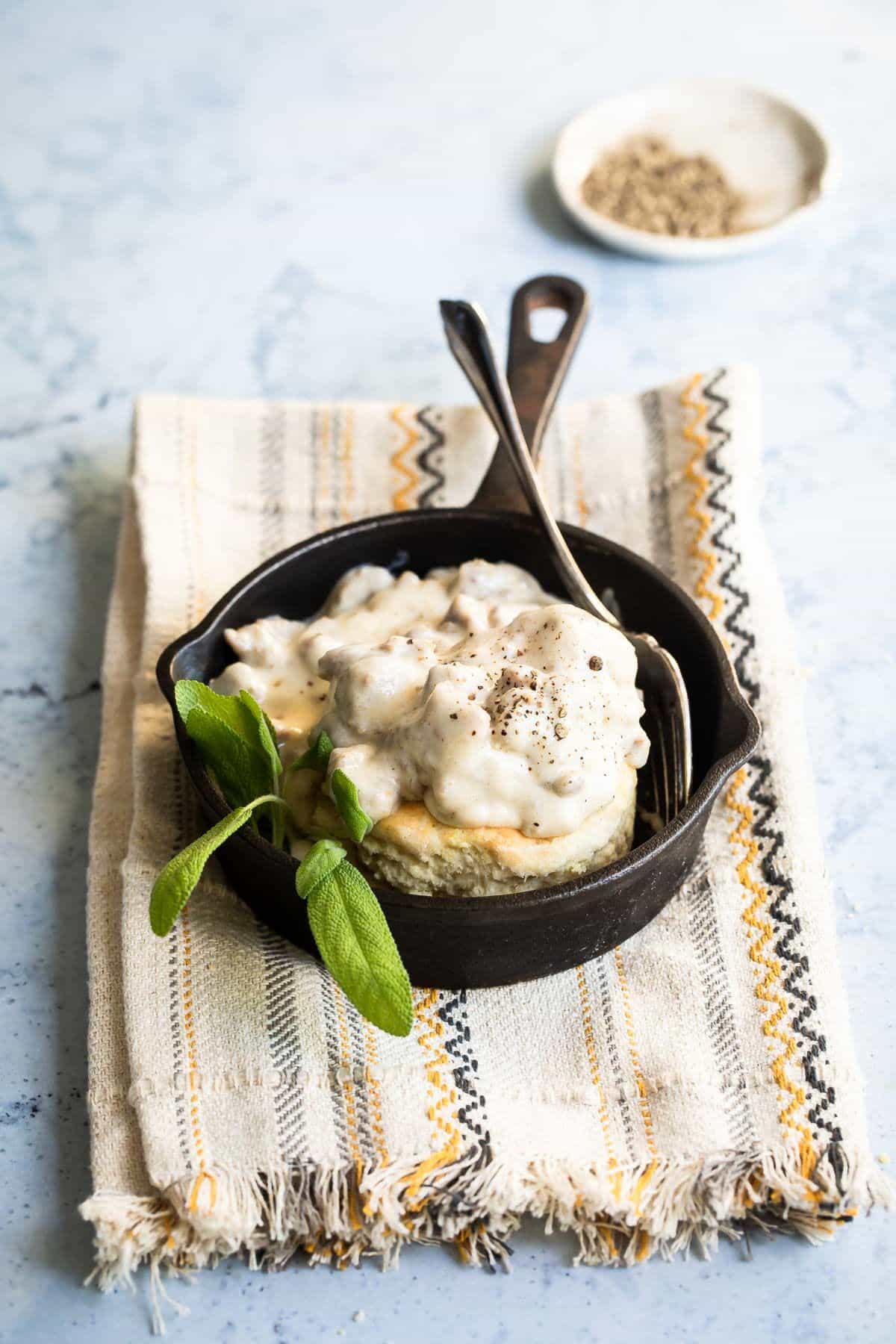 This classic Southern dish is easy to make while camping and is perfect for a hearty meal. You can bake the biscuits in a cast iron skillet over the fire and cook the gravy on a portable stove. So, are you excited for some good ol' biscuits and gravy?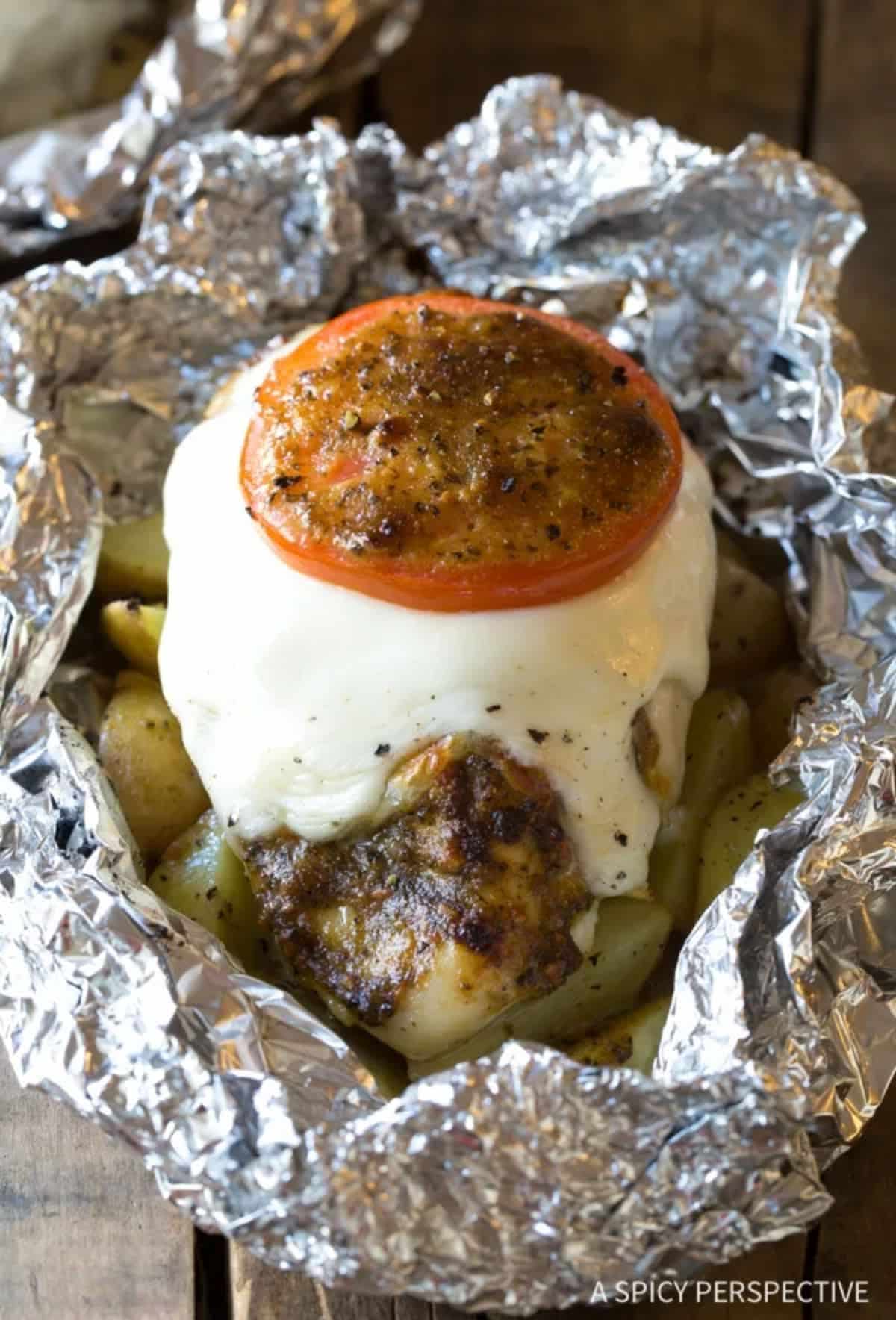 There's something magical about cooking in foil packets, and these caprese chicken foil packets are no exception. Every bite is like a symphony of flavors dancing in your mouth. The combination of tangy balsamic glaze and rich garlic butter elevates this dish to a new level of yumminess.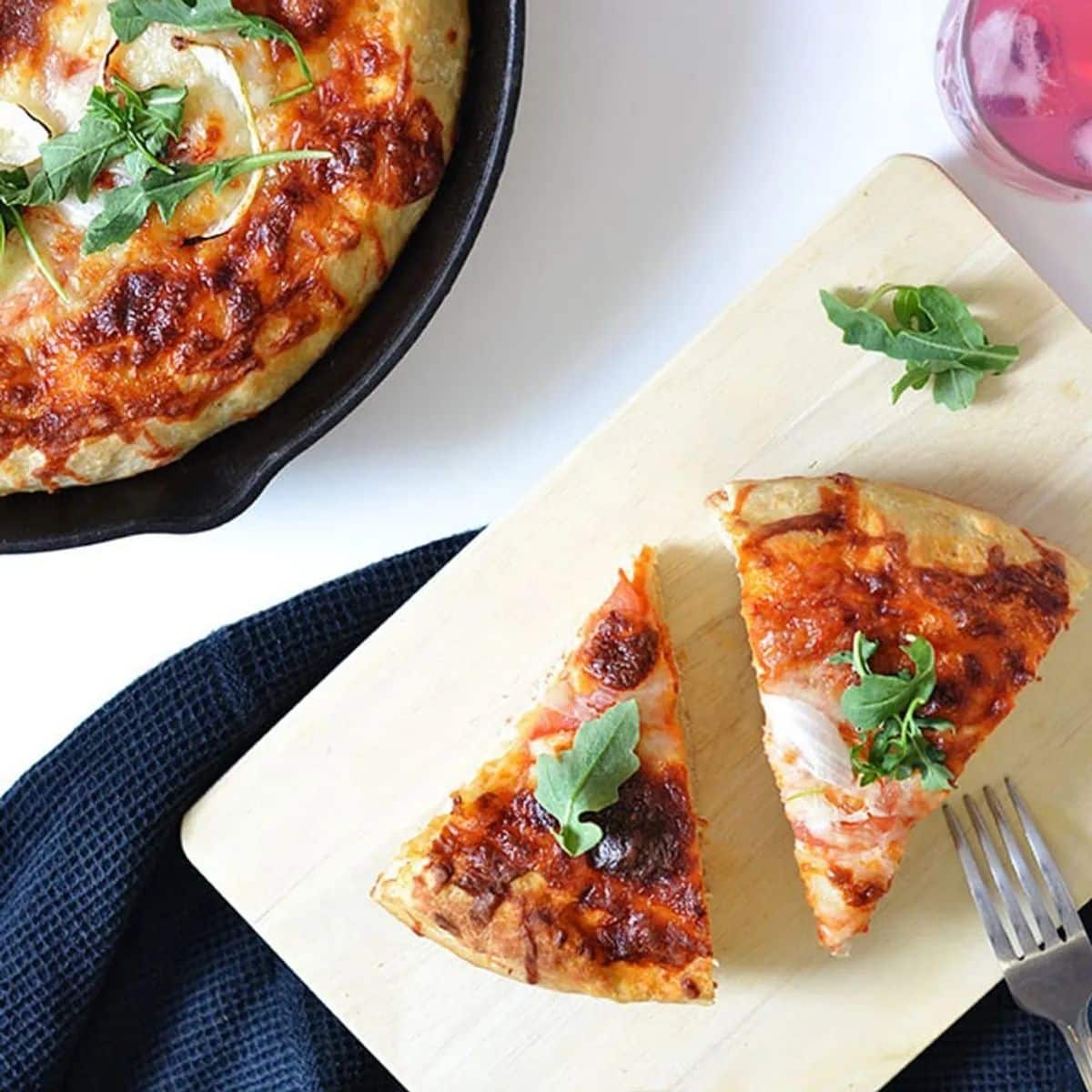 Who says you can't have pizza while you're camping? When it comes to this cast iron pizza, the crust is crispy and flavorful, the cheese is perfect, and the toppings are endless. You can make it as straightforward or gourmet as possible, from classic pepperoni to more adventurous combinations like arugula and prosciutto.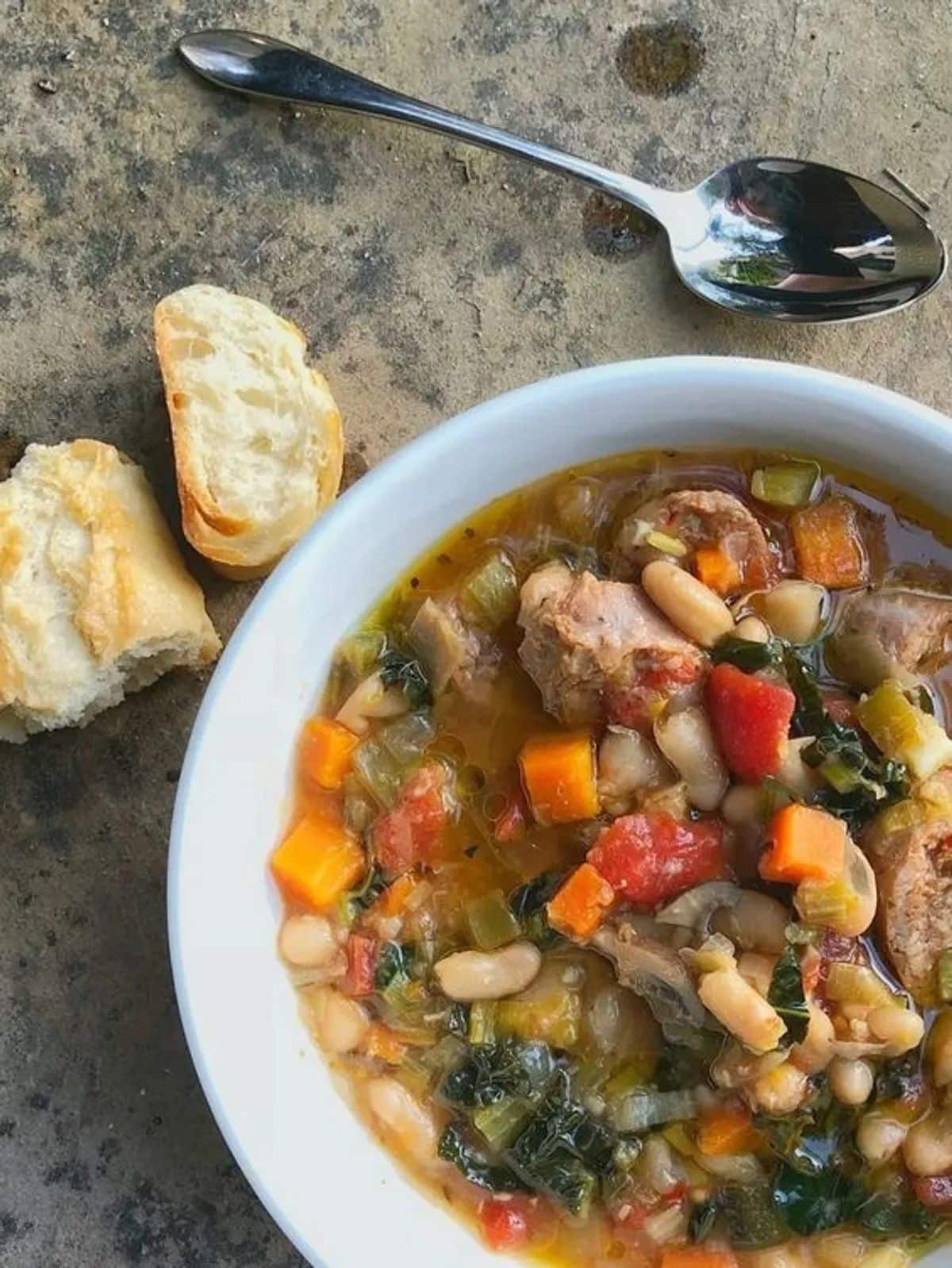 If we're talking about easy camping dinner ideas, this one-pot Tuscan white bean soup is a must-try! This hearty soup is bursting with flavor from the fragrant rosemary and thyme, the savory pancetta, and the creamy cannellini beans. It's like a warm hug in a bowl and perfect for chilly evenings around the campfire.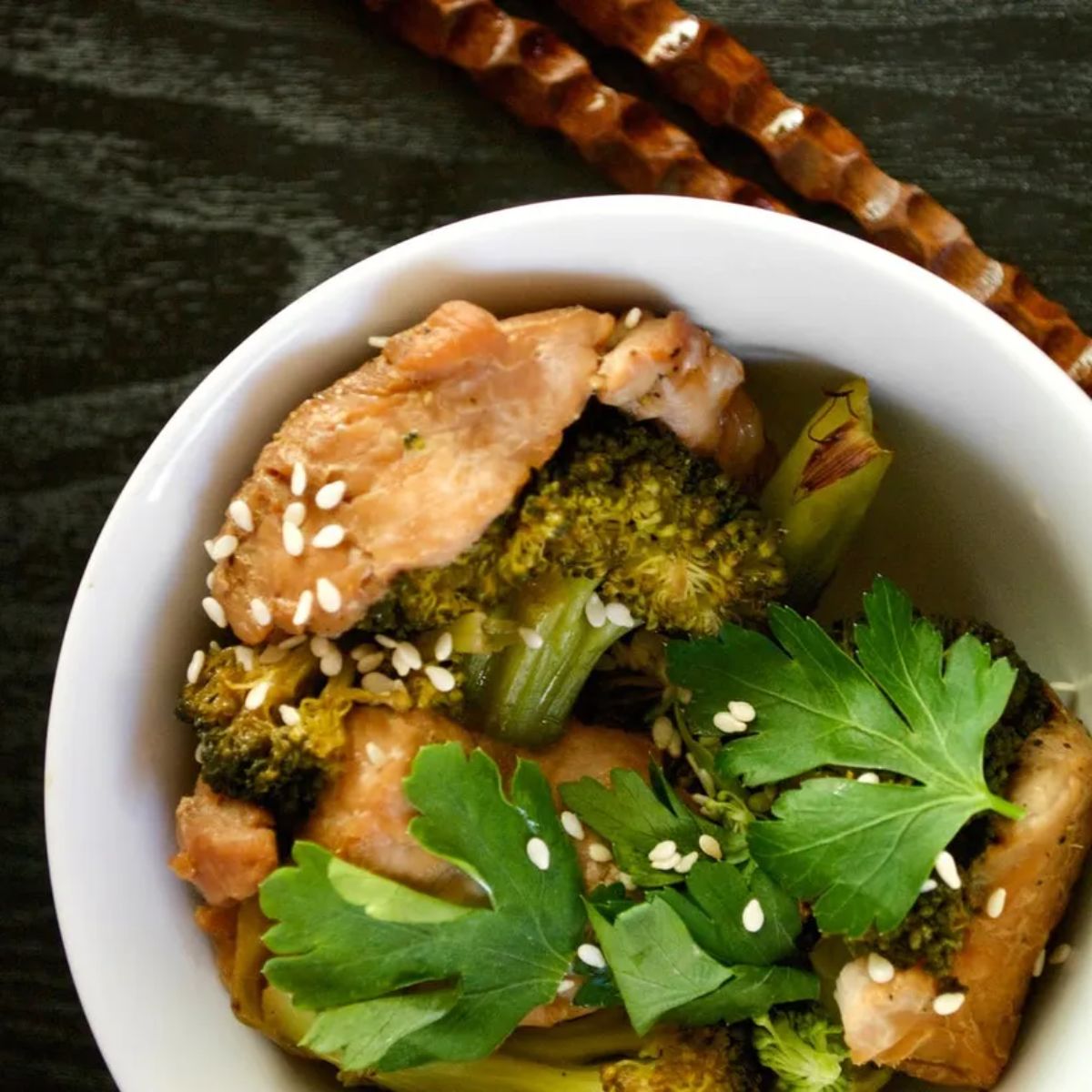 This chicken and broccoli foil dinner is hearty, filling, and packed with flavor. Each bite is bursting with the savory and smoky taste of the chicken, complemented perfectly by the fresh and crisp broccoli. And with the added kick from the seasonings, this dish will surely delight your taste buds.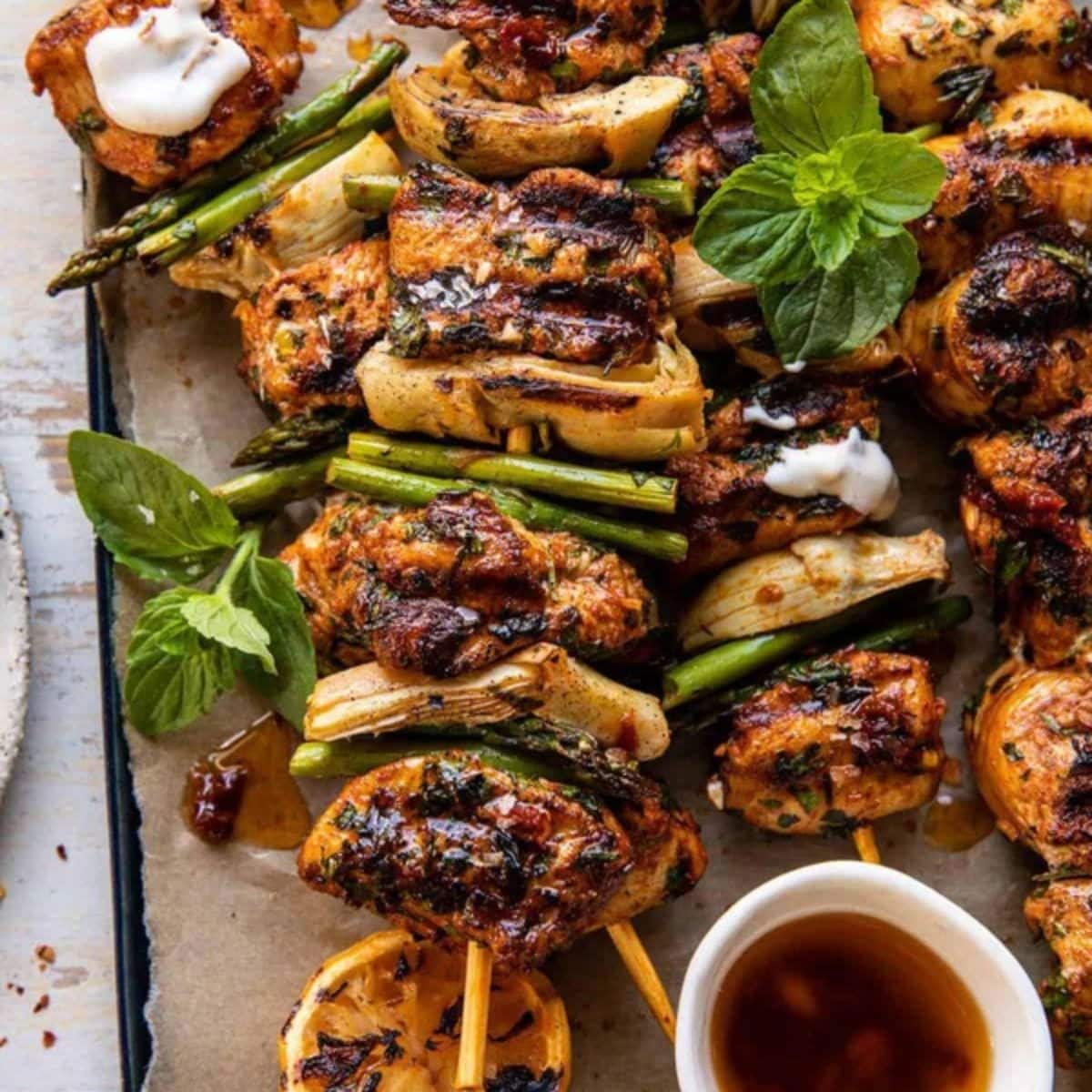 Perfectly balanced between tangy and savory, these lemon chicken skewers are ideal for those who want a healthy and satisfying meal while enjoying the great outdoors. Serve these skewers with grilled veggies and a refreshing salad for a complete and balanced dinner that'll give you an energy boost.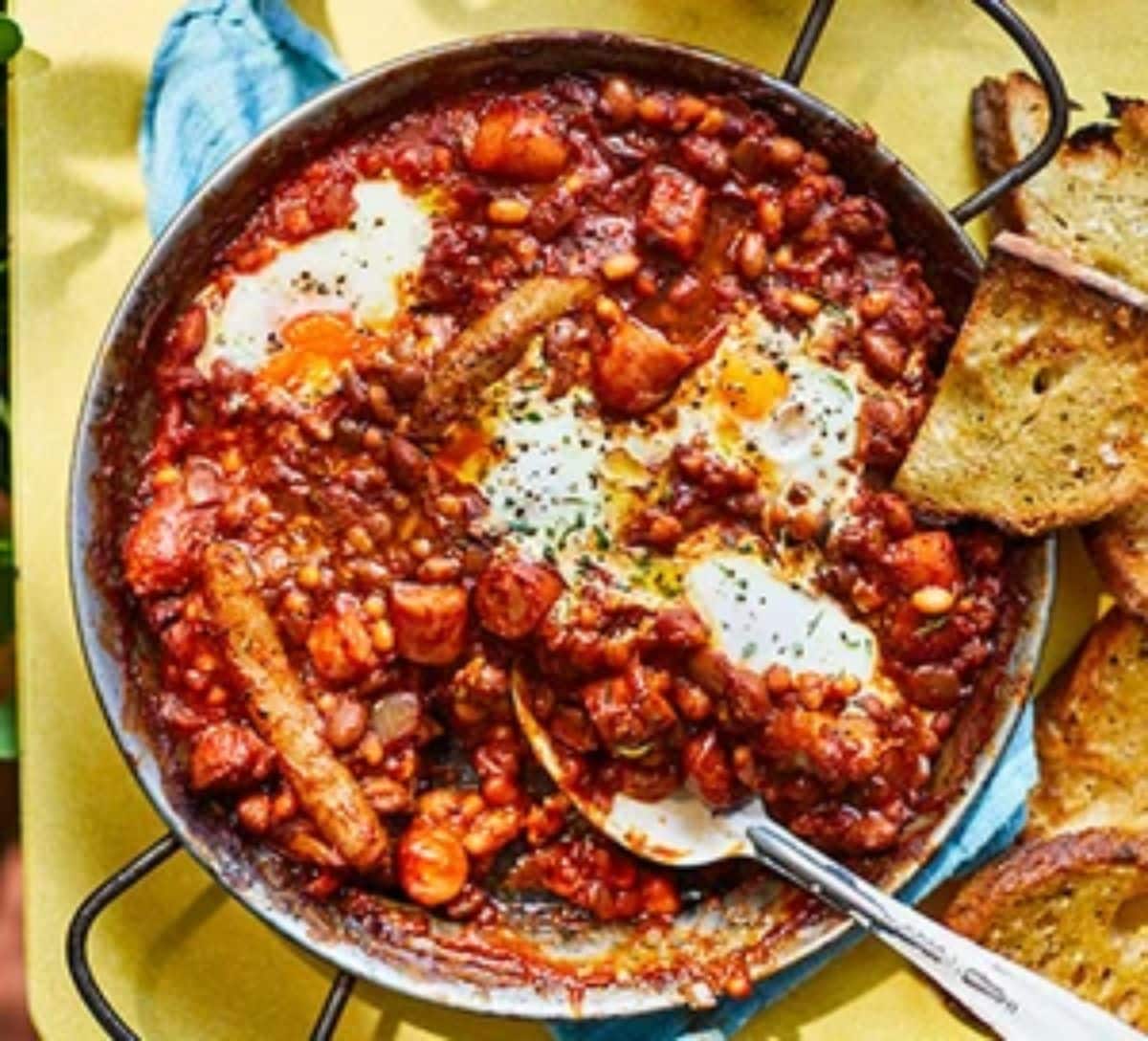 This campfire smoky bean hash features a medley of smoky beans that are cooked to perfection with onions, garlic, and savory spices. The flavors are rich and complex, with a smoky undertone that'll make you want to savor every bite.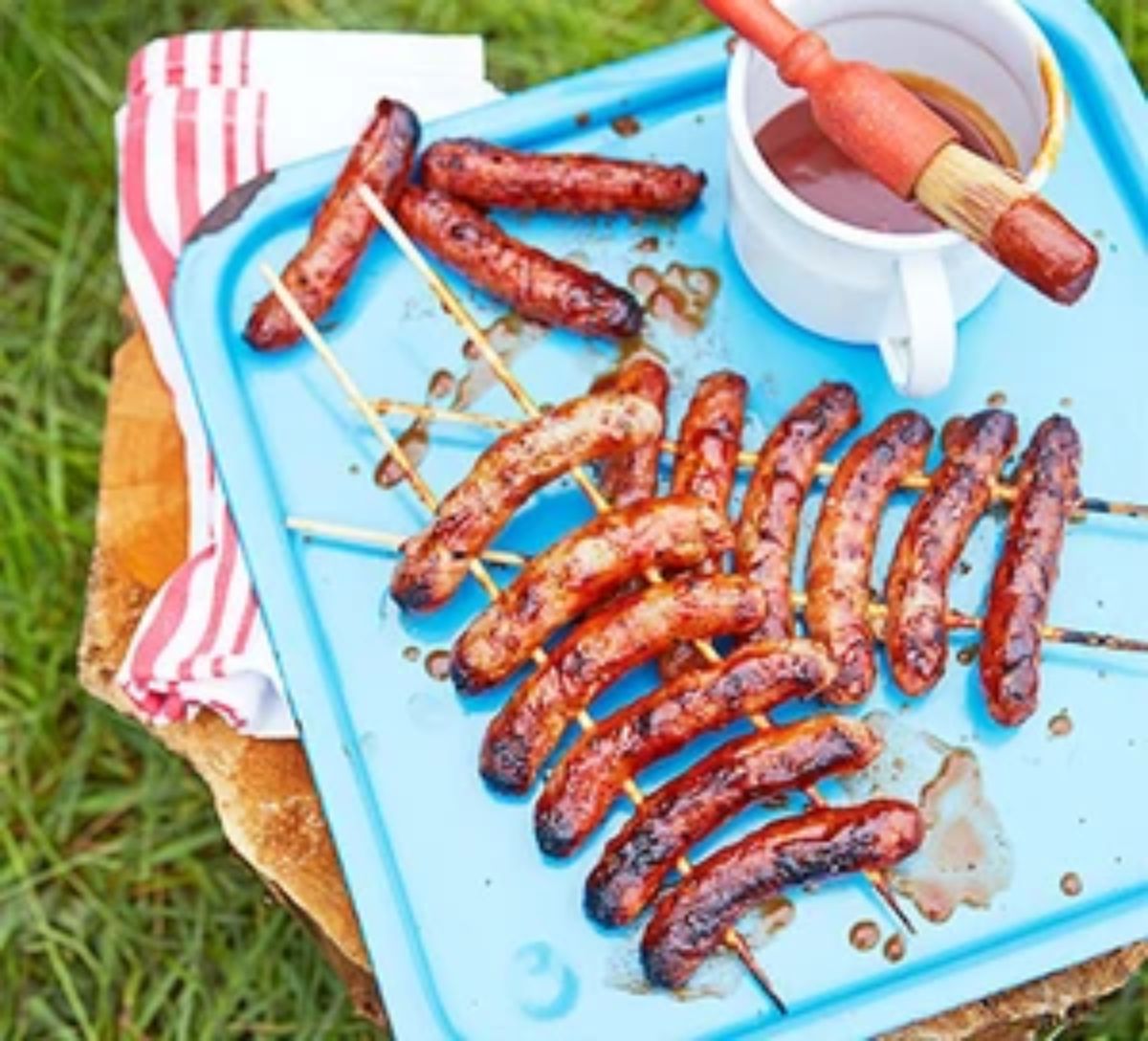 These juicy BBQ sausages with smoky tomato sauce have a sweet and savory taste that is sure to please. The sauce consists of a blend of spices, tomato sauce, brown sugar, and Worcestershire sauce, which gives it a tangy and slightly sweet flavor that perfectly complements the smoky sausage.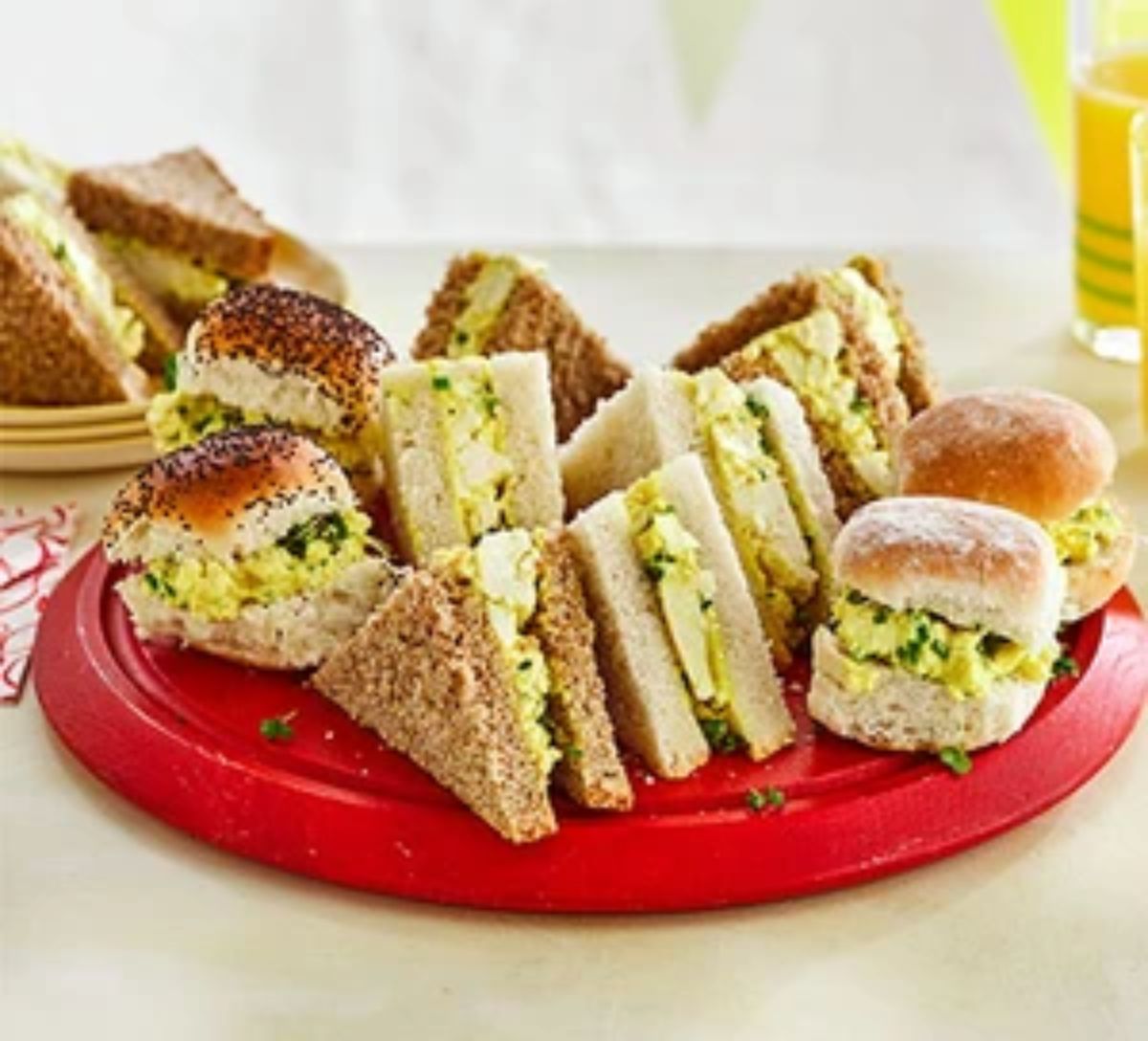 Try these refreshing eggless mayo sandwiches if you're looking for a quick and easy camping dinner that's a little lighter than your typical fare. The filling is made with mashed avocado, Greek yogurt, and spices, resulting in a creamy and tangy spread perfect for slathering on bread. The subtle hint of heat from the herbs is the perfect cherry on top.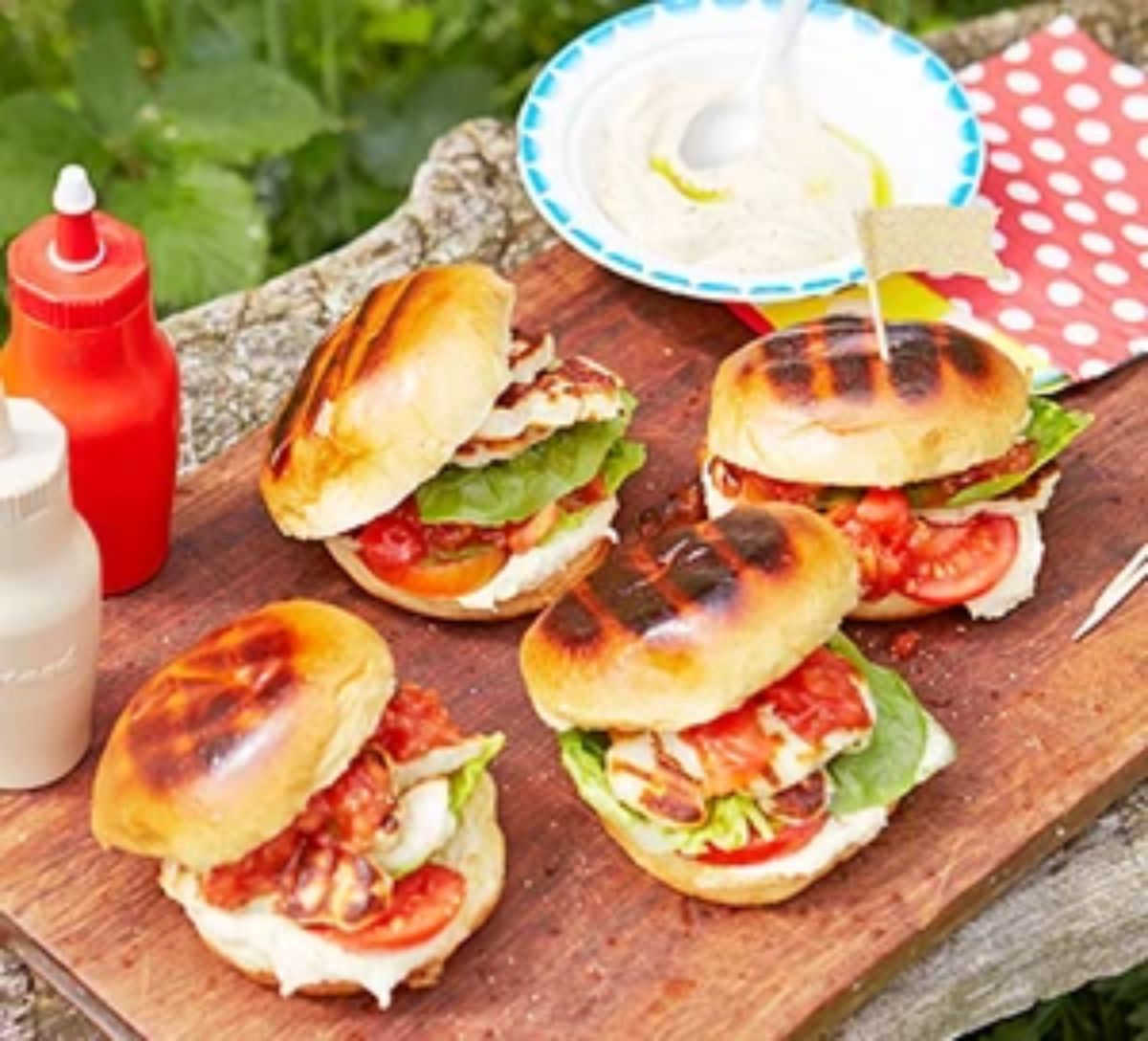 The star of these mind-blowing halloumi burgers is the halloumi cheese, which has a salty and slightly tangy taste that pairs beautifully with the other ingredients: juicy tomatoes, crisp lettuce, and creamy avocado. The texture of the halloumi is crispy on the outside and chewy on the inside, making it a delightful experience for the taste buds.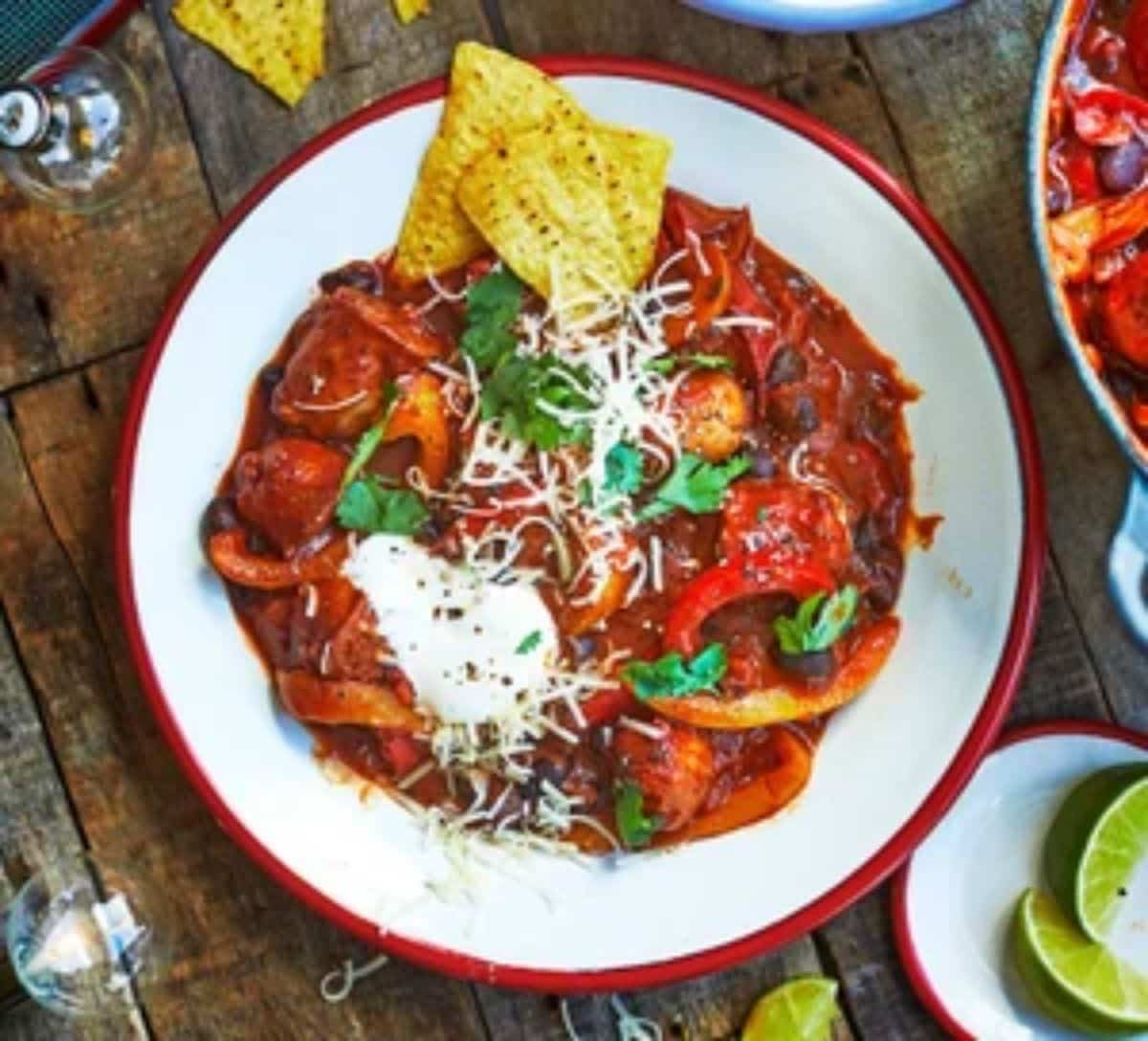 Every bite of this smoky sausage and black bean chili is full of savory flavors and a subtle smokiness that will transport you straight to the campfire. The dish also includes tomatoes, onions, garlic, and spices to create a bold and satisfying flavor profile. And the best part? You can easily make this chili in a Dutch oven.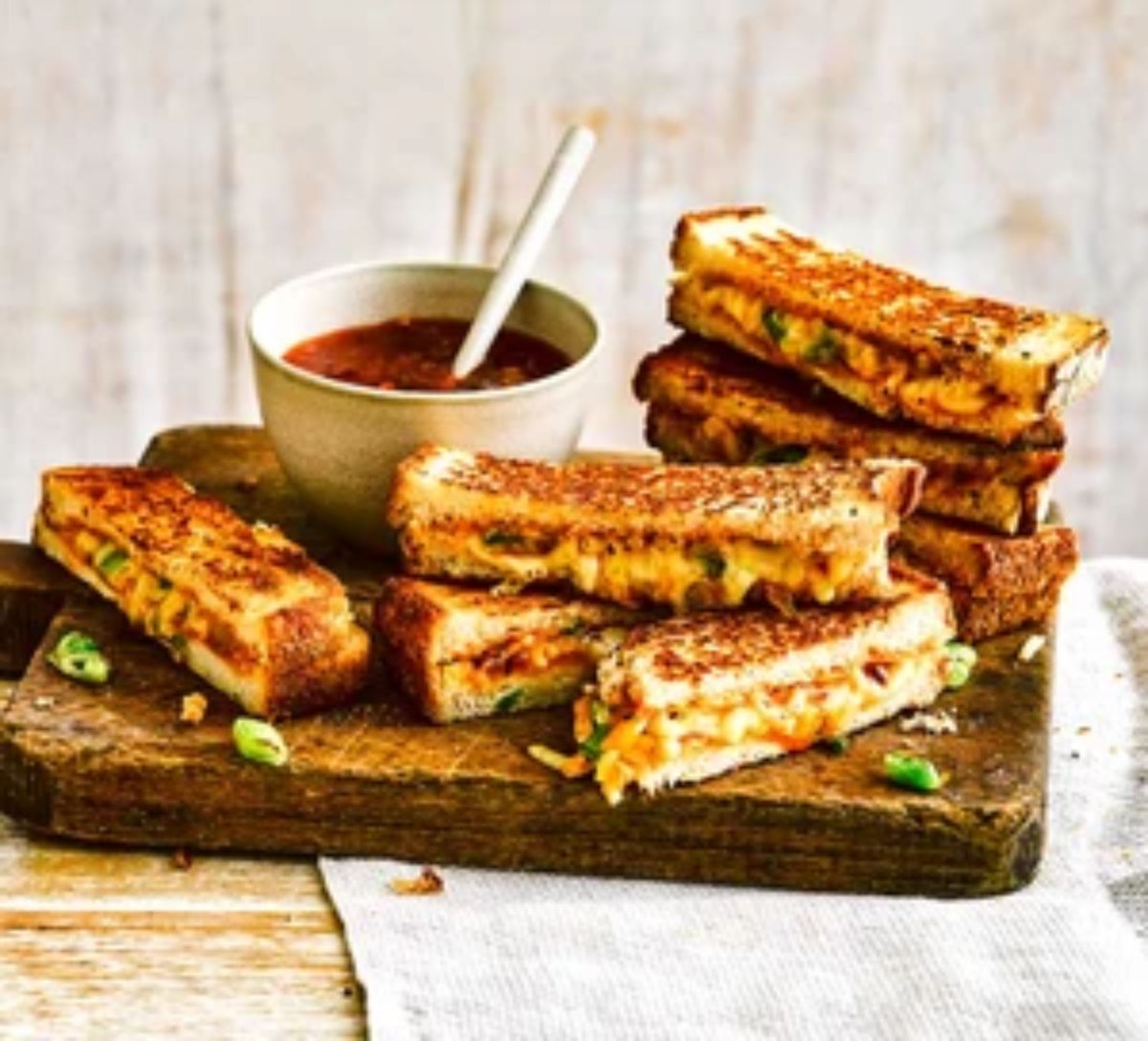 You can't go wrong with these fantastic mango chutney campfire cheese toasties. The mango chutney's sweetness perfectly balances the cheese's richness, while the toasty bread adds a satisfying crunch.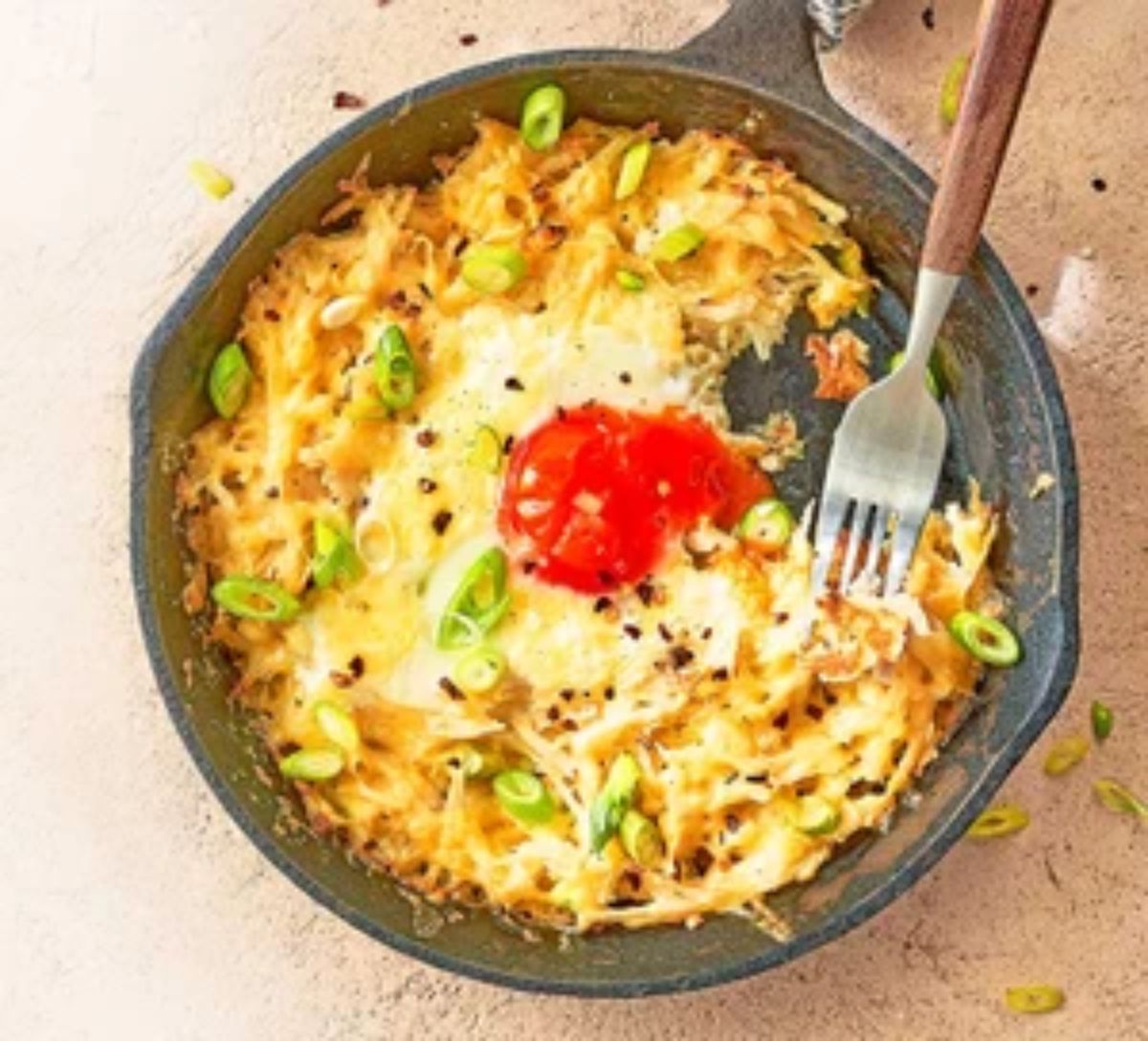 These skillet hash browns and eggs are quick and easy to make, meaning you can spend less time cooking and more time enjoying the great outdoors. Whether you prefer this dish alone or want to pair it with some freshly brewed coffee or tea, it'll surely satisfy your hunger and fuel you up for a day of adventure.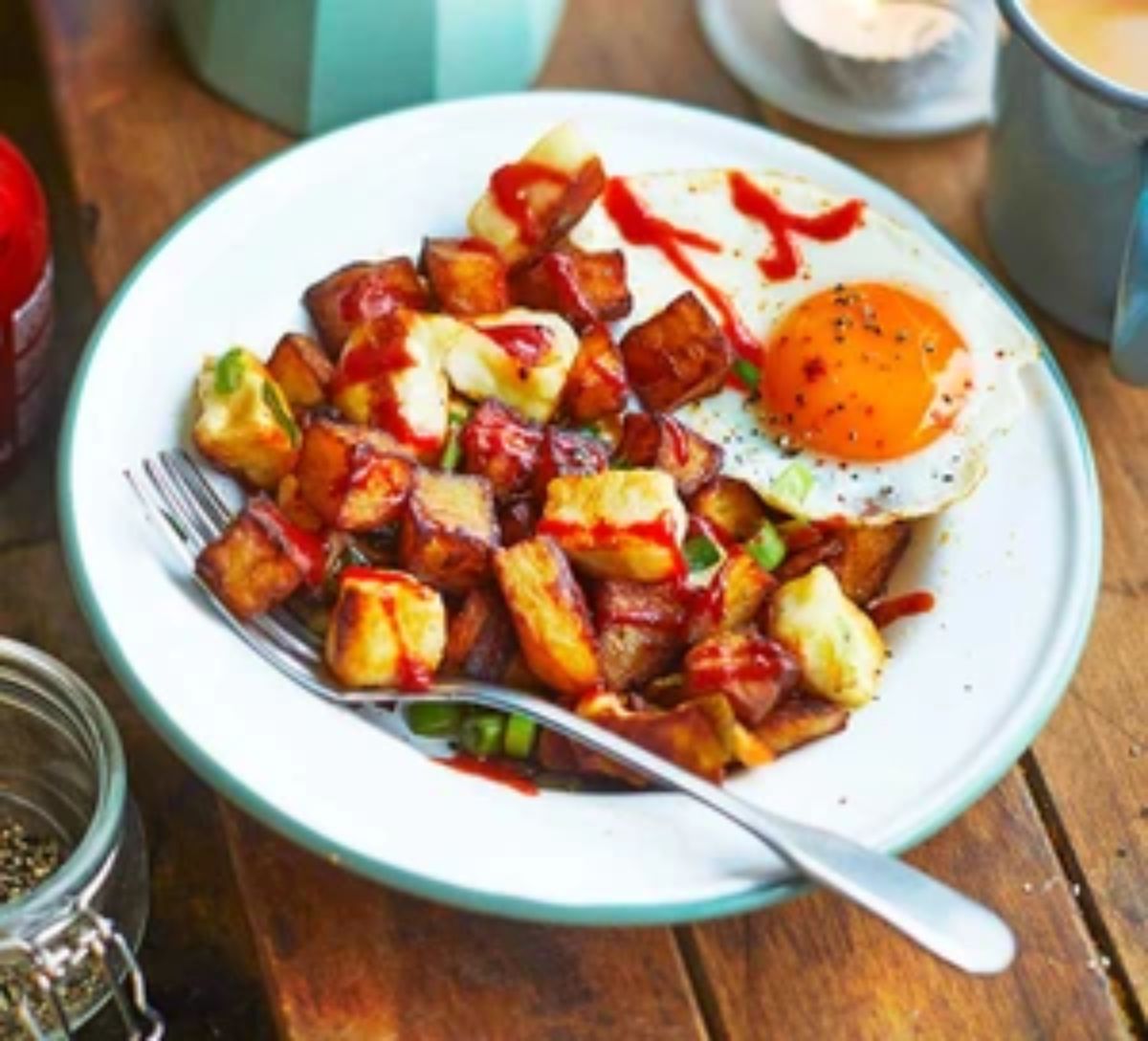 Halloumi hash is a treat like no other. The halloumi adds a deliciously salty and slightly tangy flavor to the dish, while the veggies provide a nice balance of sweetness and earthiness. It's a great dish to cook up on the campfire.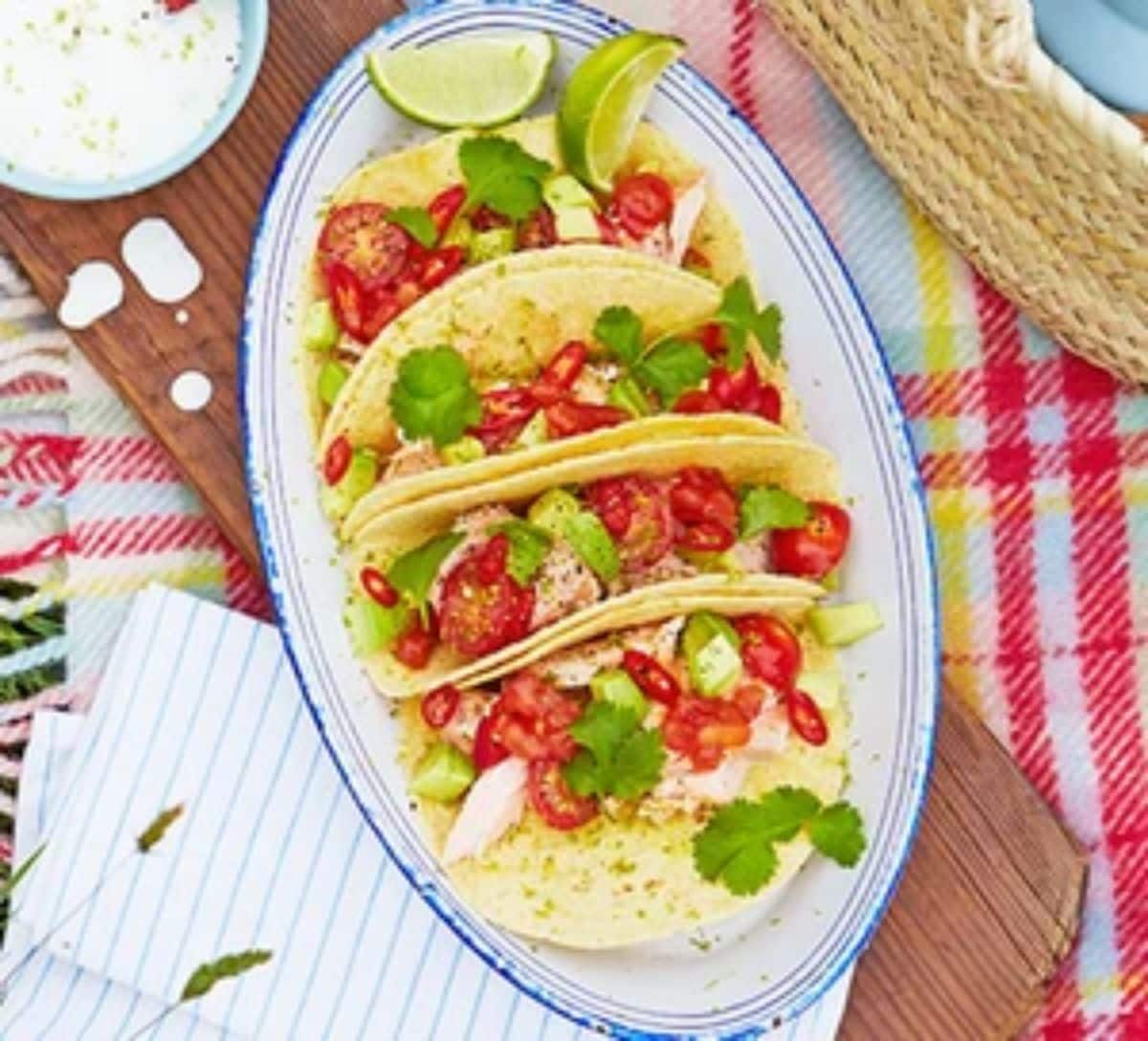 Looking for a fresh and flavorful dinner idea for your next camping trip? Meet these delicious salmon tacos with lime dressing! The star of this dish is the succulent salmon, perfectly cooked and then wrapped up in a soft tortilla shell along with crisp lettuce, juicy tomatoes, and a zesty lime dressing that adds a tangy kick to every bite.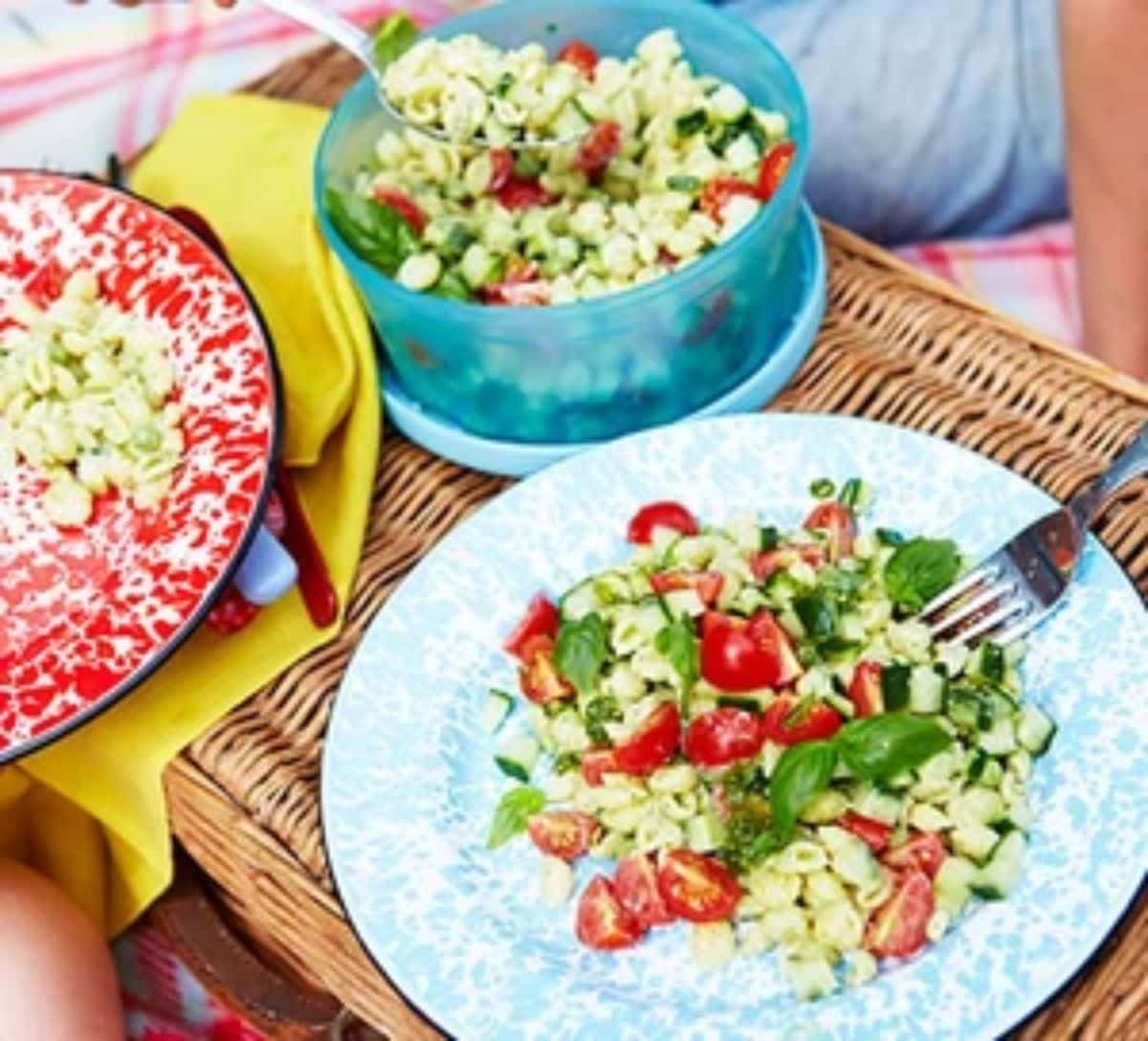 Nothing beats the fresh and vibrant taste of this pesto pasta salad, a simple yet savory dish that is perfect for a quick and easy camping dinner. The pasta is cooked to perfection and tossed in a generous amount of flavorful homemade pesto sauce made with fresh basil, garlic, pine nuts, and Parmesan cheese.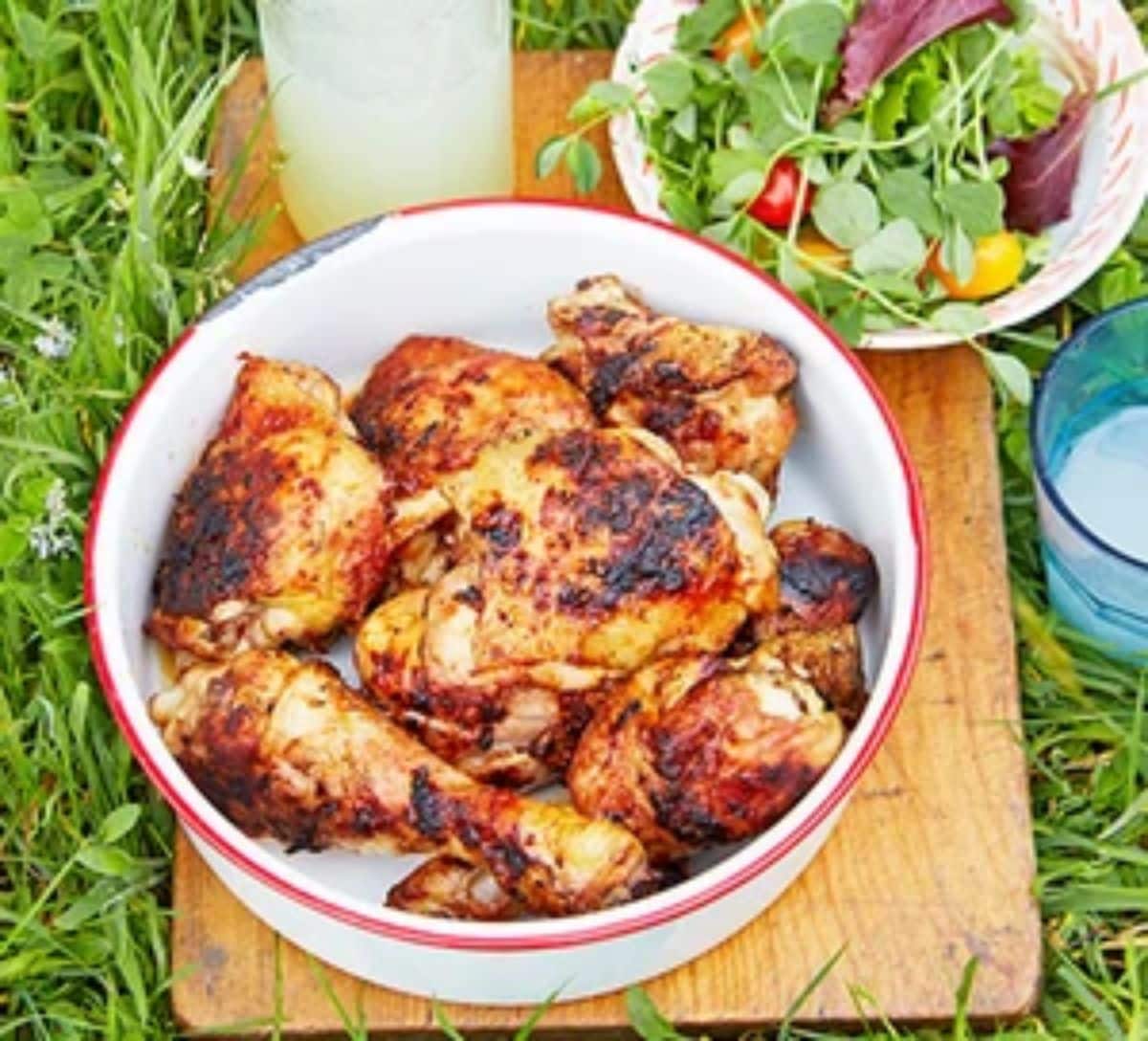 Who's craving some sticky barbecue chicken? We know we sure are! This sweet and savory dish will satisfy all of your food cravings with its tender chicken in a sticky, smoky barbecue sauce. It doesn't get any better than that.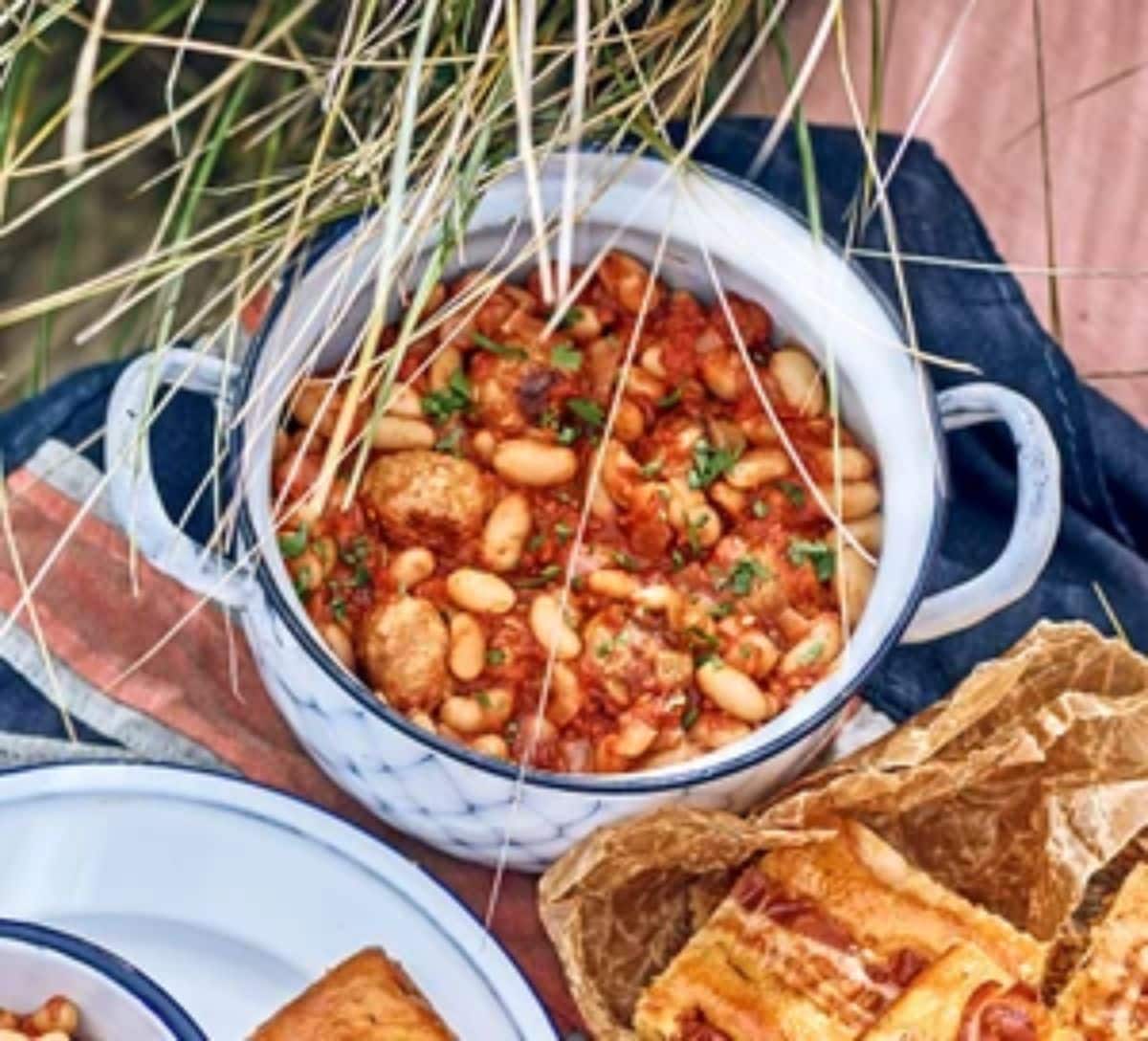 These one-pan smoky beans and sausage meatballs are going to change your life. Trust us. The sausage meatballs add a rich flavor to the dish, while the beans provide a delicious smoky taste that will leave you wanting more.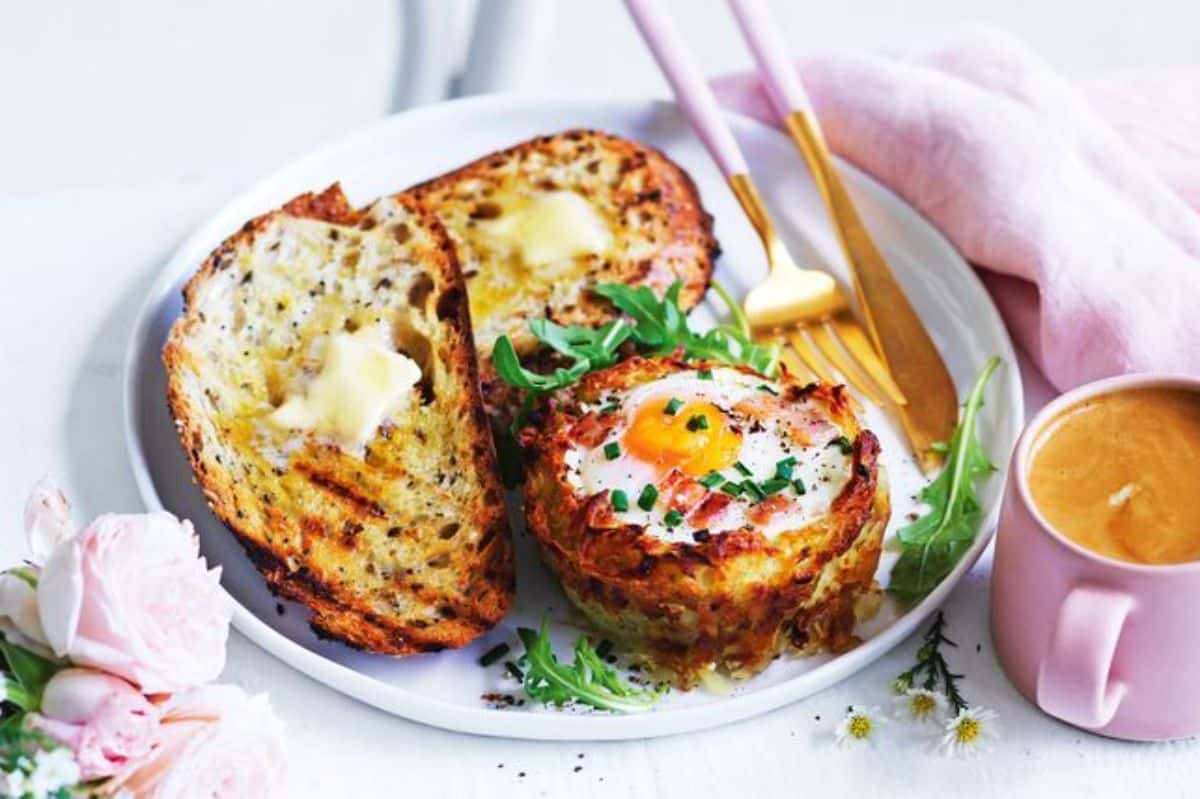 There's something oh-so-tempting about these crispy hash brown egg cups. The hash browns add a satisfying crunch, while the creamy eggs and savory bacon add rich flavor. This dish is also customizable, so you can add any of your favorite veggies, meats, or seasonings.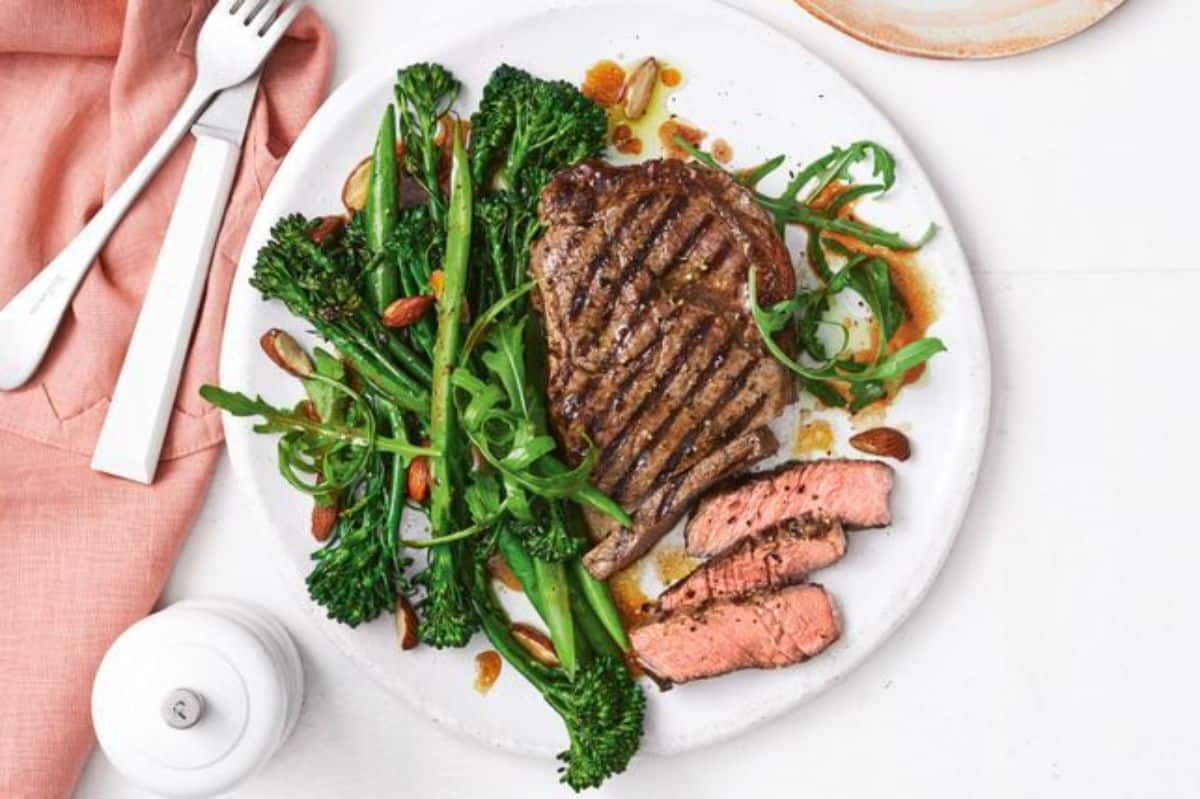 There's nothing quite like a juicy steak while camping under the stars. Grilled to perfection, this chargrilled steak with baby broccoli is the perfect dish to satisfy that craving. Get ready for the experience of a lifetime!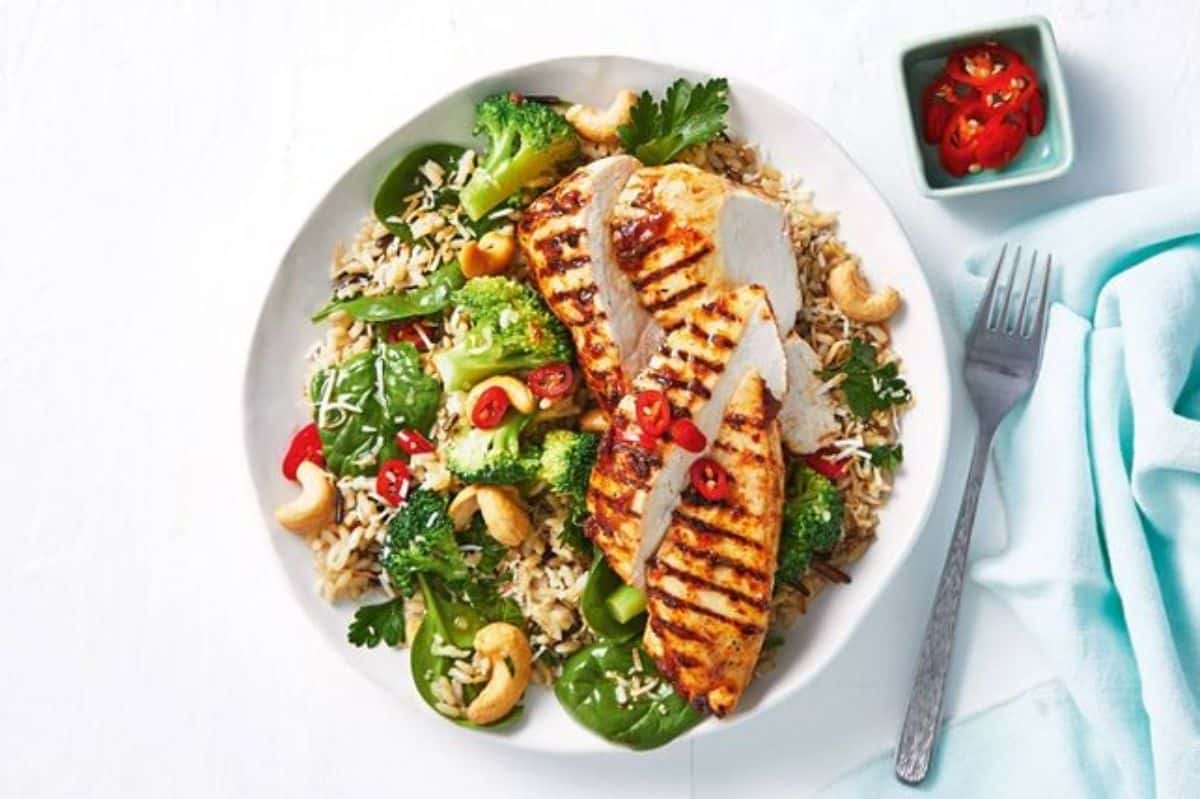 After a long day of trekking through the wilderness, a hearty and flavorful meal is crucial for restoring energy and satisfying hunger. This grilled chicken laksa with cashew rice is incredibly refreshing and perfect for any camping trip.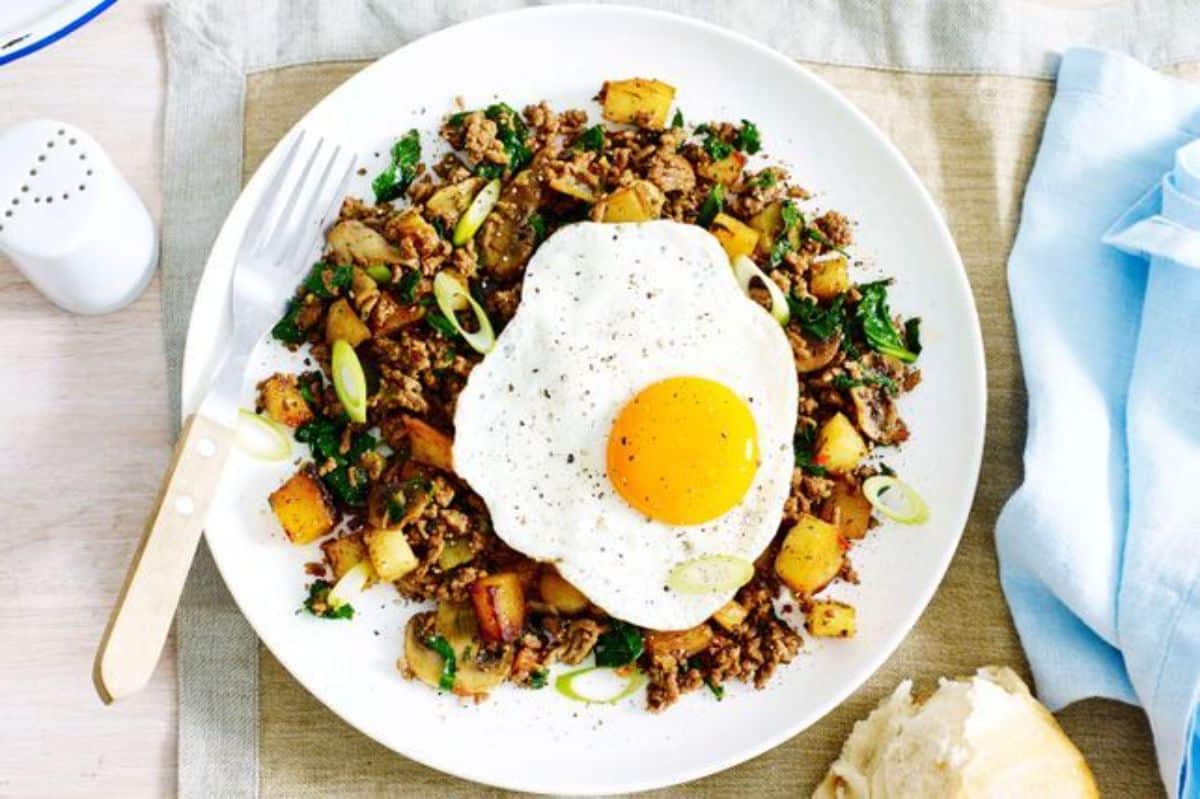 This swede, potato, and beef hash with fried eggs is seasoned with a blend of herbs and spices, giving it a complex and satisfying flavor profile that will impress an entire crowd. With the addition of some perfectly fried eggs, this hash is not only delicious but also a great source of protein.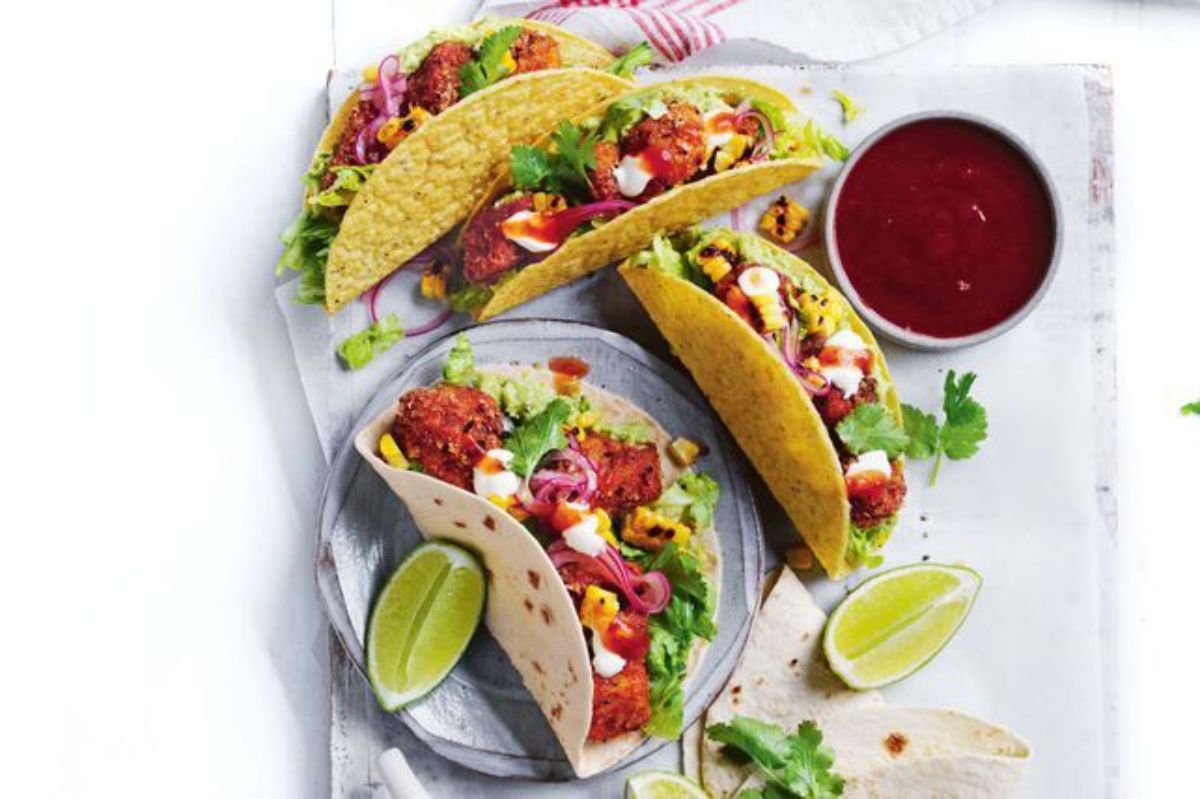 If you're a fan of Mexican cuisine, you won't be able to resist the mouthwatering taste of chicken tacos with grilled corn. This dish features tender, flavorful chicken nestled inside a warm tortilla and some sweet, smoky corn charred to perfection on the grill.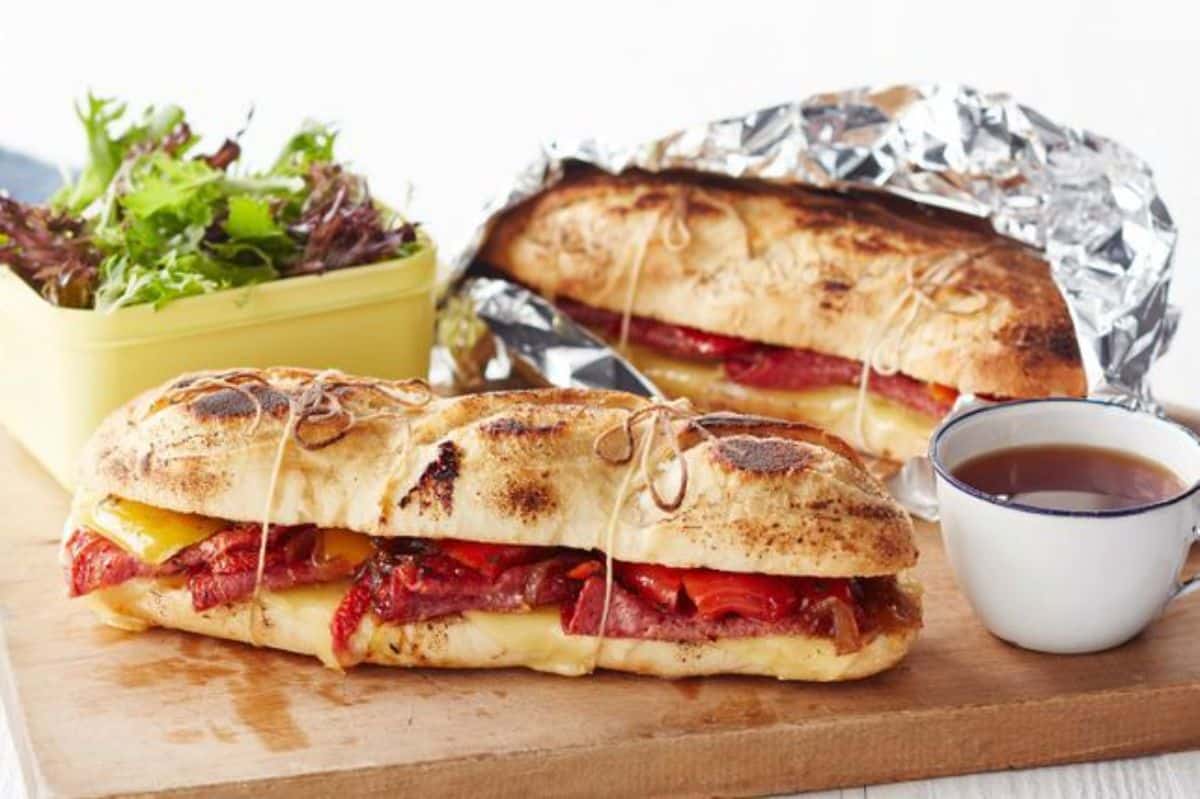 This delectable campfire sandwich is made by toasting bread over an open flame and filling it with your favorite ingredients. It can be as simple or complex as you like, from simple bread and cheese to a more loaded sandwich with meats, veggies, and sauces.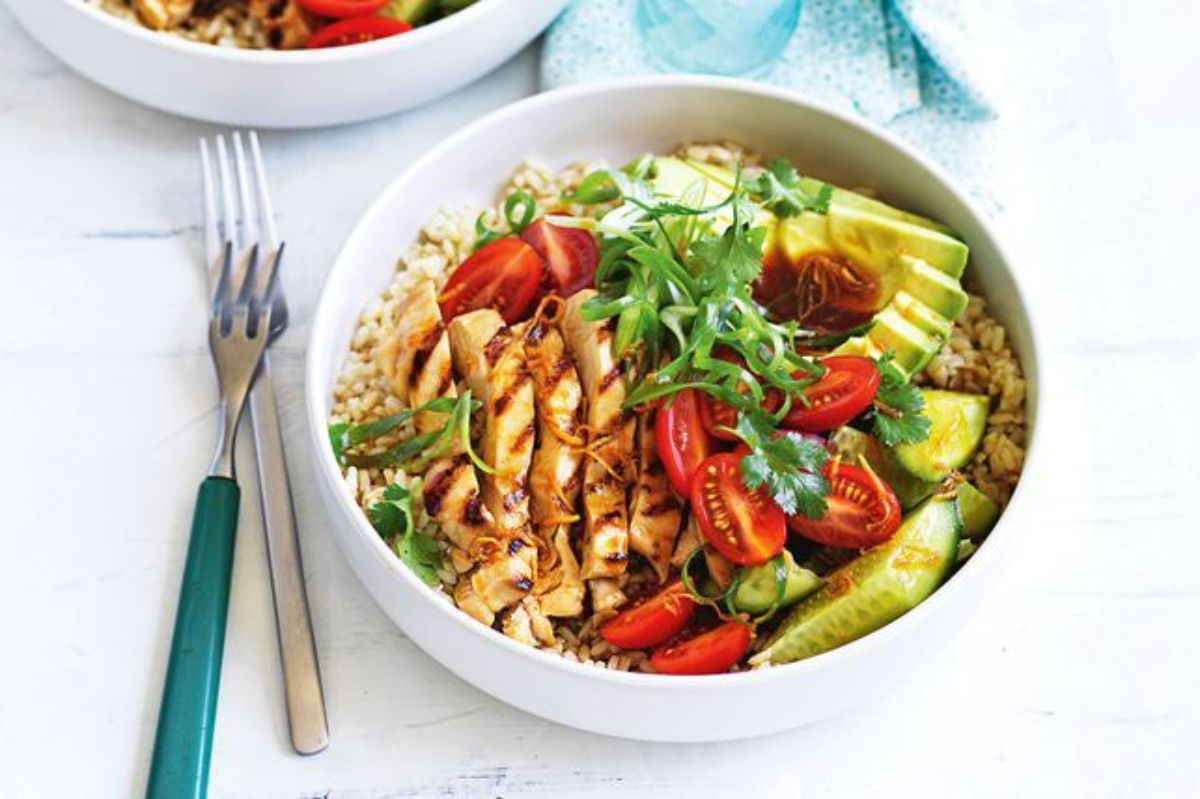 Get ready to fall in love with these barbecued chicken rice bowls. The smoky and savory flavor of the barbecued chicken pairs perfectly with the fresh and crunchy toppings, making this dish a satisfying and balanced meal for any camping adventure.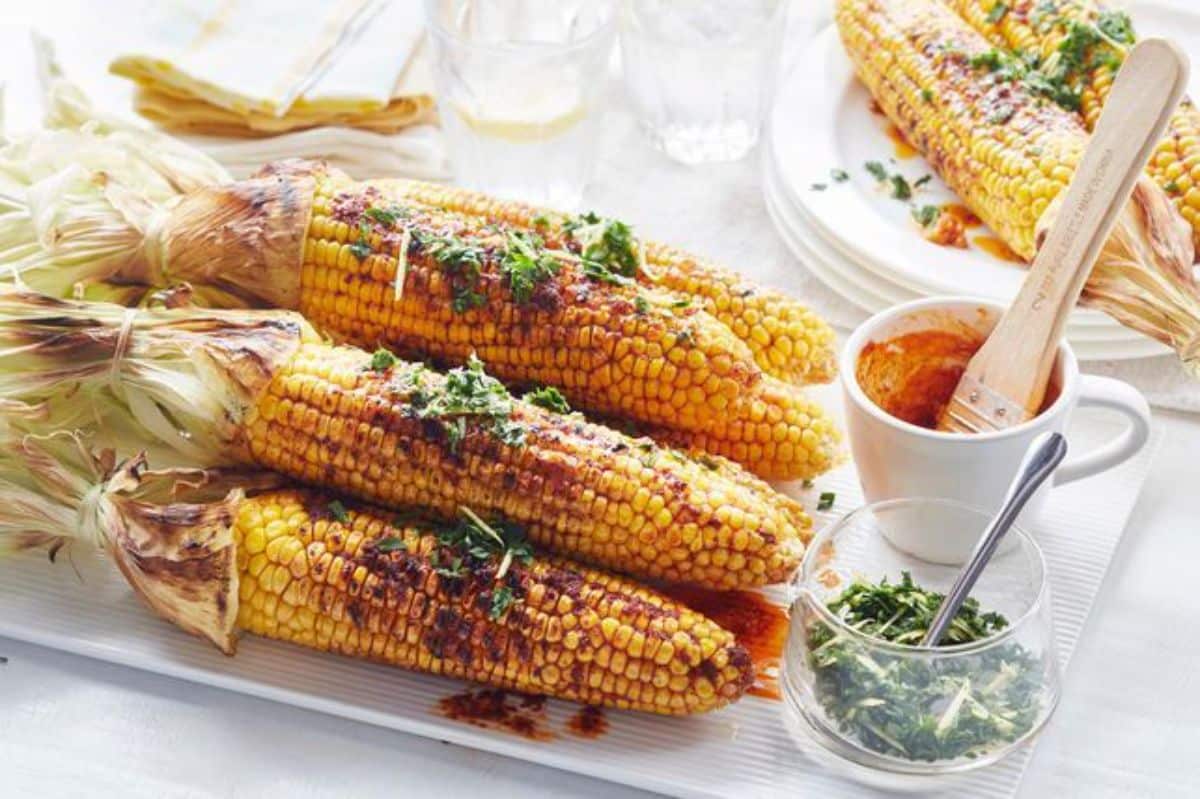 Ah, we're getting hungry just at the thought of this smoked paprika barbecue corn. This dish features juicy ears of corn grilled to perfection and coated in a savory blend of smoky paprika, tangy barbecue sauce, and a hint of garlic.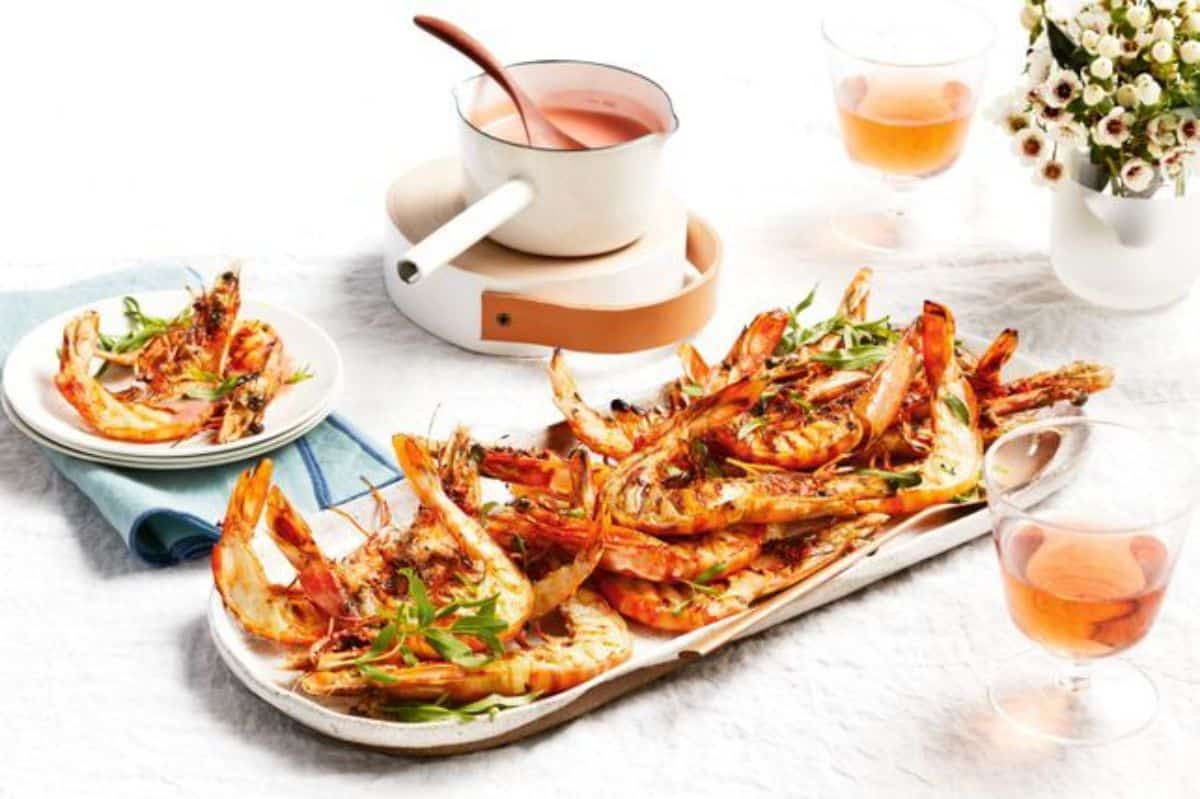 What could possibly be better than some barbecued prawns with rose butter sauce? The juicy and succulent prawns are coated in a smoky and slightly sweet barbecue sauce, which perfectly complements the prawns' delicate and somewhat sweet taste.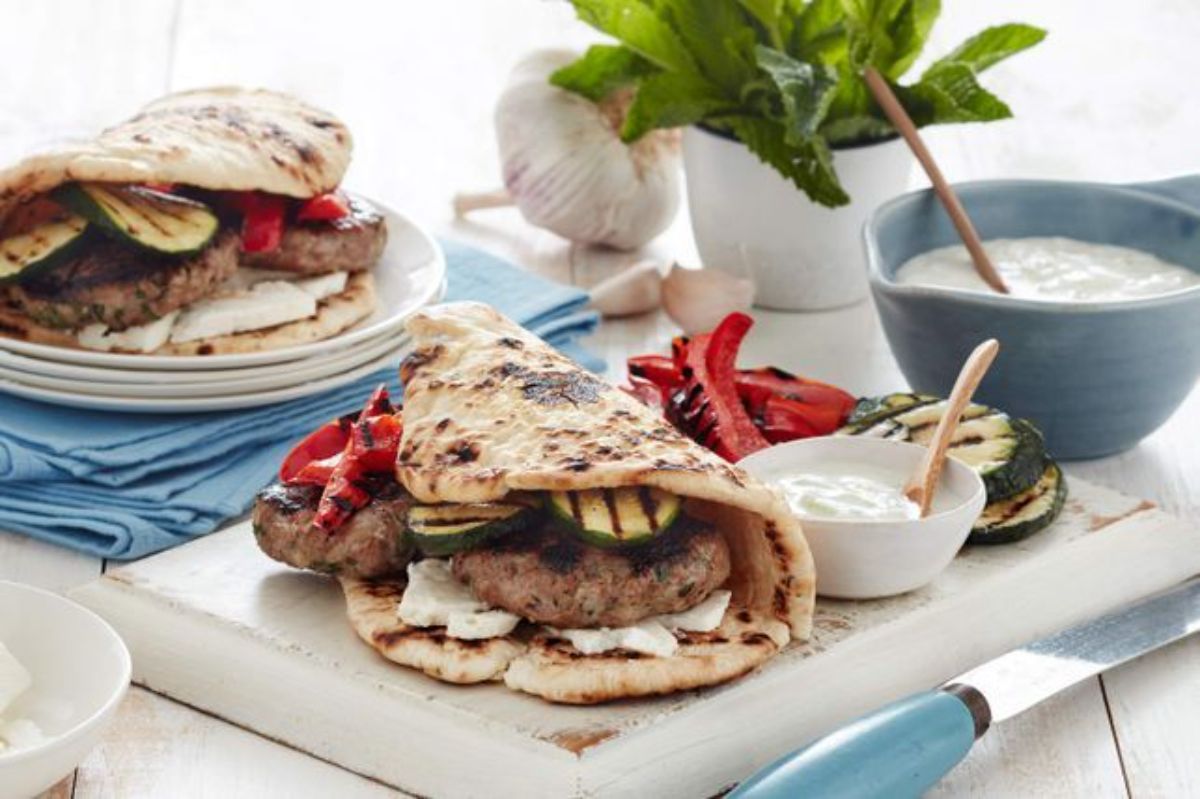 Just the thought of these burgers has our mouths watering. The refreshing cucumber yogurt sauce adds a tangy kick that balances the rich, meaty flavor and creates the dish of a lifetime. These burgers are also super easy to prepare over the campfire, and the flatbread makes them convenient to eat on the go, too. Talk about a win-win.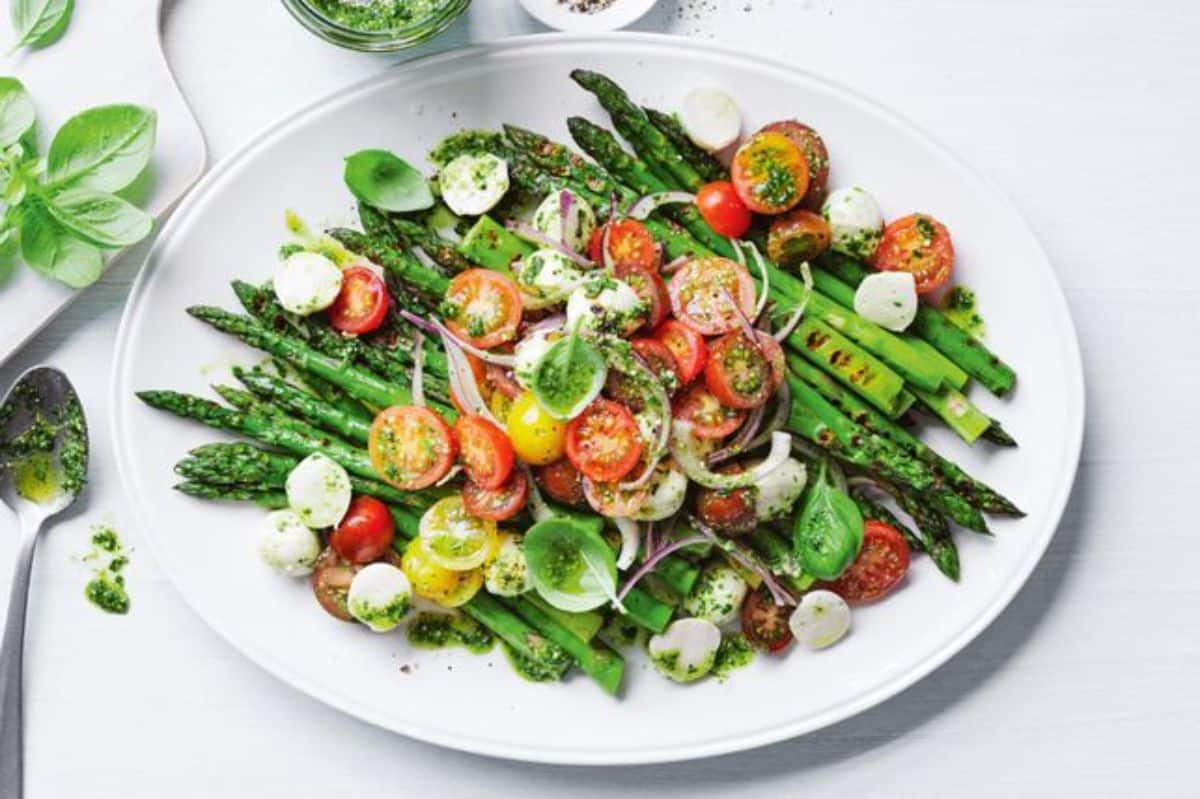 This BBQ asparagus caprese salad is bursting with fresh flavors, including grilled asparagus, juicy tomatoes, creamy mozzarella, and fragrant basil. Feel free to add some balsamic glaze and a sprinkle of salt and pepper to elevate these flavors to a brand-new level.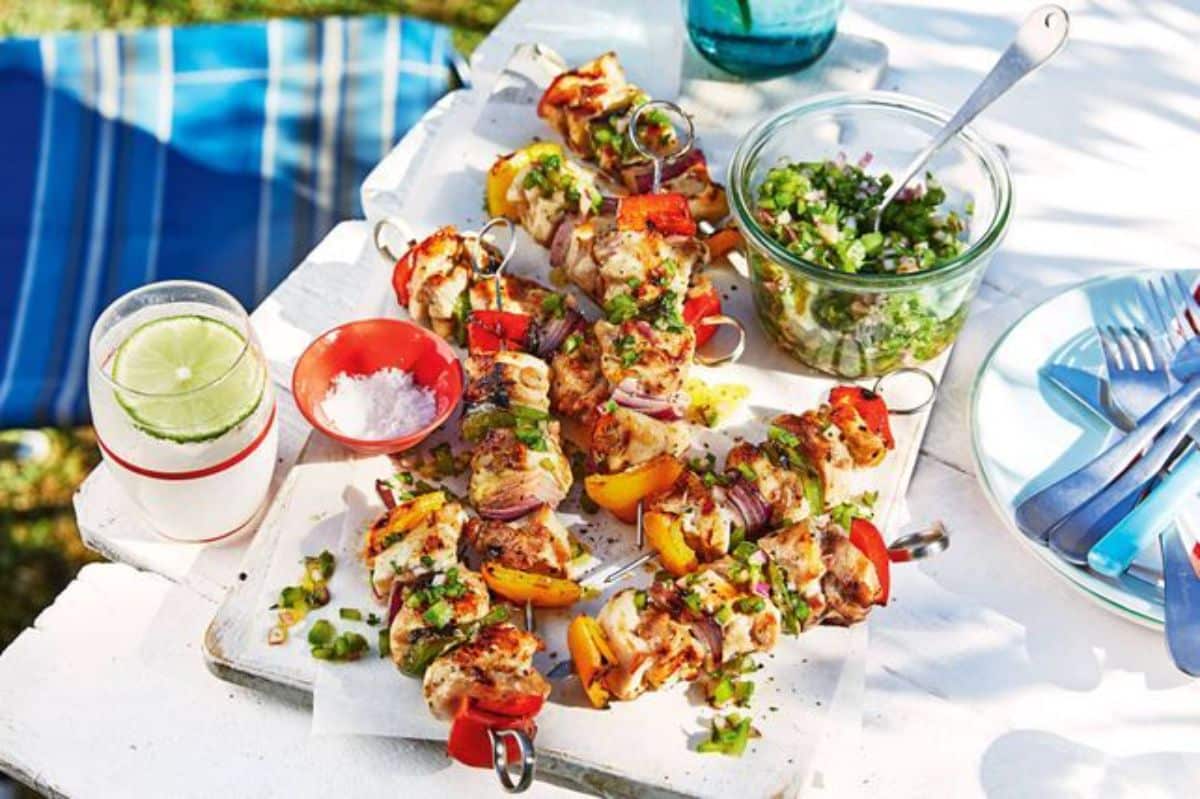 Chicken skewers with some delicious salsa on the side? Sign us up. The grill's smoky flavor with the salsa's zesty taste makes for a mouthwatering meal that you and your entire group will love. That's a promise.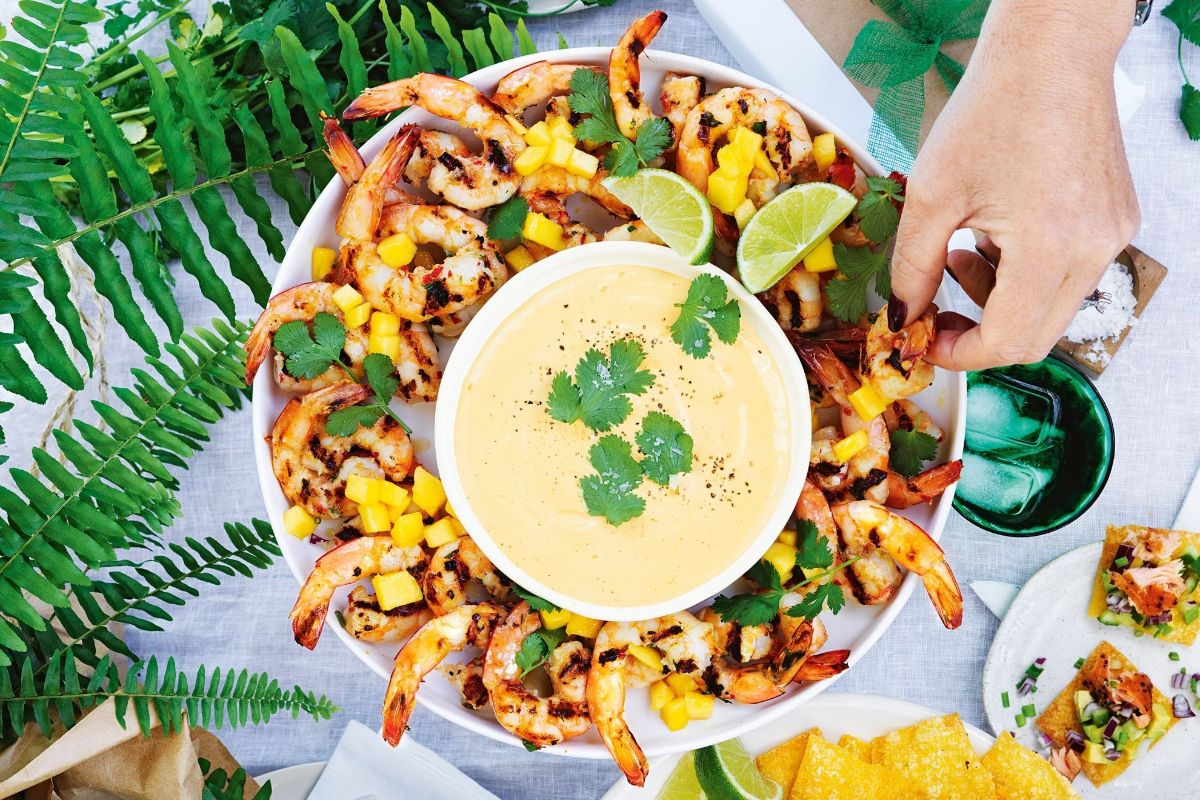 Nothing gets our attention quicker than a plate of prawns, and there are just about the best you'll ever have. The mango mayonnaise sauce adds a tropical twist to the dish's sweet and tangy flavor. Plus, it goes perfectly with the smoky taste of the BBQ prawns. Doesn't that sound delicious?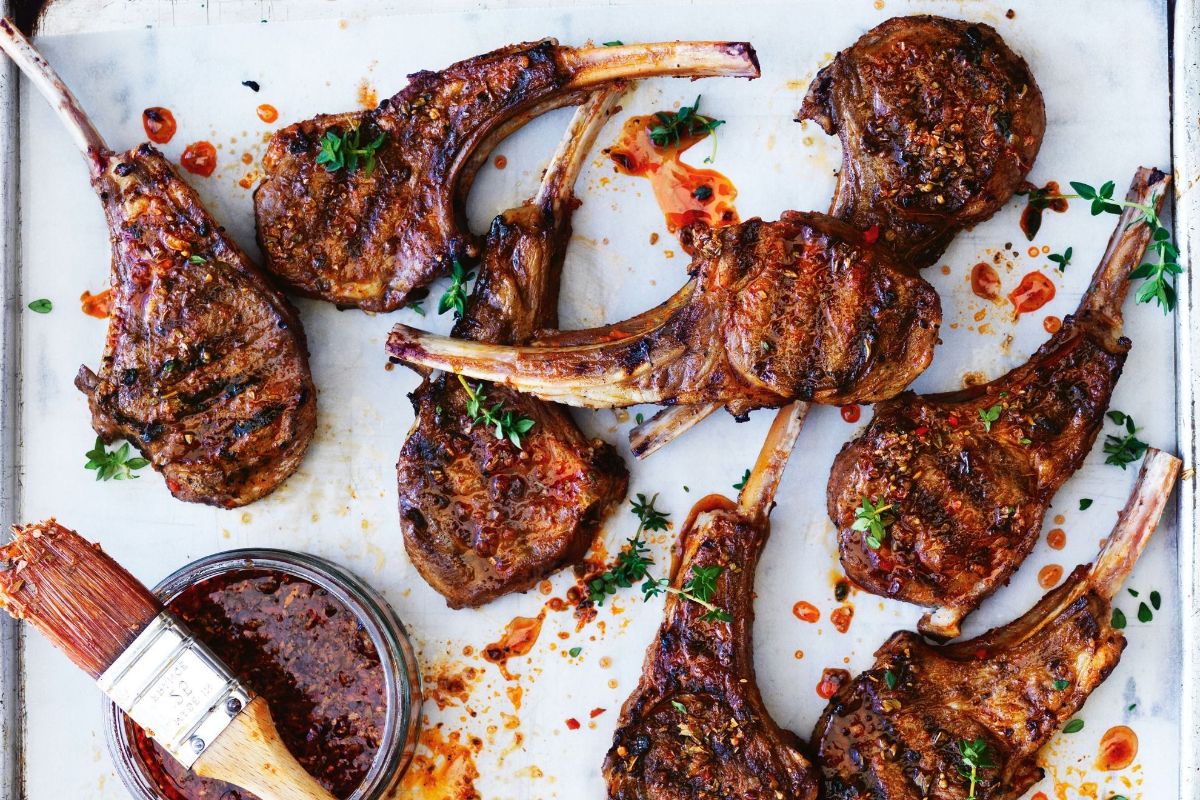 There's nothing more delightful than a delicious and hearty dish after a long day on the trails. We suggest packing these Portuguese-style BBQ lamb cutlets in your camping kit for the perfect outdoorsy meal. The rich, meaty flavor is one you'll never forget.
Final Thoughts
With these 41 easy camping dinner ideas, you can enjoy delicious and satisfying meals on your camping trip without the added stress. Whether you're camping with family and friends or hiking on your own, these tasty recipes are perfect for any outdoor adventure.
Plan, pack the necessary ingredients and cooking tools, and be mindful of your surroundings while cooking. With some preparation and creativity, you can have a stress-free camping trip and enjoy nature's beauty while indulging in some dreamy and easy-to-make meals every day.