Discover the vibrant and diverse world of Asian cuisine right in your kitchen with our selection of the best Asian air fryer recipes. Air fryers have revolutionized home cooking by offering a healthier, quicker, and convenient method to achieve crispy and delicious meals.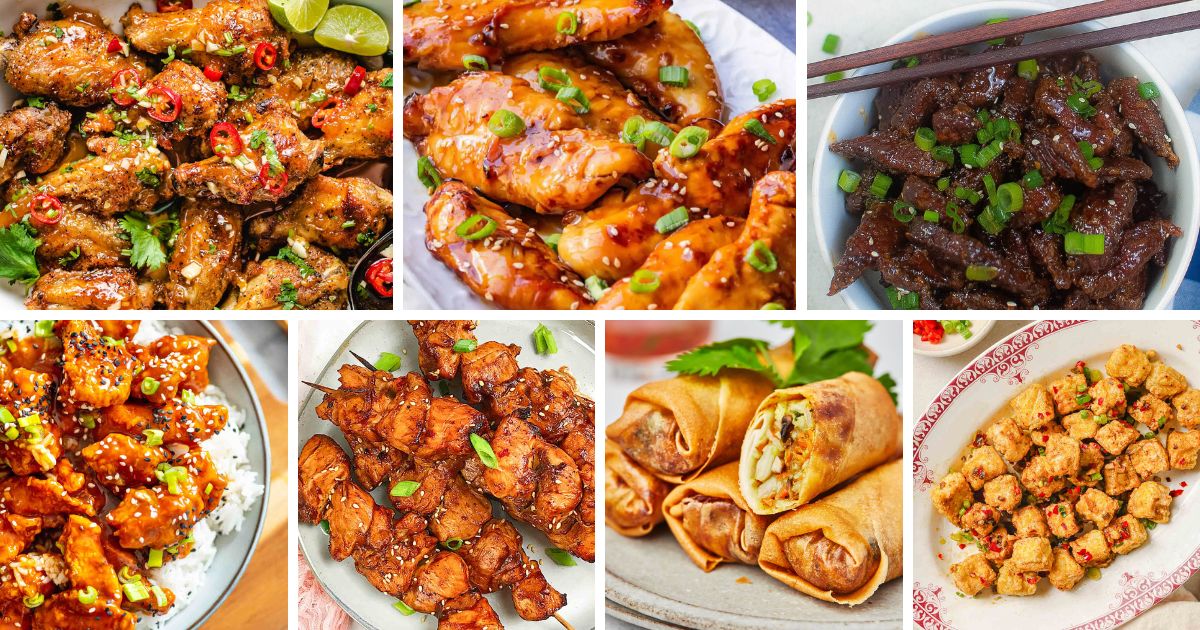 From savory snacks to hearty dinners, these recipes encapsulate the rich flavors and textures that are synonymous with Asian culinary traditions. And whether you are craving the crunch of perfectly fried tempura or the succulence of teriyaki-glazed chicken wings, our compilation of 33 of the best Asian air fryer recipes will not disappoint.
As you delve into these recipes, you will find that each dish not only retains the authenticity of Asian flavors but also embraces the modernity of air frying technology.
So, gear up to take your taste buds on a delightful journey through the enticing and wholesome world of Asian air fryer delicacies.
Contents
This delightful dish boasts a colorful array of fresh vegetables wrapped snugly, ready to be savored. You can enjoy this appetizer with a vibrant, sweet chili dipping sauce adorned with cilantro.
Through this recipe, you'll discover the joy of crispy tofu enriched with a garlic and tamari marinade, ready to impress in your air fryer basket. This savory treat pairs wonderfully with a touch of sriracha and green onions.
This recipe features succulent chicken thighs soaking in a rich marinade with highlights of fresh ginger and soy sauce. You can serve it alongside steamed broccoli or green beans for a well-rounded main course.
This teriyaki chicken breast dish features a combination of mirin and brown sugar in the marinade, which guarantees a sweet and savory delight. It's great for a weekend lunch.
This fried rice recipe brings a delicious harmony of eggs and vegetables, offering a quick yet fulfilling meal. It's excellent for busy weekdays, providing a comforting taste in every bite.
You can savor the crispy texture of this honey-glazed pork belly, a true culinary delight. You can serve it with a side of sautéed asparagus or carrots for a satisfying main course.
Feel free to indulge in a slice of this moist and flavorful banana bread, a treat that satisfies your sweet tooth. It's a wonderful companion to a cup of afternoon tea or coffee.
The taste of this General Tso's chicken is truly phenomonal, offering a perfect balance of sweet and spicy notes. The crispy outside and tender inside make it a hit for family dinners.
This delightful recipe brings the exquisite taste of P.F. Chang's right to your table. With a savory sauce mingling with tender slices of beef, it's a dish that promises to impress.
For those seeking a delightful appetizer, these Asian chicken bites are your best bet. The inclusion of maple syrup and sriracha offers a wonderful blend of sweetness and heat.
If you're craving something with a tangy kick, these lemongrass chicken wings are your answer. The harmonious honey and fish sauce blend pairs excellently with the crisp, air-fried wings.
These Asian-style meatballs, created in batches in your air fryer basket, offer a tasty and quick option for weeknight dinners. The perfect blend of spices and sauces provides a burst of flavor with each bite.
Experience the joy of savoring these chicken egg rolls, an excellent starter for any meal. The filling, a beautiful combination of chicken and coleslaw, guarantees a burst of flavor and texture.
This dish features boneless chicken bathed in a vibrant orange sauce, promising a culinary delight. The crispy texture and the hint of sesame seeds elevate the dining experience, making it a favorite for many.
This crispy pork belly boasts a tantalizing taste and feel, with kosher salt helping absorb the moisture. You can pair it with steamed vegetables, creating a harmonious main course.
Delight in this sticky tofu dish, a wonderful blend of sweet and spicy flavors brought together with a hint of sesame oil. It's a vegetarian delight that promises a burst of flavor in every bite.
Experience the joy of Korean fried chicken, offering boneless chicken thighs coated with a spicy, sweet, and slightly tangy sauce. You can serve it with a sprinkling of toasted sesame seeds for a gastronomic delight.
This dish combines tender chicken wings marinated in a savory soy and oyster sauce blend. You can enjoy them on a relaxed weekend evening with a chilled beverage and vibrant conversation.
Tender chicken meets the sweet touch of honey and robust garlic. With white sesame seeds and a hint of gochujang, this is an Asian masterpiece that will be a hit at any gathering.
These spicy and sweet cubes of tofu are coated with a captivating bang-bang sauce that brings heat and sweetness to your palate. You can serve them with a fresh salad or steamed rice for a satisfying and balanced meal.
Experience the thrill of flavors with this Chinese-inspired chicken delicacy. Marinated with a spicy and savory sauce, it's an excellent choice for barbeques or a themed dinner night, bringing a burst of Asian flavors to your table.
Sichuan peppercorn gives this tofu its unique bite. Coupled with fresh spring onions and ginger, it pairs splendidly with a vibrant salad or a heap of steamed jasmine rice, offering a harmonious balance of flavors and textures.
This recipe is a splendid fusion of juicy chicken wings seasoned with an exotic blend of spices and a sweet chili garlic sauce. Try it for a festive occasion, where the aromatic wings can be the star of your dining table.
Indulge in the rich and savory flavors of this Char Siu chicken, a culinary gem with a marinade that sings in harmony with honey and hoisin sauce. It's the ideal dish for a family dinner, promising a delightful gastronomic journey.
Venture into the realm of Japanese cuisine with this chicken hibachi, which pairs tender chicken with vibrant vegetables. This dish is a beautiful choice for a nutritious weeknight dinner, offering a symphony of flavors and textures.
Experience the sumptuous blend of honey and teriyaki in these pork belly bites. They are the perfect addition to a festive feast, promising a delightful contrast of sweetness and savory notes with every bite.
This recipe embodies a rich and flavorful curry brimming with spices and succulent chicken pieces. A comforting choice for a chilly evening, it pairs wonderfully with a bowl of fragrant rice or warm naan bread.
This delightful shrimp recipe is so quick to make that you'll be shocked! the perfect appetizer for a weekend get-together, promising a burst of spicy and sweet sensations in every bite.
These air-fried short ribs, marinated in a blend of Asian spices and flavors, are as tender as ever. If you're in the mood for a luxurious meal, this dish, paired with a side of steamed broccoli, is a fantastic choice.
Savor the simple yet bold flavors of this salt-and-pepper chicken. Ideal for a weekday dinner, you can pair it with a light vegetable stir-fry or noodles for a well-rounded and satisfying meal.
This dish brings you crispy chicken katsu paired with a tangy Tonkatsu sauce. You can enjoy it on a leisurely weekend, where its delightful textures and flavors can be a great conversation starter.
Delight in the succulent Char Siu pork strips marinated in a savory and sweet sauce. It makes for an excellent centerpiece at a festive dinner, leaving your guests asking for more with its fantastic flavor profile.
You'll appreciate the fiery yet delightful flavors of this crispy shredded chili chicken. Perfect for those who adore a spicy kick, this dish can be a star at your dining table, especially when paired with a cool, refreshing salad.
📋 Recipe
Frequently Asked Questions