Pork chops, a universally adored meat, find a new culinary dimension when prepared in an air fryer.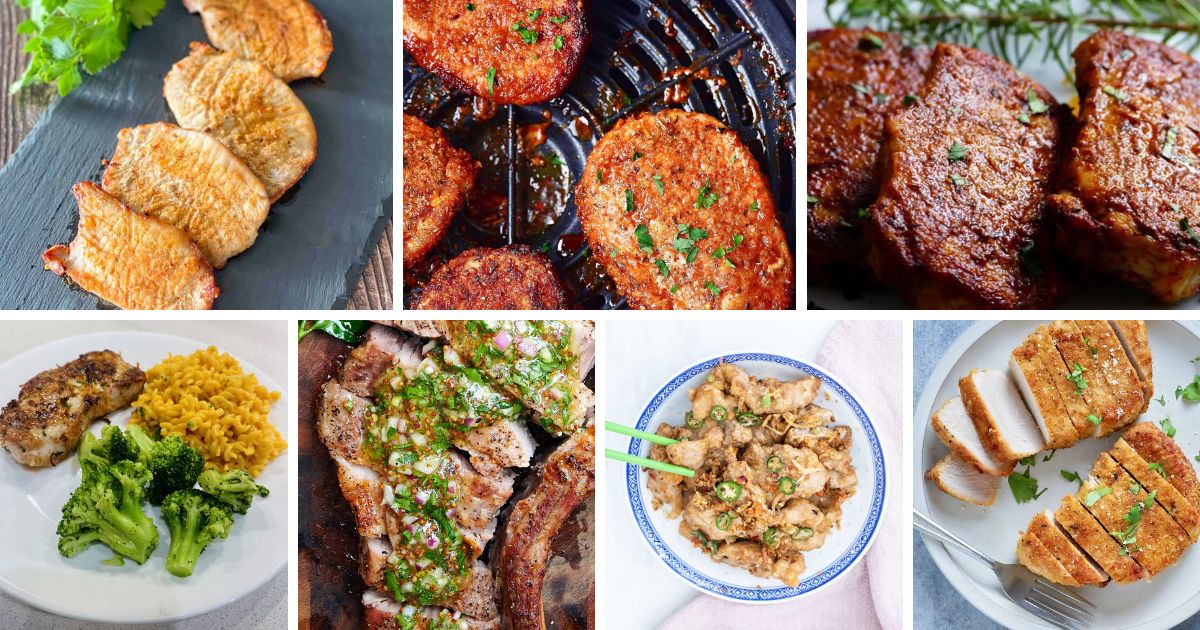 As modern diets emphasize reducing saturated fat, trans fat, and cholesterol, the air fryer emerges as a champion of health, trimming unnecessary calories while ensuring meals remain flavorful.
By using this innovative device, pork, already a fantastic source of protein, becomes not just a treat for the palate but also a conscientious choice for the health-conscious. The beauty lies in the fusion of the crispy texture reminiscent of deep-frying with the succulent juiciness one expects from oven cooking.
From serving them with a side of golden sweet potato fries, sprinkling them with crunchy panko breadcrumbs, to reheating delectable leftover pork chops, this collection of 37 air fryer pork chops recipes promises to redefine your pork chop experience.
Contents
This dish blends brown sugar with aromatic spices for a delicious crust. It's perfect for a laid-back evening, you can enjoy it with a green salad rich in fiber.
This recipe boasts a unique Parmesan and garlic blend. As a light dinner, pair them with steamed broccoli, a great side dish rich in vitamins and fiber.
These chops achieve crispy perfection with panko and cornflakes crumbs. Enhanced with paprika and chili powder, they shine when paired with mashed potatoes high in potassium.
These chops fuse breadcrumbs and Parmesan for a satisfying crunch. Serve them alongside a bowl of kale salad, offering a boost of calcium.
Experience the pure flavors of pork accented by brown sugar. Ideal for a BBQ-themed night, they complement well with carbohydrates-laden sides.
This dish showcases a delightful blend of garlic, basil, and coriander. If you're in the mood for a mildly spicy kick, the optional cayenne pepper is a game-changer.
These pork chops are made even more irresistible with sage-infused brown butter. It's the perfect main course for when you want to impress dinner guests.
These chops, lightly seasoned, highlight the meat's natural flavors. They're a classic choice, even better with oven-roasted vegetables or perhaps sweet potato fries.
This dish entwines the deep undertones of paprika, onion, and garlic with a kick of white pepper. It's ideal for evenings when a hearty, low-sodium meal is desired.
Savory pork chops are transformed with a maple-soy glaze, rich in vitamin C from the inclusion of ginger. This dish pairs beautifully with steamed jasmine rice or quinoa.
Crusted with Italian bread crumbs and Parmesan cheese, these loin chops exude Mediterranean charm. Paired with wine, they're a summer delight.
Sweet caramelized edges paired with the smoky notes of chipotle make these chops a crowd-pleaser. If you're seeking a dish with a hint of adventure, look no further.
These thick-cut chops offer a straightforward yet satisfying flavor profile. With just a touch of paprika and onion powder, they're a versatile choice for any meal.
The brown sugar and spices create a harmonious blend, culminating in a slightly sweet, slightly spicy sensation in this recipe. These chops go wonderfully with a refreshing coleslaw on the side.
Southern flair emanates from these chops, thanks to Cajun seasoning. Parmesan adds depth, and the low trans fat content makes it an irresistible yet healthy option.
Enjoy the savory crunch of Parmesan crusted chops spiced with smoked paprika. These pair wonderfully with sides rich in monounsaturated fat like olives or avocados.
With this recipe, spices come together in a melody of flavors, enhanced by a tangy mustard glaze. Complement this dish with grilled asparagus and broccolini for a wholesome meal.
The allure of these bone-in pork chops lies in the zesty mustard chimichurri sauce. Every bite is a fusion of fresh herbs and tangy undertones, perfect for alfresco dining.
This hearty meal combines the heat of red pepper flakes with succulent pork chops and sausages. The jacket potatoes are a comforting touch, making it ideal for winter nights.
Immerse yourself in the flavors of Vietnam with these pork chops. The dark soy and fish sauce meld beautifully with ginger and lime, offering an exotic dining experience.
A welcoming array of spices envelopes these thick bone-in pork chops. Drizzled in olive oil, they're a flavorful main dish waiting to be paired with sautéed greens.
The parmesan and breadcrumbs create a deliciously crispy exterior, making these pork chops irresistible. This recipe is an elegant choice for weekend dinners or special occasions.
Experience the purity of pork seasoned simply with a dedicated pork rub. This dish is a blank canvas, perfect for those who love experimenting with different sauces.
The hint of cinnamon amidst traditional BBQ spices offers a unique twist to these chops. With barbecue sauce to finish, it's a summer favorite waiting to be devoured.
Relish the union of Parmesan and garlic in this delightful dish. The added touch of Italian seasoning transports you straight to a rustic Italian countryside.
Satisfy your palate without the carbs with these almond flour and Parmesan-coated chops. They're a keto-friendly delight that doesn't skimp on flavor.
Honey and mustard unite for a sweet and tangy sensation, enhancing the pork chops' protein content. It's a delightful main, especially when served alongside a fresh garden salad to balance the flavors.
This dish features a succulent pork roast seasoned with a robust steak dry rub. The result is a tender, flavorful roast that pairs perfectly with mashed potatoes and roasted vegetables.
This recipe captures the essence of Tex-Mex cuisine, featuring a tender pork tenderloin paired with colorful bell peppers and onions. When wrapped in tortillas, it's a feast of flavors and textures.
These pork chops, filled with a creamy spinach and cream cheese mixture, offer a delightful surprise with each bite. The crispy breadcrumb coating adds the perfect touch of crunch.
This dish brings together the nuttiness of coarsely ground almonds with the savory notes of parmesan-crusted pork chops. Seasoned with salt and pepper, it's an ideal meal for a cozy evening.
This schnitzel brings German flavors to your plate. With panko breadcrumbs and aromatic herbs, it's a crisp delight waiting to be savored.
These pork chops, seasoned with a zesty ranch mix, are sure to be a hit with fans of classic American flavors. The egg and breadcrumb coating ensures a satisfyingly crispy finish.
This dish features a simple yet delicious combination of Panko Italian-style crispy breadcrumbs and Parmesan. Paired with a side salad, it brings a touch of Italy to your dining table.
This recipe offers an Italian twist with marinara sauce and a mozzarella topping, making the pork chops incredibly savory. With a sprinkle of fresh Italian parsley, it's a family favorite for weeknights.
If you're craving Asian flavors, these pork chops hit the mark. Garnished with green spring onions and fresh cilantro, they make a flavorful main that pairs beautifully with stir-fried vegetables.
These pork chops boast a tantalizing honey and garlic glaze, heightened by a splash of lemon juice. Perfect for those evenings when you seek a balance of sweet and tangy, they're complemented well by roasted veggies.
📋 Recipe
Frequently Asked Questions