In a world where oven cooking is gradually making room for quicker, more efficient methods, the rise of air fryer pasta bakes comes as a breath of fresh air. This culinary revolution allows for a vibrant inclusion of vegetables and mushrooms, as well as melting cheese and hints of salt.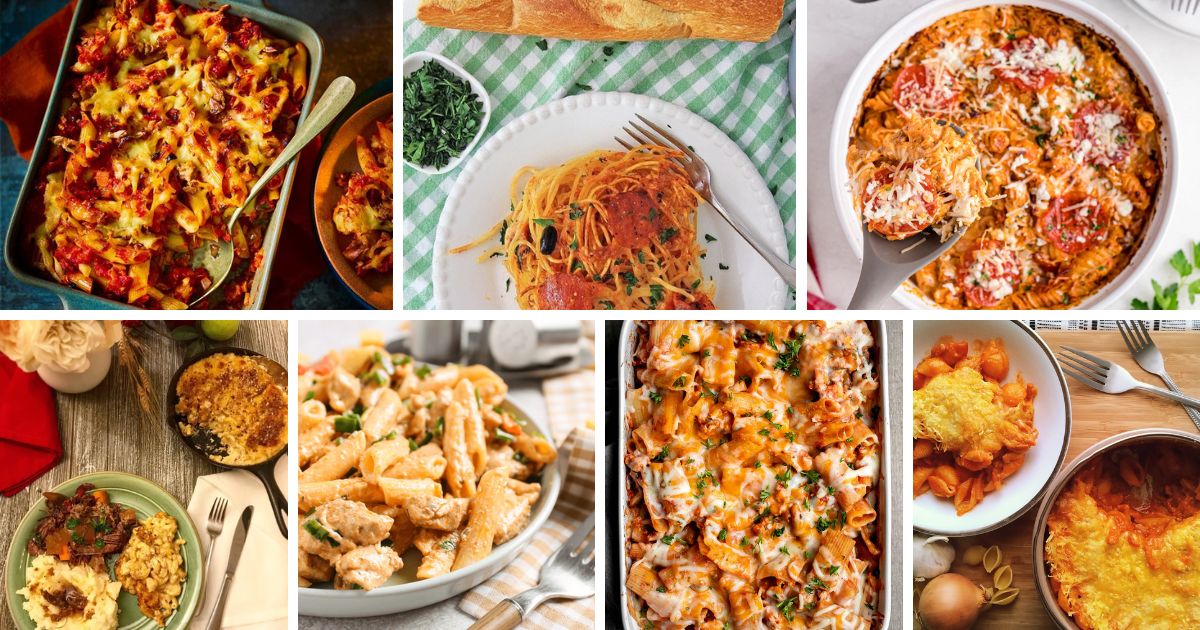 These recipes have become the talk of the town, inspiring food enthusiasts to share their creations fervently on platforms like Facebook, heralding a new era of home cooking.
With these air fryer pasta bake recipes, the traditional oven takes a step back, allowing the air fryer to bring forth exquisite pasta bakes laden with the freshest of ingredients.
As you traverse through these innovative recipes, you will discover not only the simplicity but the versatile nature of pasta bakes, promising a delightful gastronomic journey that appeals to both novices and seasoned cooks alike.
Contents
This air fryer basket masterpiece features a comforting blend of pasta enveloped in a rich cheese and tomato sauce mixture. The robust flavor profile makes it an excellent weeknight dinner that the whole family will enjoy.
This dish redefines convenience, allowing you to skip the boiling process entirely. It is perfect for busy weeknights, and you can pair it with a fresh, crisp salad.
This trendy dish showcases a delightful combo of cherry tomatoes and feta, heightened with basil and a hint of garlic. Perfect for an Instagram-worthy dinner, it promises a burst of flavor in every bite.
This hearty blend of pasta and tuna is accentuated with spicy red pepper flakes and mozzarella cheese in this recipe. It's the ultimate comfort dish that pairs beautifully with a slice of crisp garlic bread.
In this vibrant dish, rigatoni meets a delightful medley of pepperoni and rich tomato sauce. This is an excellent option for a relaxed weekend meal, promising a texture that resonates well with both adults and kids.
The union of leftover roast lamb and macaroni pasta makes for a hearty recipe. It's an excellent way to utilize leftovers, creating a sumptuous meal that tastes even better the next day.
Savor the simple ingredients in this pasta bake that combines fusilli with savory ham and cheddar cheese. It's a great recipe that can easily transition from a hearty lunch to a comforting dinner.
This recipe features spaghetti baked in a marvelous marinara sauce, accompanied by a trio of cheeses. Perfect for a cozy evening meal, pair it with a refreshing salad for a complete dining experience.
Feel free to relish in the delightful mixture of brown rice fusilli and fresh mozzarella in this quick pasta bake. It's a convenient yet luxurious meal that you can quickly whip up.
Pasta and broccoli lavished with a cheesy sauce is what this heartwarming recipe entails. Share this comforting dish with family, serving it straight from the air fryer basket for an authentic experience.
Engage in a savory exploration with this pizza-inspired pasta casserole adorned with a generous amount of pepperoni and cheese. It's a wonderful weekend treat that brings the flavors of your favorite pizza into a pasta dish.
There's a lush blend of vegan bacon and a homemade tomato sauce in this comforting pasta bake. It's a flavorful and ethical choice that pairs wonderfully with a crisp green salad.
Dive into this classic recipe where macaroni meets a rich mixture of cheddar and parmesan cheese. This delightful dish, infused with smoked paprika and garlic powder, offers a comforting meal that everyone will enjoy.
This recipe incorporates exquisite ground turkey and rigatoni in a vibrant tomato base. It's a fantastic option for a hearty family dinner, promising flavors that are both rich and comforting.
This fulfilling dish brings together spaghetti and a robust meat sauce, topped with mozzarella cheese. It's an excellent recipe for those seeking a hearty meal that feels both familiar and gourmet.
Another delightful dish, this recipe combines the joy of pizza with the comfort of pasta, seasoned perfectly with Italian seasoning. It's a fabulous dinner option that will leave you craving for more.
This recipe offers another delightful take on the traditional lasagna, making meal preparation a breeze. You can serve it on special occasions or family dinners, complemented by a vibrant mixed greens salad.
You can indulge in a gluten-free delight featuring zucchini noodles and feta cheese, all mingled in a rich tomato base. It's a nourishing dish that offers a burst of vibrant flavors, making for a satisfying meal without the carbs.
Treat yourself to this garlic chicken and bacon pasta. It's a great choice for a cozy dinner, with the rich flavors of Parmesan cheese mingling with seasoned chicken and bacon, offering an unforgettable culinary experience.
This recipe combines macaroni and cheese with the crispy goodness of bacon. Suitable for a weekend feast, it offers a creamy and satisfying dish where bacon adds a salty crunch, pleasing to both adults and kids alike.
If you like a spicy kick, you'll appreciate this Cajun chicken pasta, which combines fire-roasted tomatoes with a hint of cream cheese. It's perfect for a spicy dinner treat; it brings a burst of flavors to your dining table.
📋 Recipe
Frequently Asked Questions