Looking for a way to dazzle your guests with mouth-watering appetizers that are both easy to prepare and irresistibly delicious? Look no further than your trusty air fryer!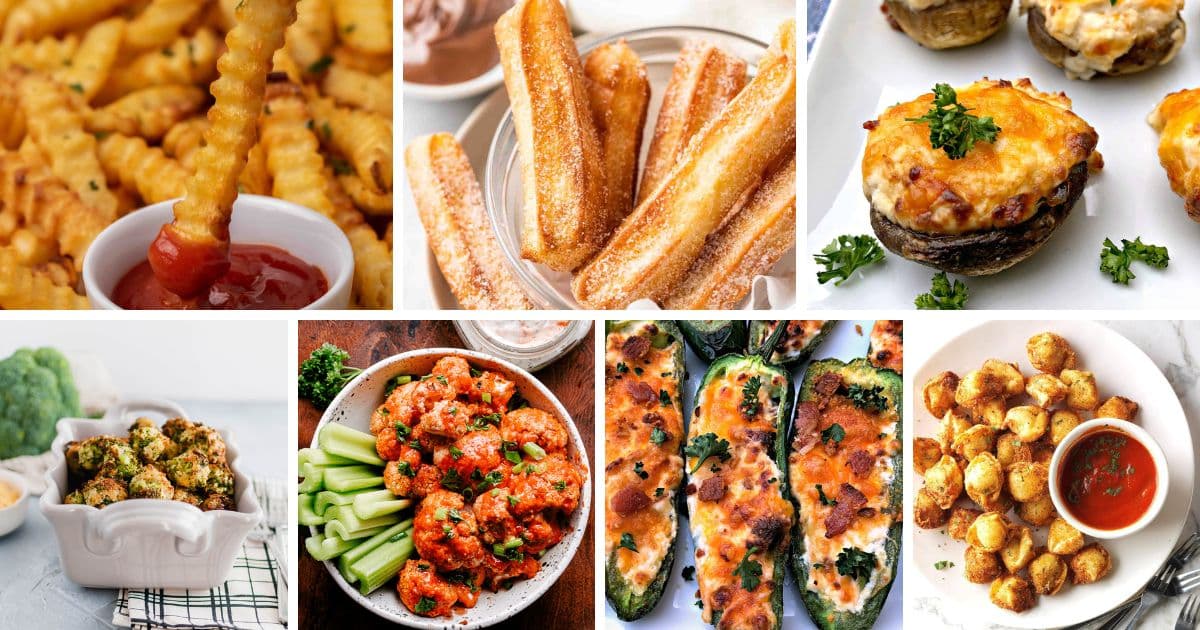 This fantastic kitchen gadget is not only a healthier alternative to deep-frying but also guarantees crispy, golden perfection in every bite. From velvety cheese-stuffed mushrooms to spicy bacon-wrapped chicken bites, the possibilities are truly endless.
You can easily create a selection of tantalizing appetizers, each offering a burst of flavor and texture, ready in no time at all. The versatility of the air fryer allows for a myriad of ingredients and spices to come together, creating unforgettable starters that are bound to be the highlight of any gathering.
So, go ahead and explore the wide variety of recipes that you can whip up effortlessly and treat your loved ones to a gourmet experience right at home.
Contents
These poppers blend spicy jalapenos, smooth cream cheese, and crispy bacon beautifully. They make a fiery and delightful appetizer for your next gathering.
Indulge in the crunch of dill pickles encased in a spicy, seasoned batter with this dish. You'll find them the perfect appetizer, especially when paired with a refreshing ranch dip.
This recipe offers a gourmet delight with prosciutto-wrapped asparagus bundles serving as either a sophisticated appetizer or a side dish. The salty prosciutto beautifully complements the fresh, crisp asparagus.
Here, succulent shrimp teams up with spicy jalapeños, all wrapped in a bacon blanket, creating a delightful mixture of flavors. You can serve them with the included cocktail sauce for a harmonized appetizer experience.
In this delightful recipe, crispy bacon meets Parmesan and crackers, forming a crunchy, savory treat. They make a fabulous snack during casual gatherings, especially with a chilled beverage.
This dish combines spicy sausage and sharp cheddar cheese inside fluffy crescent rolls. They're a satisfying choice for either a leisurely weekend brunch or dinner party appetizers.
This recipe brings you a gluten-free sensation, offering crisp and cheesy crackers without the carbs. They're a great companion to a fresh salad or a standalone snack during your keto journey.
Experience a transformation of fresh zucchini into golden, crispy fries that are keto and low-carb friendly. They are the perfect snack for those seeking crunch without the added guilt.
This dish transforms fresh zucchini into perfectly crunchy chips. You can serve them at your next gathering as a lighter alternative to traditional potato chips.
This recipe brings out the classic taste of potato chips in a healthier avatar. You can enjoy them with your desired dip for a guilt-free munching session.
This recipe turns cauliflower florets into golden, crunchy delights. These crisp bites can serve as appetizers or accompany your main dishes perfectly.
These bites combine the goodness of broccoli with the allure of cheese. They're fantastic for snacking, as appetizers, or when you're in the mood for a cheesy indulgence.
Each roll is a burst of shredded cabbage seasoned with garlic and ginger. They're the perfect treat for parties, adding a touch of Asian zest to your meal spread.
These shrimp achieve a flawless crispiness without the hassle of deep frying. If you're a seafood aficionado, serve them alongside tangy dips or refreshing salads.
Crisp and seasoned to perfection, these potato skins are sure to impress. They make a stellar snack during lively game nights or cozy family hangouts.
Indulge in the magnificent blend of crispy chicken wings complemented with a tangy Sriracha dipping sauce. This dish is perfect for spice lovers seeking a quick yet flavorful treat.
Creamy mashed potato balls come together in this vegan delight. They're an impeccable choice for an appetizer or a side, adding a creamy contrast to any meal.
Indulge in this gourmet starter where feta cheese takes center stage, baked to oozy perfection. A drizzle of honey and a sprinkle of chili flakes elevate its flavors.
Achieve crispy perfection with these frozen fries, ready in no time. Add the accompanying spicy ketchup, and you have a snack that's hard to resist.
Dive into the unique pairing of sweet and savory with these fries. They are a stellar addition to your fall menu, especially with a dash of cinnamon-infused dip.
Experience sweet potato fries sprinkled generously with cinnamon and sugar. Whether for a festive celebration or a quiet evening, they're a delightful treat.
These wedges offer the perfect balance: crispy on the outside with a soft inside. They're a hit at dinners and gatherings and loved by all ages.
Dive into the world of sweet potato fries, golden and crunchy. You serve them with a zesty dip, and you have an irresistible dish in hand.
Inside each won ton wrapper lies a mix of coleslaw and aromatic seasonings. They're a great choice for appetizers, or to add a twist to your usual dinner routine.
This recipe feature ground chicken enhanced with aromatic herbs and almond flour. You'll appreciate them as a protein-packed addition to pasta dishes or on their own with a side of veggies.
For the ultimate comfort food, these mac and cheese balls never disappoint. Be it at parties or family dinners, they always bring about a round of applause.
Savor the taste of mushrooms filled with a blend of cheeses. They're a delightful treat, whether for a grand gathering or a serene evening.
Discover ravioli like never before: crispy yet soft. If you're looking for a dinner delight or party finger food, here's your answer.
Relish the combination of crispy exterior and gooey cheese within. The spiced breadcrumbs elevate the flavor, making them a must-have appetizer.
This recipe lets you enjoy tortilla chips in three delightful flavors: classic, turmeric, and Mexican. Whether you're in the mood for something traditional or looking for a zestier kick, this recipe has got you covered.
Taste the fusion of sweet, spicy, and bacon-wrapped goodness. They shine as appetizers or as the showstopper for your brunch table.
Chickpeas come out of the air fryer with a delectable crunch and seasoning. Have them as snacks or add them to salads for a tasty crunch.
These tenders, crispy on the outside and juicy within, never go out of style. You can serve them as a hearty main or dip them for a satisfying appetizer.
This recipe creates a harmonious blend of crunchy coating and succulent shrimp. It's perfect for impressing guests at gatherings, especially when paired with a tangy dipping sauce to accentuate the flavor profile.
Homemade churros have never been easier thanks to this air fryer method. Enjoy these sweet, vanilla-infused treats by dipping them into a rich chocolate sauce or savoring them plain as a delightful dessert.
Dive into this dish featuring red onion slices enveloped in a spicy gram flour batter. These make a great pairing with a warm cup of chai, serving as a flavorful snack or appetizer.
Experience the delightful combination of flaky puff pastry and savory paneer filling with this recipe. You can serve them as a tasty snack or a warming appetizer before a hearty meal.
This vegetarian dish showcases the complementary flavors of eggplant and plantains. It's a fantastic choice for a healthy appetizer or side dish, elevated by a sprinkle of oil-free chimichurri.
This innovative recipe transforms green beans into crispy fries, enhanced with a hint of Parmesan. They are a fantastic alternative to traditional fries, offering a healthier yet equally satisfying option.
These buffalo cauliflower bites bring a burst of heat to your dining table. The spicy coating is wonderfully offset by the tangy hot sauce, making for a delightful and addictive snack or appetizer.
Treat yourself to these succulent steak bites, brought to life with a spicy and sweet rub. They can be the star of a protein-packed dinner or a luxurious addition to a weekend brunch spread.
Indulge in these succulent steak bites, seasoned with a sweet and spicy rub. They are ideal for a protein-packed dinner or a luxurious addition to a weekend brunch.
Experience the perfect balance of tart cranberries and creamy brie housed in crispy phyllo shells. These elegant bites are ideal for a sophisticated appetizer or a gourmet snack during a quiet evening.
These boneless chicken bites are a true festival of flavors, making for a fulfilling meal option. Enjoy them during a casual dinner or a game day gathering, ideally complemented by a side of honey mustard dip.
Delight in these crispy arancini, boasting a warm and cheesy center that promises satisfaction. They serve as excellent appetizers or snacks, bringing a touch of Italian flair to your dining experience.
📋 Recipe
Frequently Asked Questions