If you think roasting, grilling, or baking is the extent of cooking your whole chicken – think again. In this collection of 37 air fryer chicken recipes, we're about to shatter conventions and embrace innovation.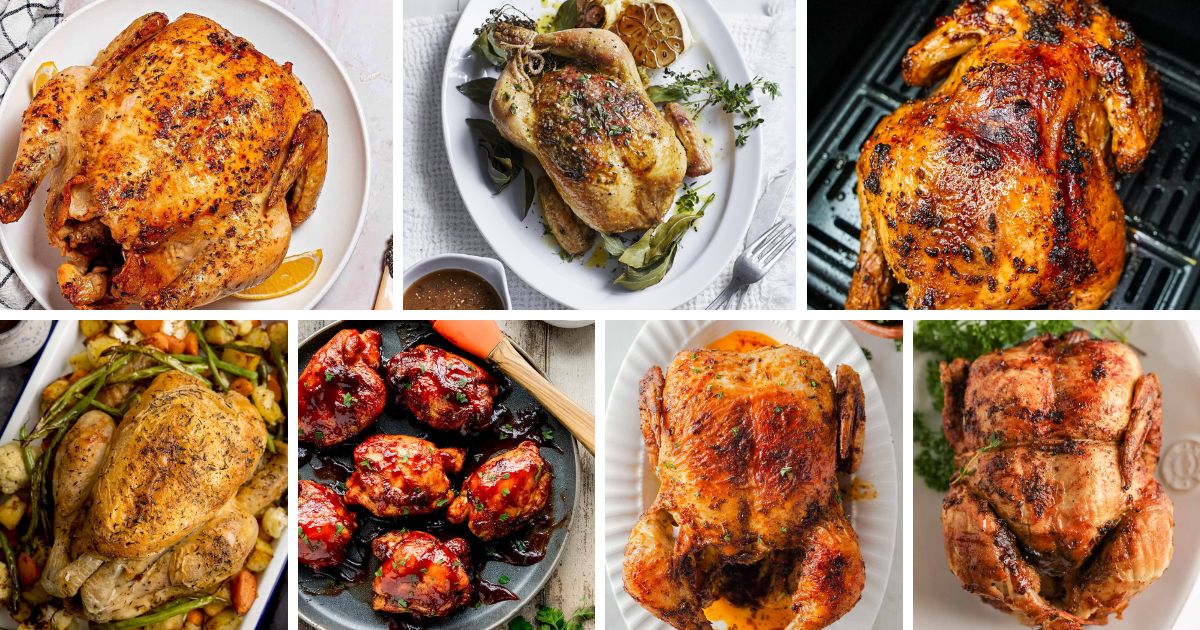 We'll show you how air fryers can turn a plain chicken into a masterpiece of taste. With the air fryer's prowess, you'll be treated to juicy meat wrapped in a crisp, golden embrace – all in record time.
These recipes aren't just about convenience; they declare that healthy, delectable meals need not be a chef's exclusive secret. From zesty marinades that sing with flavor to exotic rubs that transport you to far-off lands, each recipe is a story waiting to unfold on your plate.
Get ready to savor the symphony of aromas and the sheer joy of mastering the art of whole chicken cookery, one air-fried recipe at a time.
Contents
This recipe delivers a tasty whole chicken with a crisp and golden skin, achieved effortlessly in the air fryer. Serve it with a side of vegetable soups for a delightful and wholesome dinner.
This dish boasts the best of both worlds - a heavenly combination of tender meat and irresistibly crispy skin. Boost up your dining experience by pairing it with citrus salad featuring thyme and avocado oil.
This recipe recreates the magic of rotisserie style chicken right in your air fryer. The juicy, well-seasoned meat pairs harmoniously with garlic mashed potatoes, making it an ideal comfort meal.
With the Ninja Foodi, you can turn your chicken breast-side into a masterpiece of flavor. You can serve it alongside a medley of steamed veggies for a wholesome, hassle-free dinner.
This recipe delivers a crispy-skinned, tasty whole chicken, achieved through the magic of air frying feat. oregano and basil spices. Be sure to serve it as the centerpiece of a hearty family dinner!
This air-fried whole chicken offers the perfect blend of crispy skin and juicy meat. You can complement its juiciness with a fresh salad sprinkled with onion powder to satisfy your palate's desire.
This classic air fryer whole chicken offers a tender interior and crisp exterior. A side of garlic rosemary potatoes complements its rustic charm, creating a low carb and keto friendly meal.
Have the ease of creating a mouthwatering roast chicken using the air fryer with this easy recipe. Pair this with a medley of honey-glazed carrots for a delightful, well-rounded meal.
You can enhance the delicate flavors of air-fried cornish hen in this recipe by serving it with wild rice pilaf and sautéed spinach. This dish is worthy to serve on any occasion.
Unlock the secrets to a tantalizingly juicy and crispy whole chicken with this recipe. Accompany it with roasted Brussels sprouts drizzled with balsamic glaze for a symphony of flavors.
Have the convenience of an air-fried rotisserie style chicken breasts without the fuss. This dish is perfect to pair with a light coleslaw for a satisfyingly simple yet delectable meal.
This recipe guide teaches the art of crafting a divine air fryer whole chicken. Once done, serve it with a medley of roasted root vegetables for a wholesome, impressive, and nourishing feast.
Try your culinary repertoire with this air-fried rotisserie chicken recipe. Choose the succulent breast side meat and pair it with buttery mashed potatoes and green beans for a timeless meal.
The delectable crunch of Parmesan-crusted chicken straight from the air fryer is out of this world. Put it in sandwiches or pair it with a side of lemon-infused spaghetti for a gourmet experience.
This dish showcases a spatchcocked chicken cooked to perfection in the air fryer - crispy on the outside, juicy inside. Its unique presentation enhances both cooking speed and flavor absorption.
The technique used in this recipe guarantees a delightful crispness to the skin while keeping the meat tender. Accompany it with roasted vegetables with lemon pepper for a satisfying meal.
Do your air frying journey with confidence using this beginner-friendly whole chicken recipe. Simple yet impressive, the result is a golden-brown masterpiece with juicy meat!
Behold a perfectly cooked whole chicken recipe! Its skin boasts a satisfying crunch while herbs infuse every bite with aromatic elegance. This is going to be your dinner table's crowning glory.
The dinnertime elegance meets convenience in this air fryer chicken dinner recipe. The chicken's succulence, paired with air-fried potatoes and vegetables, offers a visually appealing plate for any occasion.
The secret to moist and flavorful chicken in this recipe is the luxurious buttermilk marinade, elevated by air frying's crispy touch. Serve it with a tangy sauce for a balanced explosion of tastes.
Transport your taste buds to Greece with this air fryer chicken infused with Mediterranean flavors. The crispy skin harmonizes with zesty lemon and herbs, making it a standout dish.
The sweet and savory glaze caramelizes beautifully in this Huli Huli chicken recipe. A taste of Hawaiian paradise, this dish is perfect for a summer soirée.
This roasted whole chicken recipe turns your air fryer into a culinary powerhouse. Achieve a delectable balance of crispy skin and tender meat, creating a centerpiece for your dining pleasure.
This delicious rosemary-roasted chicken from the air fryer boasts crispy skin and tender meat infused with aromatic herbs. This dish is perfect for a warm family lunch or dinner.
Transform a frozen whole chicken into a crispy delight using the air fryer's magic. Have the convenience of a quick yet flavorful dish, ideal for busy weeknights when you crave a hearty dinner.
The ultimate fusion of Instant Pot and air fryer creates a whole chicken masterpiece. With tender meat and a golden crunch, this recipe offers a delightful dinner adventure.
The air fryer locks in the tantalizing flavors and perfect char of this zesty chicken dish, making it a unique addition to your menu. You can serve it as chicken tacos or with pineapple salsa for a tropical twist.
Achieve rotisserie-style chicken in just an hour with the air fryer. The result? Juicy, evenly cooked meat with a satisfyingly crispy skin. Pair it with garlic mashed potatoes for a hearty feast.
Are you craving that Asian-inspired roasted chicken? The air fryer preserves the juicy tenderness in this dish while infusing it with a harmonious blend of soy, pepper, and sesame.
This tandoori-spiced whole chicken recipe is cooked to perfection in the air fryer. The fragrant spices and yogurt marinade create a masterpiece that pairs wonderfully with naan and mint chutney.
Uncover the mystery of this air fryer roast chicken, where secret herbs transform it into an irresistible dish. It's a feast for the senses, balanced with a medley of roasted vegetables.
The smoky indulgence of BBQ chicken cooked flawlessly in the air fryer is out of this world. The juicy thighs or wings are coated in finger-licking BBQ sauce, making it a delightful companion for coleslaw and cornbread.
The aromatic lemongrass imparts a citrusy zing in this recipe, creating a dish that harmonizes excellently with jasmine rice and stir-fried vegetables.
This dish elevates classic General Tso's Chicken with an air-fryer twist. The chicken turns irresistibly crispy on the outside, glazed in a sweet and tangy sauce.
This recipe reinvents roast chicken with the magic of air frying. A pre-roast brine ensures juicy perfection, while the air fryer's touch creates a beautifully golden and crispy skin.
The dynamic duo of whole chicken and crispy potato fries is crafted to perfection in the air fryer's embrace. This satisfyingly wholesome meal offers convenience and flavor in every bite.
This air fryer chicken recipe captures the essence of your Costco favorite right in your kitchen. The leftovers are equally amazing – whether you choose to enjoy them cold or reheat them for a second round of satisfaction.
📋 Recipe
Frequently Asked Questions