Do you happen to be in search of a healthier yet equally delicious substitute for traditional French fries? This list of 29 delectable sweet potato air fryer recipes is just the ticket. By using air-fried sweet potato slices, you get a satisfyingly crispy yet soft texture - with minimal use of oil.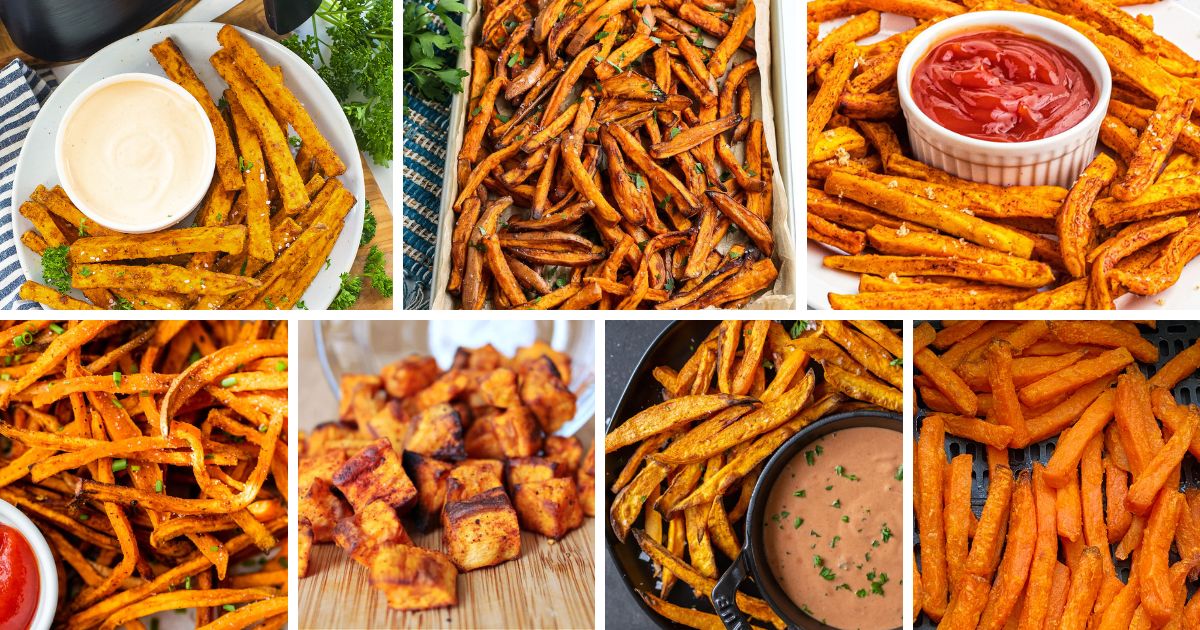 Each recipe is a burst of flavor, from the simple combination of salt and garlic powder to the addition of exotic spices. But it's not just about taste. These sweet potato fries are high in fiber, low in sodium and calories, and packed with essential nutrients like carbohydrates, vitamin A, vitamin C, calcium, and even some protein.
The easy-to-follow instructions and swift cooking times make these recipes perfect for those hectic days. Embark on your flavorful journey with these mouth-watering sweet potato fries today; a healthier, tastier approach to cooking is just a batch and bite away!
Contents
This tasty dish swaps traditional fries with sweet potatoes for a healthier, lower-fat option. Within 15 minutes, enjoy crispy bites, full of flavor and customizable to your liking.
These air-fried sweet potato fries blend sweet and savory elements, enhanced by garlic, salt, and pepper. There's an included tangy dip recipe that will elevate your healthier, flavorful snack experience.
These air-fryer sweet potato fries also offer a healthier twist to traditional fries. They are crispy, flavorful, and easy to make, making them perfect for a quick snack or a unique side dish.
With just an air fryer, a splash of olive oil, and frozen sweet potato fries from your fridge, this recipe turns them into a crispy, golden delight. It's a simple method to create a gourmet treat.
These sweet potato fries are ready to be served in just 10 minutes. They are a totally irresistible pleasure when served hot with your favorite dip.
We recommend this recipe if you're after a healthy, delectable twist on a snack favorite. It is prepared in just 20 minutes with subtle spice for that perfect crunch and taste balance.
When you long for a guilt-free, crunchy snack, this sweet potato fries recipe is perfect. It has minimal ingredients that offer a healthier alternative to your regular snacking habits.
These sweet potato fries, crisped in an air fryer and seasoned with Italian spices, offer a healthy, flavorful snack. You can enjoy them straight from the fryer or with your preferred dipping sauce.
These sweet potato fries are air-fried to a crispy finish with a cornstarch coating. They are low-fat and guilt-free meals seasoned with olive oil, paprika, and garlic.
If you're seeking a healthier, more flavorful alternative to traditional fries, try these versatile air-fried sweet potato fries. It is seasoned with paprika, garlic, and options like Cajun or Curry.
These low-oil sweet potato fries could be your new favorite side dish. Their unique dual-temperature cooking process results in an exceptional taste and perfect crispness.
You can have a healthier snack option ready in 20 minutes with these air-fried sweet potato fries. They are crisp and perfect when paired with your choice of seasonings and dips.
This recipe transforms sweet potatoes into crispy, healthy fries using an air fryer. They're perfect for versatile meal pairings with options for spicy or parmesan topping variations.
If you're in the mood for a crisp, sweet, and savory treat, try this air fryer sweet potato strips. They are combined with melted butter, cinnamon, and salt for that satisfying, tasty snack.
With an air fryer, thin strips of sweet potato transform into crispy, golden fries. These starch-coated pieces make for a healthy, satisfying snack, ready in just 20 minutes.
If you're looking for a side dish with a healthier twist, these sweet potato fries are a must-try. Whether air-fried or oven-baked, they add a flavorful kick to any meal with their blend of spices.
These satisfyingly crispy yet tender fries deliver a unique twist with red pepper flakes. With sweet potatoes, you're getting a nutritious punch high in vitamins A, C, and potassium.
These dessert fries offer a sweet twist to the traditional side dish, featuring a luscious coating of cinnamon sugar. They are easy to prepare, making them an ideal treat for kids and adults alike.
You'll experience the perfect balance of sweet and salty with this crunchy yet soft sweet potato fries recipe. They're a must-try for any food enthusiast.
If you try these subtly accented with cinnamon and brown sugar air-fried sweet potatoes, you'll experience a sweet and savory blend. This simple recipe ensures a crispy, flavorful delicacy sure to please.
These sweet potato fries, dusted with homemade seasoning and optional turmeric, achieve a delightful crunch. If served with dipping sauces and rotisserie chicken, they make a satisfying meal.
This simple cooking method yields crispy, flavorful fries from your choice of yams or white sweet potatoes. If you're a fan of heat, enjoy them fresh with your preferred dipping sauce.
If you're in search of a healthier alternative to traditional fries, this recipe is a must-try. These sweet potato fries are air-fried to perfection, resulting in a crispy, delicious treat.
This recipe offers a nutritious twist to traditional fries with its high fiber and nutrient-rich sweet potatoes. If you're seeking variety, these fries can be customized with different spices for an added kick.
These versatile sweet potato cubes, crispy on the outside and tender within, offer a delightful snack or side dish. With options for savory or sweet seasoning, they're adaptable for any meal occasion.
These sweet potato bites, glazed with honey and cinnamon, are both a quick and easy side dish delight. They are loved by toddlers and adults alike, and they're a versatile addition to any meal.
These crispy air-fried sweet potato fries, seasoned to perfection, are a flavor revelation. Paired with a sriracha-infused sauce, they become an irresistible treat that caters to both sweet and spicy cravings.
These wedges offer a crisp exterior and a tender heart, enhanced by a spice medley. If you're after a tangy kick, the accompanying dip will not disappoint.
If you're craving a snack with a twist, these Loaded Sweet Potato Fries are the answer. It is topped with marshmallow fluff, butterscotch chips, and a hint of cinnamon for comfort in every bite.
📋 Recipe
Frequently Asked Questions