Ever wondered how to transform your frozen broccoli into a tantalizing, crispy treat, all while preserving its nutrition? Check out this compilation of 27 Air Fryer Frozen Broccoli Recipes.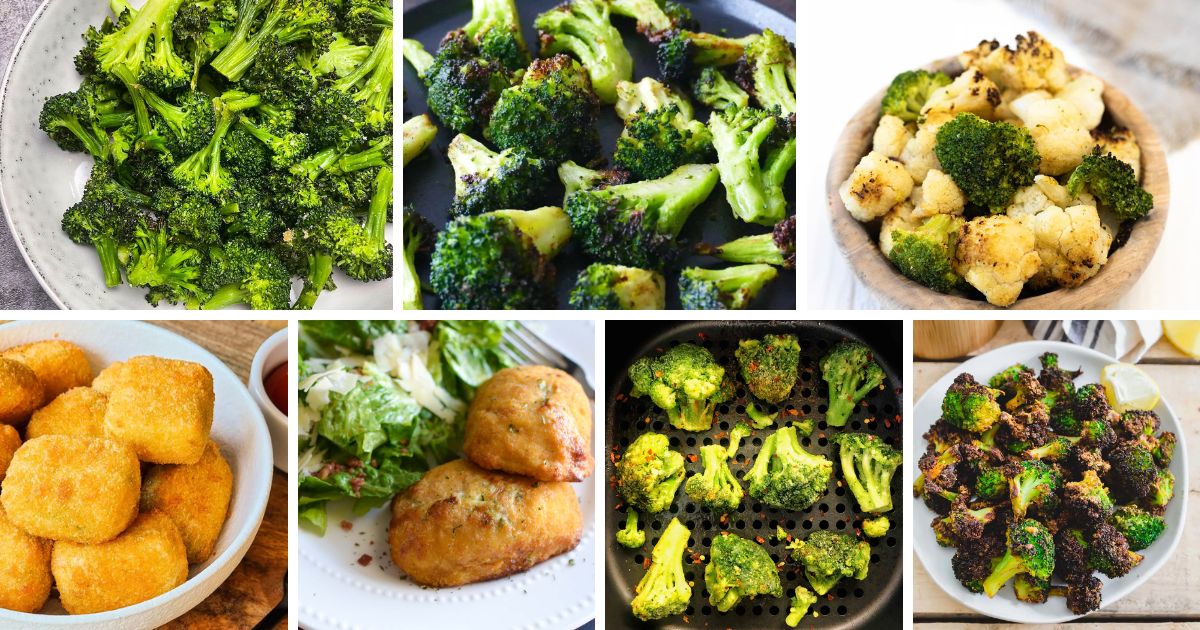 These simple-to-follow recipes offer a healthier alternative to traditional oven methods, providing a guilt-free way to enjoy the fiber, protein, and carbohydrates in broccoli.
With these dishes, you get a delightful crunch and flavor without the extra oil, sodium, or calories. Plus, they're packed with vitamin C, potassium, and calcium, making them not only delicious but also gluten-free and nutritious!
Whether you have leftover broccoli or a fresh bag from the freezer, these recipes will help you serve it in various ways, from spicy to savory. Armed with your air fryer, you're set for a culinary journey that will impress your taste buds and boost your meals' nutritional value.
Contents
You'll relish the taste of this crispy broccoli seasoned with oil, sea salt, and pepper. It's a quick, healthy side dish that enhances any meal with its delightful texture and flavor.
With just frozen veggies, broccoli and a touch of olive oil to be precise, you can create a delectable side dish. It rivals the taste of fresh broccoli and is ready in only 10 minutes.
When you steam frozen broccoli nearly to completion, then air fry it, you achieve a pleasingly crispy yet tender side dish. This recipe ensures optimal texture and flavor in just minutes.
This recipe effortlessly turns frozen broccoli florets into a crispy, seasoned delight using a blend of spices. If you crave a quick and flavorful side dish, this 10-minute process is your answer.
This crispy, air-fried frozen broccoli florets retain nutrients and require minimal oil, offering a quick and healthy side dish. With versatile seasonings and easy preparation, they pair well with various main courses.
We've discovered an easy, yet flavorful approach to preparing broccoli. This dish, crisped in an air fryer and spiked with pepper flakes, complements pasta or salads beautifully.
We recommend this quick, low-carb side dish of air-fried broccoli, enhanced by the rich flavor of melted bacon fat or lard. It offers a crispy texture and delicious taste in just 10-12 minutes.
You'll appreciate the simplicity of this healthy, air-fried broccoli recipe that uses olive oil and your choice of seasoning. This dish offers a crispy, flavorful side ready in under 10 minutes.
With just frozen broccoli, cooking oil, salt, and pepper, this recipe creates a crisp, flavorful side dish in 15 minutes. This air-fried broccoli is perfect for a variety of dietary needs.
When you want a quick, crispy snack, these air-fryer broccoli bites are a perfect choice, requiring no oil spray. In just 7-10 minutes, the bites turn golden brown and deliciously crunchy.
This recipe transforms frozen broccoli florets, onions, bacon, and cheese into delightful, air-fried bites. If you're after a healthy snack or appetizer, these bites offer flavor without the guilt.
This recipe offers a method for roasting various frozen vegetables to perfection. With oil, seasoning, and the right temperature, achieve delicious, non-mushy veggies every time.
We found a simple yet effective way to achieve crispy vegetables. This recipe involves seasoning the vegetables, placing them in an air fryer for a set duration, and shaking them halfway through.
We recommend this fast and simple approach for a tasty accompaniment. It turns frozen broccoli into a crunchy, appetizing treat that caters to various dietary needs.
You'll appreciate this effortless way to get crunchy, flavorful broccoli. It offers a quick and health-conscious option, perfect for those with dietary restrictions or seeking easy meal solutions.
With this approach, a nutritious, low-carb broccoli dish is just minutes away. This recipe yields a slightly crispy edge, catering to a variety of dietary preferences including keto, paleo, and vegan.
When prepared attentively, broccoli retains its vibrant color and firm texture, avoiding the dreaded mushiness. This process is quick, yielding a healthful side dish in less than ten minutes.
This recipe effortlessly turns frozen vegetables into a crispy, seasoned side dish using an air fryer. If convenience and health are your priorities, this 20-minute dish is an ideal choice.
These broccoli tots, made with a mix of steamed broccoli, bread crumbs, and Parmesan, offer a healthier alternative to traditional tater tots. With clean ingredients, they provide a guilt-free snack or side dish.
You can achieve a tasty transformation by air-frying frozen broccoli with oil and seasonings. This dish emerges crispy and browned, creating a delectable side that's perfect for any meal.
We recommend this quick and delicious dinner that takes only 15 minutes to prepare. Its golden-brown crust encases a soft, cheesy filling, making every bite an explosion of flavor.
This recipe makes a sumptuous meal from frozen beef and broccoli, enhanced by a delectable sauce. With periodic shaking for even roasting, it results in an impressive dish served over rice.
With a blend of spices and minimal oil, this broccoli dish becomes an irresistible, crispy treat. Its versatility allows for Indian spiced, Chipotle, or Parmesan cheese variations.
When you desire a fuss-free, nutritious side dish, this recipe delivers crispy, charred broccoli without the mess. This recipe can be easily replicated with other frozen vegetables like cauliflower.
This recipe transforms frozen broccoli into a delightfully roasted side dish using just an air fryer, olive oil, and garlic powder. If you love quick, healthy, and fuss-free meals, it's a perfect choice.
These broccoli florets, crisped to perfection in an air fryer, require no prep time and make a healthy, versatile side dish. With its easy adaptability to different flavors, it complements various main courses effortlessly.
We discovered a simple method to create crunchy, flavorful broccoli using an air fryer. It delivers irresistibly crispy results, making it an easy and nutritious side dish for any meal.
📋 Recipe
Frequently Asked Questions