Fish and chips - the classic comfort food that makes mouths water and hearts swell with nostalgia. But who said classics can't get an upgrade?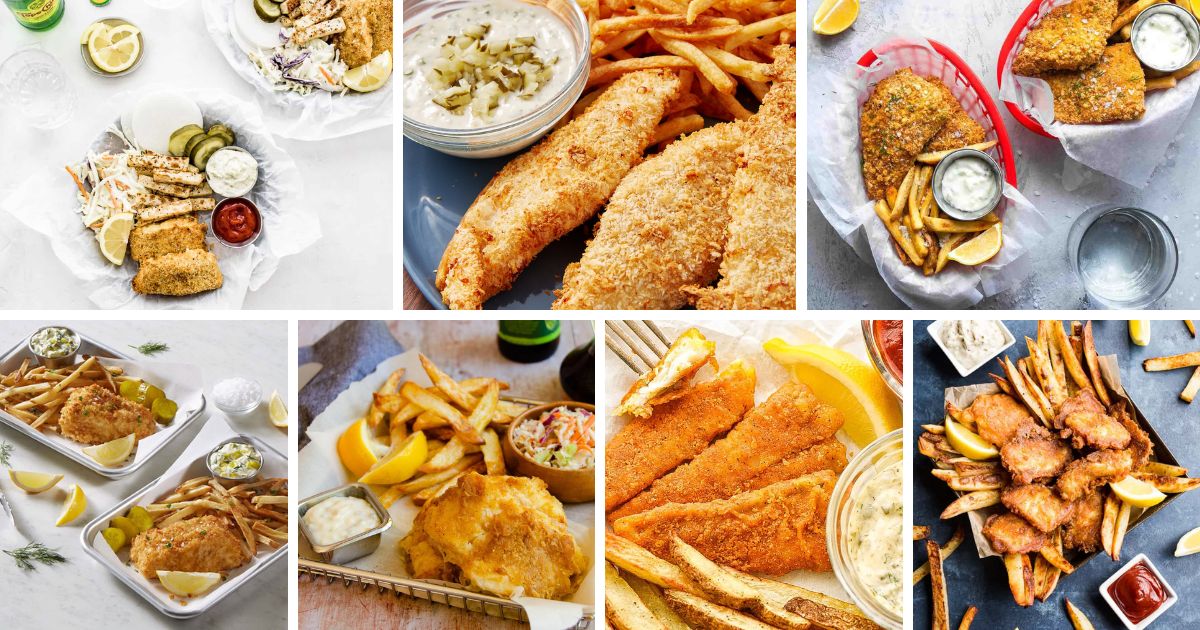 Whether you're a seafood lover or just looking for a family-friendly dinner idea, these recipes will make your taste buds sing.
From classic renditions that pay homage to the traditional British pub fare to gluten-free fish tacos that cater to various dietary needs. Each recipe celebrates flavors, textures, and the joy of biting into a satisfying meal.
In this collection of 21 tasty air fryer recipes, I'm about to embark on a culinary adventure that takes the beloved fish and chips to new heights. Forget the greasy takeout versions; we're talking about crispy, golden filets of fish paired with perfectly cooked fries, all made effortlessly healthier in the air fryer.
Contents
These crispy, golden fish filets and perfectly cooked chips are a delightful twist on a classic. Enjoy this irresistible combo with a side of tangy tartar sauce for a casual weeknight dinner.
The beer-infused batter envelops the succulent fish filets in this delicious fish recipe. This dish offers a unique twist on traditional fish and chips, making it ideal for a hearty weekend lunch.
This is the ultimate air fryer fried fish recipe that delivers a satisfying crunch without the excess oil. Serve it alongside a zesty coleslaw for a mouthwatering meal.
This recipe combines the convenience of air frying with the classic flavors of fish and chips. The result is crispy fish and fries, served hot and ready to satisfy your cravings.
You can enjoy the best of both worlds with this recipe that pairs fresh fish with the ease of frozen fries. With this dish, you can delight in a quick and wholesome meal any time you desire.
Whether you opt for fresh or frozen filets, this air fryer fish and chips dish guarantees a crispy and wholesome experience. Elevate it with a side of lemon wedges for an extra kick.
You can indulge in crispy perfection with this gluten-free air-fried fish. The unique crunch will captivate your taste buds. It pairs perfectly with a refreshing cucumber salad for a healthy twist.
This air fryer fish and chips recipe will satisfy your guilt-free pleasure. Its light, crispy coating and a side of mixed greens make it a wholesome choice for a well-balanced dinner.
These tender air-fried white fish filets boast a tantalizing aroma and a hint of spice. Plate them alongside a zesty salsa for a unique and flavorful dining experience.
Enjoy a guilt-free version of the beloved fish and chips with this skinny fish recipe. The bonus is a homemade tartar sauce that adds a tangy, homemade touch.
This gluten-free and low FODMAP twist on fish and chips is perfect for those with dietary restrictions. You can savor the comforting flavors without the worry of discomfort.
Spice up your fish and chips game with this zesty pickle aioli recipe. The combination of crispy fish and tangy sauce is a match made in culinary heaven.
Transport your taste buds to Scotland with this Fremont beer-battered fish and chips recipe. The air fryer method ensures a delectably crispy Scottish finish.
Are you craving a quick and easy dinner? Look no further than this fuss-free air fryer fish and chips recipe. It's a family-friendly favorite that satisfies in no time.
This dish boasts crispy, gluten-free fish filets and perfectly air-fried chips. Serve them with a side of homemade tartar sauce for a satisfying, celiac-friendly meal that everyone can enjoy.
Have the timeless appeal of classic fish and chips in this easy-to-make recipe. This dish stays true to tradition, offering a comforting meal to enjoy with friends and family.
With the help of an air fryer in this quick fish recipe, you can transform ordinary fish fingers into extraordinary ones. These crispy bites are perfect for snacking or as a kid-friendly dinner option.
You'll discover the secrets to making the ultimate fish and chips with this comprehensive recipe. Watch the video for step-by-step guidance, and treat yourself to perfection.
For those following a paleo lifestyle, this recipe provides a grain-free and delicious alternative to traditional fish and chips. You can pair it with a side of potato fries for a wholesome meal.
You can dive into a Whole30-friendly version of fish and chips that won't compromise on taste in this healthy fish recipe. This low-carb delight is perfect for those seeking a keto option.
Enjoy the complete fish and chips experience, complete with crispy french fries in this full-meal recipe. This all-in-one dish ensures a delightful and fulfilling meal.
📋 Recipe
Frequently Asked Questions