Doughnuts, traditionally deep-fried, have always captured the hearts of sweet lovers globally. Their plushy core, often flavored with vanilla extract, and delightful toppings or melt-in-your-mouth centers have made them a popular treat.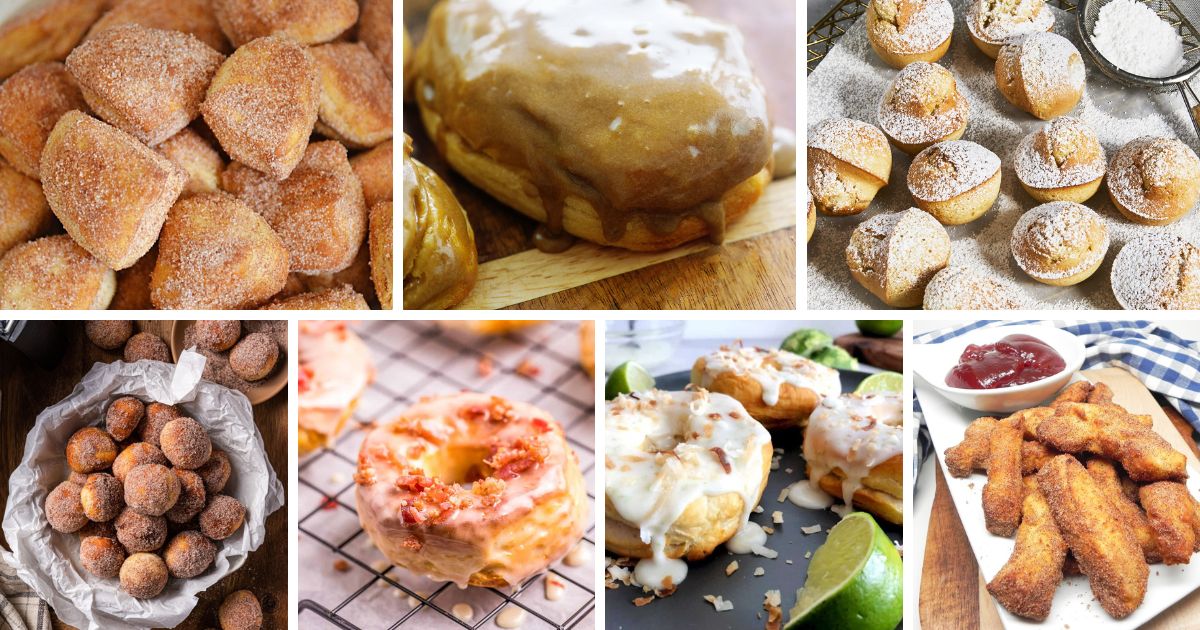 Now, with the invention of the air fryer, we see a transformation in how these treats are made. These modern kitchen tools have reduced our reliance on fatty oils, as they require minimal to no sprays, resulting in lighter, Instagram-worthy donuts. The total time to prepare them is reduced and it bids farewell to tedious clean-ups.
As the global palate leans towards healthier choices, the air fryer ensures that cherished treats like donuts aren't left behind. In this curated list, we cater to a range of preferences.
Whether you're a traditionalist using classic biscuit dough or an experimenter looking to dip into new flavors, here are 29 best air fryer donut recipes.
Contents
Promising a delightful vegan experience, this recipe combines dairy-free milk, berry jam, and a hint of vanilla extract for that perfect touch. Great for breakfast or as a snack, its berry-filled center complements the sugary exterior.
These donuts start with biscuit dough, ensuring a fluffy outcome. Once out of the fryer, dip them in melted butter and then cover with powdered sugar, pairing seamlessly with coffee.
Crafted from crescent roll dough and a fruit jam center, these offer a unique take. The exterior, brushed with melted butter and cinnamon sugar, becomes the highlight during brunches.
These delectable donuts, a staple on Pinterest recipes, are a homage to the classic cinnamon sugar flavor. With a buttery touch, they are perfect for indulgent weekend mornings or shared with friends over tea.
After air frying, dip these in your favorite glaze, from chocolate to strawberry, to suit any palate. Whether you're having them for breakfast or as a dessert, the topping choices enhance each bite.
These bite-sized wonders, infused with cinnamon, offer an indulgent experience. Perfect for snack time or as party treats, their sugary coating pairs beautifully with a cup of hot cocoa.
The fusion of savory bacon with sweet maple brings a unique flavor. Ideal for brunch or a special breakfast, this recipe truly offers a taste sensation unlike any other.
If you're craving tropical flavors, this recipe captures the essence of coconut and lime. You can enjoy them during summer mornings or as a refreshing snack after a day at the beach.
An innovative twist on a childhood favorite, these donuts are filled with fruity jelly. They're fantastic for kid's parties or nostalgia-filled evenings, where peanut butter glaze is the star.
These apple-infused delights offer a fruity bite complemented by a rich brown butter glaze. They're perfect for fall gatherings or paired with a warm drink on chilly nights.
Indulgence without the guilt, these donuts balance cocoa richness with a sugar-free touch. This unique donut recipe is perfect for those watching their sugar intake yet craving a sweet treat.
A harmonious blend of caramel and apple ensures a taste explosion. Enjoy these donuts during autumn evenings or serve at Thanksgiving for a delightful dessert.
These air fryer cereal donuts are a fun and playful recipe that pairs the creaminess of vanilla frosting with the crunch of cereal. Ideal for kids' breakfast or as a unique dessert during sleepovers.
These donuts bring the pleasure of melted jelly encased in a sugary exterior. Dip them into jelly after they're out of the air fryer basket or create a gooey, tangy center.
For chocolate lovers, this recipe ensures a double dose of cocoa goodness. Enjoy them during dessert or surprise a loved one with a chocolatey breakfast.
After frying, brush this playful recipe with melted butter. Its iconic shape and rainbow sprinkles make it a hit among children and a sensation on Pinterest and Instagram. They're also perfect for birthday parties or Disney-themed events.
A savory-sweet combo of bacon and maple promises an unforgettable treat. They're ideal for Sunday brunches or for those moments you crave something truly distinctive.
This healthier take requires an egg for binding and still ensures a delightful experience, combining Greek yogurt and cottage cheese. They're great for fitness enthusiasts or those seeking a lighter treat without sacrificing taste.
These chocolatey wonders promise a rich and intense flavor. We recommend these donut holes for chocoholics, and they pair wonderfully with a glass of milk or coffee.
This simple yet delicious recipe offers a glazed delight. You can enjoy them fresh out of the fryer, during breakfast, or as a quick dessert.
These chocolate frosted air fryer donuts offer a symphony of buttery biscuits and luscious chocolate ensures a treat that's hard to resist. They're perfect for fun, lively celebrations
You can experience the fusion of croissants and donuts with this recipe. These "cronuts," layered with sugar and cinnamon, are ideal for breakfast or when you wish to elevate your dessert game.
Sour cream adds a unique tang to these donuts, beautifully contrasted by the sweet icing. They're perfect for those who appreciate a balance of flavors in their treats.
These speedy vegan treats are irresistibly delicious. Whip up these air-fried donuts in just 15 minutes for a guilt-free indulgence. This recipe is fantastic for quick cravings!
The essence of maple shines in this recipe, providing a rich and aromatic flavor. They're perfect for enjoying with a cup of tea or as an evening dessert.
Bursting with fruity goodness, these donuts promise a blueberry explosion with each bite. They're wonderful for spring mornings or as a vibrant addition to any brunch.
Combining the best of donuts and muffins, this recipe offers a spiced delight. They're great for those mornings when you can't decide between the two favorites.
Experience a touch of New Orleans with these fluffy beignets. You can dip them in powdered sugar, and they're perfect for Mardi Gras celebrations or when you crave a sugary pick-me-up.
This recipe captures the essence of fall with its pumpkin spice and vanilla notes. The fall-inspired sprinkles add a festive touch, making them the ideal treats for autumn gatherings or cozy evenings.
📋 Recipe
Frequently Ask Questions