Air fryers have become a sensation in the culinary realm, with enthusiasts showcasing their delectable creations on platforms like Instagram, Facebook, and Pinterest.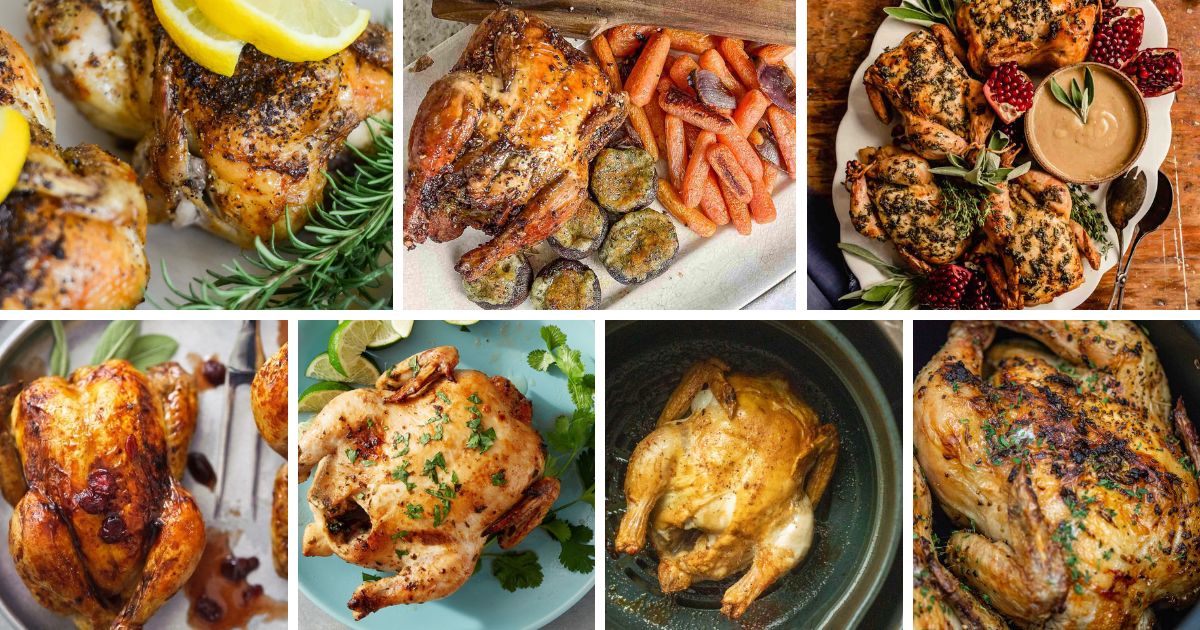 This kitchen marvel offers a healthier twist to frying, making it a favorite for those keen on cutting calories without compromising flavor.
Among the numerous delicacies tailored for this device, the Cornish hen stands out. Its tender meat, which seamlessly absorbs a medley of flavors, provides an impeccable canvas for myriad air fryer recipes.
Preparing a Cornish hen using an air fryer recipe is not just about the end product; it's also about the ease and convenience of the process.
And whether you're working with leftovers or a freshly thawed bird, a few pats with a paper towel ensure it's dry and ready for seasoning. This simple step guarantees a crisp exterior while retaining the juiciness within.
You can use that advice on almost all of the 19 best air fryer Cornish hen recipes mentioned below. Let's get cooking!
Contents
This dish showcases the enticing combination of onion powder, garlic, paprika, rosemary, and thyme. The tender Cornish hen, when air-fried, pairs perfectly with any vegetable side dish.
These hens offer more than just juicy meat; the cornbread stuffing, laced with apple and pecans, provides a nostalgic touch, making it a wintertime favorite.
This dish boasts a blend of tangy cilantro and lime, balanced harmoniously by soy sauce and cumin. It's a culinary masterpiece best savored with a fiber-rich side of rice or salad.
These Cornish hens, reminiscent of mini rotisserie chickens, offer a classic poultry seasoning. Drizzled with olive oil, they're the centerpiece for festive dinners, pairing perfectly with mashed potatoes.
If you're in the mood for a gluten-free feast, this is the one. The blend of spices accentuates the hens, while lemon wedges add a refreshing citrus touch.
This dish brings together a delectably roasted Cornish hen with a medley of sides. The zucchini and mashed cauliflower complement the hen's savory flavors, perfect for a hearty meal.
Crispiness takes center stage in this dish. The Cornish hen, adorned with herbs like thyme and sage, is sure to impress at any gathering, especially next to a cholesterol-lowering green salad.
This dish exudes the essence of a classic rotisserie, highlighted with an everything bagel mix. The buttery elegance is uplifted when complemented by sodium-conscious roasted vegetables.
This recipe captivates with its Middle-Eastern charm. The shawarma spice mix melds wonderfully with the hen, pairing superbly with a side of protein-rich quinoa.
Poultry seasoning shines in this straightforward recipe. The perfectly air-fried hens are a comforting meal when served with a classic green salad or potato mash.
Experience the magic of lemon pepper seasoning on these Cornish hens. A spritz of grapeseed oil ensures a golden finish, making them irresistibly crunchy on the outside.
This recipe offers a symphony of dried herbs that coat the hens to perfection. Paired with the tanginess of lemon and rich garlic cloves, it's a sensory treat.
Inspired by Greek flavors, these hens are marinated in olive oil, garlic, and oregano. The lemon juice brightens the dish, making it ideal for a Mediterranean-inspired meal.
Feel the heat with this peri peri chicken recipe. Using Cornish hens as a substitute elevates the dish, and the spicy rice on the side completes the fiery experience.
Roasted to perfection, these hens bask in a medley of butter, garlic, and lemon pepper. Best reserved for gourmet home dining experiences, they rival any oven-cooked whole chicken.
This dish offers a taste of Hawaiian flair with its unique blend of sweet and savory seasonings. While chicken thighs are the original star, Cornish hens can shine equally bright in this tropical delicacy.
For the health-conscious, this low carb and keto-friendly hen recipe is a delight. The minimalist seasoning lets the natural flavors of the hen shine.
Short on time? This Cornish hen recipe is both quick and delectable. A touch of olive oil and basic seasonings ensure a satisfying meal in minutes.
Easy & Quick Air Fryer Cornish Hen
In the mood for an effortless meal? This hen, seasoned with garlic powder and pepper, pairs wonderfully with crispy fries or a vitamin C-rich salad.
This dish is a testament to wholesome dining. Packed with protein and low in carbohydrates, its array of spices and fresh herbs will keep your taste buds and health in check.
Gluten-avoiders rejoice with this dish. The hint of lemon pepper seasoning, combined with a pat of grapeseed oil, ensures a palatable experience, minus the gluten.
The melange of seasonings, including everything bagel mix, makes this Cornish hen dish unforgettable. It's a delightful choice for those who love a blend of spices.
If you fancy a comforting meal, these hens with cornbread stuffing are the answer. The apple and pecans in the stuffing add a sweet and nutty dimension, perfect for a cozy evening.
For spontaneous dinner plans, this dish delivers. Even when commencing with a frozen bird, the hen emerges succulent, hinting at smoked paprika's gentle touch after a quick thaw in cold water.
If a culinary journey is what you seek, this is your dish. Paired with savory bread pudding, it's a delightful blend of textures, perfect with a glass of calcium-rich almond milk.
A feast for special occasions, this dish boasts hens stuffed with a rich wild rice mix. The cherries and wine vinegar in the stuffing provide a delightful tang.
Marrying health with taste, this no-oil recipe promises a treat. With just poultry seasoning, these hens become a heart-friendly choice, brimming with flavor without excessive calories.
A busy day? This Cornish hen recipe promises a gourmet meal swiftly. Infused with herbs de Provence and butter, it's delightful alongside potassium-rich baked potatoes.
This dish combines the sweet-savory goodness of hoisin with a kick of red pepper flakes. Complement it with cranberry sauce for a balanced palate experience.
📋 Recipe
Frequently Asked Questions