Chicken breast recipes have always been a staple in households worldwide. With the surge in popularity of air fryer recipes, cooking enthusiasts and beginners alike have been exploring innovative ways to cook chicken breasts.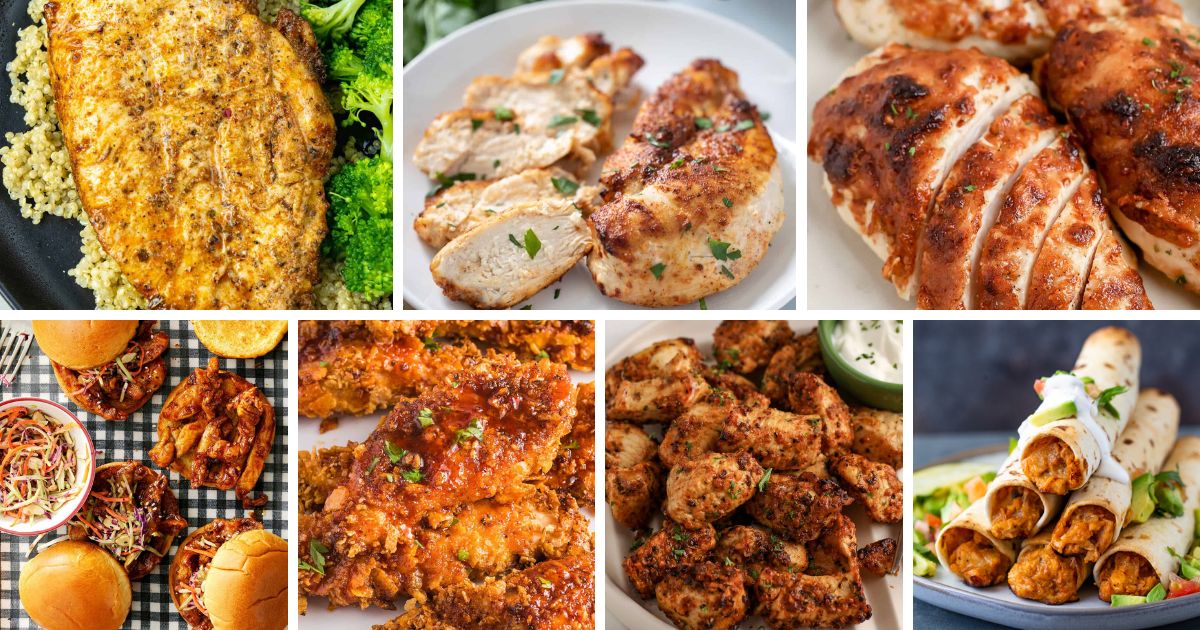 And guess what? You no longer have to thaw your chicken wings from the freezer or refrigerator for hours before prepping. Now, you can simply air fry chicken breast after a quick seasoning in a small bowl. The ease and convenience have made this method an instant hit.
Social media platforms like Instagram and Facebook are buzzing with mouth-watering pictures and rave reviews of these air-fried delights.
Whether you're dressing them with classic herbs or spicing them up with taco seasoning, the versatility is endless. Dive into our collection of 100+ air fryer chicken breast recipes and discover a treasure trove of dishes that promise to upgrade your daily meals.
Contents
This dish combines the sweetness of brown sugar with classic herbs, creating a balance of flavors. It's perfect for a juicy chicken breast dinner that pairs well with pasta or salads.
These chicken breasts, brushed with avocado oil and seasoned with smoked paprika and thyme, are a quick fix for weeknights. We recommend enjoying it with a fresh side of green beans or steamed veggies.
Barbecue lovers, this one's for you. This chicken recipe offers a smoky and tangy bite, thanks to the BBQ rub and sauce. It's an ideal main meal for a summer picnic or weekend lunch.
This recipe boasts a blend of classic herbs and spices for a flavorful kick. It's a versatile dish that's sure to complement any side, from potatoes to coleslaw.
This dish marries succulent chicken with aromatic Italian herbs. Perfect for a midweek dinner, it pairs beautifully with a fresh green salad or steamed veggies.
This recipe offers pure, unadulterated chicken flavor without any breading. It's a protein-packed meal that complements any side dish you're craving.
By using a simple brine before cooking, this dish promises tender and succulent chicken. The mix of garlic salt and paprika ensures a delicious experience with each bite.
This dish offers the ideal combination of juicy chicken breast enveloped in a crispy, seasoned skin. We think it's perfect for those who love a blend of textures and flavors in their meal.
Two staples, chicken and potatoes, come together in harmony in this dish. Seasoned to perfection, it's a filling meal on its own or paired with a leafy green salad.
This simple yet flavorful chicken, spiced with paprika, garlic, and parsley, is every health enthusiast's dream. Serve this dish with a side of veggies for a complete, nutritious meal.
This dish marries the tang of buttermilk with a touch of cajun spice for an unparalleled flavor. We recommend these tenders for game day, served with a side of creamy dipping sauce.
You'll love the cheesy goodness of this parmesan-breaded chicken, seasoned to perfection. Pair this dish with a light salad for a complete, satisfying meal.
These chicken breasts, seasoned with a delicate blend of spices, promise a flavorful bite every time. Serve them alongside roasted vegetables to make it a nutritious meal.
Experience the crunch of perfectly fried schnitzel, a comforting classic. You can enjoy this dish on a bed of mashed potatoes and watch the magic unfold on your plate.
Crunchy on the outside and tender within, these chicken strips are a hit with all age groups. Whip up a tangy dip, and you're in for a treat.
Who doesn't love homemade chicken nuggets? These golden-brown beauties are fantastic for kids and adults alike. Ditch the trans fat of store-bought and go homemade.
A Mediterranean-inspired delight, this dish combines the freshness of tomatoes and mozzarella with seasoned chicken. Drizzle with balsamic reduction for an exquisite finish.
Relish the flavors of meticulously chosen herbs and spices that coat these succulent chicken breasts. They're ideal for a picnic or a quick family dinner.
A zest of lemon elevates these breaded chicken breasts, creating a tantalizing tang. Complement them with a lemon wedge and fresh greens for a balanced meal.
Creamy cheese, aromatic spinach, and savory bell peppers fill these chicken breasts, making each bite a surprise. It's a gourmet experience right at home.
This simple and flavorful chicken dish, with hints of Italian seasoning and garlic, is a weeknight winner. Additionally, its low sodium content makes it a heart-healthy choice.
If you're craving a zesty and vibrant dish, this cilantro lime chicken breast is your answer. It's a refreshing choice and ideal for brightening up a summer meal.
Broccoli and sharp cheddar come together to stuff these chicken breasts, offering a burst of flavor and vitamins. Serve it with a side of quinoa for added fiber.
The richness of mozzarella and the tang of marinara enhance these chicken cutlets. You can serve this chicken with spaghetti for a fully Italian-inspired dinner.
This recipe brings together the sweetness of maple with the tanginess of BBQ for a chicken that's irresistibly flavored. Try serving this alongside grilled corn on a cozy evening.
Bacon adds a smoky edge to these chicken breasts, making them irresistible. With minimal prep, they're a surefire hit for any occasion.
This chicken breast is the epitome of simplicity, yet it's brimming with taste. A go-to when you're seeking a wholesome meal without the fuss.
Sweet honey melds with tangy mustard to create a coating that's simply addictive. Serve these chicken breasts with steamed veggies for a wholesome meal.
Turn up the heat with chipotle-seasoned chicken breasts that pack a punch. The adobo sauce offers a smoky depth, making it a favorite for spice enthusiasts.
This chicken breast, marinated in a mix of balsamic vinegar and coconut aminos, offers a unique flavor twist. It pairs beautifully with roasted potatoes or a light salad.
Arguably better than its fast-food counterpart, this sandwich offers juicy chicken in a fluffy bun. Pair it with some fries, and you've got a meal worth talking about.
Lightly breaded and seasoned, these chicken cutlets are a dinner staple. The crispy exterior and juicy inside make it a family favorite especially when complemented with mashed potatoes and gravy.
A harmonious blend of chili, paprika, and oregano elevates these chicken breasts to gourmet status. Serve them with a side of roasted veggies like broccoli and bell peppers for added flavor.
Spice up your dinner with these crispy chicken breasts that boast a rich blend of seasonings. The hint of cayenne gives it an extra kick that flavor-seekers can't get enough of.
Simplicity at its best, these buttery chicken breasts are seasoned just right. With minimal prep, they're ideal for those busy weeknights.
This dish uses a simple brine and seasoning to enhance the natural flavors of chicken. Enjoy a low-calorie, reduced saturated fat meal and save leftovers for chicken salad tomorrow.
This recipe offers a robust spice mixture, including oregano, basil, and thyme, for a tantalizing flavor. It's perfect when paired with a light salad, keeping an eye on those calories.
This chicken breast is seasoned with classic spices and smothered in BBQ sauce. This recipe is ideal for weekend BBQ cravings without the long wait, and pairs beautifully with coleslaw.
These breaded chicken filets are the epitome of crunch and flavor. Serve them hot, perhaps with a side of green beans, and cherish the delightful contrast of textures.
This recipe combines the rich taste of parmesan with a garlicky mayo layer. Perfect for a weekend treat, it's divine when paired with sautéed veggies or a simple pasta.
The delightful pairing of honey and garlic brings out a sweet yet savory flavor profile in this dish. Pair it with steamed rice for an easy weekday dinner, and savor every bite.
This dish combines the savory flavors of ranch with tender chicken breast. It's perfect for a weekday dinner, as the seasonings create a comforting, familiar taste.
This recipe offers tender and juicy chicken in a flash. If you're craving a quick yet satisfying meal, this dish pairs wonderfully with a light salad or roasted veggies.
Marinated in yogurt and spices, this chicken is juicy and tangy. It's a refreshing change from your regular chicken dishes and goes wonderfully with a cucumber salad.
This chicken dish features the zesty punch of lemon pepper. Great for those who love a citrusy twist to their meals, it's delightful when served with asparagus or green beans.
This dish is a delightful blend of zesty orange and savory chicken pieces. It brings the essence of your favorite Asian restaurant home, and it pairs wonderfully with jasmine rice.
Do you appreciate the richer taste of bone-in chicken? This dish captures that essence, making it a prime choice for dinner parties. Serve it with roasted veggies for a complete meal.
This stir fry brings together a beautiful mix of chicken and veggies in a flavorful sauce. It's the perfect way to use up leftovers, and it's fantastic when draped over noodles or rice.
Marinated in a blend of herbs and seasonings, this chicken promises a burst of flavor. Ideal for health-conscious individuals, it contains fewer calories yet doesn't compromise on taste.
This chicken recipe highlights the aromatic essence of rosemary and lemon. Perfect for a romantic dinner or family gathering, the dish is a treat when paired with roasted potatoes or a fresh salad.
This dish combines juicy chicken breasts with a zesty lime and spice marinade. We recommend this recipe for those who enjoy a hint of Southwest flavor in their meals.
This flavorful chicken curry, infused with birds-eye chillies and aromatic spices, is a must-try for curry enthusiasts. Serve this curry with rice and fresh coriander for a balanced meal.
This sandwich features crispy chicken seasoned with a mix of spices, sandwiched between fluffy buns. Top it off with pickles and a touch of hot sauce for an added kick.
The combination of sweet and tangy BBQ sauce with the garlic hints creates a savory delight. It's ideal for BBQ lovers seeking a simple yet satisfying meal.
Stuffed with spinach, cheese, and sun-dried tomatoes, this chicken dish offers a creamy and tangy blend. It's a gluten-free treat that's both hearty and flavorful.
Juicy chicken breasts are seasoned with homemade Italian dressing mix and smoked paprika. Italian chicken in the air fryer is fantastic for those evenings when you crave a taste of Italy but have little time.
Inviting cream cheese, crispy bacon, and a generous helping of colby jack cheese makes this dish truly indulgent. It's the perfect, creamy comfort food for a cozy dinner night.
Imagine the flavors of a pizza tucked inside a tender chicken breast. If you're in the mood for Italian with a twist, this dish won't disappoint!
These bite-sized chicken pieces are richly seasoned with cajun spices. They make for a fiery snack that's perfect for those who love a bit of heat.
These crispy chicken bites, coated in a mix of spices and panko breadcrumbs, are simply irresistible. Dip in your favorite sauce and enjoy a snack like no other.
Tender chicken meets smoky BBQ flavors in this easy-to-make dish. It's the ideal treat for BBQ lovers wanting a quick yet delicious meal.
The nutty pecan crust paired with seasoned chicken promises a delightful crunch in every bite. Serve this dish with a fresh table salad and a creamy side like mashed potatoes for a complete meal.
This dish brings the taste of Hawaiian BBQ right to your table. The combination of sweet and savory flavors makes for an unforgettable meal that both kids and adults love.
As the name suggests, this chicken offers a tender and succulent bite. If you're in the mood for something irresistibly soft and flavorful, this is it.
Marinated chicken strips paired with vibrant bell peppers make these fajitas a colorful feast. Wrap them in tortillas and top with guacamole for a true Mexican experience.
Sweet maple syrup meets savory chicken tenders in this delightful pairing. They're perfect for brunch or as an innovative dinner starter.
For those who enjoy a kick in their meal, this spicy chicken sandwich won't disappoint. Pair it with coleslaw for a satisfying crunch.
The warm hints of jerk seasoning coupled with sweet brown sugar make this grilled chicken a favorite. It's perfect for those nights when you want a taste of the Caribbean.
For those nights when you're short on time, this dish offers a quick yet delicious solution. Just add your favorite dip like BBQ sauce or ranch dressing for a quick meal.
The blend of tender chicken and crisp broccoli makes for a balanced meal. It's a wholesome dish that goes well with steamed rice or a light salad on the side.
Succulent chicken glazed in a rich teriyaki sauce makes this dish a favorite. Paired with steamed rice, it's an Asian cuisine delight you won't forget.
This sandwich boasts a spicy kick from Frank's Wing Sauce and is balanced with a cool ranch slaw. A buffalo chicken sandwich is also deal for those who enjoy contrasting flavors in their meals.
Experience a fusion of creamy and spicy with this bang bang chicken recipe. We recommend serving this air fryer dish with a cool dipping sauce to balance the heat.
These bite-sized popcorn chicken pieces are the perfect blend of crispy and tender. Whether it's game day or a family movie night, they're a sure hit.
The spicy and aromatic flavors of this jerk chicken will transport you straight to the Caribbean. It's ideal for those evenings when you're in the mood for something exotic.
These chicken kebabs are marinated in rich spices and Greek yogurt for an authentic tandoori flavor. They're the perfect addition to any BBQ or picnic.
The aromatic allure of crispy onions elevates this air-fried chicken. Ideal for an intimate dinner, it pairs wonderfully with mashed potatoes or green beans.
This dish combines tender chicken breasts with a creamy cheddar and cream cheese filling, all infused with the rich flavor of BBQ sauce. Serve it with a side salad for a wholesome meal.
These mayo-mustard glazed chicken breasts are a delightful twist on the classic. They're ideal for a Sunday brunch or a picnic in the park.
Use your trusty air fryer to iIndulge in the deep flavors of this chicken dish, which combines savory soy sauce, tangy rice vinegar, and sweet brown sugar. It's a perfect choice for those craving a flavorful Asian-inspired meal.
These tender chicken pieces, seasoned with zesty taco spices, make the ideal filling for your taco night. Top the tacos with cheese, salsa, and guacamole for a complete fiesta!
Olive oil and a hint of thyme bring out the natural flavors in this simple yet tasty chicken recipe. Pair it with steamed vegetables for a balanced, healthful meal.
Healthy doesn't mean bland, and these chicken tenders prove it. For those tracking points or simply seeking a guilt-free treat, this is the dish to try.
Spice up your mealtime with these chicken cutlets seasoned with bold Cajun flavors and a squeeze of fresh lime juice. It's perfect when paired with a cool, creamy dipping sauce or a fresh salad.
These thinly sliced chicken pieces ensure quick cooking and consistent flavor. They're a go-to for busy weeknights or when craving something light and tasty.
A nostalgic nod to a classic, this shake and bake method results in juicy chicken with a perfect crunchy crust. A side of mashed potatoes or green beans would complement it beautifully.
This crispy chicken, coated in a seasoned panko breadcrumb mix, offers the ideal balance of flavors with every bite. It pairs wonderfully with a cool, tangy salad or roasted potatoes.
Satisfy your fried chicken cravings with this recipe that marries the richness of buttermilk with a blend of flavorful seasonings. It's perfect for a friendly picnic or family get-together.
These chicken bites, infused with flavors like sesame, garlic, and maple syrup, transport your taste buds to Asia. The touch of sriracha adds a delightful kick, ideal for appetizer lovers.
This recipe brings out the savory richness of chicken enhanced with soy sauce. It might become your new favorite for dinners, especially since it pairs well with steamed rice or fresh greens.
These chicken rissoles are a delightful blend of meat and spices, air-fried to perfection. Serve them with a tangy dip or a fresh side salad.
Bite into these tacos filled with succulent Korean-style chicken, crisp lettuce, and fresh cucumbers. A dollop of Kewpie Mayonnaise rounds out the flavor palette beautifully.
Rolls filled with chicken, zucchini, and corn take center stage in this dish. The Vegemite adds a unique depth of flavor, making it an Aussie-inspired treat.
Enjoy the vibrant flavors of Southeast Asia with this chicken satay, marinated in a blend of lime, ginger, and turmeric. The peanut satay sauce offers a creamy, nutty accompaniment.
Golden and crispy, these chicken nuggets infused with butter and barbecue sauce are an indulgent treat. Dip in sour cream to add an extra layer of flavor.
These empanadas, filled with seasoned chicken and hints of cumin and paprika, are a smoky delight. The inclusion of olives adds a tangy twist to each bite.
Experience the best of Japanese flavors with these chicken tenders. Their delightful crunch makes them a preferred choice for both kids and adults alike.
This chicken, drenched in spicy jerk marinade, promises a Caribbean feast at home. It's sure to be a hit among those who love bold, spicy flavors.
Crispy on the outside and juicy inside, this chicken katsu is a Japanese delight. Paired with tangy tonkatsu sauce, it offers a gastronomic experience.
This dish is a gourmet's dream, with chicken breasts wrapped around ham and swiss cheese, all seasoned to perfection. A touch of Dijon mustard adds depth to the flavors.
Relish the robust flavors of this classic Indian dish, with chicken marinated in a blend of spices, yogurt, and lemon. Serve it with naan or basmati rice for a complete meal.
Recreate the iconic KFC flavor at home with this seasoned chicken recipe. The blend of herbs and spices promises a finger-licking experience.
This dish brings together tangy orange juice with a hint of spice and sweet honey. Ideal for those nights when you want a delightful fusion of flavors, it's a refreshing twist on classic chicken dishes.
These bites are a perfect blend of crunchy breadcrumb exterior and juicy chicken interior, seasoned with Italian spices. Dip them in your favorite sauce for a casual snack or appetizer.
Infused with a mix of aromatic spices like cumin and allspice, this chicken breast is both flavorful and crispy. It's ideal for a hearty dinner, especially when accompanied by roasted veggies.
This dish combines juicy chicken chunks with crisp, colorful vegetables. It's a one-pot wonder, making clean-up a breeze after a hearty meal.
Transport your taste buds to the Middle East with this flavorful chicken shawarma. Serve it with some tzatziki and pita for an authentic experience.
This recipe brings together the sweet tang of honey and the sharpness of Dijon mustard, coating perfectly cooked chicken breasts. Serve alongside roasted vegetables or a fresh green salad.
A keto-friendly delight, this chicken breast coated with ranch dressing mix, mayo, and parmesan is a mouthful of flavor. It's a great dinner option for those following a low-carb lifestyle.
Perfectly seasoned with herbs and spices, this chicken breast is both juicy inside and crispy outside. It's a versatile dish that pairs well with almost any side.
Do you love the fiery kick of blackened seasoning? These chicken tenders, seasoned to perfection, offer a burst of flavors, especially when dipped in your choice of sauce.
This dish balances sweet brown sugar with smoky paprika, enveloping the chicken breasts in a rich flavor profile. Add some roasted potatoes or a light salad for a complete meal.
This sandwich takes the classic flavors of General Tso's chicken and introduces them to a soft brioche bun. The broccoli slaw, enhanced with almonds and hoisin, adds a delightful crunch.
These peppers, generously stuffed with chicken and pesto, make for a hearty meal. With the creamy Havarti cheese, they become a melt-in-your-mouth delicacy.
Dive into the authentic flavors of Korean cuisine with this soy garlic fried chicken. The balance of savory, sweet, and spicy ensures each bite is an explosion of taste.
These crispy chicken taquitos are a surefire hit at any gathering. Dip them in guacamole or salsa for a satisfying crunch and burst of flavor.
A simple yet delectable dish, this chicken breast is seasoned minimally with salt and pepper, letting the natural flavors shine. Pair with a crisp salad for a light lunch.
In search of a nutritious dinner option? This mix of chicken and colorful veggies, seasoned with aromatic spices, is both healthy and satisfying.
The allure of this chicken lies in the heart-melting combination of bacon, cheddar, and BBQ sauce. It's a dish that promises indulgence in every bite.
This recipe combines tender chicken chunks with sweet chili sauce and aromatic Herbs de Provence. Enjoyed with grilled veggies, it's the perfect dish for a light summer feast.
These chicken tenders, coated in a crispy cornflake breading, offer a delightful crunch. Dipped in spicy, sweet honey sauce, they become an irresistible snack or entrée.
This dish showcases crispy chicken bites drenched in a savory honey sesame sauce. With a hint of Gochujang and garlic, it pairs beautifully with steamed rice or noodles.
Succulent chicken pieces are enhanced with a tangy lemon sauce in this recipe. Served with a sprinkle of green onions, it's a refreshing meal ideal for spring or summer evenings.
📋 Recipe
Frequently Asked Questions