Ovens have long been the traditional choice for baking, but air fryers are swiftly changing the baked goods landscape. With the convenience of rapid hot air circulation, air fryers adeptly handle cake batter, turning it into a moist, unfrosted cake in a fraction of the time.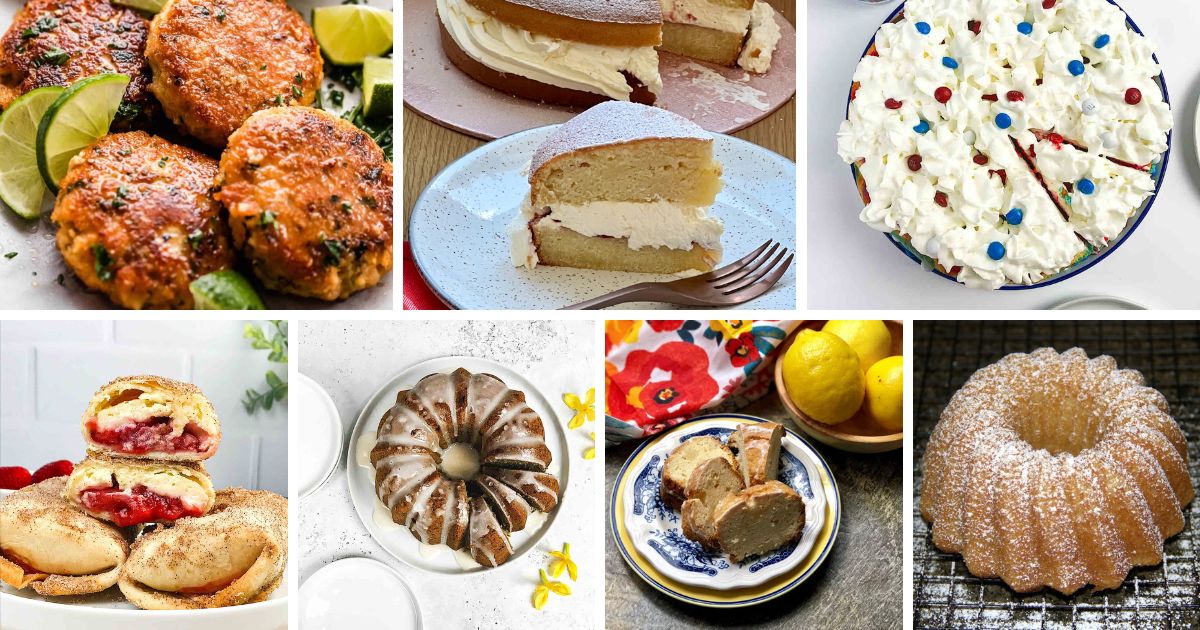 Gone are the days of meticulously adjusting oven temperatures; with a whisk, flour, and a hand mixer, one can effortlessly blend in ingredients like salt, baking soda, eggs, and various powders, including cocoa powder, to create a batter ready for the fryer.
The marvel of air-fried cakes is not just in their fluffy texture but also in their lower carbohydrates content, making them an Instagram-worthy sensation. While the aroma of both dessert and savory cakes baking is undeniably comforting, the efficiency and health benefits of using air fryers are a testament to modern culinary evolution.
Here are 27 of the best air fryer cake recipes you can try today!
Contents
This dish utilizes your favored boxed mix to offer a dessert with fewer calories. It's simple and perfect for those sudden dessert cravings or when time is limited.
Made with butter, cocoa, and vanilla extract, this recipe delivers a chocolaty richness. The buttercream frosting provides a luxurious touch for celebrations.
A delightful layer cake that marries fluffy sponge with a creamy strawberry middle. Its origins are British, and it's absolutely delightful with afternoon tea.
This cake, teeming with fresh carrots and a hint of citrus, has a good dose of fiber. This carrot cake is ideal for spring or when you seek a healthier dessert.
These savory salmon cakes are not just keto-friendly but also protein-rich. The spicy sriracha mayo complements them perfectly, making a memorable meal.
This timeless cake, with its fluffy texture and buttery goodness, requires minimal ingredients. Paired with coffee, it's the essence of simplicity.
Blending butter and margarine, this zesty cake is unique. It boasts a tangy flavor from lemon juice and is best served at room temperature.
A fusion of lemon and vanilla gives this cake its special edge. Pour some tea, and you have the makings of a cozy afternoon.
Rich in cocoa and vanilla, this vegan treat ensures even those watching cholesterol can indulge. Almonds add a crunch, making it universally appealing.
This patriotic cheesecake is a festive blend of creamy texture and vibrant colors. It's the ideal centerpiece for national holiday celebrations.
This soft and moist chocolate cake has a surprising twist with apricot jam. Paired with fresh fruit, it's a heavenly balance of flavors, making every bite memorable.
These crab cakes bring the ocean's bounty right to your plate. Enhanced with Old Bay and Dijon mustard, they're a perfect choice for seafood lovers.
At the heart of this recipe is the pure, comforting flavor of butter. It ensures a fluffy texture that complements a warm cup of tea.
Rich in fiber and protein, this banana cake offers a delicious blend of ripe bananas and butter. A slice goes well with a chilly morning coffee.
This apple cake prioritizes the natural sweetness of apples. The low sodium content complements the home-baked essence, making it a heart-healthy choice.
These fish cakes showcase fresh cod filets and a dash of cilantro. With a side of lime, it becomes a carbohydrate-light treat suitable for any meal.
This recipe is a Pinterest favorite for a reason. The funnel cakes are light and fluffy, and when whisked with powdered sugar, they resemble fairground perfection.
Creamy cheesecake inside a tortilla makes this dish stand out. A touch of strawberry pie filling elevates it, and it's even better when shared on Facebook with friends.
Perfect for breakfast or a sweet snack, these donuts are a delightful combination of cinnamon, nutmeg, and vanilla. Dip them in your favorite glaze or icing for added sweetness.
No need to purchase any exotic ingredients; transform your boxed cupcake mix into these airy delights. Dress them up with frosting and sprinkles for a personalized touch.
This two-layered coffee cake brings together the sweetness of cinnamon and brown sugar with a buttery texture. Pecan garnish adds a nutty crunch that elevates every bite.
When you're craving a dessert that's both rich and oozy, these molten lava cakes are a dream come true. Every spoonful promises a blend of warm chocolatey goodness.
A hearty dessert that showcases a blend of dried fruits and subtle spices. This cake's unique mix of gluten-free and almond flours ensures every slice is moist and flavorful.
With ripe bananas as the star, this cake is a delightful twist on classic banana bread. Cinnamon adds a spicy warmth, perfect for cozy evenings.
Craving a quick chocolate fix? This mug cake, rich in cocoa and sweetened with honey, is your answer. Enjoy it as a solo treat or share with a loved one.
Turn leftover mashed potatoes into crispy, cheesy cakes. This cake is Infused with bacon and green onions, they're a savory snack that pairs well with a tangy dip.
These mini cheesecakes are the epitome of creamy decadence. Whether topped with sour cream, powdered sugar, or fruit, they're a delightful end to any meal.
📋 Recipe
Frequently Asked Questions