Looking for a fresh approach to your regular baked potato recipe, or want to maximize your air fryer's use? Explore our collection of 33 flavorful and easy air fryer baked potato recipes that will transform your mealtime.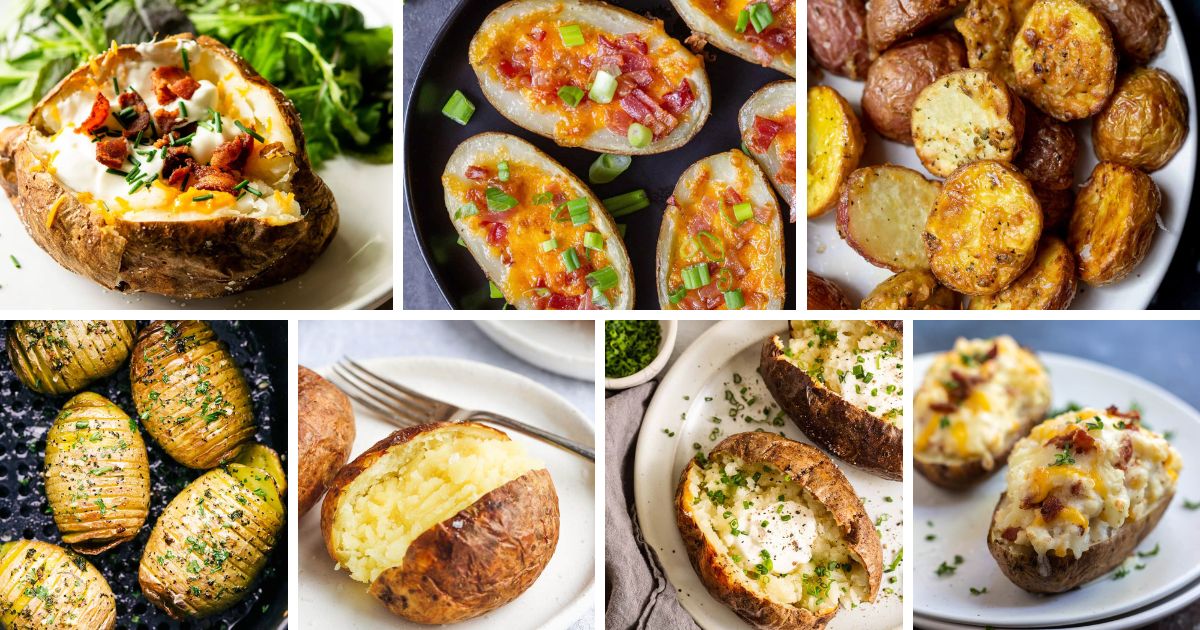 Air fryers - with their ability to create baked potatoes sporting crispy skins and fluffy insides - have revolutionized our kitchens by making delicious meals with minimal effort.
Our recipes, offering a broad spectrum of flavors and cuisines, can convert a simple potato into a gourmet dish in less than an hour total, perfect for busy days or unexpected dinner parties.
These recipes are not just tasty but also healthy, packed with fiber and carbohydrates, low in calories and sodium, and rich in vitamins, especially vitamin C.
So, don't hesitate to uncover your air fryer and start discovering these incredible baked potato recipes today.
Contents
When russet potatoes mee olive oil, salt, and pepper a culinary joy ensues. The outcome is an irresistible combination of a crispy exterior and a fluffy, delectable interior.
This recipe combines russet potatoes, bacon, shredded cheese, and sour cream that offers a crispy exterior and a hearty filling. The outcome will make a perfect and satisfying dinner.
This customizable baked potato is the result of simplicity meeting flavor. It's cooked flawlessly to make it perfect canvas for your favorite toppings.
With just Russet potatoes, olive oil, and salt, this recipe complements an array of toppings, from bacon bits to jalapenos. The simple cooking method delivers crispy skin and a fluffy interior.
Whether you prefer classic sour cream or chives for toppings, this recipe is an enjoyment for potato lovers. Serve these potatoes with grilled ribeye and air fryer asparagus for a total steakhouse dinner experience.
When seeking a quick and convenient meal, this solution delivers crispy, salty exteriors paired with fluffy, tender interiors. It's prepared faster than traditional oven baking that produces perfect potatoes every time.
Are you in the mood for a savory side dish? These Idaho or Russet potatoes are cooked until fork-tender and topped with a dollop of butter or sour cream.
These russet potatoes transform into crispy, tender delights when prepped with olive oil and sea salt. It's quick and satisfying dish that can be served as a flavorful main course or side.
This recipe creates the epitome of baked potato perfection. They are dressed with peanut oil and coarse sea salt to deliver an irresistible mix of textures and flavors.
If you're craving for a warm and versatile meal, this recipe is the solution. These are baked potatoes topped with greek yogurt or guacamole that will surely please your taste buds.
When russet potatoes meet the magic of an air fryer, they're transformed into a crispy, golden satisfaction. It is best when served with cheese, bacon, and sour cream.
These russet potatoes are seasoned to perfection and cooked to create an ideal side dish. When cooked right, they offer a pleasurable burst of flavor with every bite.
This recipe promises an irresistible blend of textures – crispy exterior and fluffy interior. The addition of toppings like sour cream, cheese, bacon, or jalapeños elevates them to an unforgettable side dish.
These crispy and cheesy baby potatoes are infused with Italian seasoning and parmesan cheese. It's a simple yet irresistible side dish that is full of flavor and texture.
Your palate awaits a tasty fusion of tender baked potatoes and cheesy spinach-artichoke dip. These stuffed potatoes, topped with additional mozzarella, promise a melty, savory finish.
If convenience had a taste, it would be these crispy-skinned, fluffy-centered potatoes. This simple dish requires no piercing before cooking, making it an easy and satisfying addition to any meal.
When you're after a meal that's both delicious and easy, this is the perfect choice. This recipe pairs excellently with an array of vegan toppings for a customizable feast.
These potatoes, filled with a creamy mix of cheddar cheese, sour cream, and butter, are a gem. They are topped with additional cheese and bacon, offering a savory crisp finish.
When hunger strikes, these stuffed potatoes come to the rescue with their creamy sour cream, crispy bacon, and vibrant green onions. It's an easy, flavorful meal that's sure to satisfy!
This foolproof method delivers baked potatoes with perfect texture. With a myriad of topping possibilities, they can easily transform from a tasty side dish to a satisfying main course.
This infused with fresh rosemary and garlic potatoes deliver flavorful bites. They are crispy on the outside and tender on the inside, making an irresistible side dish or a light main course.
These energy-efficient air-fried potatoes that feature crispy golden skin and fluffy, buttery insides offer a hassle-free gourmet pleasure. With personalized toppings and pro tips for perfection, they redefine the traditional baked potato experience.
If you desire a hearty, nutritious meal, these tender sweet potatoes come to the rescue. They offer a perfect blend of flavors, complemented by various toppings and stuffers for a customizable experience.
With a variety of toppings and the convenience of reheating, this recipe provides a quick yet satisfying meal. These golden-brown potatoes are cooked to perfection for a fluffy interior with a crispy skin.
These Idaho potatoes are transformed into a crispy treat with a little seasoning and less than 45 minutes total prep time . The variety of toppings caters to both traditional and adventurous palates.
This beginner-friendly guide offers a journey into the world of air-fried potatoes, including baked potatoes, French fries, and chips. It also shares insightful tips for achieving the perfect crispy texture.
When prepared with an air fryer, these hasselback potatoes offer a golden crust and juicy center. They are infused with garlic butter and herbs for a healthier and flavorful side dish alternative.
These baked potatoes, boasting a crispy exterior and fluffy interior, are perfectly seasoned for a delicious experience. They present a healthier spin on the traditional baked potato dish.
This twice-baked potato recipe, rich with diced chicken and bacon, offers a healthier take on classic cheesy skins. You can enjoy it as a satisfying meal or a delicious side.
This quick and straightforward recipe offers a delectable sweet potato loaded with butter, honey, and a sprinkle of cinnamon. It's an easy air-fryer method that adds a comforting touch to any meal.
These twice-baked potatoes are the combination of crispy skin and creamy, cheese-filled centers. When served as a side, they bring an elate crunch and rich flavor to any meal.
When game night rolls around, these healthier, cheese-filled potato skins are a crowd-pleaser. They are sprinkled with crispy bacon and green onions for a satisfying crunch and a burst of flavor.
In this recipe, potatoes achieve a pleasing crunch outside and creamy softness inside. The seasoned sour cream adds an extra layer of indulgence, making it a standout side or satisfying main course.
📋 Recipe
Frequently Asked Questions