In the pursuit of a healthy snack that pleases both adults and kids alike, the quest often ends at air fryer apple chips. These delightful munchies have emerged as a wonderful alternative to traditional potato chips, aligning perfectly with a low calorie diet.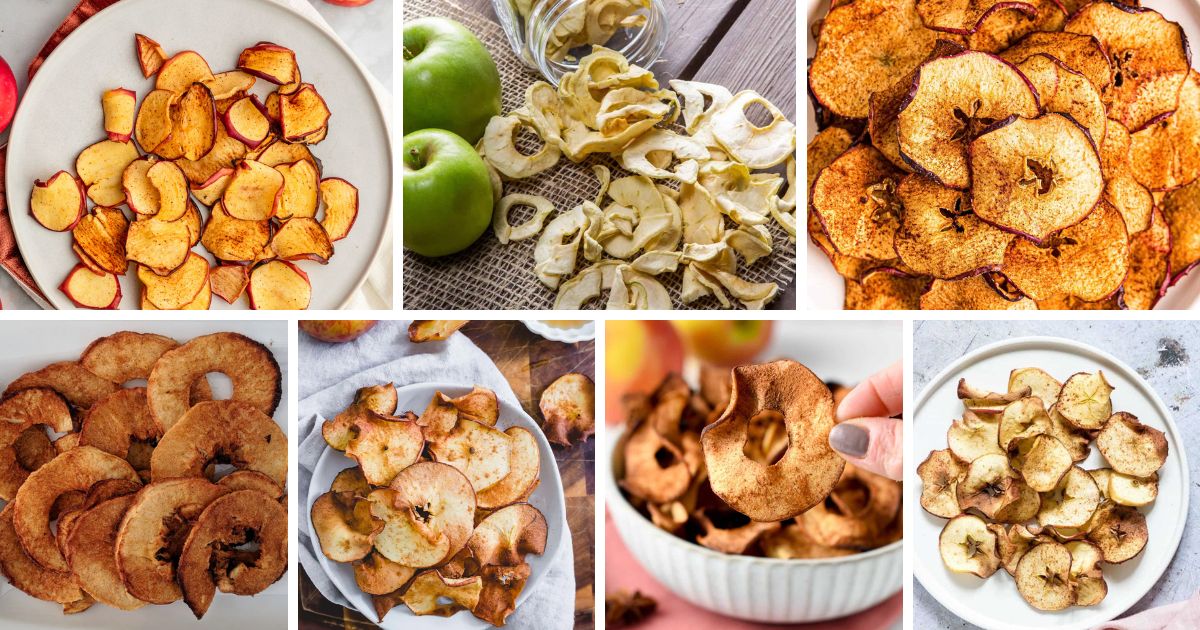 Their enticing crispiness and natural sweetness can easily become a family favorite, giving everyone a guilt-free reason to reach for another handful. They not only please the palate but also are a gluten-free option that you can include in your daily diet.
Preparing them in batches allows for a fresh and warm snack anytime, with the added convenience of having them ready in no time.
Forget the long bake times associated with conventional methods, as these apple chips quickly crisp up to perfection in the air fryer. Embrace this delightful journey of creating a healthy and delicious snack that brings joy to both kids and adults with each crunchy bite.
Contents
This dish showcases the simple elegance of a fresh apple. You can enjoy its natural sweetness, perhaps with a hint of optional cinnamon for added warmth.
This recipe beautifully melds the sweetness of red delicious apples with a touch of sugar and cinnamon. It's a delightful treat that'll remind you of cozy autumn evenings.
These apple chips are seasoned with a bold combination of cinnamon and salt. They're an ideal snack when you're looking for a quick, flavorful treat.
Simplicity shines in this recipe, highlighting the apple's natural flavors with a hint of cinnamon. It's a perfect guilt-free snack for any time of day.
These chips bring out the best in Red Delicious or Honeycrisp apples. A touch of optional cinnamon makes them especially mouthwatering for crisp-lovers.
This dish uses crisp apples like Fuji or Honeycrisp, accentuated by aromatic cinnamon. They're an excellent choice for a light yet flavorful snack.
Do you like spicy food? This recipe gives apples a zesty twist with chile-lime seasoning, making them an adventurous snack you'll crave.
These chips are a medley of aromatic spices from cinnamon to cardamom. You can serve them with honey or vanilla-flavored yogurt for an exotic dessert experience.
This dish masterfully combines apple's natural juices with the classic duo of sugar and cinnamon. They're an irresistible snack, especially on chilly afternoons.
The recipe focuses on the essence of red apples, delicately flavored with a pinch of cinnamon. They're an ideal choice for those seeking a simple, dried fruit delight.
This recipe pairs sweet-tart apples with rich maple syrup and cinnamon. It's a snack that evokes the essence of a forest in autumn.
Using minimal ingredients, this recipe emphasizes the fresh taste of a Pink Lady apple. The light sprinkle of cinnamon sugar adds a hint of sweetness.
These chips artfully combine the flavors of any apple variety with robust cinnamon. They're a delightful treat without compromising your diet goals.
These chips are reminiscent of a classic apple pie, thanks to the rich apple pie spice. The touch of kosher salt enhances the inherent sweetness of the apples.
Relish the simplicity of Pazazz apples elevated by warm cinnamon. They're an effortless treat for those seeking uncomplicated flavors.
These Granny Smith apple chips, seasoned with cinnamon and salt, are a vegan's dream. They offer a tangy-sweet balance that's hard to resist.
This recipe offers a blend of apple sweetness, aromatic cinnamon, and a touch of sugar. If you're health-conscious, these chips are your perfect companion.
Here, the apples undergo a unique pretreatment, followed by a sprinkle of cinnamon. It's a unique method that ensures rich, intensified flavors.
A fusion of apples, cinnamon, and monk fruit creates a sweet and healthy treat. The oil spray gives them a delightful crispiness without the guilt.
Try The sweet and tangy flavors of Granny Smith apples draped in indulgent caramel. They're a dessert-like snack that's both luscious and crunchy.
📋 Recipe
Frequently Asked Questions