In recent years, the baking world has witnessed a significant shift from traditional oven-baked delights to the innovation of air fryer recipes.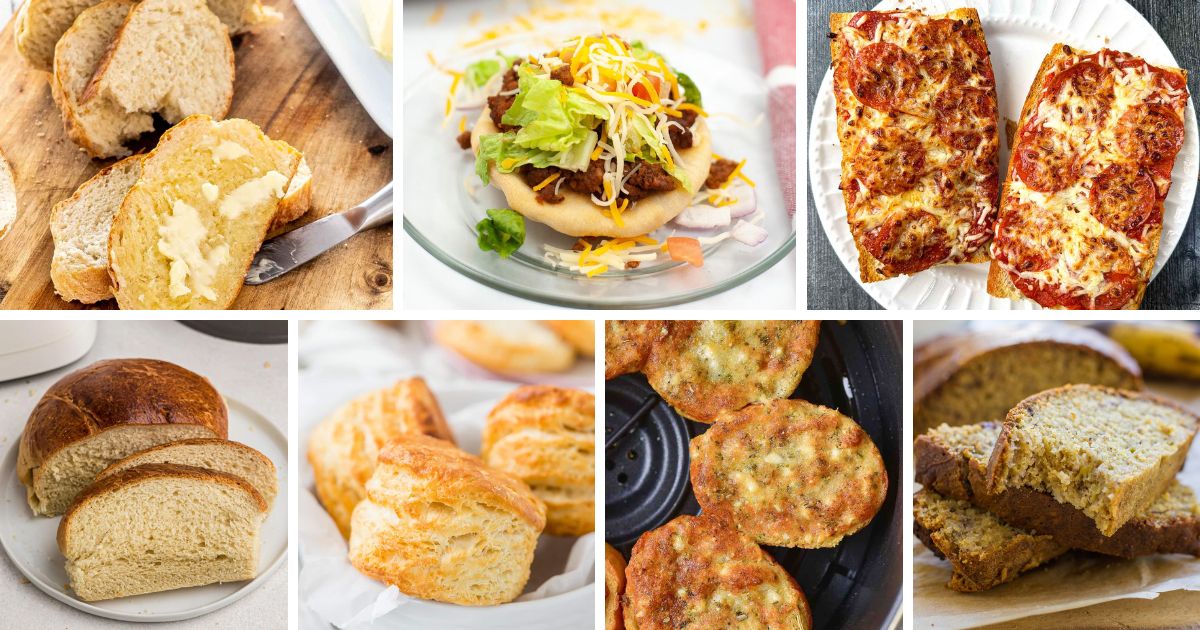 As many have made the transition from the lengthy preheating of ovens and long cooking times, air fryers have emerged as a quicker, more energy-efficient cooking method.
And if you've ever scrolled through Facebook or Instagram, you've likely seen an influx of mouthwatering air fryer dishes shared by home cooks and professional chefs alike.
With their ability to produce crispy, oven-like results without the actual oven, it's no wonder these countertop devices have gained massive popularity, even for hard-to-make items like bread!
In this article, we'll focus on 27 tasty air fryer bread recipes that are perfect alongside tantalizing appetizers and hearty main dishes.
Contents
This dish combines simple ingredients like all-purpose flour, sugar, and warm water to deliver a classic bread flavor. With a golden crust and soft inside, it's perfect for sandwiches or a buttery toast.
This recipe uses Doves Farm bread flour and quick yeast for a wholesome touch. The subtle addition of oil ensures a soft, whole wheat taste, ideal for any sandwich or meal.
Do you love the simplicity of no-knead bread? This recipe offers that with minimal ingredients. Best enjoyed warm from the air fryer, it pairs perfectly with spreads or cheeses.
These bread rolls have a delightful blend of plain flour, butter, and coconut oil. Their soft texture makes them an excellent side for dinners or as a breakfast treat.
This garlic bread combines the rich flavors of butter, parmesan cheese, and herbs like parsley. It's a mouthwatering side dish, perfect to complement any pasta or meal.
These milk buns, enhanced with bread flour and sugar, offer an eggless option. Soft and fluffy, they're great with a variety of spreads or just by themselves.
These rolls are moist and fluffy, owing to the addition of olive oil and egg. They're best served fresh out of the air fryer with a spread of your choice.
This bread loaf boasts the subtle warmth of nutmeg. It's a flavorful twist on a classic bread, wonderful with butter or as toast for breakfast.
Do you like banana bread with a twist? This moist banana bread can be customized with berries, chocolate, or even coconut, ensuring every bite is packed with flavor.
This baguette garlic bread is a symphony of flavors with garlic, dried parsley, and optional parmesan cheese. Slice it up for appetizers or serve alongside a main course.
This dish boasts cold butter and full-fat milk to create flaky and soft biscuits. Serve them warm with a drizzle of honey or jam for a cozy breakfast treat.
These rolls begin with a roux starter and are enriched with milk and butter. Perfect for your dinner table, they pair well with almost any dish, especially hearty stews.
This recipe yields a focaccia enriched with olive oil and baked to perfection. Slice it up for sandwiches or dip into some quality olive oil and balsamic.
A delightful blend of cinnamon, butter, and brown sugar coats each bite. These muffins are perfect for a sweet breakfast or paired with afternoon tea.
This bread pudding is a symphony of warm spices and textures. The inclusion of orange zest gives it a unique twist, making it a memorable dessert.
Golden slices of bread soaked in a flavorful egg mixture make this French toast stand out. Top it with fresh berries and syrup for the ultimate breakfast experience.
This easy-to-make bread is a tribute to Irish tradition, complete with the tang of buttermilk. Enjoy it fresh from the pan with a slab of butter.
A medley of dried fruits and warming spices come together in this loaf. It's ideal for a mid-morning snack, especially when paired with your favorite cup of tea.
This simple yet flavorful toast boasts melted cheese and eggs nestled inside. It offers a wonderful start to your morning or as a savory snack.
This recipe transforms a classic loaf into a cheesy, pepperoni-topped wonder. We highly recommend making this pizza for game nights or when you're in the mood for something savory and satisfying.
For those who crave a savory breakfast, this toast quiche is a game-changer. The hint of mustard and shredded cheese makes it irresistibly tasty and unique!
You'll be oh-so-satisfied after indulging in a bread that offers a blend of chocolate and peanut butter with this recipe. Serve it a slice with a cold glass of milk for the perfect dessert.
Soft, fluffy, and perfect for stuffing, this pita bread is a versatile addition to your recipe book. You can serve it with hummus or create your own sandwich fillings.
This zucchini bread strikes a balance between moistness and warmth from spices. A slice of this bread pairs perfectly with a latte or herbal tea like chamomile or orange tea.
The simpliity of this bread shines through with its soft crumb and golden crust. Whether for sandwiches or toast, it's the perfect loaf of bread for any occasion.
This traditional fry bread is a beloved staple in many households. Pair it with savory or sweet toppings for a customizable treat.
This air fryer Indian fry bread recipe is a wonderful blend of traditional fry bread topped with flavorful taco meat and fresh veggies. It's the perfect fusion dish for a hearty meal.
📋 Recipe
Frequently Asked Questions