It's beginning to look like fall around the Crossroads! These are some new window boxes that I recently planted, and I plopped in some gourds that we grew in our garden over the summer.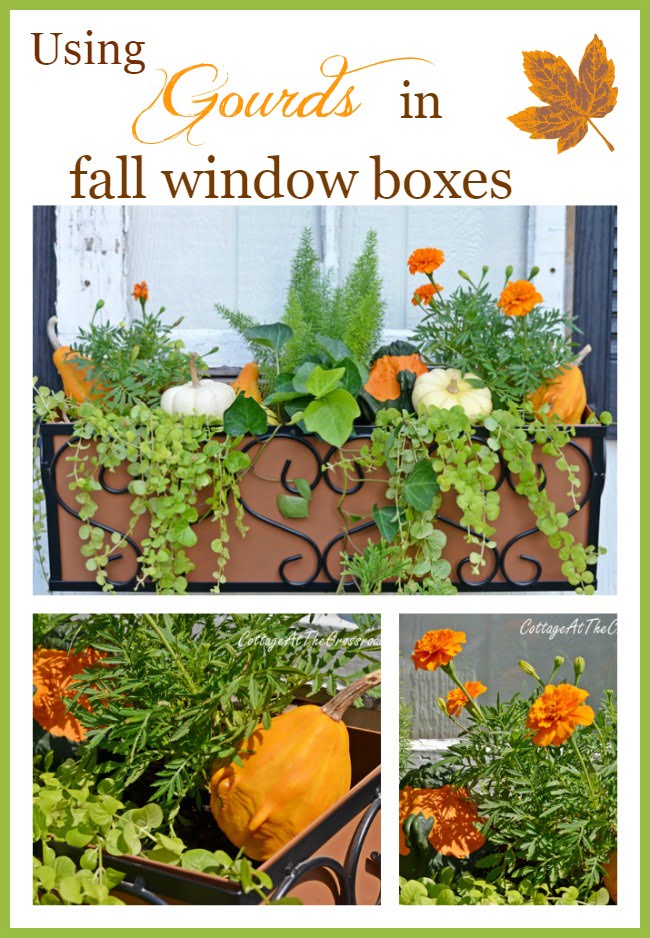 Instantly I had some fall window boxes! But first, I have to tell you where these window boxes are.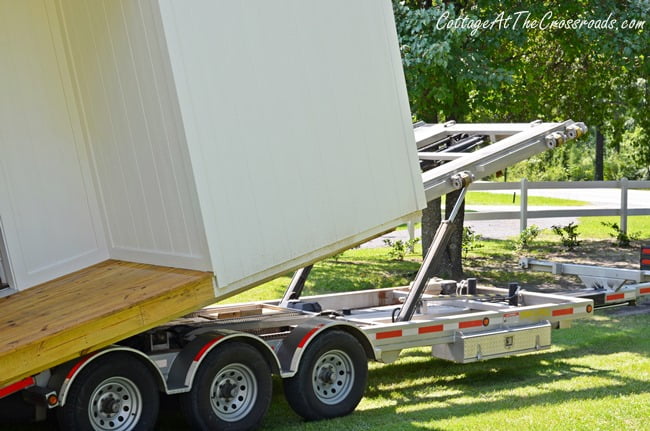 About a month ago, we purchased a new storage building, and this photo shows it being delivered and set up in our yard.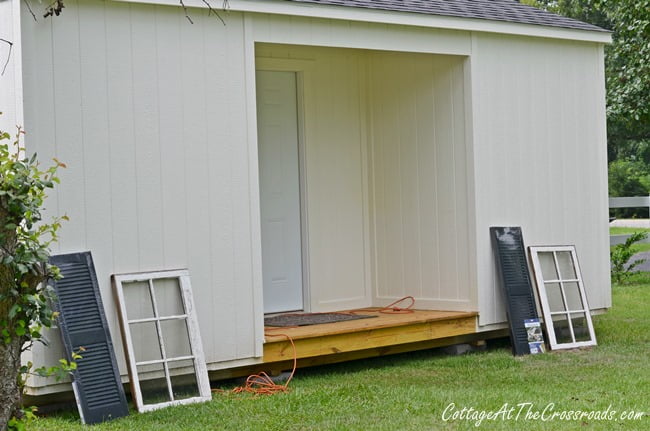 You can see that it's rather plain on the front. We didn't have real windows placed on the front because we wanted the space to stack storage bins from the floor to the ceiling. So the first thing that we did was to find some old windows and purchased some shutters to decorate the front of the building in a similar way that we did to Leo's shop. Once the windows and shutters went up, I knew that I wanted some window boxes and I found some pretty black and copper colored ones at Lowe's.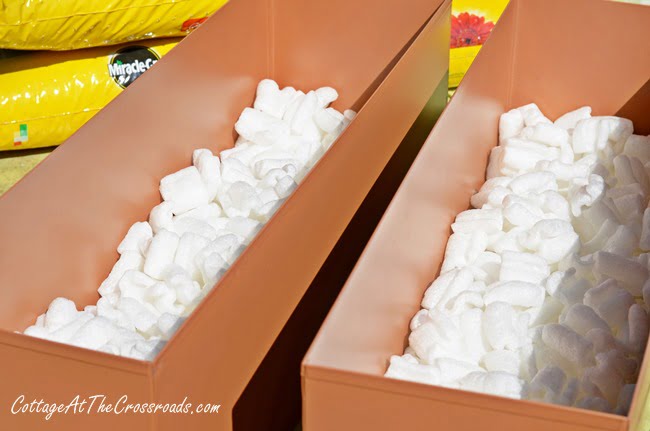 They were designed to hang over a deck railing, but we managed to get them attached to the building. Since window boxes tend to get heavy when it rains, I put a layer of styrofoam packing peanuts in the bottom before I added potting soil.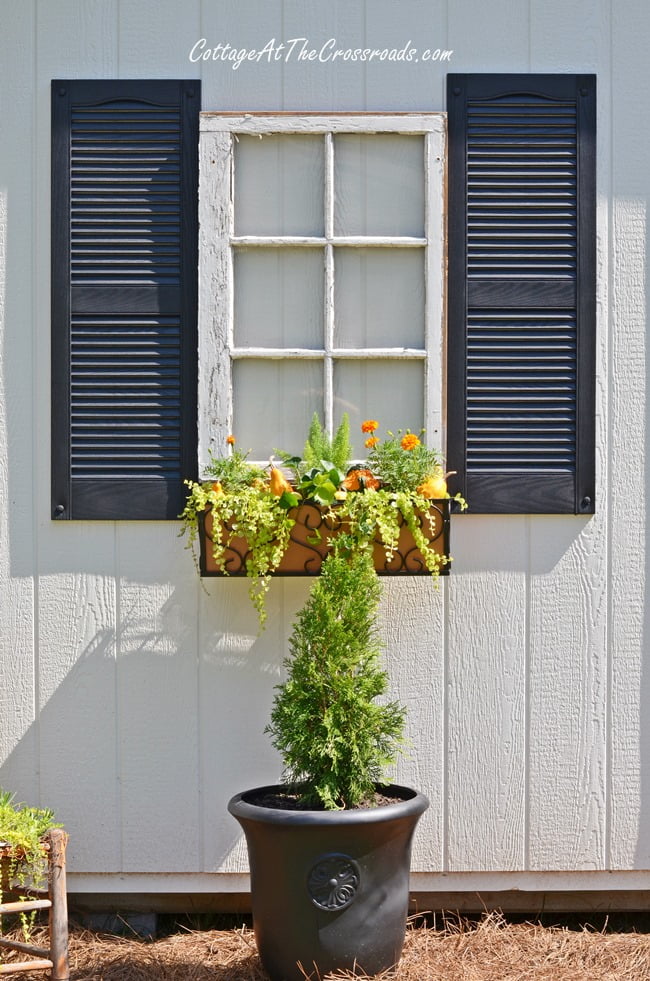 I planted them with some English ivy and creeping jenny to spill over the edges, and then I put 2 orange marigold plants and 1 foxytail fern in each box. The black urns used to be in our flower garden.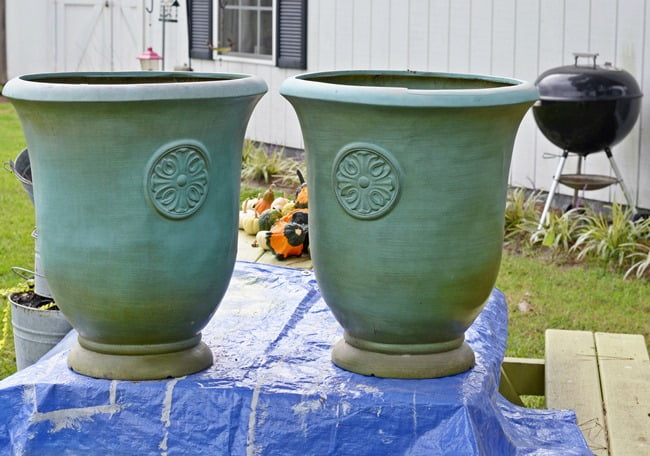 The plants had outgrown them and they were looking a little faded, so I spray painted them black and then planted them with some small cedars.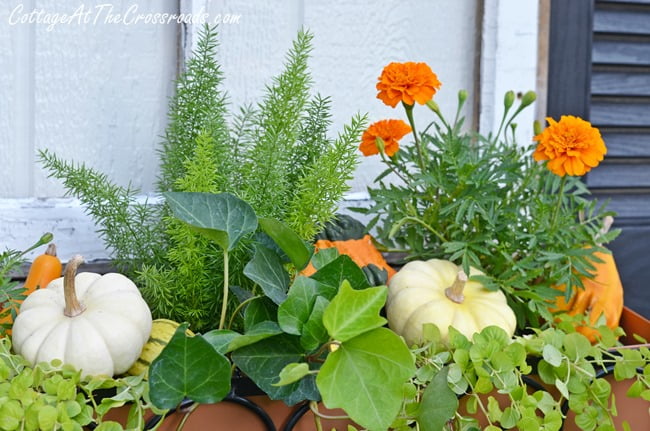 Here's a close-up of that foxytail fern that I was telling you about. It is very similar to an asparagus fern. Freezing temperatures will turn it brown, but the roots will live and it will come back in the spring. And since I already had some Baby Boo pumpkins and lots of gourds, I just tucked them into the boxes.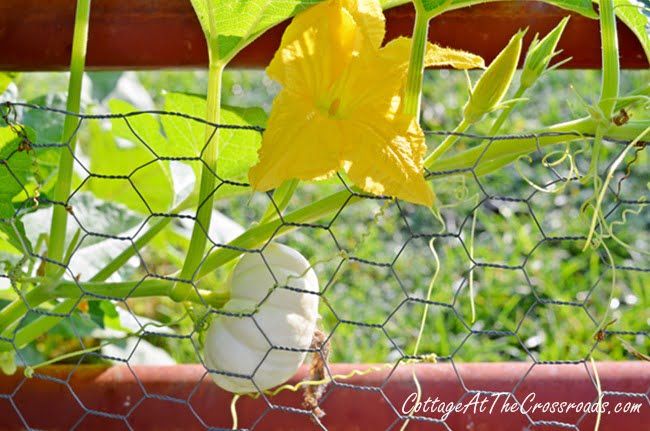 The Baby Boos grew in our compost bin from where I had tossed some last winter.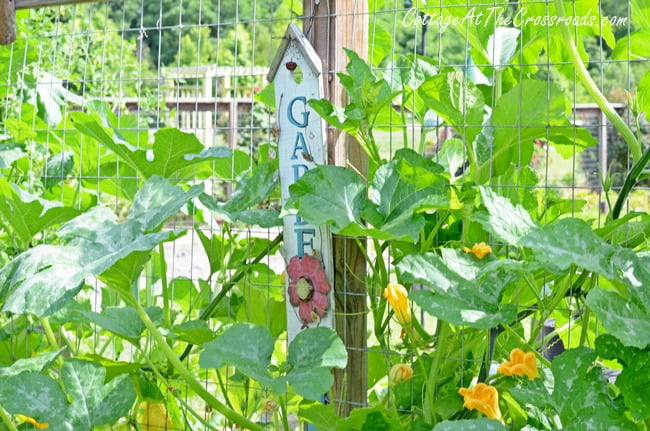 And so did the gourds.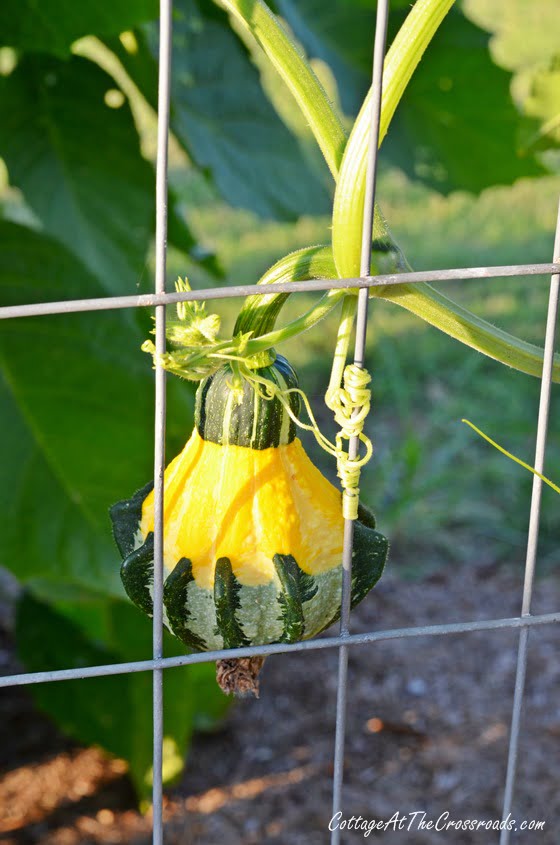 Some of the starts got transplanted around the fence of our garden, and I was rewarded with all kinds of interesting-shaped gourds which looked totally different from what I threw in the compost bin last year! That's because those were hybrids and the next generation looks nothing like their parents! But I was delighted to find a few white pumpkins growing as well.
The funny thing is that when I pull these starts out of the compost bin, I never really know what I'm transplanting. That's because pumpkins, gourds, squash, melons, and cucumbers all belong to the family Cucurbitaceae and they all look alike in the beginning. It's only when their true leaves develop that you can tell them apart.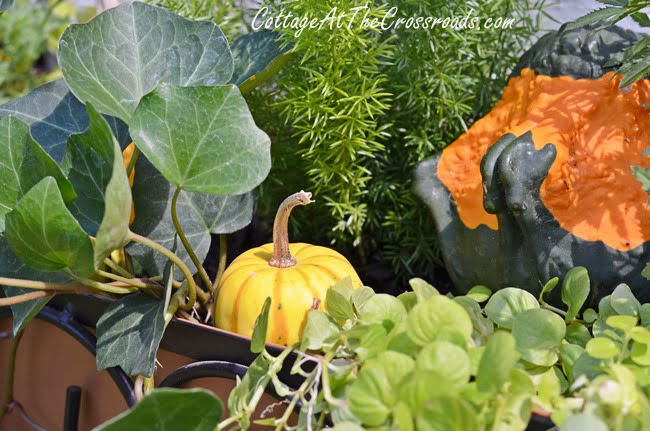 After harvesting the gourds, I dipped them in a mild bleach solution and set them out to dry and cure on our picnic table. And many of them found their way into the window boxes. Here you can see a small round gourd beside a large, warty one.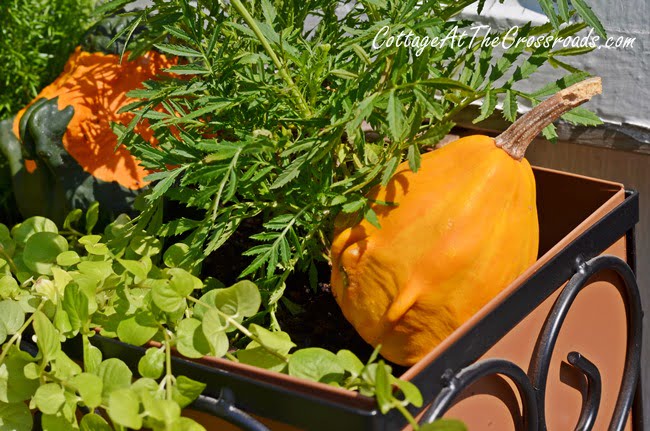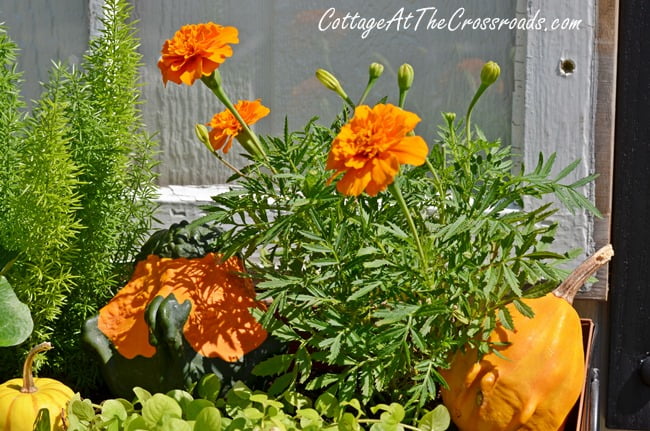 And some of them are solid orange. The pretty colors of the gourds sure do add a lot of interest to the boxes and give them some fall flair. When it gets cooler, I will pull out the marigolds and replace them with some pansies that will flower all winter.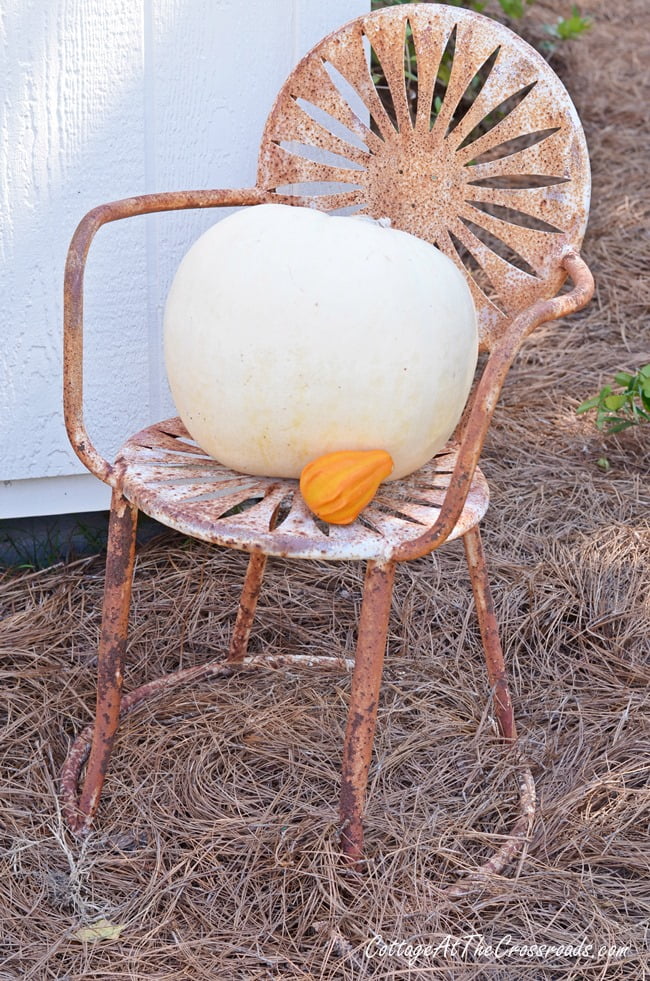 I haven't fully finished decorating and landscaping around the new little building, but I did pull over this rusty, vintage chair to hold the largest white pumpkin.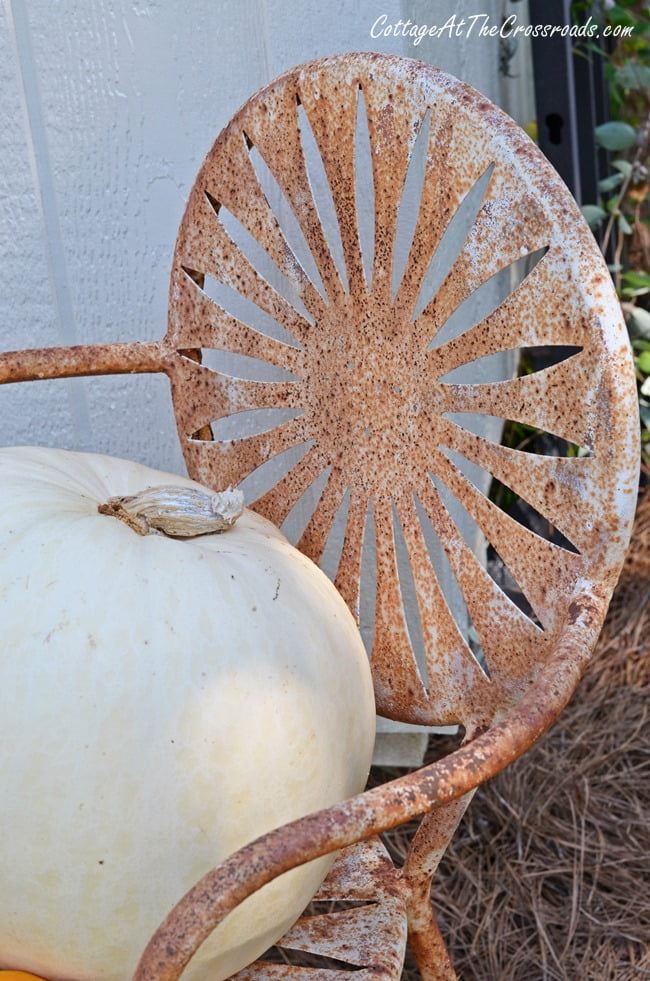 We found the chair early in the spring at the auction, and we thought about sand-blasting it and painting it. But right now, I'm loving it's rusty goodness!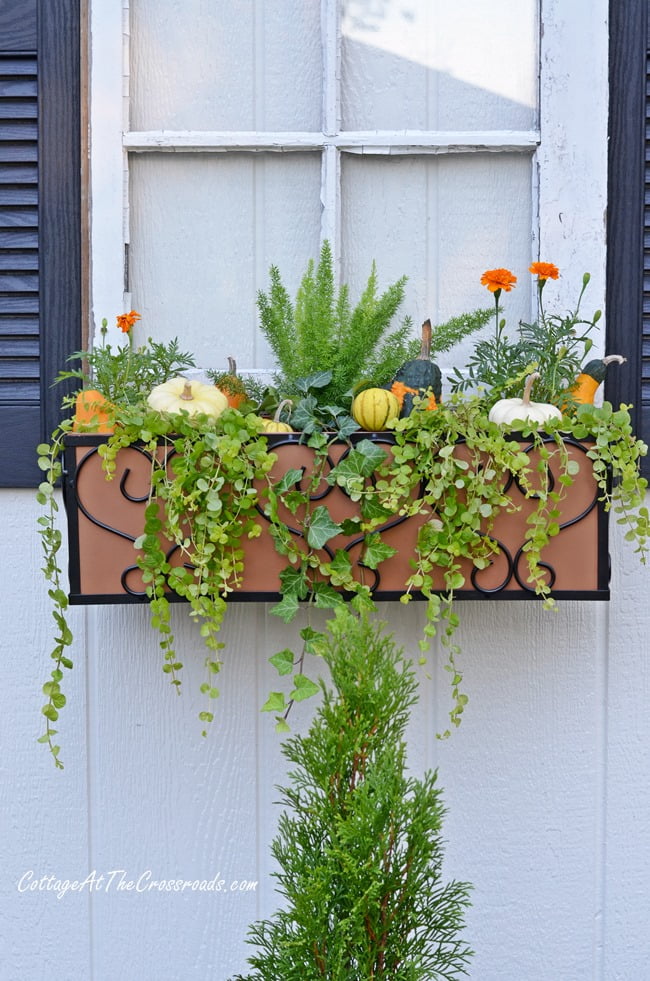 Yep, it's definitely beginning to look like fall around here with these gourd-filled window boxes!