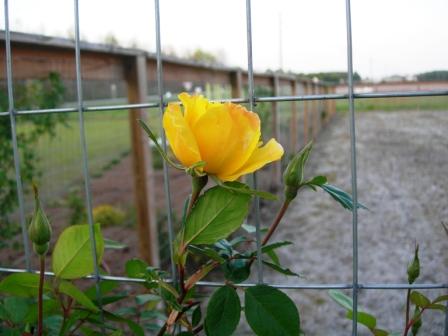 As a new blogger, I am constantly working to improve my photographs. I read as many photography tips as I can. I really want to thank The Pioneer Woman and Teresa from Meadowbrook Farm for generously sharing their knowledge with newbies like myself. I'm using a point and shoot (Nikon Cool Pix 7600) that we've had for four or five years. I can only dream of having a DSL camera because it's just not in the budget right now. So I am just working with what I have and trying to make my pictures better.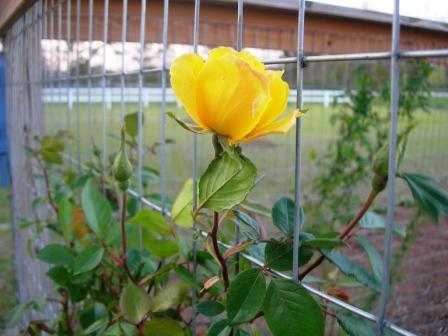 So to practice, I photographed my first rose to bloom this spring. This is a climbing rose called "Golden Showers" that we planted last year. I have two of these planted along the garden fence. They both bloomed prolifically all last summer up until the end of November.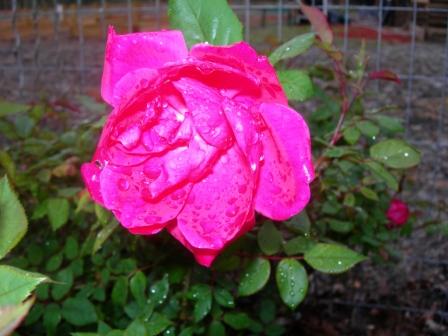 Last week it rained and I wanted to try to capture the raindrops on the petals. This is one of several cherry red Knock Out rosebushes that have doubled in size since they were planted last spring. Believe every wonderful thing that you have read about these roses. They are so dependable for continuous blooms from early spring until winter.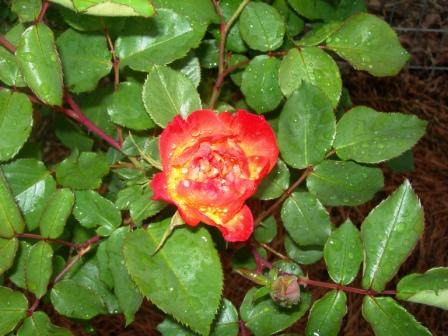 This is another climbing rose that we planted from bare root last spring. It's called "Joseph's Coat" and the blooms are a beautiful combination of yellow and orange.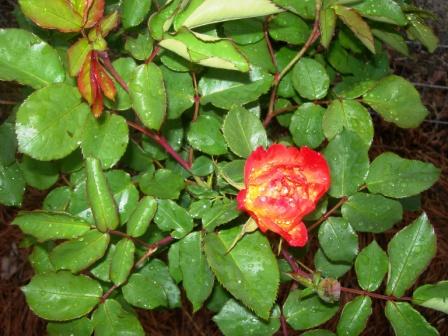 With the warm temperatures that we have been having recently and the rose fertilizer that I applied, the rest of our rose bushes are loaded with buds. Even the "Climbing Peace" that did not produce a single blossom last year has many beautiful buds. I can't wait to photograph its first blossom.
Hope these photographs will do as I continue to school myself on photography. I'm linking up to Wow Us Wednesday at Savvy Southern Style
and Cottage Flora Thursdays at Fishtail Cottage.