Hi everyone! I have some beautiful tablescapes to show you today, and it's all part of our Christmas Tidings series.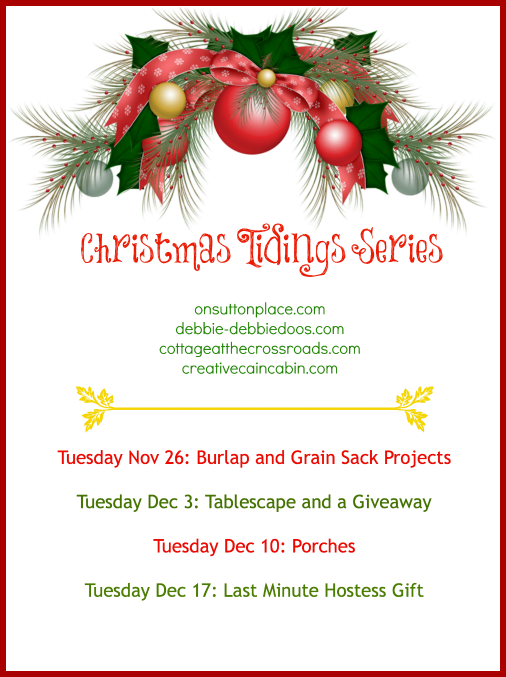 This is Week Two and we have a fabulous giveaway for you as promised! If you missed our Burlap and Grain Sack Projects from last week, just click on the link and you can see them all.
This post may contain Amazon or other affiliate links. As an Amazon associate, I earn from qualifying purchases. If you purchase anything through any affiliate link, I may earn a small commission at no extra charge to you. All opinions are my own.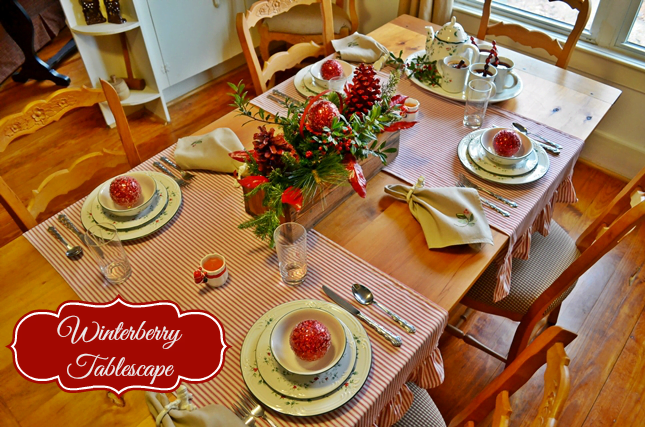 Today we're each sharing a tablescape that we've created with Winterberry, a beautiful dinnerware pattern by Pfaltzgraff. We each received a complimentary setting for four from the fine folks at Pfaltzgraff as well as an accessory piece. And I'm so happy to tell you that two of you will win a setting for four as well as an accessory of your choice in our giveaway! WooHoo! What a wonderful way to dress up your table with the beautiful holiday pattern of Winterberry.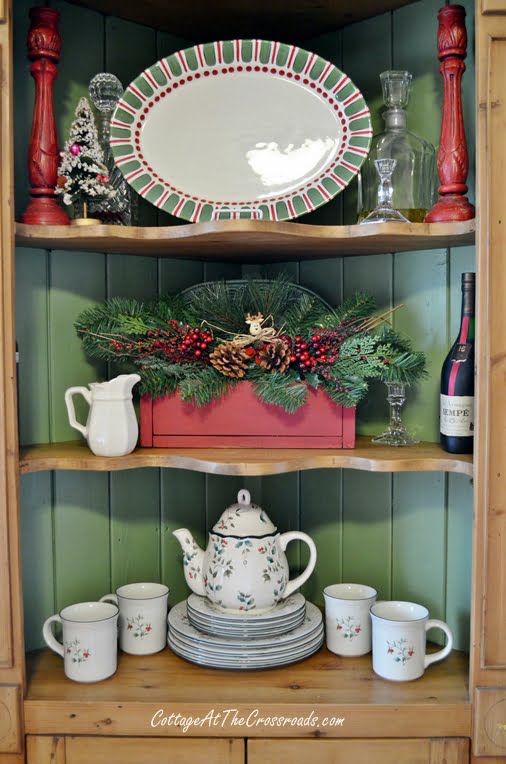 When my complimentary set of Winterberry arrived, I placed in our corner cabinet. Look how pretty it looks with its newly painted green back! The accessory piece that I received was the Friends and Family Teapot, and each of us received a different item. You'll have to visit Dawn, Debbie, and Ann to see what pieces they received.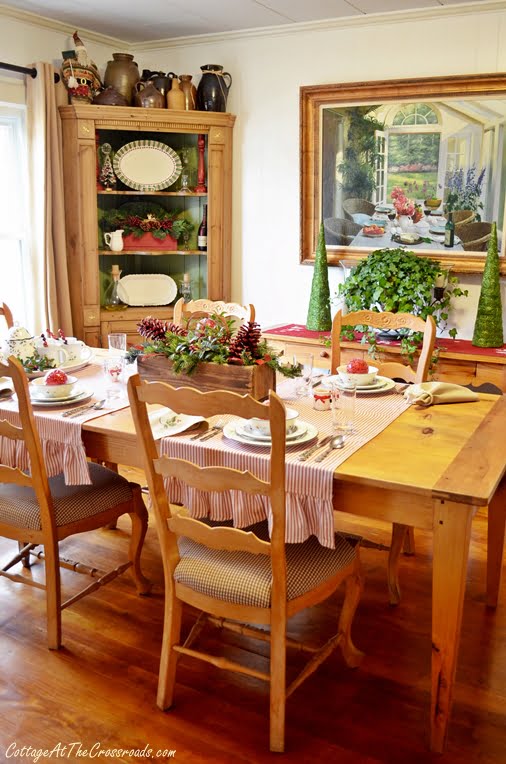 I couldn't wait to set my table with this beautiful and timeless pattern on my new red ticking table runners. It's going to be a red ticking Christmas at our house this year!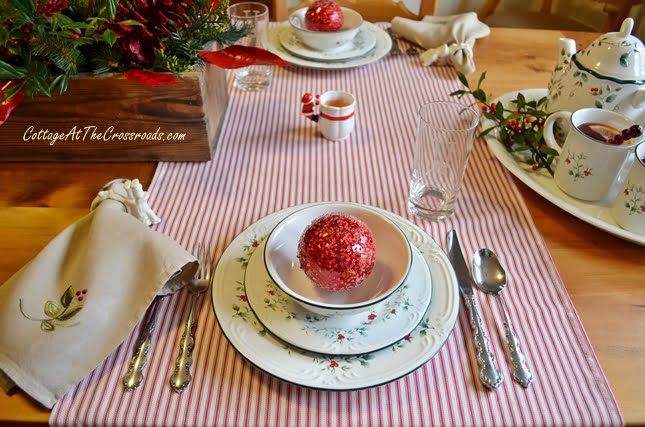 To compliment the red berries on the dinnerware, I placed a red ornament in each bowl.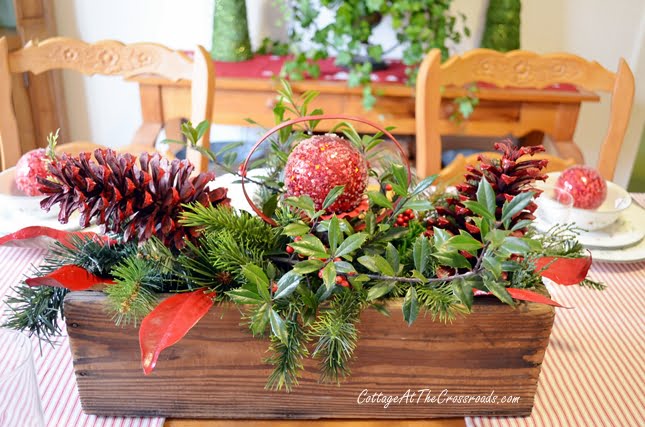 I used some faux greenery in an old pine box along with some red painted pine cones and magnolia leaves. And you can see another one of those frosted red ornaments in there, too.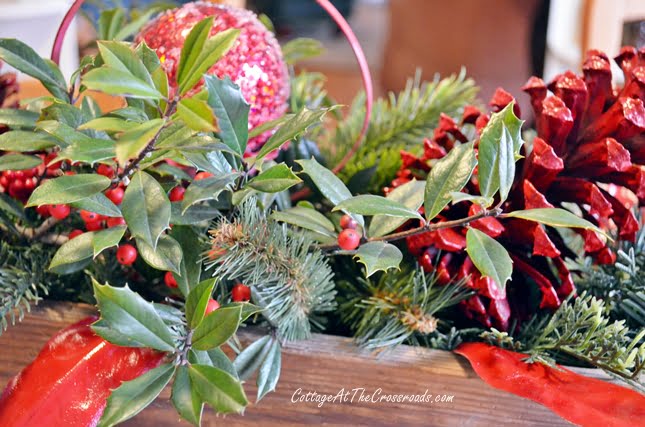 I tucked some real holly into the centerpiece in honor of the Winterberry pattern. Our holly tree is loaded with berries right now.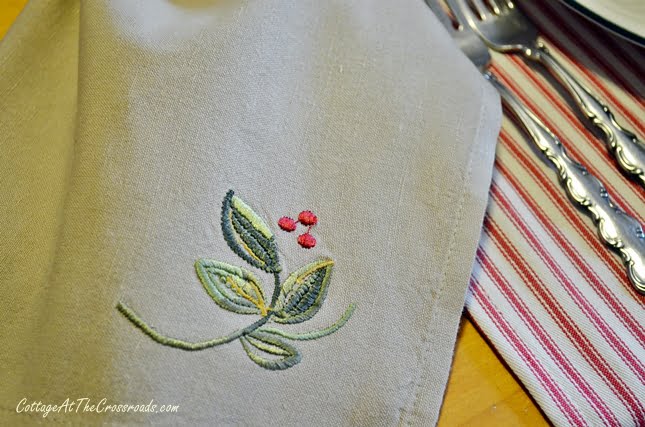 The napkins are some that I've had forever, and they just happened to have red berries on them.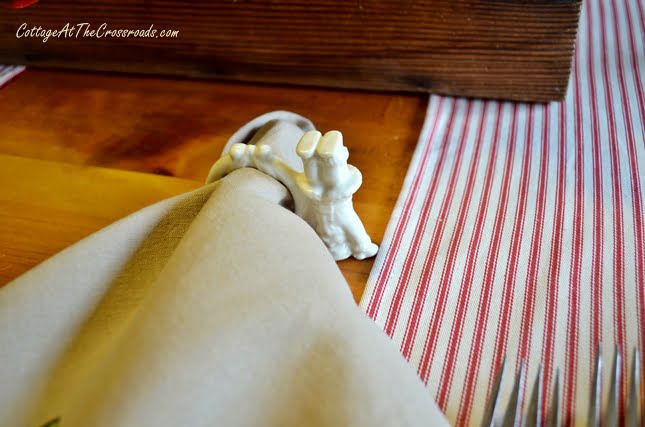 The napkin rings are little Santas cavorting on the table. This one is standing on his head!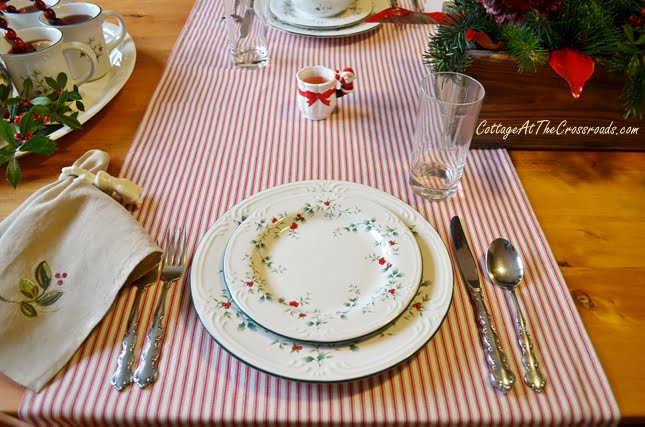 Here you can see the design of the plates a little better without the bowl.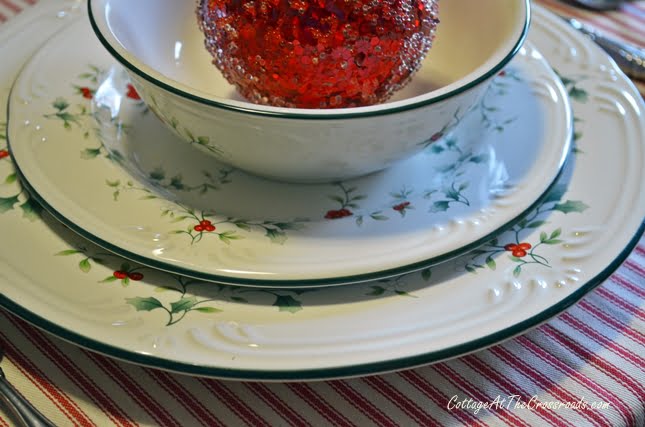 And I love how the pieces are edged with dark green. No wonder this design is one of America's best loved holiday patterns!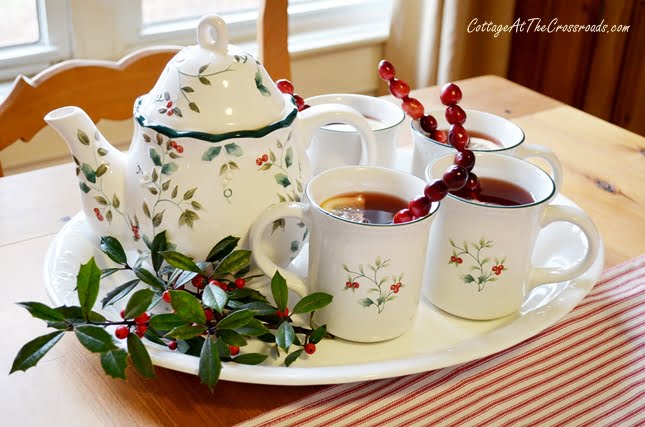 Here I'm using my Friends and Family teapot and mugs to serve Cranberry Spiced Hot Tea.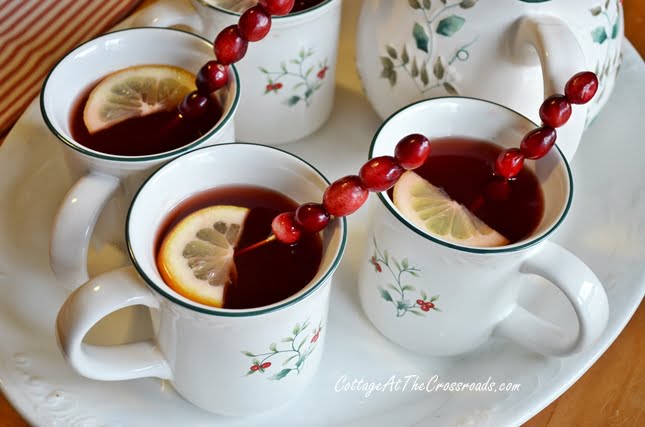 The four mugs come with a setting for four and all of the featured accessories are available for purchase at Macy's.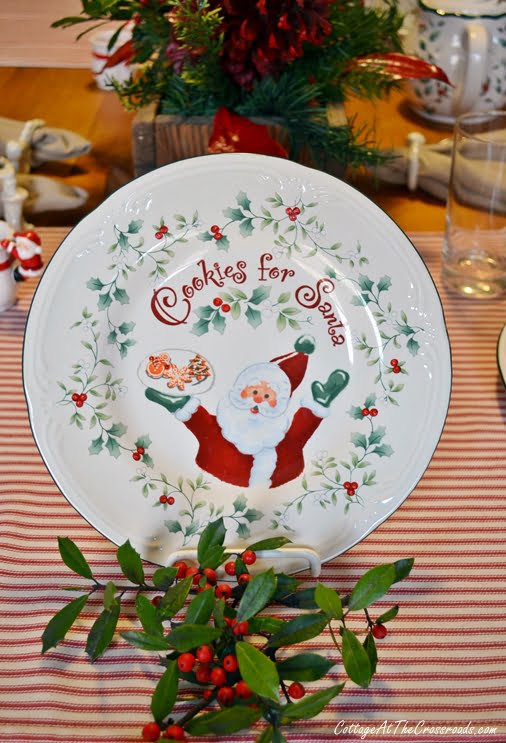 My sister-in-law even found this Cookies for Santa plate in the Winterberry pattern!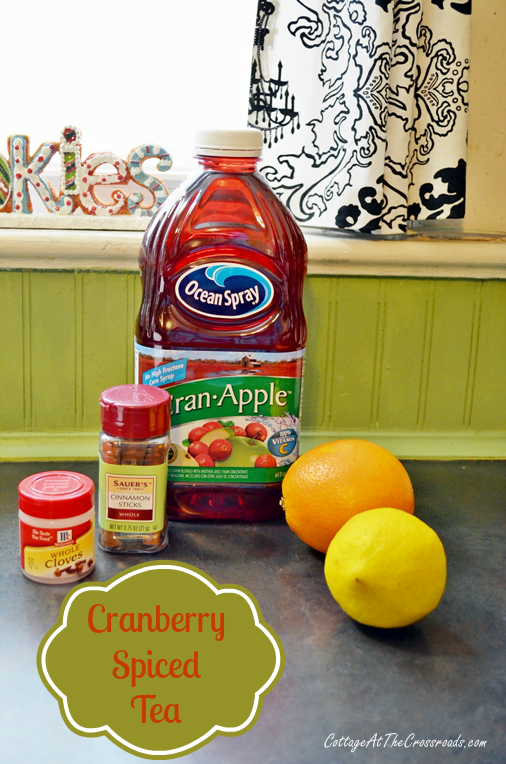 My recipe for the Cranberry Spiced Tea is available HERE. It comes highly recommended by Leo!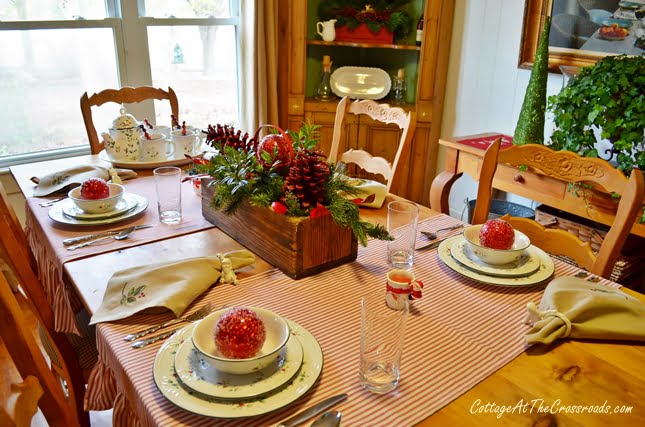 Pfaltzgraff's Winterberry looks beautiful on our holiday table,don't you think? Don't forget to click on the links below the graphic to see how Ann, Debbie, and Dawn used Winterberry to set their tables.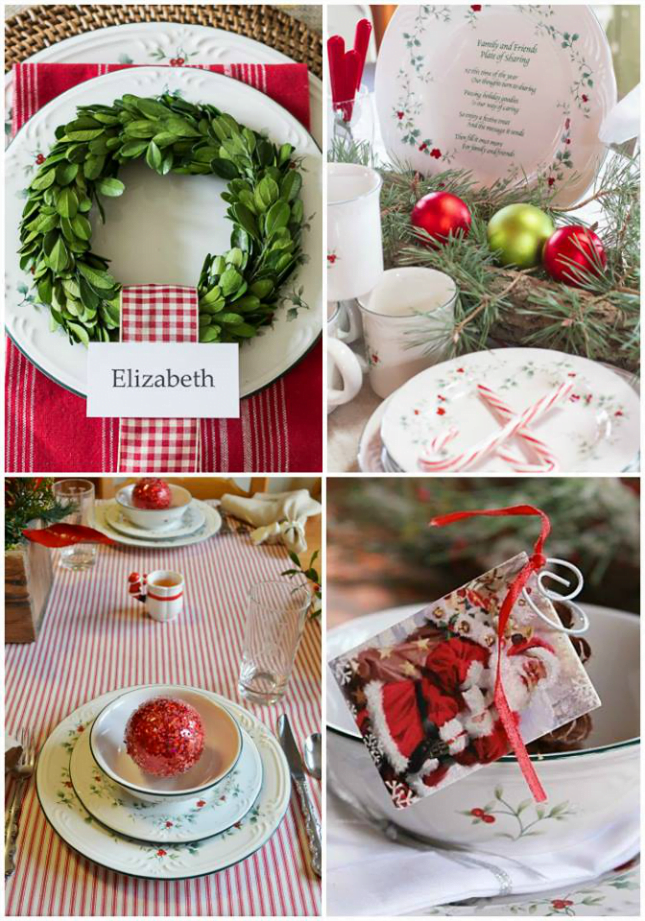 On Sutton Place ~ Creative Cain Cabin ~ Cottage at the Crossroads ~ Debbiedoo's
Now for the giveaway! Just follow the directions in the Rafflecopter box or just leave a comment to enter if you prefer.
Good luck everyone!