As soon as Leo and I heard about the Southern Bloggers Conference, we said we were going. We had such a wonderful time and learned so much at the Haven Conference that we attended in June that we fully expect to do the same at this conference.
The very best part of  attending a blogging conference is meeting the friends that you've made online. When we went to the Haven conference, we wondered if anyone would recognize us, or if we would recognize them. But we all did! 

We've already met these ladies, and they are featured speakers at the Southern Bloggers Conference! On the left is Rhoda from Southern Hospitality, Karianne from Thistlewood Farm, and Heather from At the Picket Fence.
We can't wait to hear what they've got to say as they share a little blogging wisdom with us.
We're also looking forward to attending the presentation by Annie Omar, the owner of the Maison Blanche Paint Company. Her company is one of the sponsors of the conference. She and Kristen Dobson from Sophie's Decor will be teaching some furniture painting techniques.
Barb Garrett from The Everyday Home is one of the team members planning this event. She will be demonstrating some ways to use pumpkins in decorating.  Others planning the event are Shirley from Housepitality Designs, Amy from Atta Girl Says, Cindy from Living on the Bliss, Suzy of Worthing Court, and Kristen from Sophia's Decor. 
You know this event will be top-notch with all of these ladies involved! 
An additional bonus of attending a blogging conference is chatting with the sponsors and having a chance to sample their products. We've heard that they've lined up some great sponsors.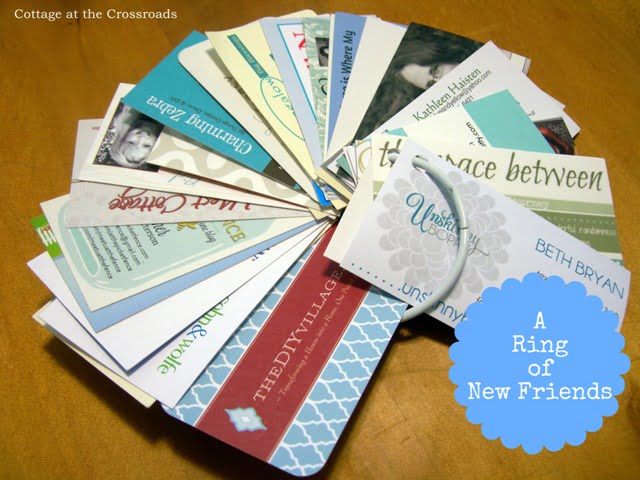 It is customary to exchange business cards at blogging conferences, so get your cards ready. These are the ones we got at Haven. Bring your own hole punch so that you can put them all on a ring. And we didn't do this, but if you are having new cards made up, then put your picture on your card. It really helps to match faces with blogs.
You may think that you need a blog to attend a conference, but that's not so. If you love to read blogs, or you are thinking about starting a blog, or if you just love meeting nice people, you should attend, too. Leo's brother Jim and his wife Jean have already bought their tickets because they want to meet all these wonderful people that we've been talking about for months. 
If you want to see who else is attending this conference, just click the button below. We can't wait to meet some more new friends!