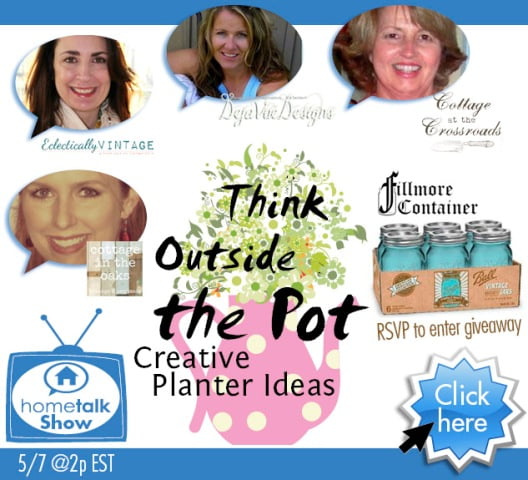 It's that time of year when we're all heading outdoors and potting up some plants, and if you like to do things a little differently, here's your chance to get all the inspiration you can imagine. I'm so honored to be included in Hometalk's Think Outside the Pot live hangout where I'll be joining 3 other creative gardeners who will share some amazing and unconventional planter ideas. And I want to invite you to join in on the fun!

I'll be sharing how we turned our old BBQ grill into a planter and how I made a topsy turvy planter out of new galvanized buckets.
I'm not sure what Kelly from Eclectically Vintage, Tammy from Deju Vue Designs, and Daune from Cottage in the Oaks will be sharing, but I know it will knock your socks off! I can't wait to see what they are sharing, either! I guarantee that these talented and creative ladies will have you thinking about pots in a whole new way!
The hangout is sponsored by Hometalk, the amazing online community of people who love anything about homes and gardens. Not only can you go there to get some decorating or gardening inspiration, you can post questions about the mystery plant in your yard or you can ask the experts about your latest home improvement project.  A unique feature on Hometalk is the ability to create boards about ideas you want to save. Here's Kelly's board about creative planters.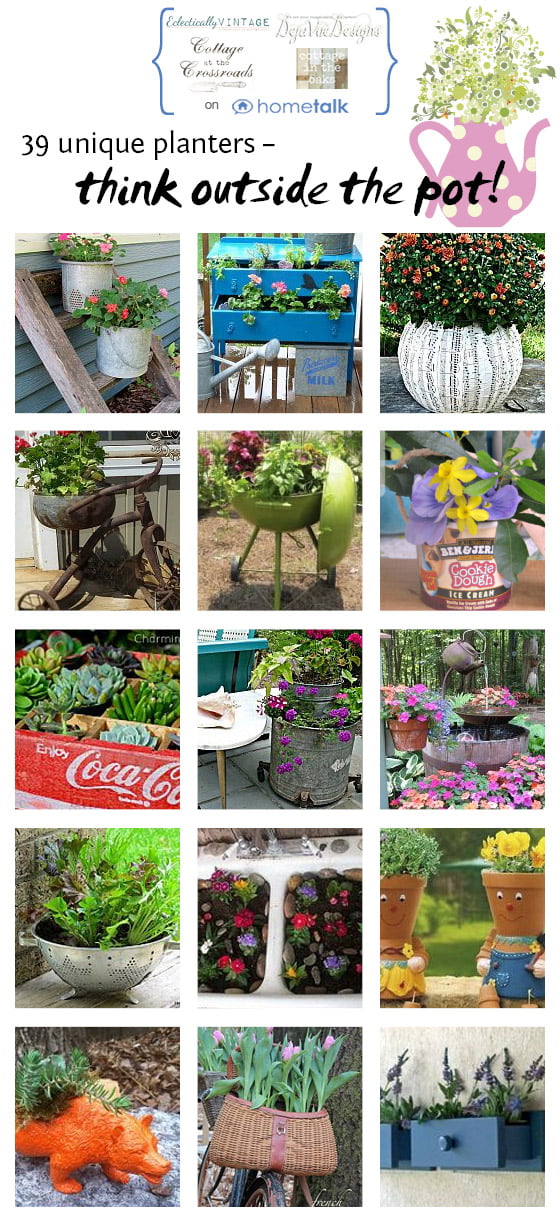 Click on the graphic above and it will take you to Hometalk where you can check out any of these creative planters. So if you haven't joined Hometalk, what are you waiting for? It's free and fun!
The show will be Tuesday, May 7, at 2:00 pm EST. Click on the picture below to RSVP to attend and you'll be automatically entered in a giveaway for a case of Ball's 100th anniversary new blue jars.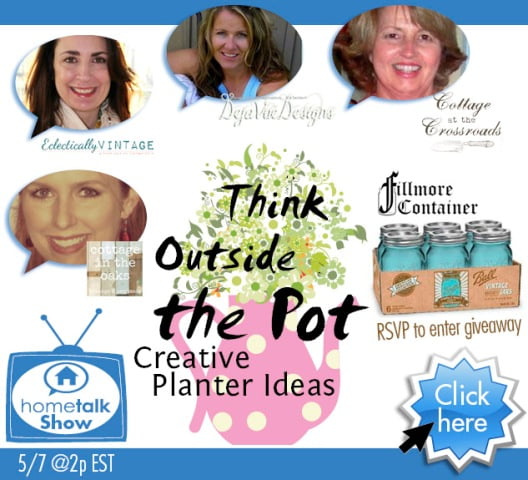 Hope to see you guys there!