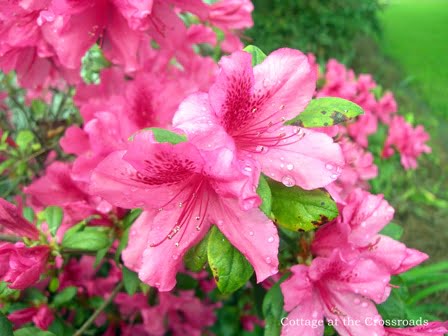 Because of the warm weather that we've been having, the azaleas are in full bloom around the Crossroads.
The shrubs were planted by my late mother-in-law, and I think of her when I see them. I've never seen azaleas bloom so early, and they are at their peak right now.  I love this gorgeous pink variety.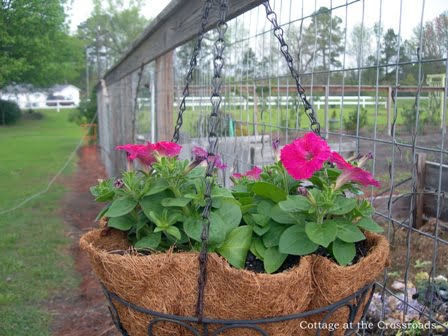 Last week I planted some petunias in the baskets at the entrance to our garden and spent some time painting the new arbor in our garden. If you didn't read Leo's post about claiming an arbor that was going to be thrown away, you can read about it here.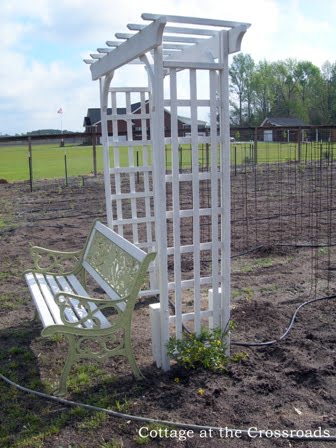 I finished painting the arbor on Friday, and Leo planted some yellow jessamine vines beside it.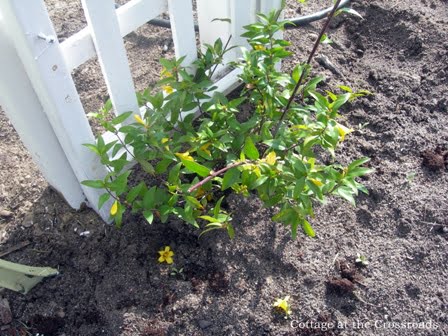 The yellow jessamine is the state flower of South Carolina, but I have never grown it before now. It is sometimes called Carolina jessamine. It is blooming right now, and even though the blooms are very fragrant, they are poisonous.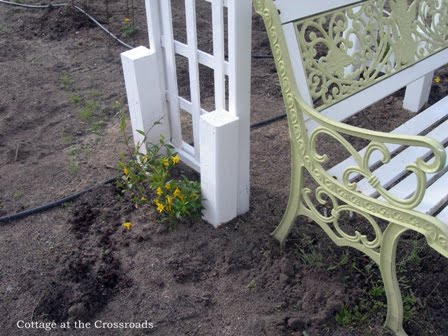 The jessamine is a fast growing vine, so it should provide a canopy for the bench before we know it.
Beside the jessamine, I planted some of these little plants that I had grown from seed.
The plants are so tiny that you can hardly see them.  They are called Gaillardia Goblin, and they are perennials.
I've planted some other flowers inside the garden recently. A few weeks ago, I planted some gladiolus bulbs, which are already coming up. And I have sown several packets of zinnias in the garden.  Earlier, I planted nasturtium seeds and marigold plants which have beneficial effects in the garden.
How about you? Have you been planting anything lately?
I'm joining:
Susan's Metamorphosis Monday@Between Naps on the Porch