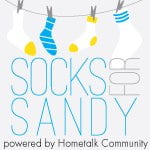 You've all heard about the devastation caused by Hurricane Sandy and perhaps you've wondered how you can help. Well, here's an opportunity. It's called Socks for Sandy, and it's a quick way to let the survivors know that we care.
You know the feeling you get when your feet are cold and slip on a pair of warm socks? Or you can warm your hands and head while outside by wearing gloves and a hat? That feeling of warmth, of comfort, is something we take for granted. For the victims of Hurricane Sandy, it is a feeling we want to give back to them.
A fellow blogger, Laura Khulmann from The Shed and a member of Hometalk, had the idea of providing warm socks for the survivors of the hurricane.
Luckily Laura, who lives in Little Egg Harbor, New Jersey, was fortunate that her neighborhood was spared with only minor damage. But just a few miles down the road, entire areas were wiped out.  Laura couldn't stop thinking about something her sister-in-law (who was volunteering at the local hurricane shelter) told her.  She said people were walking around barefoot and just wanted a pair of dry socks. Laura couldn't get the image of warm, dry socks out of her head. She wanted to collect some warmth for the victims. So she shared her idea with fellow blogging friends on Hometalk and we embraced the idea.
So here we are. Our mission is a simple one. And has a super fast turn-around time too.
We want to provide socks to warm one's feet, gloves to warm one's hands, and winter hats to warm one's head. 
All to warm one's soul. Now.
You can help us gather up some warmth to share by collecting socks, gloves and winter hats – for men, women and children of all ages – and sending them to:
Socks for Sandy
P.O. Box 520
Little Egg Harbor, NJ  08087
Please mail by Friday, November 9, since the need is urgent. 
Or, another option to help is below.
I'm going to hit my local dollar store tomorrow for packages of socks. Won't you help us spread the warmth?
You can click HERE to see how other bloggers are helping to spread the word.
.