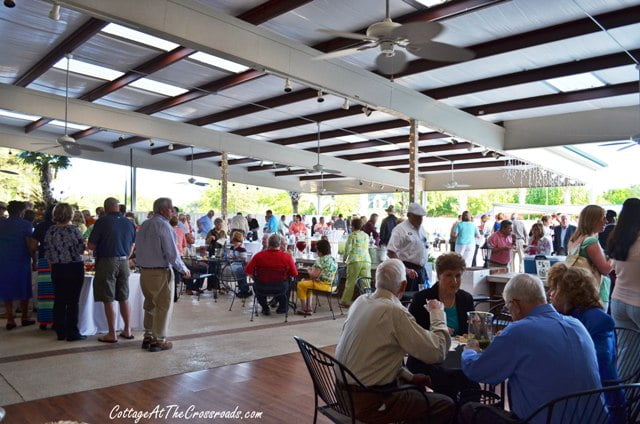 This past week was a very busy week for us. We were extremely involved in the Lamar Civitans' annual two day fundraising event which includes a Thursday evening party followed by a Friday afternoon golf tournament. Once again it was a huge success. We had a record number of people to turn out for the Thursday night affair and with the Friday tournament we were able to raise thousands of dollars, all to benefit the Lamar area schools and students.
An event like this doesn't just happen. It takes a lot of people volunteering their time and talents months in advance.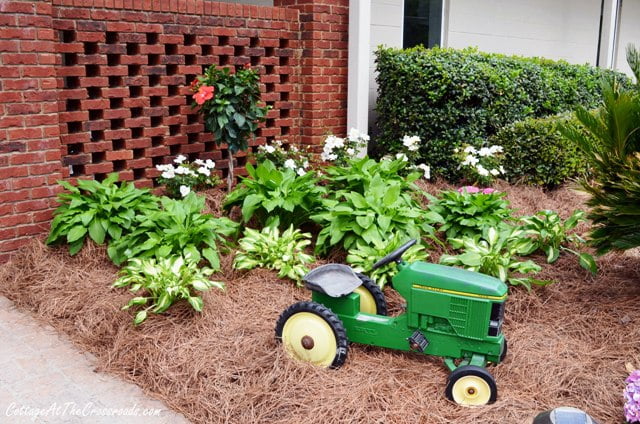 Each year the Lamar Civitans honor an outstanding citizen, but this year we recognized two. Since both honorees are good ole country boys, we went with a farm theme for the party.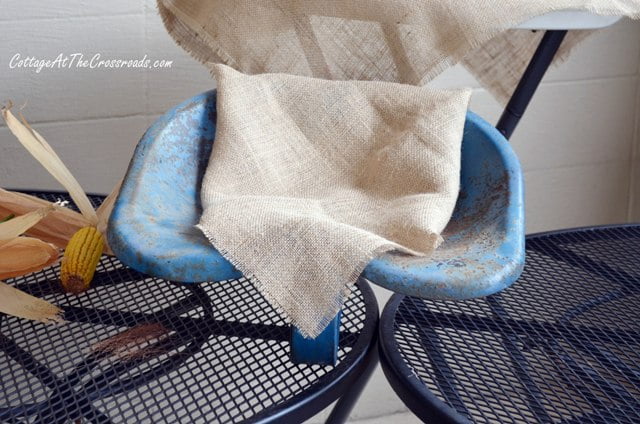 Shoot, I even found an old tractor seat to use on my fruit and cheese table!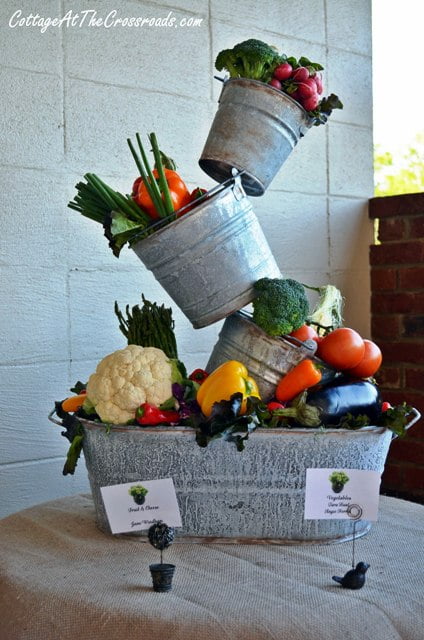 We used a lot of burlap and galvanized buckets in our decorating. This was the centerpiece for the fruit, cheese, and vegetable table. Leo and I created the piece, and Tara Hunt arranged the vegetables in it so beautifully. I'll post a tutorial soon on how you can make one of these, too.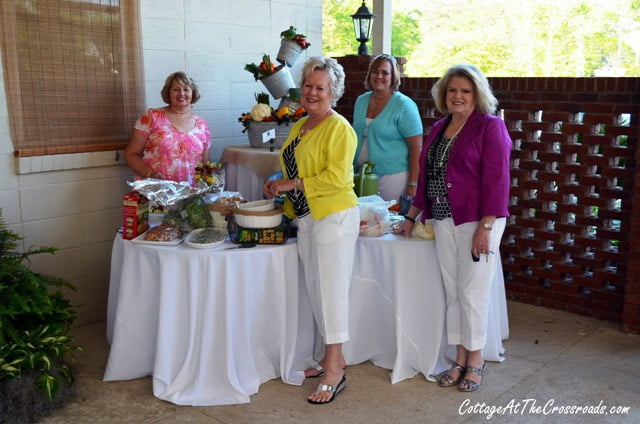 Here are my 2 sisters-in-laws, who always pitch in to help, along with Tara and myself getting our table ready for the party.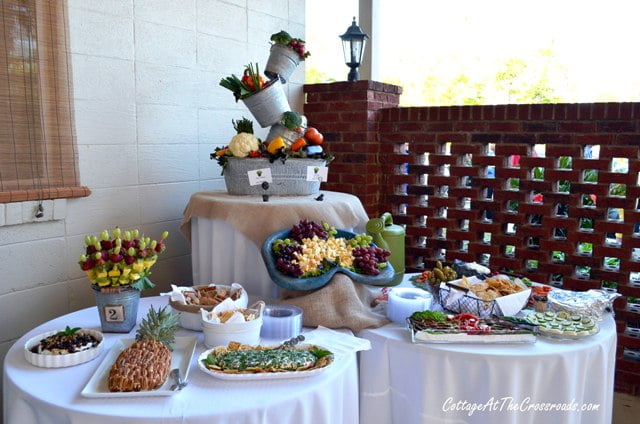 The tractor seat made an awesome and unique cheese display!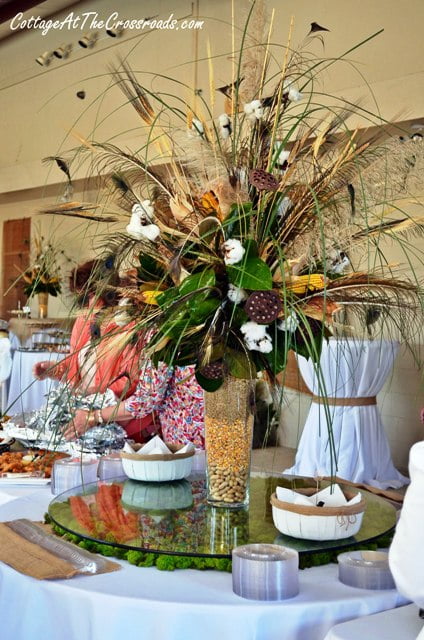 The incredible centerpiece on the variety table was created by Becky Weaver. The arrangement consisted of agricultural products grown locally.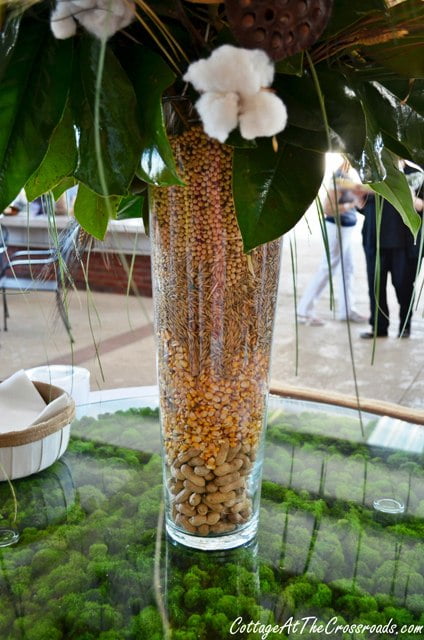 The glass vase contained peanuts, corn, wheat, and soybeans.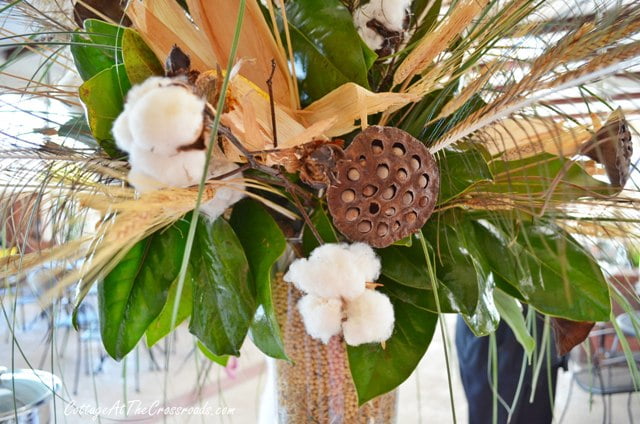 The arrangement included cotton, wheat, corn husks, and peacock feathers, among other things.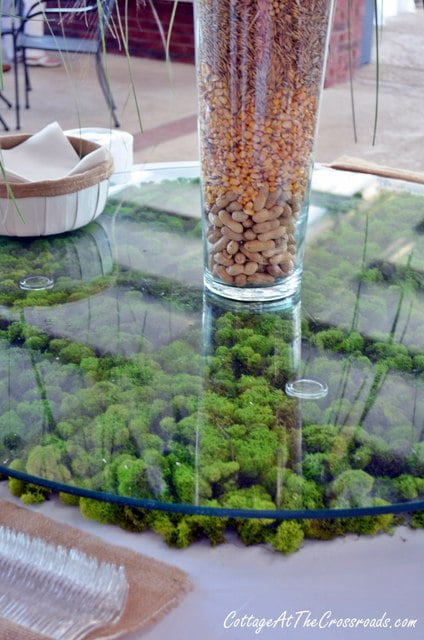 The arrangement sat on a piece of glass with a layer of green moss underneath.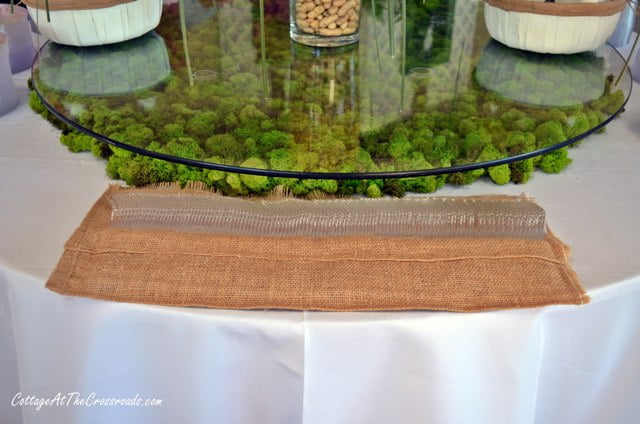 These adorable burlap pouches held the forks.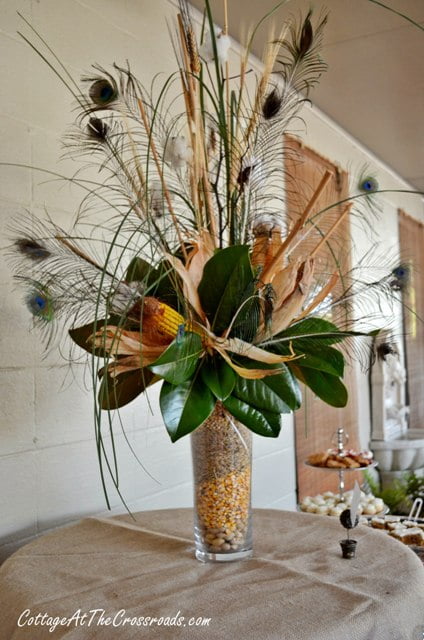 A smaller matching centerpiece was on the dessert table.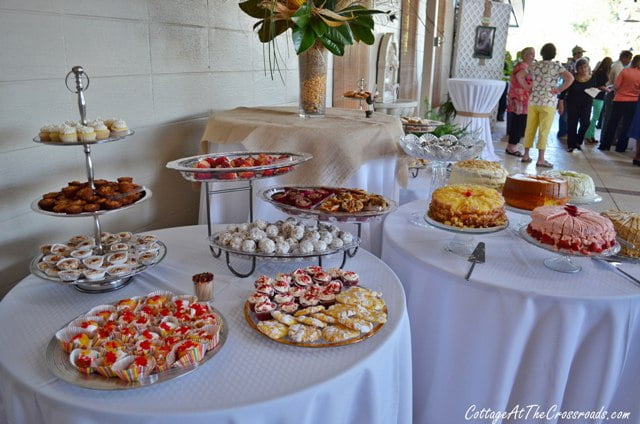 Almost the entire community got involved in this fundraiser. So many people prepared and donated these sweet treats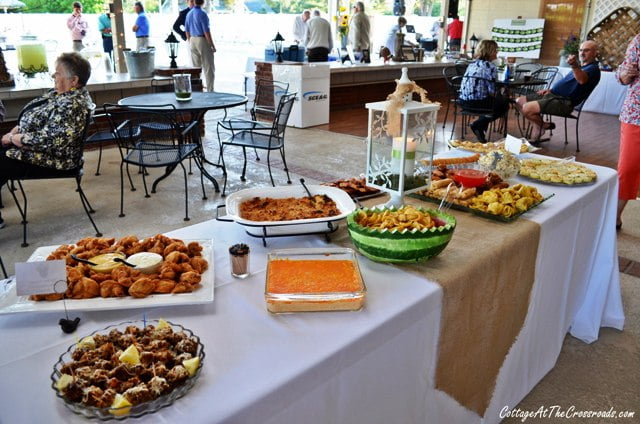 as well as the appetizers found on the variety table.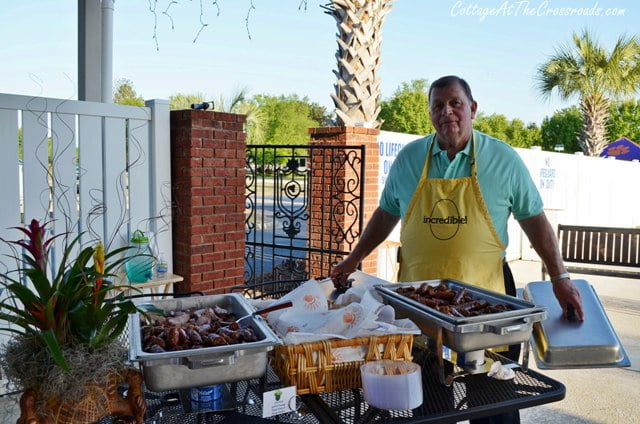 In addition, there were numerous tables filled with grilled goodies such as Hamer's grilled sausages. Hamer was one of the honorees and he was working as usual!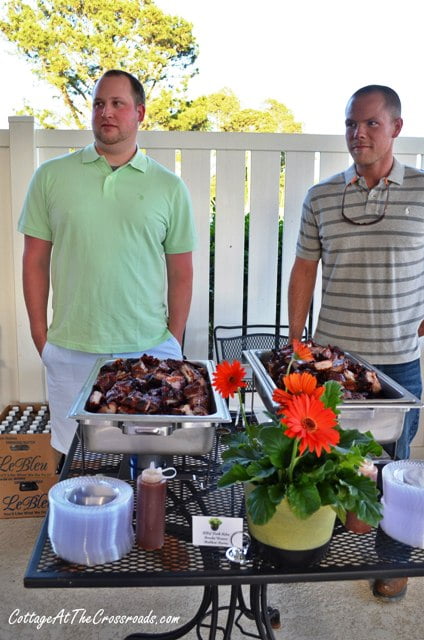 Even the younger generation pitched in and their ribs were delicious!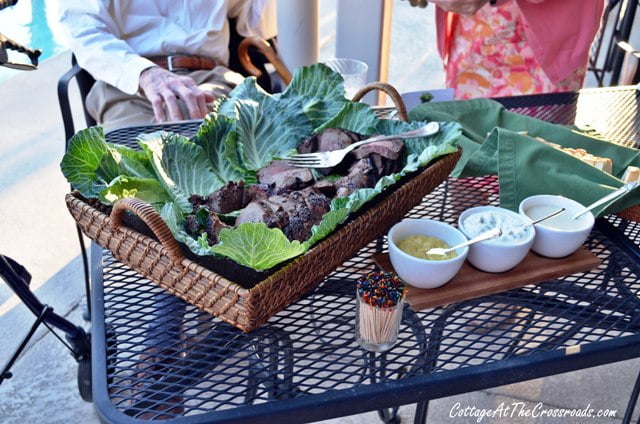 Some folks wait all year long for a taste of Dr. Sidney Griffin's grilled beef tenderloin!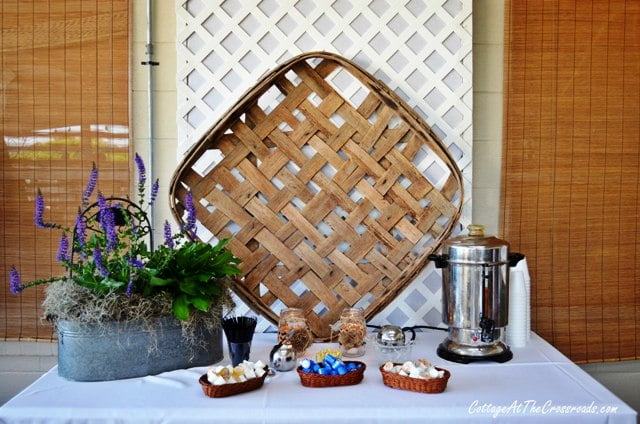 If you don't recognize what's hanging on the wall, it's a tobacco basket. It was used a lot back in the day when tobacco was the number one cash crop in South Carolina.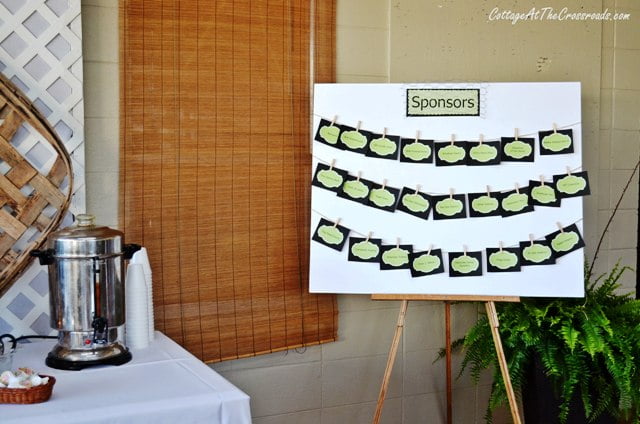 Leo and I made two of these sponsor boards to thank the generous contributions made by local individuals and businesses.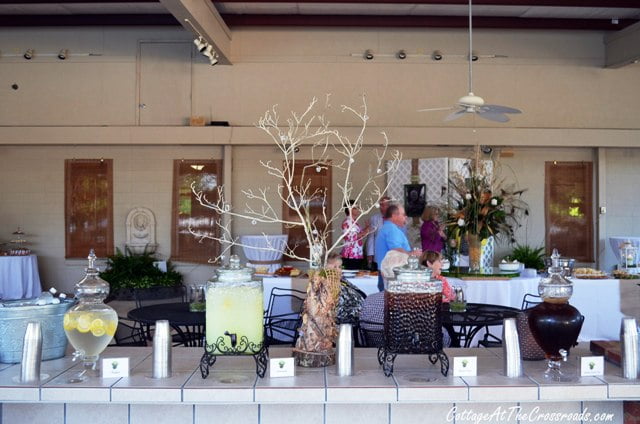 With all that food, there were plenty of beverages.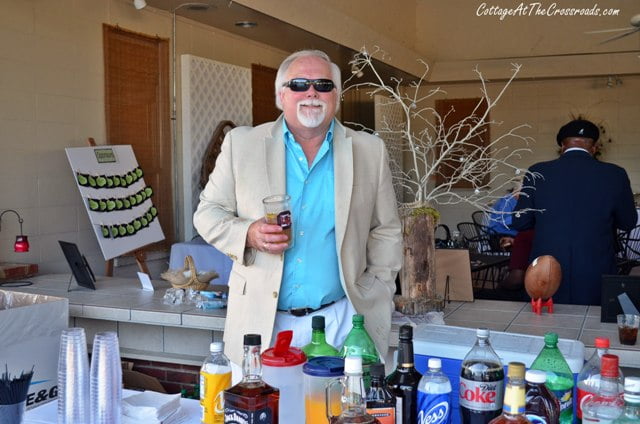 Tending bar is a family affair. Wayne Brown, along with his father,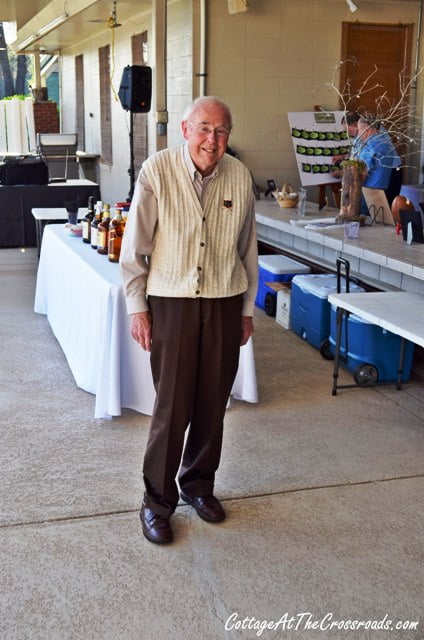 Dr. Gordon Brown, have been tending the bar at this party for years.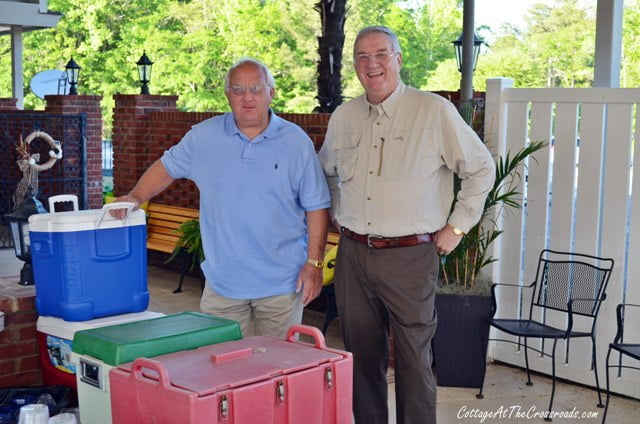 Ricky Howell and John Bloom managed the beer station for the party.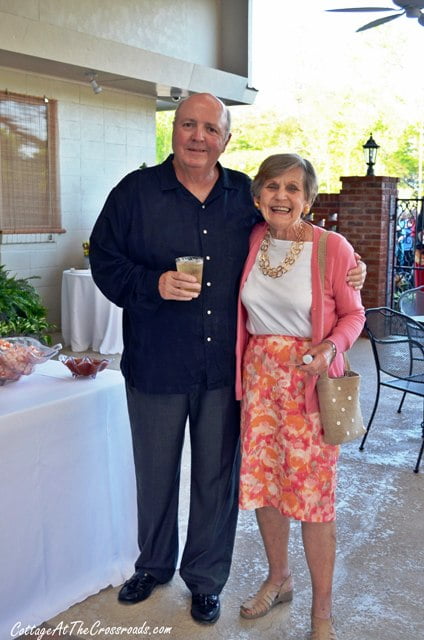 Here is Leo with one of his favorite ladies, Ethel Jane Reynolds, one of Lamar's most dedicated volunteers.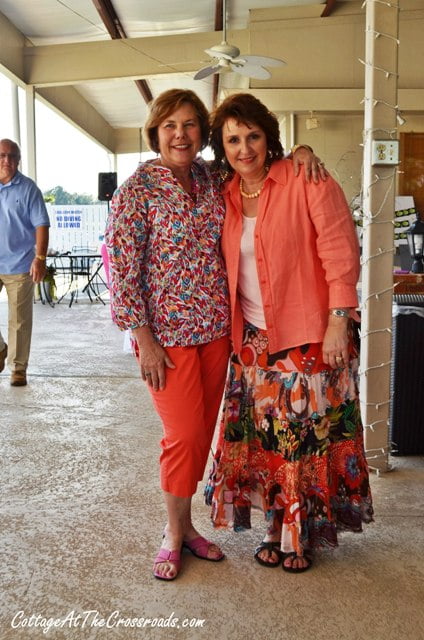 Here's Gay Jeffords with Angie Norris, the chairperson of our committee for the Thursday evening event as well as the Friday luncheon for the golfers. These are 2 hard working yet fun ladies!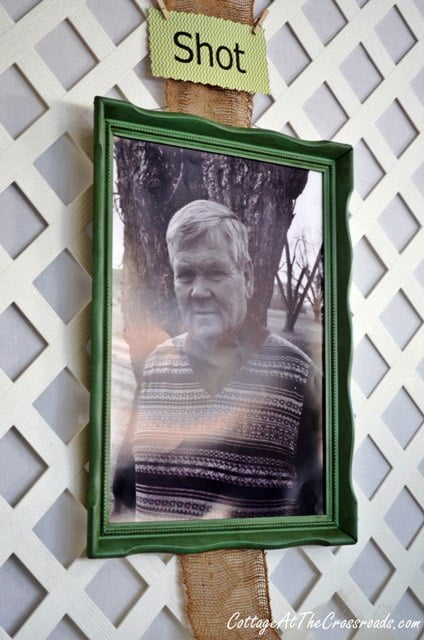 Here's honoree Robert Windham, but no one has known him by that name. He has always been called "Shot."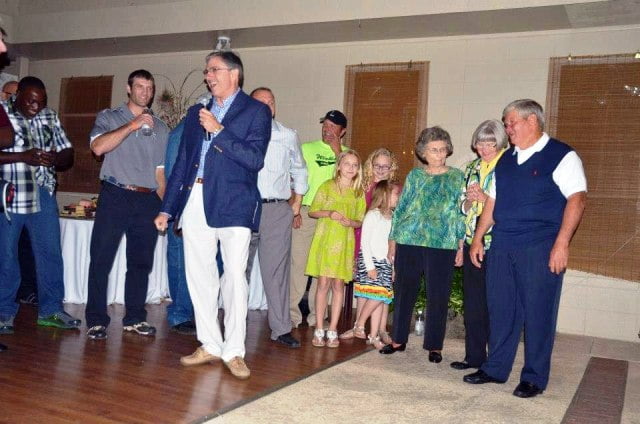 Warren Jeffords, the president of our Civitan club, is making comments while Shot and his family are looking on. (Photo courtesy of the News and Press)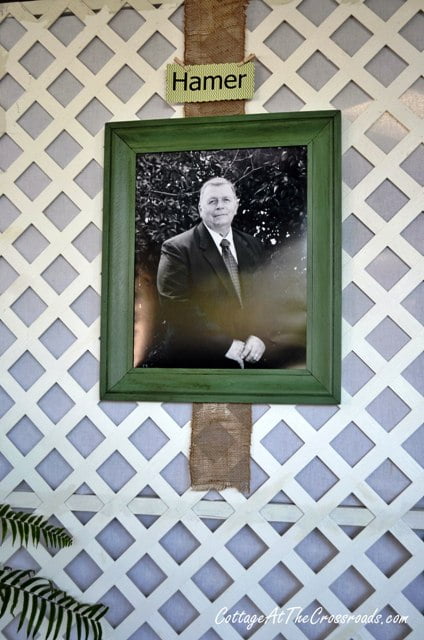 Here's our other honoree Hamer Parnell.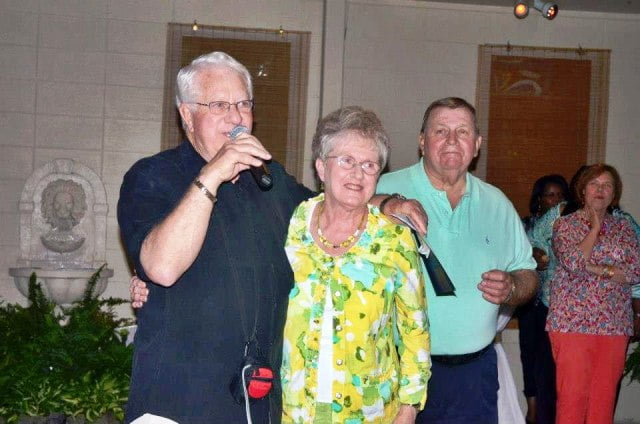 Jim Newsome, the chairperson of the entire event, jokes with Hamer's wife Ann. (Photo courtesy of the News and Press)
This post is mainly about the Thursday night party because that's what I've been working on, but Leo played in the golf tournament Friday and had a great time. Thanks again to all the volunteers, sponsors, and participants who made this year's Silver Fox Tournament such a great success.