Hi everyone! I had promised you that I would post the recipes that I used for the recent golf benefit party. They are all here except for one.  I'll do a separate post about it because I actually created it.  The rest of the recipes are ones that I garnered from many sources. So instead of printing the recipes  here, I am putting a link back to the original source.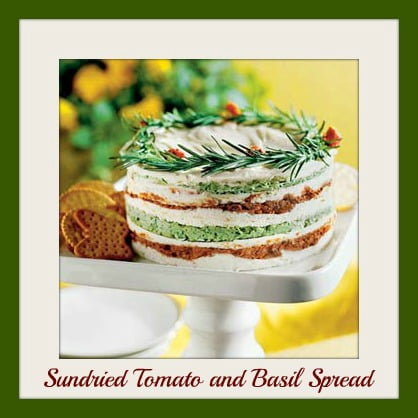 This is an old Southern Living recipe that I have made several times. It always makes a pretty presentation, especially if you elevate it on a cake stand. The good thing about this recipe is that you can make it a day or two ahead. The recipe says you need a 6-inch springform  pan, but I have made it in a larger one. The 6-inch springform pans can be hard to find, but I did find one this year at Joann's.  Click here for the recipe.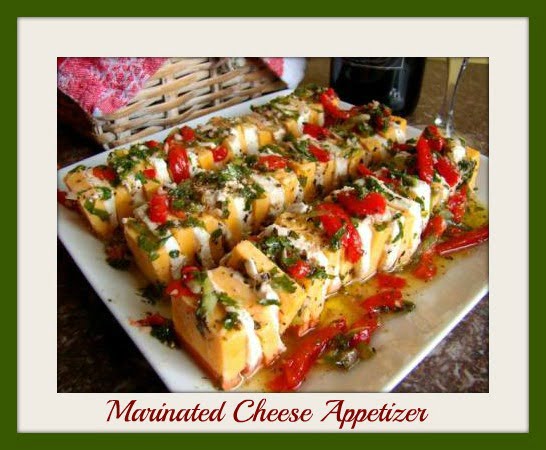 This is another recipe that you can make ahead. It is especially pretty at Christmas time because of the red and green colors. You can use your favorite cheeses, and I've even used the pre-cut cubes of cheese to save time. For this party, I cut small rectangles of cheddar and Monterey Jack cheeses.  I garnished with  some red pepper flakes and fresh basil. Click here for the recipe.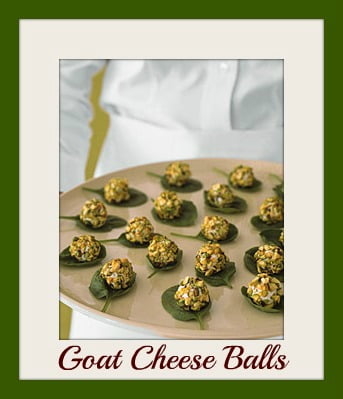 These are so easy to make! I used the Garlic and Herb Boursin goat cheese which made them even more flavorful. After you make the balls, you roll them in chopped pistachio nuts. I used some baby spinach leaves from our garden as a garnish.  Click here for the recipe.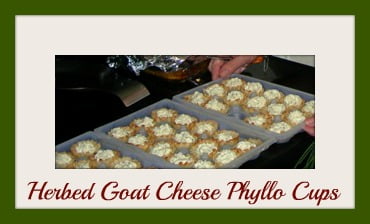 I saw this recipe in the Spring 2012 Phyllis Hoffman Celebrate magazine. You can make up the filling the night before, but don't put it into the phyllo cups until just before your party. My sweet sister-in-law piped the filling by using a baggie with a star tip inside. She garnished with chopped chives, and they were pretty and tasty.  The phyllo cups are found in the frozen food section, and I used the Athens brand. Click here for the recipe.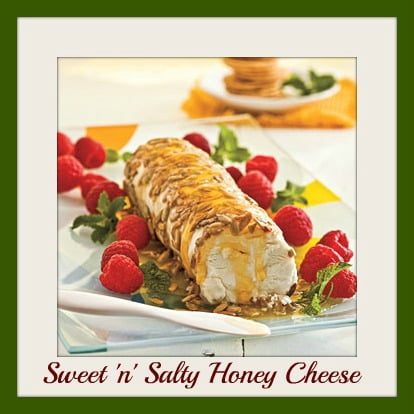 This must be the easiest appetizer that you can make! All you need to do is roll a goat cheese log in roasted and salted sunflower seeds, drizzle with honey, and garnish with fresh berries. This recipe comes from Southern Living magazine. Click here for the recipe.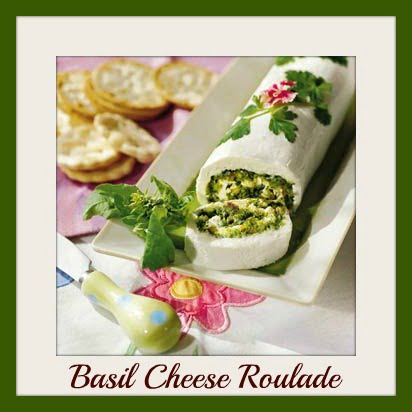 Another recipe from Southern Living magazine! Ever since I tore the recipe from the magazine several years ago, I have wanted to make this because it looked so pretty. The green part is made from fresh spinach, basil, and parsley leaves, all of which I have plenty growing in the garden. I substituted pecans for the walnuts that were called for in the recipe because I had some in the freezer.  I did find that I needed some additional cream cheese to put on the top before I added the garnish. This is really good served with slices of a small French bread baguette. Click here for the recipe.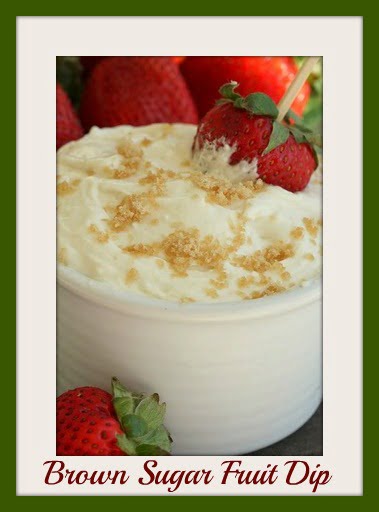 I also served some fresh strawberries and kiwi with this fruit dip. I saw the recipe on Pinterest, and you can find it on  the blog Half-Baked Baker. What makes this dip sooooo good is that it has Kahlua in it. The recipe originally came from Southern Living magazine.
If you are looking for an appetizer, I highly recommend all of the above recipes. They were easy to make and delicious, too!