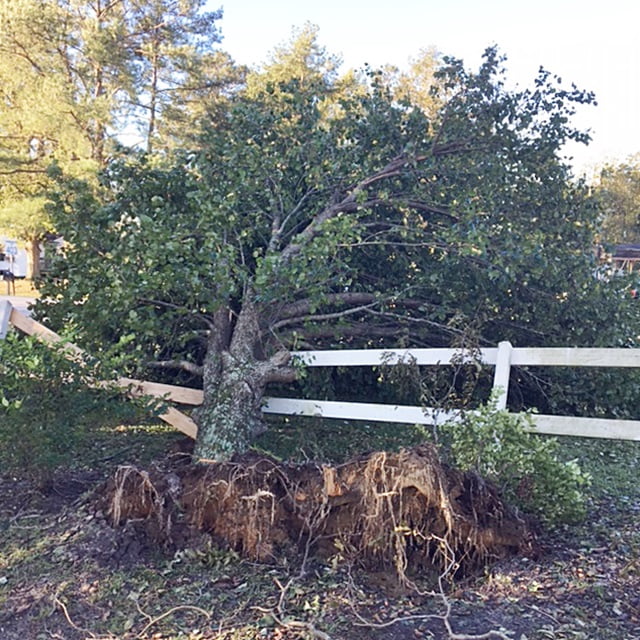 It's hard to believe that it's been well over a week since Hurricane Matthew blew through the Crossroads, but we are still dealing with its aftermath. First off, let me say that we feel extremely lucky because we are all fine and that our damages were minor ones that can all be fixed or replaced. But I cannot say that for all South Carolinians because there is widespread flooding still occurring in areas located near rivers.
We knew the Hurricane Matthew was coming but living inland, I did not give it too much thought until our governor cancelled school statewide several days before Matthew's expected arrival. It was then that we started making preparations. All those pretty things that we had on our FESTIVE FALL PORCH had to be removed and stored away. All loose or small items in the yard and garden were put away, and then we made plans to get the grandgirls since they had to evacuate Folly Beach.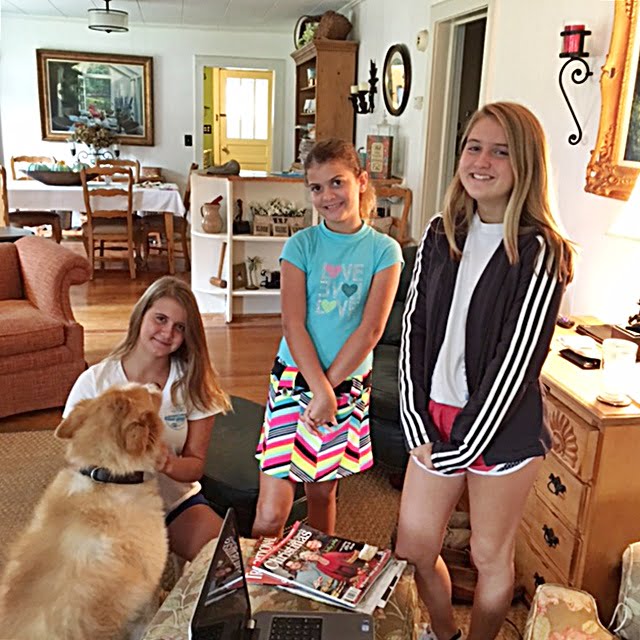 Leo picked them up and brought them to the Crossroads and we had a grand time going to the grocery store to stock up on non-perishable food, just in case. There was no hurricane mania occurring in our small town that I had evidenced when we previously lived on the coast. Let me tell you, the word hurricane strikes fear in coastal residents, especially ones who remember Hurricane Hugo. The grandgirls' mother stayed behind on Folly Beach securing their home and arrived the next day. By Saturday morning the wind started picking up along with the rain but we were all snug inside. By mid-morning we lost power and the wind started gusting around 70 mph. I was in the kitchen cleaning up from lunch (we had running water the whole time since we are on city water even though we use a well to water our garden) when I heard the sound of metal rattling. I just knew that the new metal roof that we had put on our pumphouse had blown off, but when I looked out the back door, I saw this.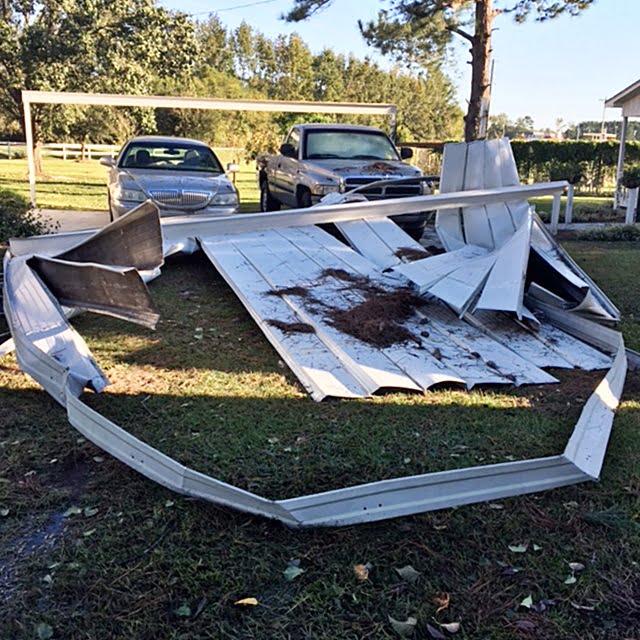 The wind had lifted up the carport and blew it over. Both vehicles were parked underneath but there is only a very small scratch on the car! A little later Leo and I were on the front porch and watched the ground heave as one of our large Bradford pear trees blew over and fell on the fence. By late afternoon the winds decreased and we knew the worst was over. The girls needed a little something to do so I found some GINGERBREAD BOYS AND GIRLS that I had cut out last year but didn't get stitched up. It was beginning to get very dark so we lit a lot of candles and a few lanterns and they continued to sew while the adults listened to the Prairie Home Companion show on the radio. I was thinking that it was neat how we were transported back in time enjoying simple things. No one was on their phone because there was NO phone service. I think I will always remember that night when our home served as a refuge for us all.
The next morning the girls and their mother left early in the morning to beat the traffic headed back to the coast and Leo and I began to deal with the aftermath of the storm. Luckily, I could continue to cook since we have a gas stove and although I don't have a percolator, I figured out how to make a decent cup of coffee. At this point we had ice in our cooler along with some perishables so we were just fine.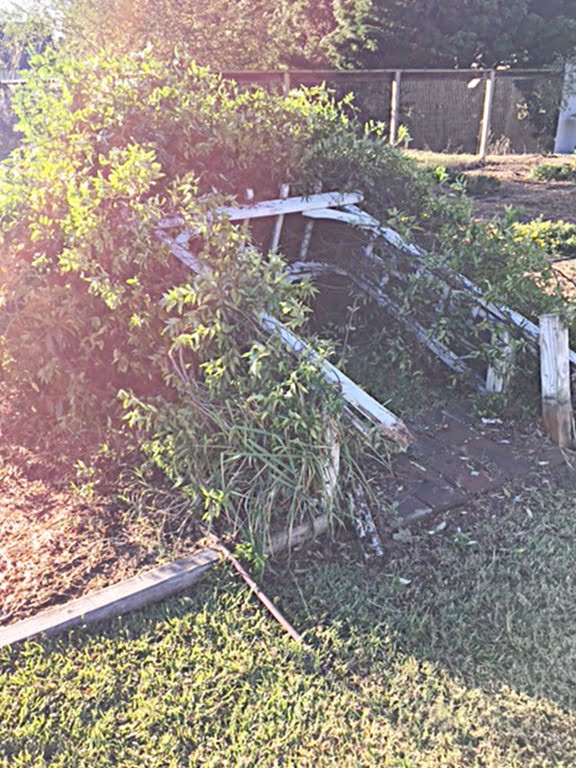 We went outside to investigate the damage and we discovered that the arbor in the garden had blown over and that our fall vegetable crop had been underwater for a while.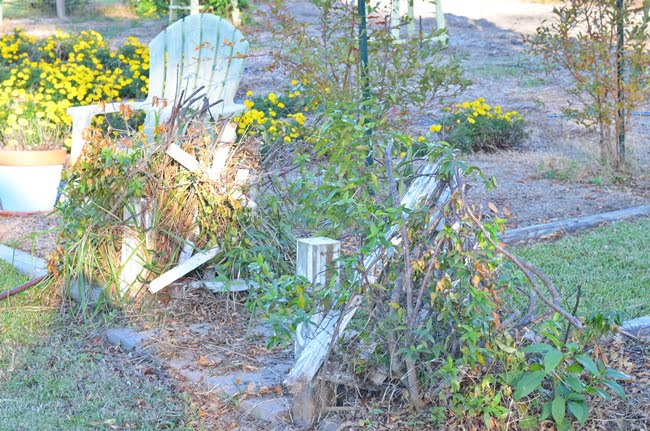 Leo cut the vines and dragged the arbor to a burn pile.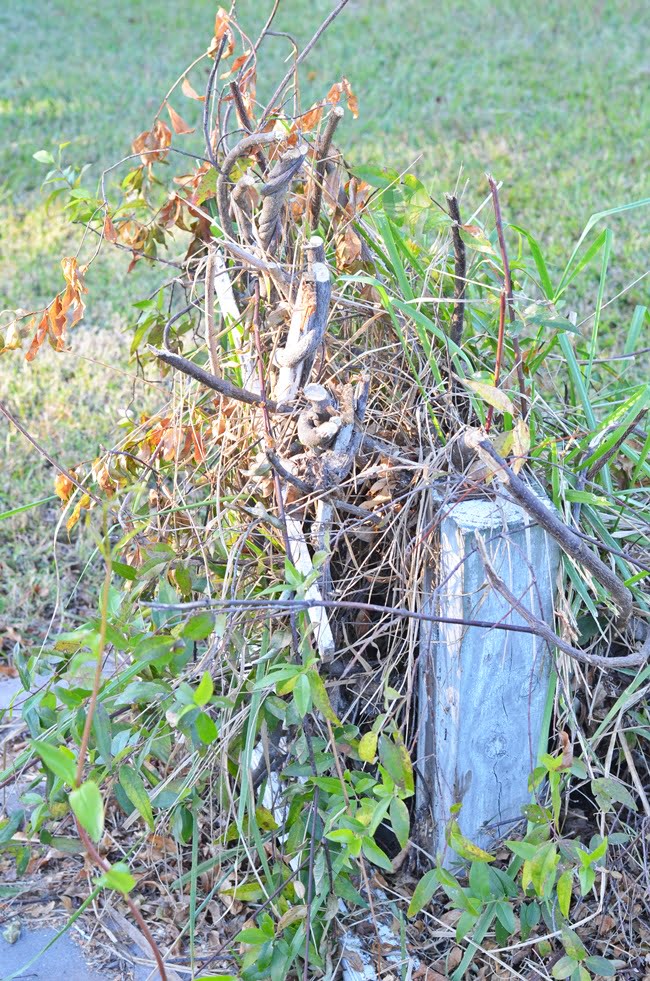 We're hoping that the vines will survive the severe cutting. We plan to replace the arbor later since it was such a pretty feature in the garden.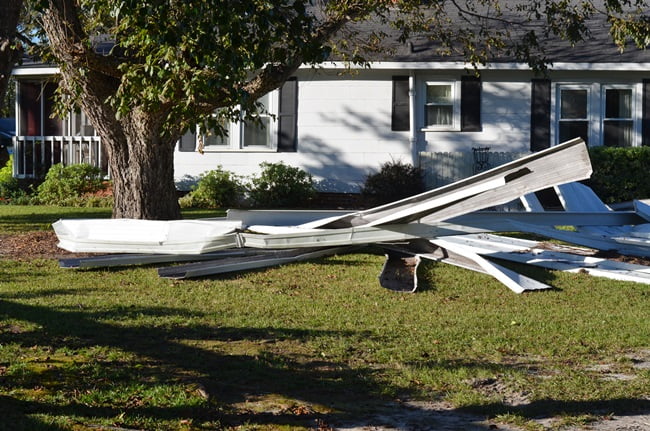 Leo dragged the metal pieces from the carport to the yard so that we could get in and out of our driveway.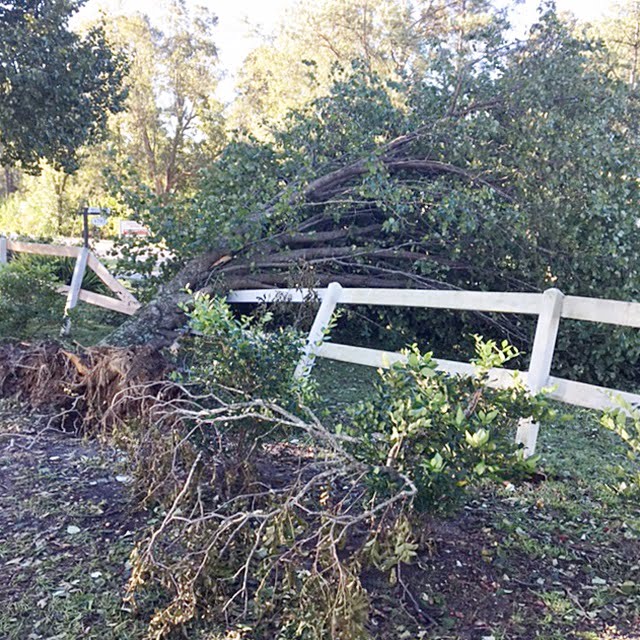 Over the next few days, Leo attacked the downed tree with his chain saw. We had another really large limb from another tree to fall as well and over the next few days, Leo hauled away 5 pickup loads of debris along with 5 trailer loads. At one point, Leo ran over his chain saw with his truck and we had to replace it. Lots of little limbs had to be picked up from the yard, too. The wind blew all the pecans out of the trees but unfortunately, the pecans were not ready to leave the tree and are not ripe.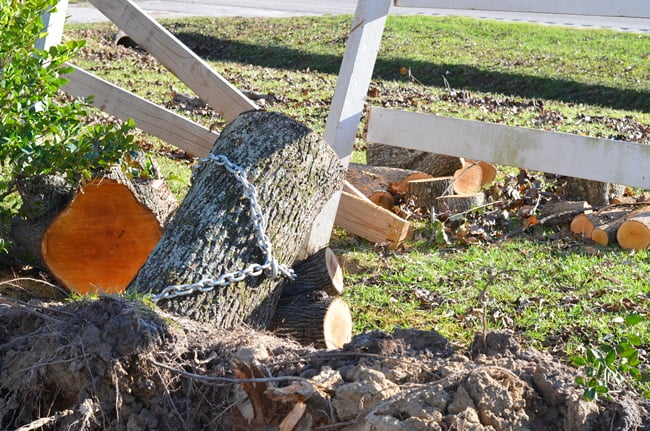 As the days passed, we continued to clean up. By this point we ran out of ice and there was none to be found anywhere for days. All the food had to be thrown out that was in the fridge. Leo braved cold showers but I desperately needed to bathe by the 5th day without electricity! As soon as our fitness club reopened, we went there to take a hot shower.
Thanks to the gargantuan efforts of linemen, our power was restored Wednesday night. About 500,000 people in our state lost power during the storm so you can imagine the work that these people have had to do just to get the power back up and running. I'm still seeing the utility trucks passing by our house because not everyone was a fortunate as we were. There has been widespread flooding along rivers with many people losing everything! So we are, indeed, blessed and fortunate.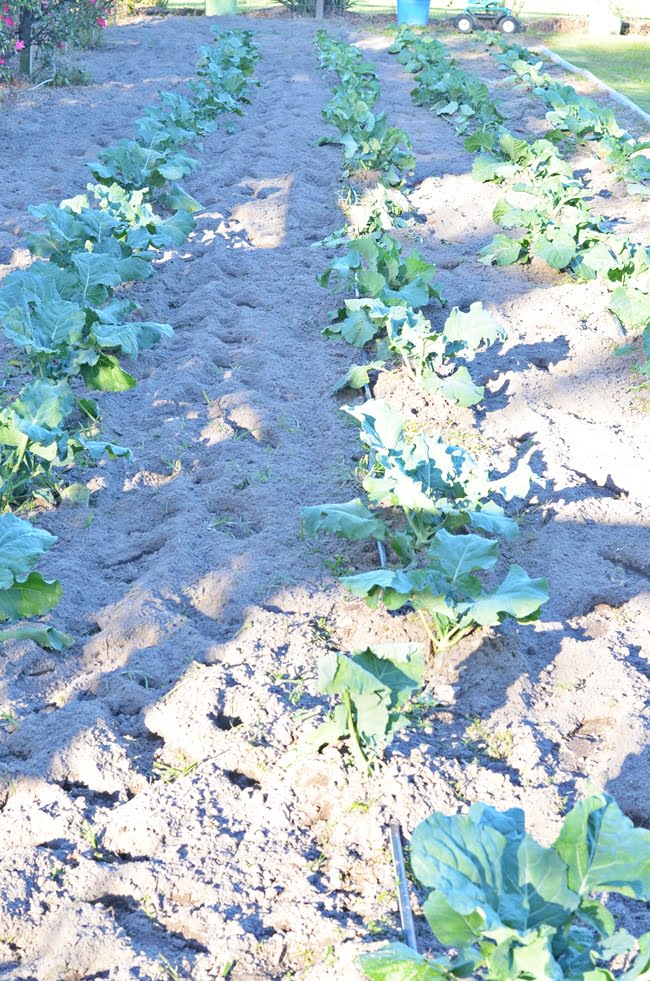 As for our fall vegetables, they have perked up and Leo has pulled up the soil around their roots. We're hoping most of them make it despite the damage they received during Hurricane Matthew.
Thanks to so many of you who reached out to us on social media. We were able to get our phones charged up at Leo's brother Jim's house who had rigged up a way to use his golf cart battery to run a few things.
Life is beginning to return to normal, most schools are back in session, and we are counting our blessings here at the Crossroads.